Business Embraces Knowledge Sharing
Jun 13 2018
On June 9, NYU Shanghai's inaugural forum on Knowledge Sharing and the Ideas Industry hosted pundits, academics, and leading entrepreneurs who analyzed the explosive growth of online knowledge sharing in China and its transformative relationship with the business sector.
Over the past two years, the demand for online knowledge has skyrocketed, with the Chinese market now booming in paid knowledge-sharing businesses—a result of online payments becoming the public norm. The forum, organized by the NYU Shanghai Center for Business Education and Research (CBER), staged keynotes and panel discussions that addressed the topic from perspectives of both commerce and public interest.
"In a fast-changing society marked with uncertainties and possibilities, improving our quality and competitiveness relies on the sharing of knowledge and wisdom," said NYU Shanghai Chancellor Yu Lizhong, welcoming some 300 attendees on Saturday along with Vice Chancellor Jeffrey Lehman. They encouraged CBER to further explore emerging technologies and business models.
When it comes to knowledge dissemination and sharing, "CBER and NYU Shanghai's mission in general is to open our classroom to the world," affirmed NYU Shanghai Dean of Business Prof. Chen Yuxin, an initiator of the forum.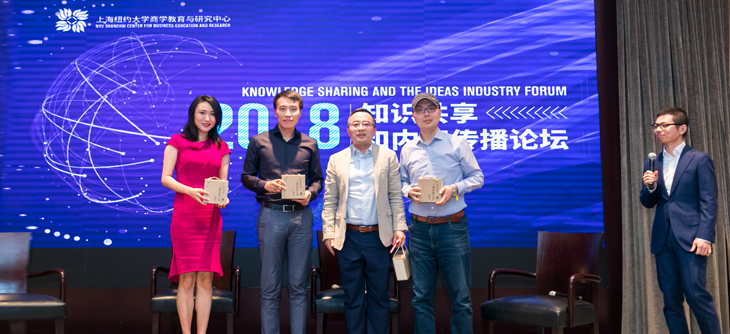 "Paying Around Knowledge"
Kickstarting the morning session moderated by Prof. Yan Dengfeng, NYU Vice Provost for Educational Technologies Clay Shirky pointed out that designing proper business models for online knowledge sharing requires the study of human interactions around online transactions.
"The transactions have a whole range of human interactions tied to them, which are meant to deepen relationships and make transactions feel better. It's not paying for content. It's paying around content," he said, citing cases of the gaming and online literature industries.  
Shirky predicted that knowledge sharing enterprises will begin offering "higher-value, higher-cost" ways of interacting with the individual knowledge sharer. "They will be down toward offering a higher degree of personalization at higher cost, and explore new ways of accepting the human value in the the process of paying for content," he said.
Zhu Hong, professor of business at Nanjing University, discussed the productization of non-utilitarian knowledge, which she coined "impractical knowledge" and its possible business models, using her experience of founding and running the Elites Women Book Club as an example.
Writer, speech coach and columnist Ma Xujun, suggested the concept of "knowledge service" to replace "knowledge payment," as the ability to filter and concentrate on what's useful becomes crucial in an era of information overload. "The nature of education is to help us save time, to acquire the desired knowledge more efficiently and therefore, extend our lives," he said.
Business Opportunities
The era of paid knowledge sharing has opened China to new opportunities, according to Xiong Mingwang. The founding partner and CEO of Shenzhen Qianhai Xingwang Investment Management Co Ltd mentioned the success of content sharing platforms Zhihu and Himalaya, both flourishing since 2016. In the afternoon session moderated by Prof. Shi Heini, he advised investors to seek opportunities in multiple links of the knowledge sharing eco-system, namely, the upper stream of content production and downstream of distribution.
Zhang Tao, Vice President of Ximalaya, introduced the company's creative model of sharing human intelligence via podcast programs. He talked about how Himalaya's global expansion efforts aimed to expose the US, Japan, and Germany to Chinese culture in the form of quality clips.
Concluding the forum, Liang Xiaoya, Partner and Head of Innovation and Business School Hundun University, called for a model of "automated education based on the integration of different thinking patterns, structured knowledge databases and interactive algorithms," as a way to balance the alarming contrast between overwhelming online content and people's limited attention spans.
The forum also presented two panels where opinion leaders in education, media, and digital industry debated the best possible business models for knowledge sharing to maximize public benefit.