Re-Makerspace Brings New Perspectives to Sustainability and Creativity
Sep 27 2019
Local garbage collector Yan Xinyu (闫新玉) gave NYU Shanghai students and faculty an inside look at Shanghai's cycle of waste production and reuse during a talk on September 25. The event is part of an inaugural series of speaking events, workshops, and field trips hosted by the NYU Shanghai's new  Re-Makerspace, which aims to reduce single-use plastic pollution on campus and in the broader Shanghai community.
Funded by a Green Grant from NYU's Office of Sustainability, the Re-Makerspace is both a lab where NYU community members can create new items from recycled plastics and a meeting space to connect with local organizations and businesses working in sustainability. The project grew out of coursework developed by Clinical Instructor of Arts Marcela Godoy for her IMA class Re-Made in China and out of research in environments and ecologies by Area Head of Arts Monika Lin.
Yan's talk on Wednesday gave students and faculty an in-depth view of the hard work and complex economy behind the collection and processing of Shanghai's waste. Audience members were surprised to learn that many of the items they thought were recyclable were actually of little use to collectors like Yan, who must sell recyclables to wholesalers who won't accept colored or soiled plastics. 
"It's really great to have a local trash collector like Mr. Yan introduce us to how the trash collection business in Shanghai has changed so much over the last 20 years," said Interactive Media Arts (IMA) Fellow Cindy Yifan Hu '19 (胡怡凡), who translated for Yan during Wednesday's bilingual talk. "I think his perspective has shown us how we can be more aware in our trash production habits.
Yan's talk was the third event in an extensive fall schedule of programming by the Re-Makerspace, following talks by Richard Brubaker of sustainability strategic advisory firm Collective Responsibility and Neil Patkar '22, current president of NYU Shanghai student club Green Shanghai.
Godoy said that Yan's viewpoint provides the NYU Shanghai community's waste reduction efforts with a much-needed reality check. "When we asked Mr. Yan about some of the ideas we were brainstorming, we found out they were really bad ideas," Godoy said. "On campus, some of these things might sound really good, but if you don't get feedback from someone that's out there dealing with it every day, you won't find a realistic solution." 
Lin also stressed that Yan's perspective helps students re-evaluate their understanding of China's relationship with trash and waste. "There's a strong tradition here in China of using everything, of not throwing things out, of fixing things," she said. "I think bringing someone like Mr. Yan to our campus can help us redirect our habits and ideas back to a history of problematizing waste and being really aware of our impact."
Richard Brubaker of sustainability strategic advising firm Collective Responsibility speaks to students and NYU Shanghai community members in the Re-Makerspace on September 11. 
Re-Makerspace's upcoming activities (see below for a full schedule) include a weekend beach cleanup in October and three workshops where all NYU Shanghai community members can try their hand at making their own products from recycled plastics.
Patkar, whose club works closely with the Re-Makerspace on its annual marquee event, the Trash Fashion Show, said he is excited about the opportunities that the fully-fledged workshop space and events program can bring to the campus.
"Students who know how to build things end up doing the biggest things in the world, and so having a place where we can be creative, having a space like the Re-Makerspace where we can learn how to reuse materials to build things is amazing," he said.
A November panel discussion will also welcome local entrepreneurs whose business models are based in sustainability and recycling. 
"Businesses that work with the recycling economy are actually at the forefront in China in terms of receiving venture capital funding," said Lin. "A lot of the narrative against recycling and against alternative energy forms is that it doesn't pay, but at least here in China, that's just not true."
One of Lin and Godoy's primary goals in establishing the Re-Makerspace is to expose NYU Shanghai students to a vast range of possibilities and potential future career paths that relate closely to sustainability. They hope to work with local business throughout the year to develop a design challenge and an internship open to NYU Shanghai students from a variety of majors. 
"What we're doing on a small scale here with our plastics reuse workshops can be expanded to include larger business models that extend outside of our campuses," said Lin. "We want to encourage these kinds of connections to a real lived experience beyond the university so that we can create opportunities for students beyond their time at NYU Shanghai."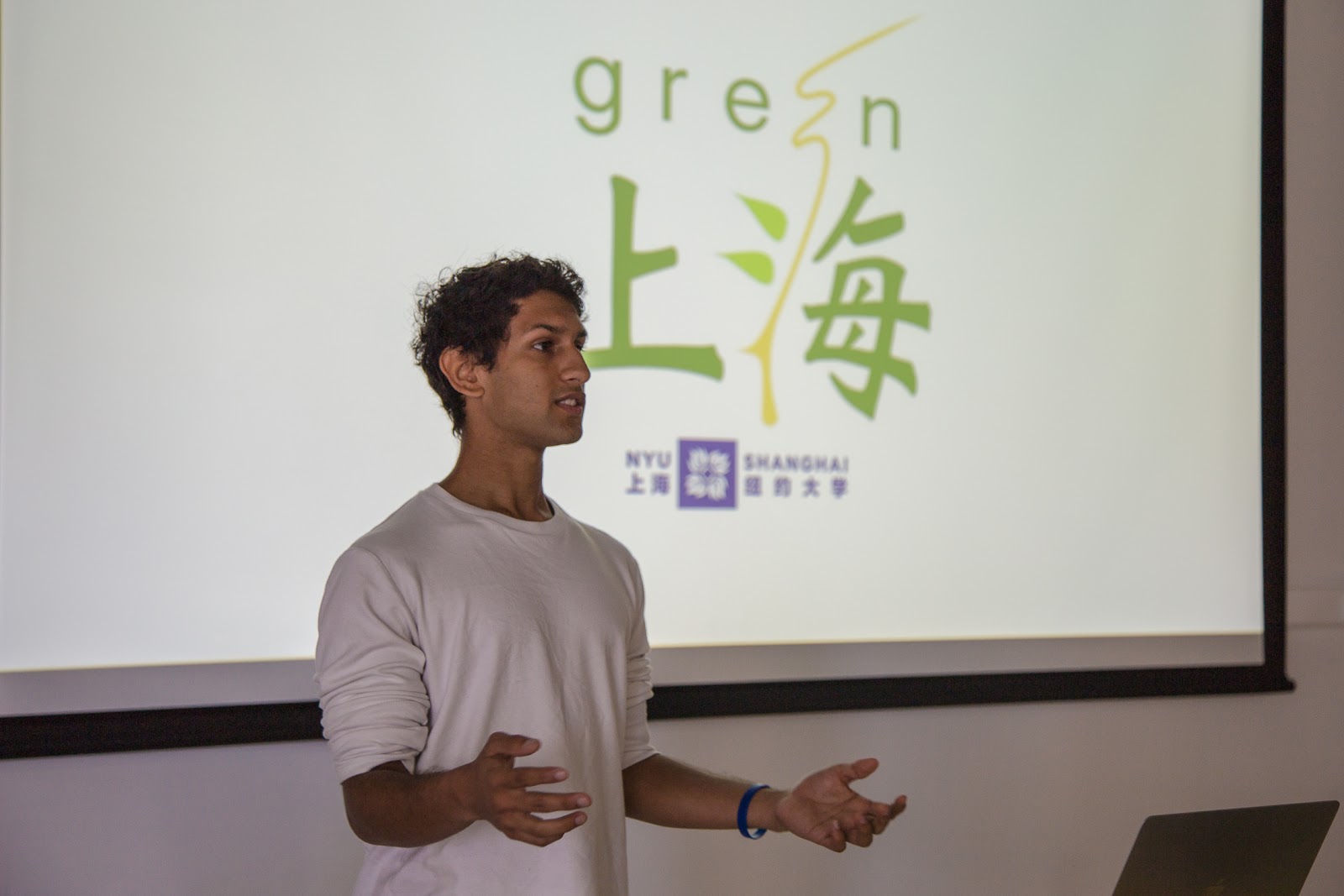 President of Green Shanghai Neil Patkar '22 speaks in the Re-Makerspace on September 16.
The Re-Makerspace is also building a community of sustainability that spans NYU's global network. Thanks to collaboration with Lin and Godoy, similar Re-Makerspace programs are slated to open at both NYU New York and NYU Abu Dhabi.
Godoy hopes that expanding the Re-Makerspace's work can create a sea change in the way students and community members view creativity and its relationship with sustainability.
"By getting students to create their own materials, not just their own products, they can better understand the labor, craftsmanship, time and effort that go into making things that we often just throw away without considering," she says.
"We really want students to understand that creativity and craftsmanship are not about starting from someplace that is completely new – re-making something can be just as creative and valuable."