NYU Shanghai Welcomes Class of 2024 - Live and Online
Sep 11 2020
NYU Shanghai welcomed a new first-year class this week, with about 500 new students from 38 countries and 29 Chinese provinces arriving both in person and online.  NYU Shanghai's eighth entering class is also its largest. Some 250 members of the class - the majority of them Chinese - arrived on campus this year, while the remaining international students joined their classmates for Orientation Week activities from home. With borders closed due to COVID-19, most international students will study remotely until permission can be secured for their entry into China.  
At a University Welcome ceremony September 9, which this year was held in the evening so that international students and their families around the world could tune in via livestream, Chancellor Tong Shijun, Vice Chancellor Jeffrey Lehman and Provost Joanna Waley-Cohen each recognized the shadow cast by the ongoing global pandemic and encouraged members of the class to rise to the challenge.  
Tong noted that one important course the students would be taking this year was one outside the classroom: "How to be an Extraordinary Student in an Unusual Era." He reminded students of the strength the community could draw from NYU Shanghai's dual identity as a Sino-US liberal arts university. "We are now having almost unique opportunities to witness the strong vitality of the deep-rooted wisdom of the two nations and the integrating force of the academic and educational values and ideals that are shared by colleagues from two sides of the Pacific," Tong said. "These wisdoms, values and ideals, however... are alive and vital only when members of the community accept them and try their best to live and work accordingly."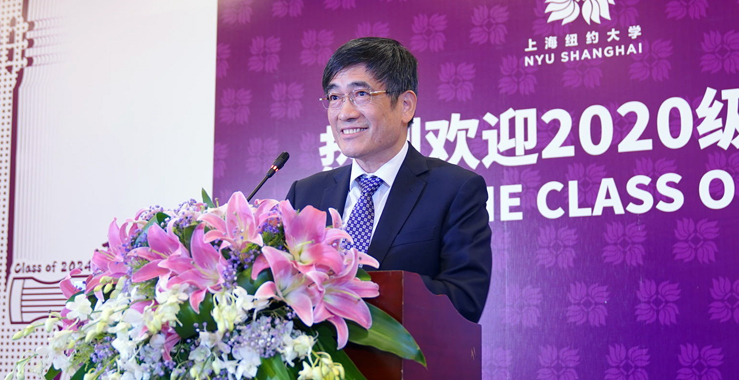 Chancellor Tong Shijun, who assumed his post June 1 of this year, opened his first-ever University Welcome.  
Lehman encouraged students to stretch themselves in ways they never had before and to seek to master the "art of civil disagreement" in an extremely diverse NYU Shanghai community, where "we will push ourselves to engage deeply with problems and arguments, to keep pushing together for a shared vocabulary and a shared understanding… [and] build a shared understanding of why we disagree."
And Waley-Cohen reminded students to make the most of one of NYU Shanghai's greatest resources. "At NYU Shanghai you will also be in close proximity with and have access to an extraordinarily broad and deep intellectual force field, in other words our highly international and brilliant faculty. … So, in short, get to know your professors, find out what makes them tick, bounce ideas around with them, quench your curiosity, light up your imagination, and remember: This is why you came to the university in the first place."
American student Teresa Angulo '24, whose parents work in Wuxi, Jiangsu province, and who has lived in China for the last 10 years, said she was very much looking forward to her new adventure. "I want to make friends with people from different countries," she said. "I like that NYU Shanghai is diverse and dynamic."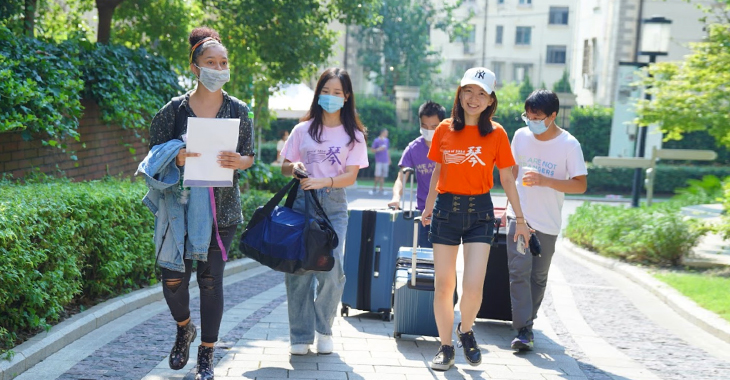 Teresa Angulo '24 on Move-in Day. Orientation Ambassador Gloria Guo '23 and Benice Feng '23 helped her with luggage. 
With COVID health and safety restrictions in place this year, parents were not allowed to accompany their children into their new dormitories or onto campus. Still, spirits remained high. "We could feel that NYU Shanghai is a close-knit community," said Li Da, who traveled with his son Li Hongzhou '24 from Beijing on the Move-in Day. "All staff are involved in the move-in service, from the volunteer students to faculty. Chancellor Tong and Vice Chancellor Lehman are smiling and eager to help. We felt the human touch of NYU Shanghai from the first day. At NYU Shanghai my son will acquire not only knowledge, skills, and social responsibility, but also a global perspective of multiple cultures."
Jinuk Kim '24 from Gyeonggi province, South Korea, was among a dozen international students who managed to arrive in time for school, as China and South Korea eased border restrictions over the summer. "I'm just out of quarantine, and I felt really excited and a little nervous to be here. Everything is big and new to me. I hope to learn Chinese, enjoy Chinese food, and travel more in the next four years," Kim said.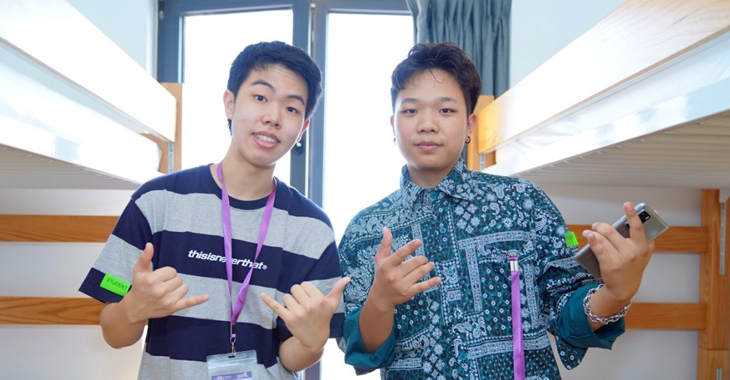 Jinuk Kim '24 from Gyeonggi province, South Korea and his roommate Ma Yiwei '24 from Inner Mongolia

In addition to Move-in Day and the University Welcome, first-year students participated in a full program of Orientation Week activities, including peer workshops, academic advisory meetings, game nights, and discussion sessions of this year's summer reading, NYU Aronson Family Professor of Criminal Justice Bryan Stevenson's book, Just Mercy, assigned to students at all three of the NYU Global Network's campuses. All activities were held in mixed mode to ensure Chinese and international classmates could participate together. Huang Qiya '24 from Zhejiang province said she felt closer to her international classmates after exchanging ideas through the Zoom-mediated workshops. "I hope to meet them soon."
Student Government President Taylah Bland '21 served as an Orientation Ambassador for first-year students this week, facilitating orientation activities and addressing students' concerns remotely from her apartment in Sydney, Australia, where she will remain for the semester. "Working as an OA remotely has actually been not as challenging as I imagined," Bland said. "One really striking part to me was how excited students got when you popped up on a Zoom call that they were also on, saying, 'That's my OA,' or, 'That's my Roommate,' with a very excited expression. Even though we aren't there in person, seeing friendships and connections forming online is one of the highlights of my week."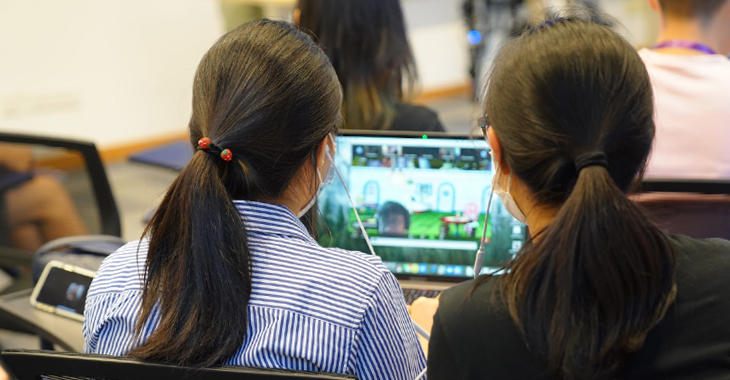 Students shared one pair of earphones to communicate with their international classmates online during a summer reading session.

NYU Shanghai this week also welcomed about 2,200 Chinese undergraduate and 680 graduate students from NYU New York and NYU Abu Dhabi who were unable to travel to their home campuses due to border restrictions. Zhang Yujing, NYU '22, a Global Liberal Studies and French major, said she was looking forward to her semester in Shanghai. "The resources here are abundant," she said. "The fact that we have fewer international students [for now], has actually made me rethink the word 'diversity.' Although we're a seemingly homogeneous community, we're from different regions and ethnic groups. We have different ideas and can inspire each other to grow," the Guangzhou native said.
Under the NYU Global Network's "Go Local" program, Zhang and her NYU and NYU Abu Dhabi classmates will take at least one in-person class at NYU Shanghai's temporary campus this semester.  
Orientation week concludes with a two-hour pre-recorded, Zoom-mediated NYU Shanghai's Got Talent show on Sept. 11, featuring 34 performances from 60 members of the freshmen class.  
NYU Shanghai classes start September 14.