NYU Shanghai Introduces New COVID-19 Codes of Conduct
Sep 11 2020
Several months after the emergence of COVID-19, daily life has largely returned to normal in Shanghai, as the city has been relatively successful in controlling the spread of the virus. But while people around the city are moving more freely—some with masks, many now without—NYU Shanghai will be taking a much more conservative approach as we prioritize the health and safety of our community.
Last month, the University introduced new COVID-19 Codes of Conduct for students, faculty, and staff that require everyone to adhere to key health and safety rules. The Community Standards include specifics on accessing NYU Shanghai facilities, physical distancing, travel restrictions, COVID-19 testing, and practicing good hygiene, including the wearing of a face-covering at all times on campus and frequent hand washing. Community members are also asked to avoid non-essential travel outside Shanghai city limits and to avoid places and events off-campus that lack proper health protocols.
"It's very important that we commit to facing the challenges brought on by COVID-19 together," says Dean of Students David Pe. "By following these standards, we are helping ourselves, the NYU Shanghai community, and Shanghai as a larger community, to stay healthy and safe."
Working with NYU Shanghai's Student Health Center, a team of Community Health Ambassadors—made up of NYU Shanghai students as well as study away and Go Local students—will be actively engaging the community in conversations about health and wellbeing on campus and will be equipped with health supplies for anyone who may need a spare mask or sanitizer.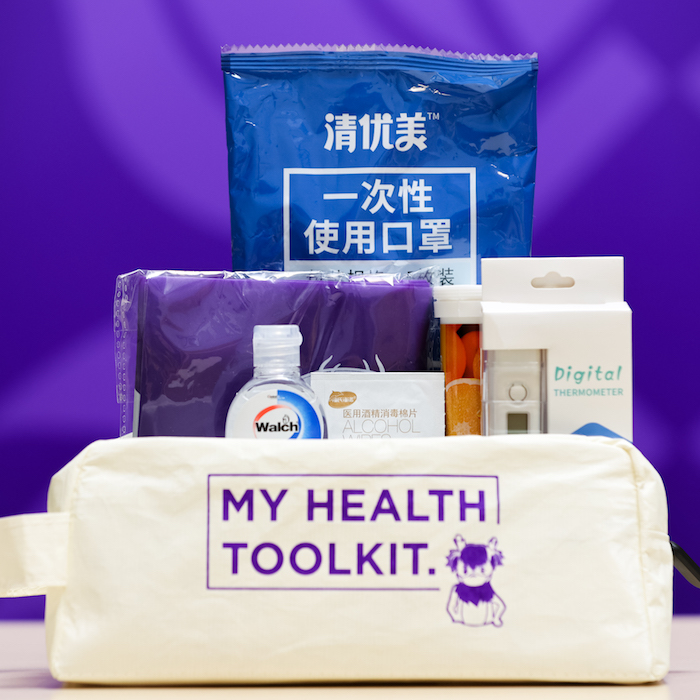 Contents of the health toolkit include an alcohol-based sanitizer, digital thermometer, masks, a resistance band for exercise, alcohol wipes to sanitize phone screens, and Vitamin-C tablets.

"Community Health Ambassadors are visible role models, peer educators, and resource providers for health and wellbeing on campus. Their purpose is to educate, encourage, and support the entire NYU Shanghai community to stay healthy and well," says Carly Suita, senior specialist of health promotion and student well-being. 
"I want to be a community health ambassador because it was so difficult for any country to achieve a stage like ours in the battle with COVID-19," says Yihan Hua (Coco) '23, a Go Local student from NYU's New York campus. "The opportunity of being able to have in-person classes at a college campus is also precious, considering the fact that not so many universities can right now. I feel that it is my duty to do the most I can to prevent the virus from spreading in our community again."
If you have concerns, questions about any of these policies, or are unsure about what to do in situations where other community members (students, faculty, staff) fail to adhere to the policies, please email the Office of the Dean of Students shanghai.dos@nyu.edu (undergraduates) or Office of Graduate and Advanced Education shanghai.ogaedean@nyu.edu (graduate students). 


Read more:
COVID-19 Student Code of Conduct
COVID-19 Faculty and Staff Code of Conduct