NYU Shanghai Welcomes Class of 2022
Aug 24 2018
They came by bus, by train, by plane from all over China and 38 countries around the world.  Some arrived after 24 hours' travel, others after a 30-minute trip across town. But they all had the same destination, NYU Shanghai, and their home for the next year—the Jinqiao residence hall. And all shared a common bond—they were each members of the NYU Shanghai Class of 2022.   

Watch highlights from Move-in Day
This year's class of 455 freshmen is the largest to enroll at the university since its founding in 2012.
Half of the Class of 2022 are from China, including the first students to enroll from western China's Qinghai province and Tibet. Students from countries such as the United States, Netherlands, South Korea, the United Kingdom, Ethiopia, Morocco, South Africa, Ecuador, Russia, Poland, Germany, Mexico, Kazakhstan, and Honduras, represent the other half.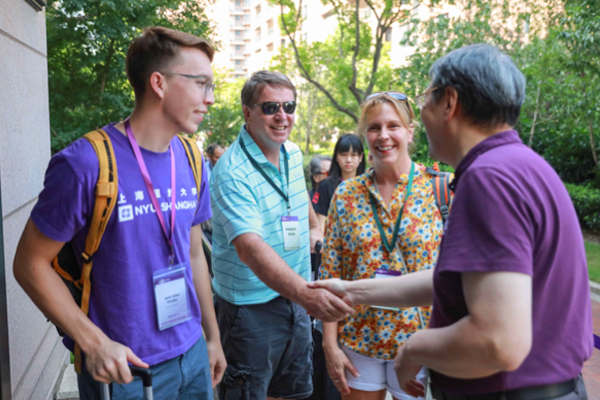 Chancellor Yu personally welcomed each new student as they arrived at Jinqiao residence hall.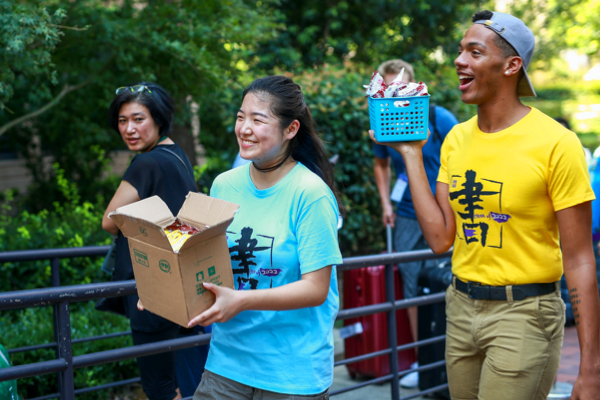 Student ambassadors handed out ice-cream and snacks to families arriving in the summer heat. 
Chancellor Yu Lizhong, Vice Chancellor Jeffrey Lehman, Provost Joanna Waley-Cohen, 36 upperclass student orientation ambassadors and dozens of volunteers welcomed the newest members of the NYU Shanghai community at the airport and at the dorms, offering directions, extra hands for luggage, and ice cream for the weary.
As they unpacked and set up their rooms, many students eagerly awaited the arrival of their new roommates, who were guaranteed to be from other countries.  Freshman Wang Ding '22, from China's Hebei province, said he chose a three-person room so that he could have the most diverse experience possible. "We are totally attracted by the atmosphere of NYU Shanghai.  Everyone is so warm here and full of spirit and passion," his parents added.
Enrico David Paragas '22, from the Philippines, said he fell in love with China when he visited Shanghai with his family five years ago. "This is what motivated me to apply to NYU Shanghai, because I want to experience a culture I'm truly interested in," he said. "My goal is to practice my Chinese and be able to speak fluently by the time I graduate."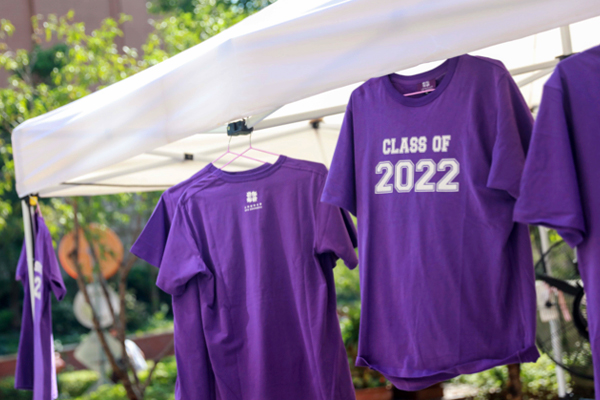 Each new student received a welcome pack, which included an NYU Shanghai Class of 2022 t-shirt.
Interest in NYU Shanghai continues to grow. Last year, the number of applications to NYU Shanghai increased by 11 percent over 2017, the Admissions office said.
"We have seen more and more students with a strong global mindset applying for admission," said Katie Korhonen, Director of Admissions for NYU Shanghai. "Among international students, an increasing number are Chinese language learners with experience in China, while our Chinese applicants have a strong desire to build connections between China and the world."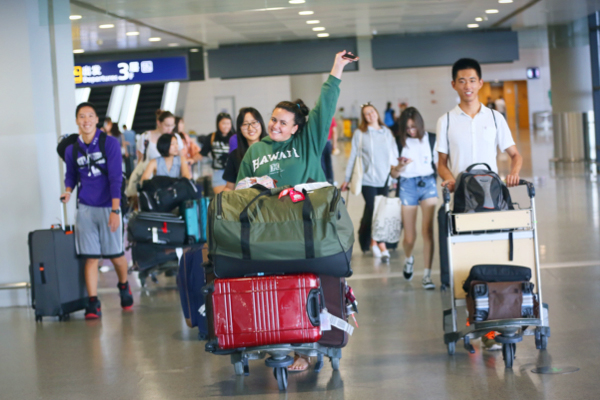 NYU Shanghai freshmen arrive at Shanghai Pudong International Airport.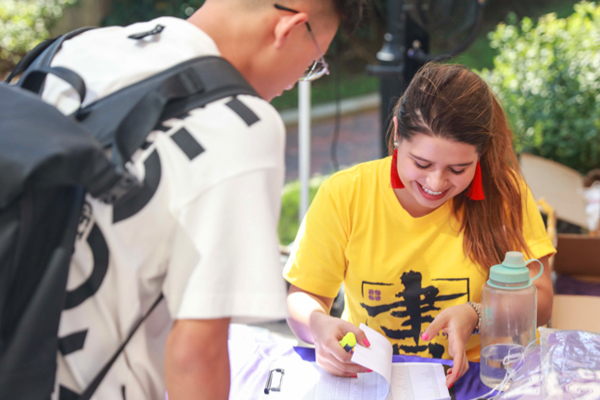 Upperclass student orientation ambassadors were on hand to check new students in to their new residence.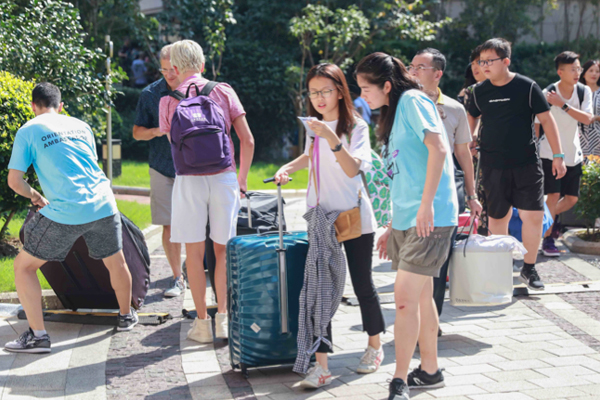 An orientation ambassador helps a new student with directions.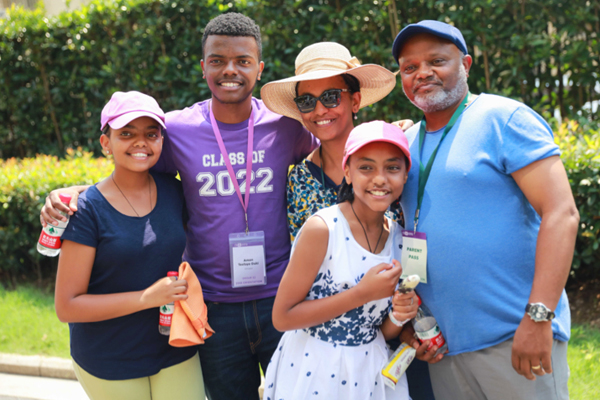 Amen Tesfaye Duki '22 put on his violet NYU t-shirt as soon as he got it and posed for a photo with his family.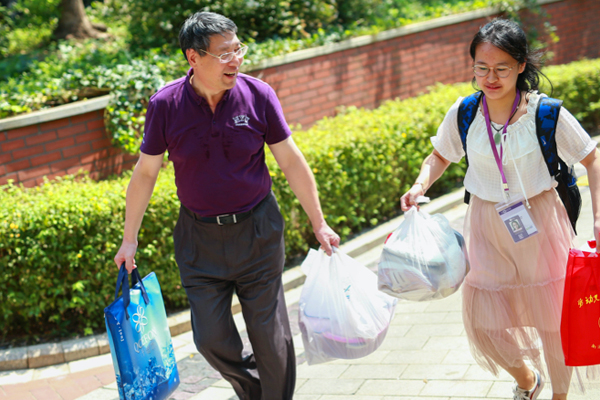 Many hands make light work: Chancellor Yu helps a new student with her bags as she arrives at Jinqiao residence hall.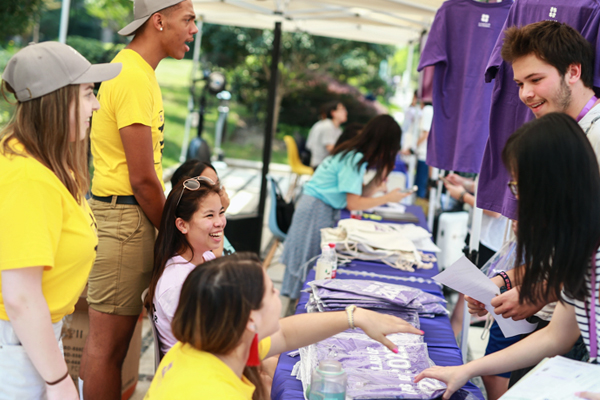 Orientation ambassadors handed out NYU Shanghai t-shirts to new students.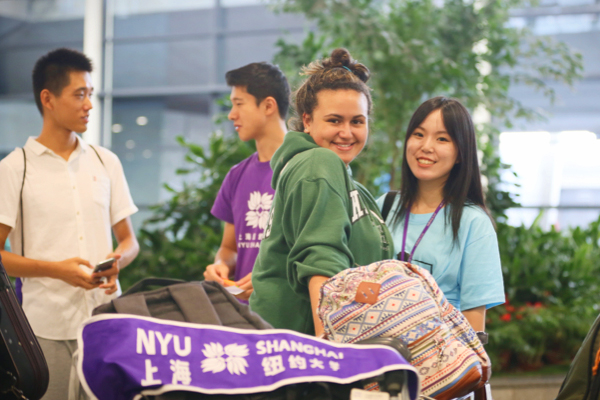 Freshmen were greeted at Shanghai's Pudong International Airport by their orientation ambassadors.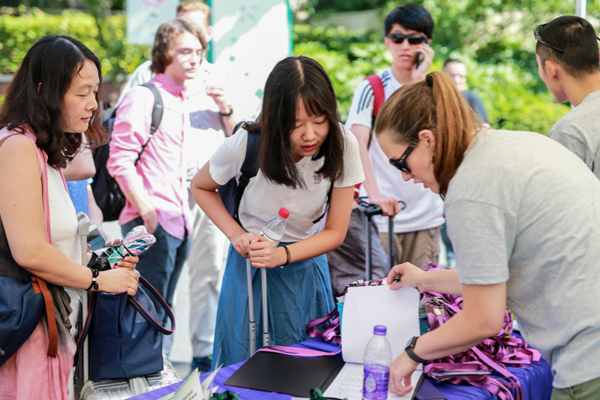 Admissions counselor Katie Korhonen checks in a new student at the Welcome Desk.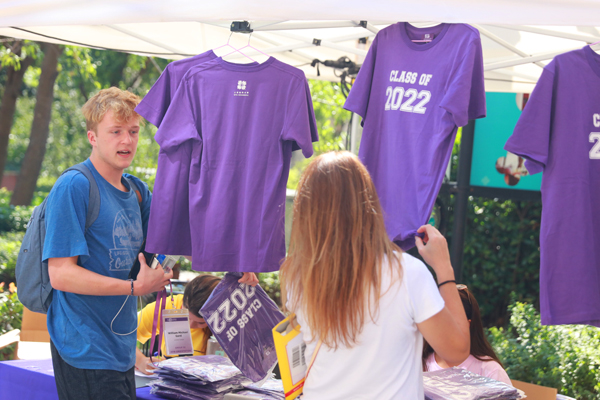 New students choose their Class of 2022 t-shirts.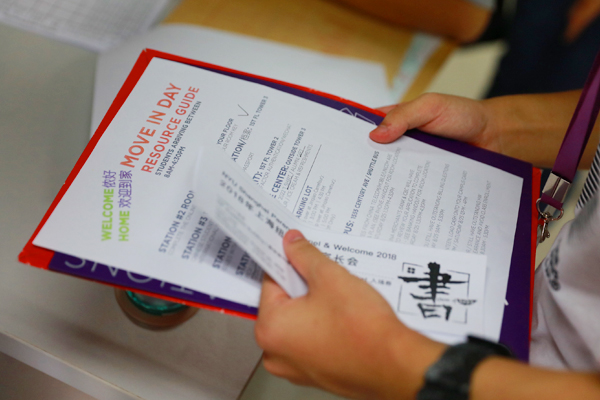 Upon check-in, each new student was given information about their new residence and neighborhood.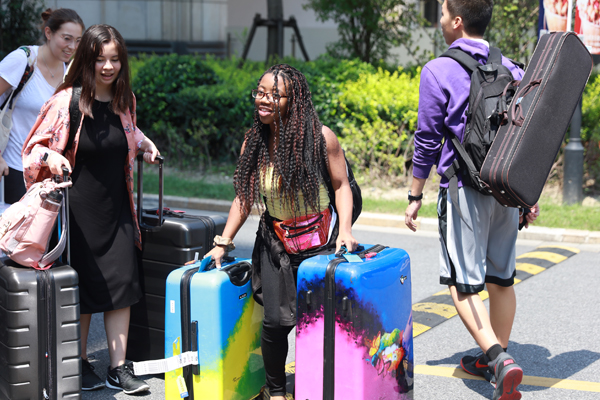 NYU Shanghai's new freshmen arrived from near and far, including China, the United States and 37 other countries.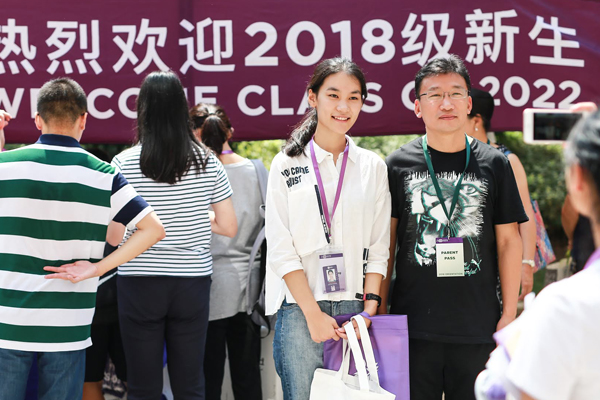 A freshman poses with her family after receiving her NYU Shanghai welcome pack.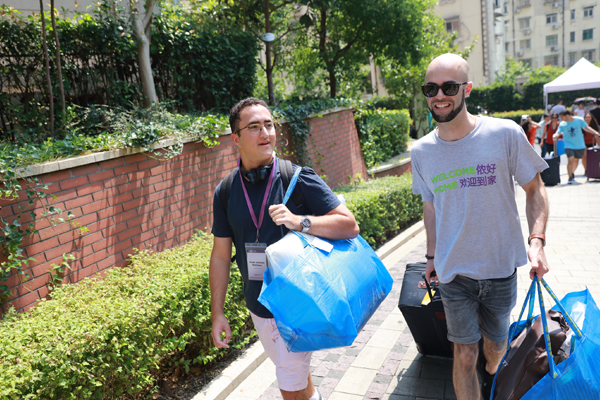 NYU Shanghai admissions counselor Wyatt Bruton (right) helps Frank Mattimoe '22 with his luggage after a shopping trip to a nearby Ikea home store, that was organized for new students.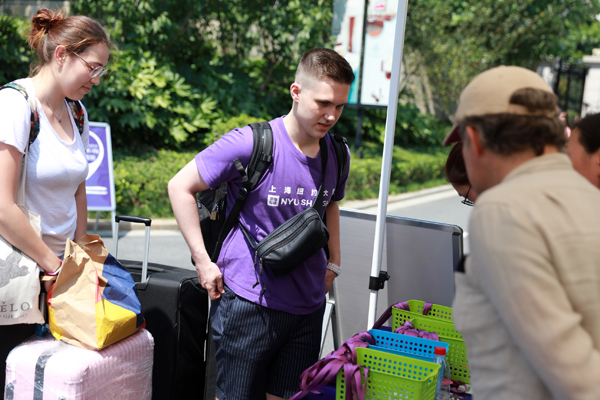 Some freshmen arrived already showing off their violet pride in their NYU Shanghai t-shirts.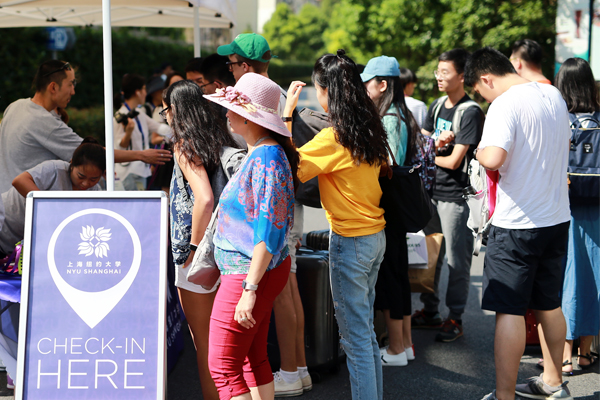 New students continued to arrive throughout the day. In total, 455 freshmen were enrolled in the Class of 2022.