NYU Shanghai Students Win National Marketing Competition
May 7 2021
Three NYU Shanghai students bested more than 9,500 students from across China to win the national L'Oréal BRANDSTORM competition last week, while a second team placed sixth out of 12 national finalists. NYU Shanghai students have now won this title in two of the last three years.
"From day one we told ourselves we're so going to Paris for the global final. We changed our WeChat group name to 'Sisters Going to Paris.' We tried our best in every little detail throughout the journey. When we were announced as the winners, Rainee was in tears," said Zhou Mo '23, a Business & Marketing major who formed the team with her friends and Interactive Media Arts (IMA) majors Qin Tian '22 and Wang Yunyi (Rainee) '23. They named their team "TMR" after the trio's initials, and an abbreviation for the word, "tomorrow."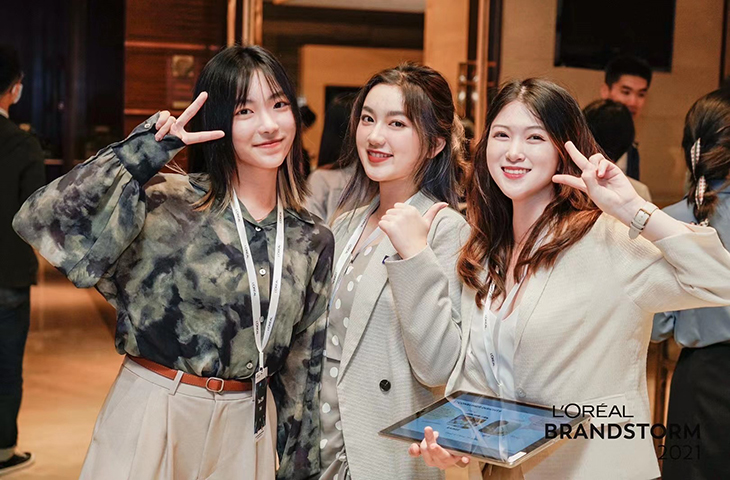 Team TMR (from left: Qin Tian '22, Wang Yunyi '23, and Zhou Mo '23) at the L'Oréal BRANDSTORM 2021
Inspired by this year's theme – "creating an entertaining beauty shopping experience," Team TMR pitched an Augmented Reality (AR) hunting game called "L'Oréal Explore," which incorporates AR technology into real-world marketing scenarios. Players can collect virtual boxes containing samples of various L'Oréal beauty products, and then redeem them at offline stores. After the trial, users can submit their feedback online, helping other consumers to better choose beauty products.
The judges praised Team TMR's pitch for "combining AR technology with a retail business model, which not only engages customers in an interactive, fun shopping experience, but also increases the offline business growth in the beauty industry in the post-epidemic era."
"To become the China National Champions is no easy feat …, the team needs to have a combination of a great idea that is innovative and attractive for L'Oréal; deep knowledge of the brand, business, and target market; and excellent communication skills with team cohesion. Our winning team exhibited each of these skills," said Raymond Ro, Assistant Dean of Business at NYU Shanghai, who has been coaching the NYU Shanghai teams together with Christian Grewell, Associate Director of IMA, for four months.
The world's largest innovation competition, the L'Oréal BRANDSTORM challenges college students to devise and present innovative and feasible marketing ideas for the brand. Since 1992, the competition has drawn nearly 200,000 students from 360 universities in more than 60 countries and regions. Each year, the champions and runners-up from various national competitions will then compete in the global semi-final in Paris. This year, six teams from the global semi-final round will be selected by industry experts, or voted by L'Oréal staff and the public to compete in the world final, which will take place at the end of June via Zoom, due to COVID-19 travel restrictions. Voting for the finalists ends on May 7 and the results come one week later. 
NYU Shanghai's sixth place team, "ABS()" was composed of three freshmen, Wu Han , Zhang Shuhan, and Chen Bingsen who pitched the L'Oréal judges on a project named "Amour Infini" to install pop-up multi-sensory immersive rooms in offline stores that could share people's love stories and refer them to a specific Atelier Cologne. "The three of us are really into innovation and we wanted to cultivate some basic business skills and share our creative ideas to the world," Chen said. The trio also named the team "ABS" after their English names' initials, but added a parenthesis, a coding term called "absolute value function" that can turn all numbers to non-negative ones, symbolizing their goal of spreading positive energy.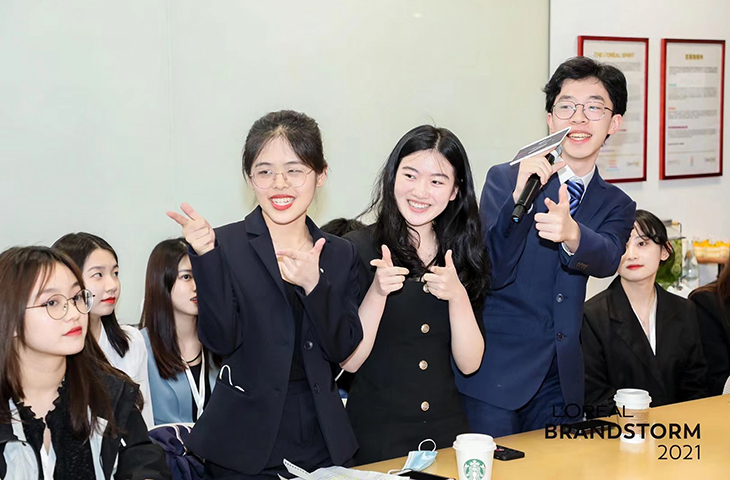 Team ABS () composed of three freshmen (from left: Wu Han, Zhang Shuhan, and Chen Bingsen)
This year, some 125 NYU Shanghai students formed 42 teams and signed up via the Career Development Center for the competition's earliest rounds. L'Oréal judges then selected two NYU Shanghai teams -- Team TMR and Team ABS() -- to advance to further rounds. 
The winning trio said that Ro and Grewell's co-taught "Practicum on Innovation and Branding" course prepared them well for this challenge. Team ABS() echoed their thoughts. "The resources the professors offered are very helpful," Zhang said. "And every time I sent Professor Ro an email about our project, he responded very quickly with a detailed and well-researched answer, which definitely helped a lot." 
"The way Ray and I approach the coaching is to focus on helping the teams gel around a good idea, develop a concept that is both feasible and innovative, and fits the brand, understand how to produce it, and present it well. Those are all difficult in their own right, so we decided to run a companion course ("Practicum on Branding and Innovation") to formalize some of that learning process around the competition," Grewell said.
"As an IMA student, the biggest gain in this process is to learn a lot of business and marketing knowledge, which is a field that I had never understood and studied before," said Team TMR's Qin. "This is also the first time that I have applied the knowledge learned in an IMA class to the field of marketing, allowing me to consider more different angles when designing [a project], especially from the consumer's perspective." 
Wu from Team ABS() said she enjoyed the process of constantly improving the project with her teammates and challenging each other to refine their ideas and think more critically.  
Beyond the creativity of their business idea, Wang said she thought her team's English language and presentation skills -- gained from taking all classes in English at NYU Shanghai -- gave them an advantage over other teams. 
Team ABS() said they might enter the competition again in the future because they truly enjoyed it. "We believe Team TMR will make it to the world final," Chen laughed. "We wish they could win the global championship. We really like their idea."