NYU Shanghai Launches New Mathematics PhD
Dec 6 2018
NYU Shanghai is partnering with the NYU Graduate School of Arts and Science (NYU GSAS) and the NYU Courant Institute of Mathematical Sciences to launch a new PhD program in Mathematics, with an eye toward welcoming its inaugural class in Fall 2019. Mathematics students of any nationality may apply for admission between now and January 31, 2019.
The Mathematics PhD will be NYU Shanghai's sixth doctoral degree program and will be similar in structure to the university's PhD programs in biology, chemistry, computer science, neural science and physics, which are also offered in collaboration with NYU GSAS and academic departments based in New York City.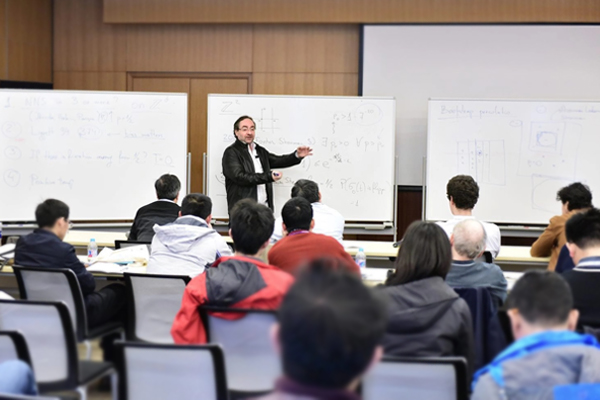 Professor Vladas Sidoravicius gave a presentation at the International Conference on Moving Interfaces and Related Phenomena in Mathematics and Physics at NYU Shanghai on March 31, 2017.  
NYU Shanghai Mathematics PhD students, to be enrolled in the NYU GSAS Mathematics PhD program, will begin their studies with coursework at the Courant Institute in New York, and then transition to full-time residence at NYU Shanghai. In Shanghai, the PhD candidates will undertake doctoral research under the supervision of NYU Shanghai faculty. Upon graduation, students will receive a PhD degree in Mathematics from New York University.
"A PhD program is a crucial step for Mathematics at NYU Shanghai. It will be a core asset to attract top faculty here, as well as strong students. After a broad initial graduate education at Courant, our students will come back to Shanghai for their thesis work, with one of our faculty members," said Gerard Ben Arous, Global Network Professor of Mathematics and Associate Provost for the Quantitative Disciplines, NYU Shanghai. "We are fortunate to be able to rely on the breadth and the strength of the Courant Institute, which is one of the top research institutes worldwide, both in applied and pure mathematics."
"NYU Shanghai's Mathematics community already draws faculty, post-doctoral fellows, and other visiting academics from around the world to study, do research, and teach here. We anticipate that PhD students will benefit from this environment while also enhancing it with their original ideas and creative energies," said Eric H. Mao, Assistant Dean of Graduate and Advanced Education, NYU Shanghai.
All admitted students will be granted a NYU Shanghai Doctoral Fellowship, which includes full-tuition scholarship and fees, international health insurance, travel funds, and an annual stipend that is equal to those provided to NYU Mathematics PhD students.
Current supervising faculty in the PhD program are Ben Arous, Pierre Tarres, and Vladas Sidoravicius. Ben Arous specializes in probability theory and formerly served as Director of the Courant Institute, as well as NYU's Vice Provost for Science and Engineering Development, from 2011 to 2016. Tarres, an Associate Professor of Mathematics and former Leverhulme Prize recipient, focuses on self-interacting random processes and their relationship with stochastic algorithms and learning processes in game theory. Sidoravicius, a Professor of Mathematics whose academic experiences have spanned the globe, from Brazil to Lithuania to Russia and elsewhere, is an expert on discrete probability and statistical mechanics.
Ben Arous, Tarres, and Sidoravicius are also all members of the NYU-ECNU Institute of Mathematical Sciences at NYU Shanghai, which is dedicated to the development of a unique research and training environment to advance modern mathematics and its applications.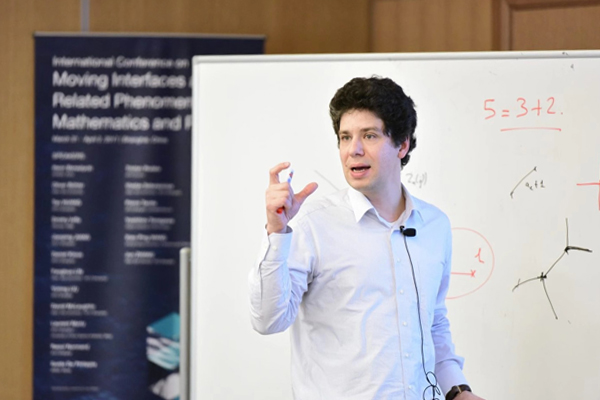 Professor Pierre Tarres presented his research at the International Conference on Moving Interfaces and Related Phenomena in Mathematics and Physics at NYU Shanghai on March 31, 2017.  
With a history that goes back more than 130 years, NYU GSAS is one of the oldest schools of New York University. The school now enrolls over 5,000 students in a broad spectrum of programs including doctoral, master's, and joint degree programs. NYU Courant traces its roots at New York University to the 1930s, and since then, has forged a tradition of excellence in pure and applied mathematics. The Mathematics faculty numbers 50, and more than 90 PhD students are currently pursuing degrees in New York City.
Since Fall 2015, nearly 20 students have been admitted to NYU Shanghai PhD programs. In addition to NYU GSAS, NYU Shanghai has also partnered with the NYU Tandon School of Engineering to offer such programs.  The PhD in Mathematics is the second program to be jointly offered with the Courant Institute, after the PhD in Computer Science, which enrolled its first students in Fall 2016.
For more information about the PhD in Mathematics program, prospective students can visit the following pages: NYU Shanghai PhD Programs and NYU Courant Mathematics PhD. Applications are to be submitted through the NYU GSAS Application Portal, and requirements are the same as for the NYU GSAS PhD in Mathematics. For more detailed instructions, prospective students can contact nyush.phd@nyu.edu.