NYU Shanghai Joins Shanghai's University Sports Federation
Apr 30 2019
The Federation of University Sports of Shanghai (FUSS) has granted NYU Shanghai full membership, enabling NYU Shanghai athletes to enter more intercollegiate competitions and test themselves against even more scholar-athletes across Shanghai and China.   
FUSS is a non-profit sports federation governed by the Shanghai Municipal Education Commission (SMEC), and a member of the Federation of University Sports of China (FUSC) and the Shanghai Municipal Sports Bureau. It connects university sports teams across Shanghai by coordinating athletic competitions and matches between university teams in the city.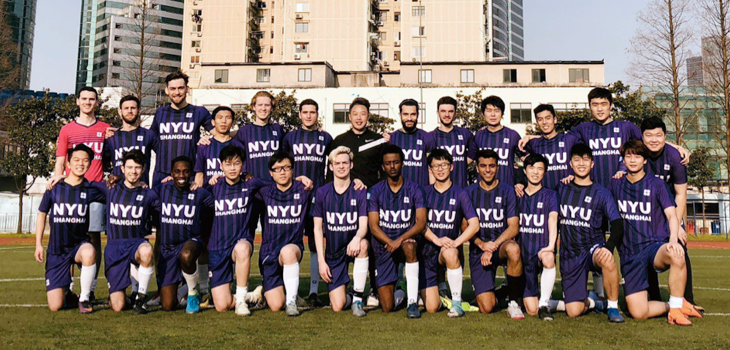 Men's soccer team, Spring 2019
"This has opened the door for NYU Shanghai's intercollegiate teams to participate in more than 30 different sports and athletic events organized by the Federation," says Luis Wang, Senior Manager for Athletics & Fitness. "This will help us set up more robust sports seasons, and increase engagement within the student body."
As a relatively new entrant into the Shanghai university sports scene, NYU Shanghai has been actively growing athletics. Last fall, the university formed men's and women's basketball teams, volleyball teams, and soccer teams, bringing the total number of NYU Shanghai sports teams to eight. School tennis and badminton teams have been in place since 2016.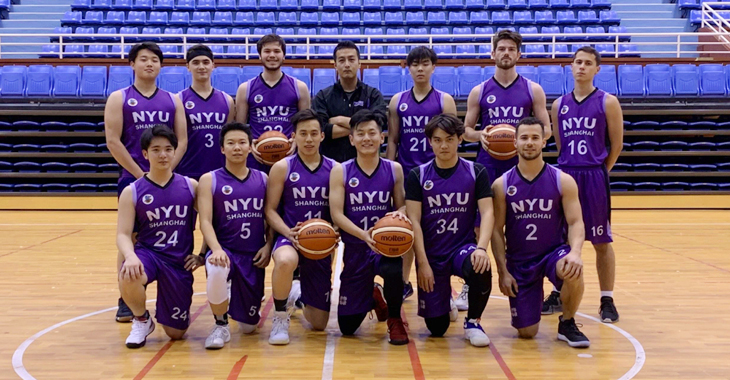 Men's basketball team, Spring 2019
"Joining the federation is also a way to practice openness in Shanghai's higher education," says Chancellor Yu Lizhong. "I also want to encourage our students to engage in athletics, and show the spirit of NYU Shanghai in the university sports leagues of the city."
Nearly 120 students, hailing from 22 countries and regions around the world, are currently  involved in athletics at NYU Shanghai. Study away students from NYU and NYU Abu Dhabi also participate while they are here.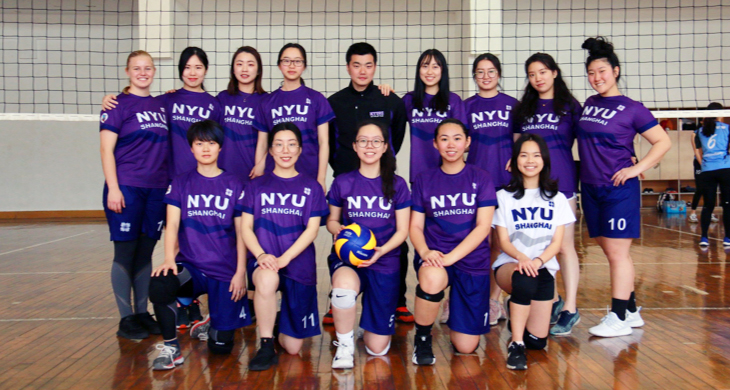 Women's volleyball team, Spring 2019
Illenna Wu '21, a member of the badminton team, says she is impressed by the level of coaching and advising provided by the University. "Not only do we have professional coaches, even the administrators from the Athletics and Fitness Office have sports-related backgrounds," Wu says. "This means that in the process of conditioning, training, and competing, our team always receives immediate, experienced, and professional feedback and guidance, which ultimately becomes the foundation of our success."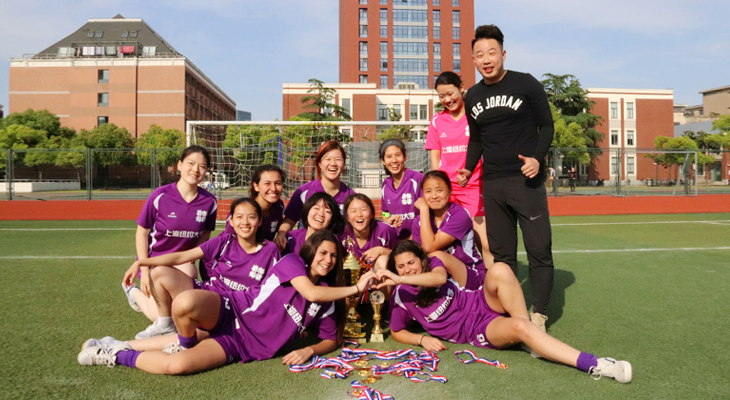 Women's soccer team, Spring 2018
Already, NYU Shanghai teams and athletes have posted several early triumphs. Last Spring, the women's soccer team won the citywide championship. The university's basketball and badminton teams have also posted wins against a Sino-US counterpart, Duke Kunshan University.
The NYU Shanghai Athletics and Fitness Office organizes a wide range of competitive and recreational sports events for staff and students.
This academic year, the office has organized a number of enrichment activities to encourage sports, fitness, and athletics in the daily life of NYU Shanghai's students, faculty, and staff. They range from classes such as Muay Thai, Jeet Kune Do, and Squash to all-university tournaments in badminton and basketball. Weekly fitness classes in the gym are also available to students.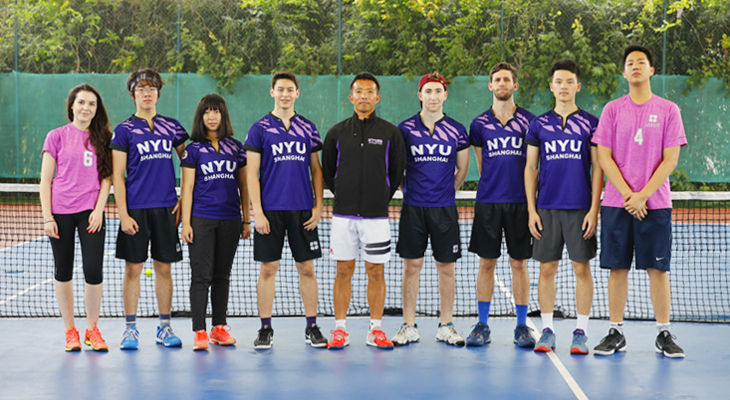 Tennis team, Spring 2019
In the future, the office is planning a series of activities, such as intramural tournaments and school Olympics, that will underscore their motto of: "Developing your mind and body, promote sportsmanship, and create Violet Pride."