NYU Shanghai Basketball and Badminton Teams Defeat Duke Kunshan in Inaugural Competition
Oct 19 2018
The NYU Shanghai men's basketball and mixed badminton teams hosted their fellow Sino-US joint venture university rivals Duke Kunshan University (DKU) for some friendly competition Sunday, emerging victorious on both courts.  
The DKU teams travelled two hours in the early morning to make the 10 am tip off at the Yang Jing High School gymnasium.
Though both teams brought three-pointers, slam dunks and exciting plays to the game, NYU Shanghai reaped the benefits of home court advantage, soundly defeating DKU 69-36 after overcoming a deadlock in the first half. "Our team focuses mainly on defense, then we strike whenever there's an opportunity," said team captain and shooting guard Louis Veazey '21.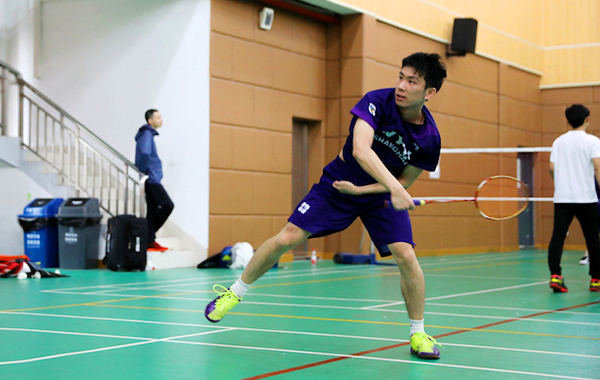 (NYU Shanghai Student Lv Siyi '21 Playing Badminton. Photo by Monica Xie)
In the afternoon, both schools met again at Dong Chang Middle School for badminton matches, a total of ten singles games. Though NYU Shanghai took the series 7-3, with men's singles sweeping 5-0 and DKU edging out NYU Shanghai's women 2-3, the atmosphere on the court was more supportive than competitive. Both teams' cheer squads rooted for both classmates and opponents. "Badminton is a quite personal game, yet the whole team is very united," said Wang Ruiyu '21. "We cheer each other on and point out how to improve our game. It definitely strengthens our team bonding."
"The games not only helped us increase our actual competition skills, but also really enhanced the friendship between the two colleges," said Lv Siyi '21, captain of the NYU Shanghai Badminton Team. "I'm looking forward to our future communication."
In the coming months, the athletic offices of both NYU Shanghai and DKU hope to organize more meetings and tournaments  between each other and with China's other joint venture universities.
"All of us are excited to see our program developing steadily this year and we look forward to making it more fun for the students. Go Violet!" said Luis Wang, Senior Manager for Athletics and Fitness.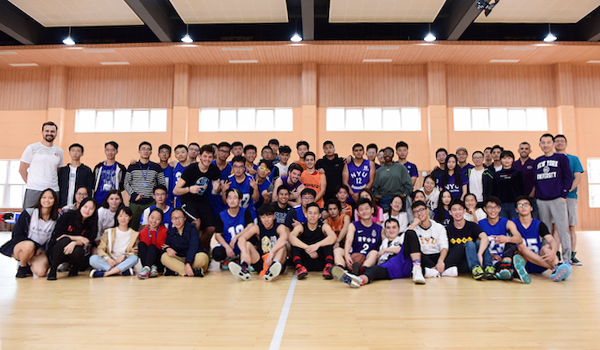 (DKU and NYU Shanghai Group Photo by DKU Student Anita Huang)
(Cover Photo by Veronica Zhang)