NYU Shanghai and NYU Abu Dhabi Team Up for 'Language Matters' Symposium
Nov 18 2022
Why do some languages sound cool and some sound weird? How can we use theater and drama activities to teach a foreign language? How do we develop students' transcultural and translingual competence? What are different ways to incorporate multilingual approaches in classes taught in English? The 1st Conference of Language Matters: Teaching Content Across Languages, co-hosted by NYU Shanghai and NYU Abu Dhabi, aimed to address some of these questions about linguistics, language acquisition and teaching content across languages within a global context. 
On November 14 and 15, Chai Jing, a senior language lecturer of Chinese from NYU Shanghai who is now visiting NYU AD, along with her local colleagues Corinne Stokes, Senior Lecturer of Arabic, and Madeleine Wolf, Visiting Assistant Professor of French Studies, led speakers from Harvard University, University of Minnesota, University of Leeds, Sorbonne University Abu Dhabi, NYU Shanghai, NYU and NYU AD in an enthusiastic discussion on campus and through Zoom. About 100 participants from NYU global network universities and a variety of other local UAE institutions, as well as other institutions from all over the world joined the two-day workshop.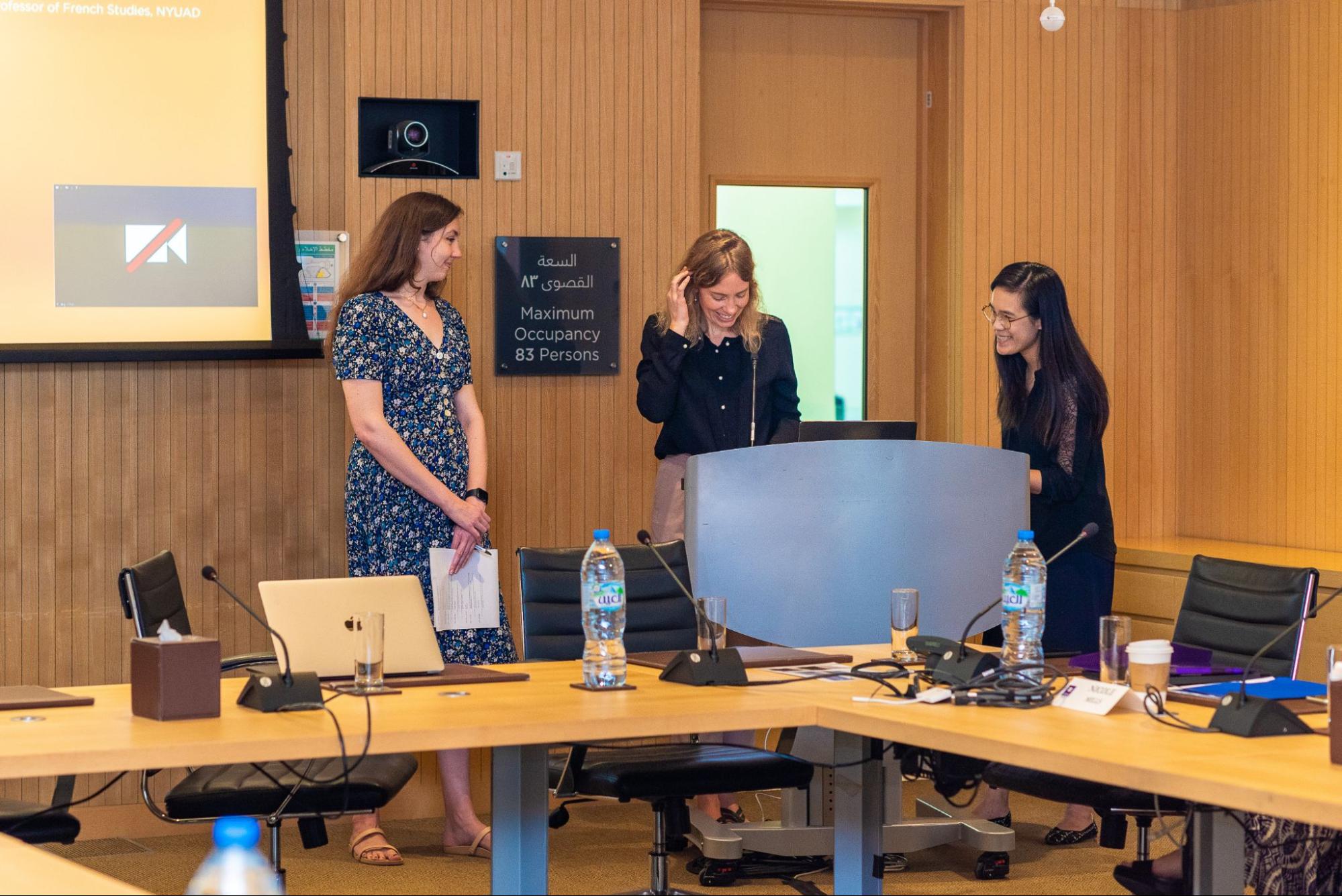 Chai Jing,  senior language lecturer of Chinese from NYU Shanghai,Corinne Stokes, Senior Lecturer of Arabic, and Madeleine Wolf, Visiting Assistant Professor of French Studies preparing the event.  

Around 100 participants registered online, with 20% from NYUAD, 30% from NYUSH, 6% from NYU and the rest from other local UAE institutions as well as other institutions from all over the world.  
NYU Shanghai has many opportunities for language acquisition research, even among its student body, who are required to take first-year courses in Chinese and English for Academic Purposes. The conference posed an ideal time to share research findings. One of the key founding members of NYU Shanghai, Dr. Frank Lixing Tang, is a research professor of foreign language education and the co-director of the Developing Chinese Language Teachers (DCLT) project at NYU Steinhardt School. He gave a presentation on content-based instruction (CBI), which has become popular in language classrooms around the world. Taking NYU Shanghai's CBI teaching strategies as an example, he spoke about the Chinese program's endeavor to develop a curriculum that balances content and language and uses authentic materials or modified texts to teach culture and Social Emotional Learning. He suggested a humanistic approach and form-focused instruction model for teaching in a CBI classroom.
NYU Shanghai EAP lecturer Marcel Daniels spoke on Service Learning from a Language Classroom. "Among the more valuable aspects of incorporating service learning in our curricula is the very real impact [that] applying theory into practice has on students," he said. "By taking them out of the classroom and off campus to work for and with their local communities, the relationship with the course content develops and expands in very meaningful and long lasting ways."
Daniels is Co-Area Head and Senior Lecturer in the English for Academic Purposes program at NYU Shanghai. He teaches and designs content-based academic speaking and listening skills courses in addition to the Dean's Service Scholars: Language & Power course. His presentation, "Engagement and Reflection: Service Learning in the Language Classroom," shared an overview of service learning (SL), its theoretical underpinnings, and the core considerations prior to designing a course. The presentation centered around dissecting the composition of two authentic SL courses, taught in contrasting settings, highlighting the ways student engagement with the community and student reflection present themselves in the course design.
The conference presented a chance for NYU Shanghai professors to learn and exchange knowledge about language acquisition. NYU Shanghai Senior Lecturer Shui Xiaobo, was inspired by keynote speaker Professor Nicole Mills's speech about inspiring the instruction of language and critical content.  "The approaches and instructions she applied in her teaching were not just 'fun activities.' She makes the language class into a place where students can deeply engage in meaningful, useful and purposeful work." 
NYU Shanghai Chinese Elementary Level Coordinator Xia Ku agreed. "Sometimes we get lost in the daily teaching and lesson planning and forget to pause and reflect. Participating in such events really helps me refresh my knowledge and stay updated with the research and trends in my field," she said. Organizer Chai Jing said that students studying and traveling among NYU's Global network have the chance to take Chinese, Arabic, French and Spanish language courses. "Faculty across-sites have very little opportunities or support to gather and share curriculum design and teaching practices," she said, appreciating that the symposium offered a chance to start building a network among language educators. "We like to take this initiative to start the conversation and to start building a community that would grow organically toward something bigger than ourselves," she said "As we conclude this two-day event and gather feedback, I am very certain that exchanges like this will definitely be mutually beneficial, and their impact can go even beyond the NYU Global Network."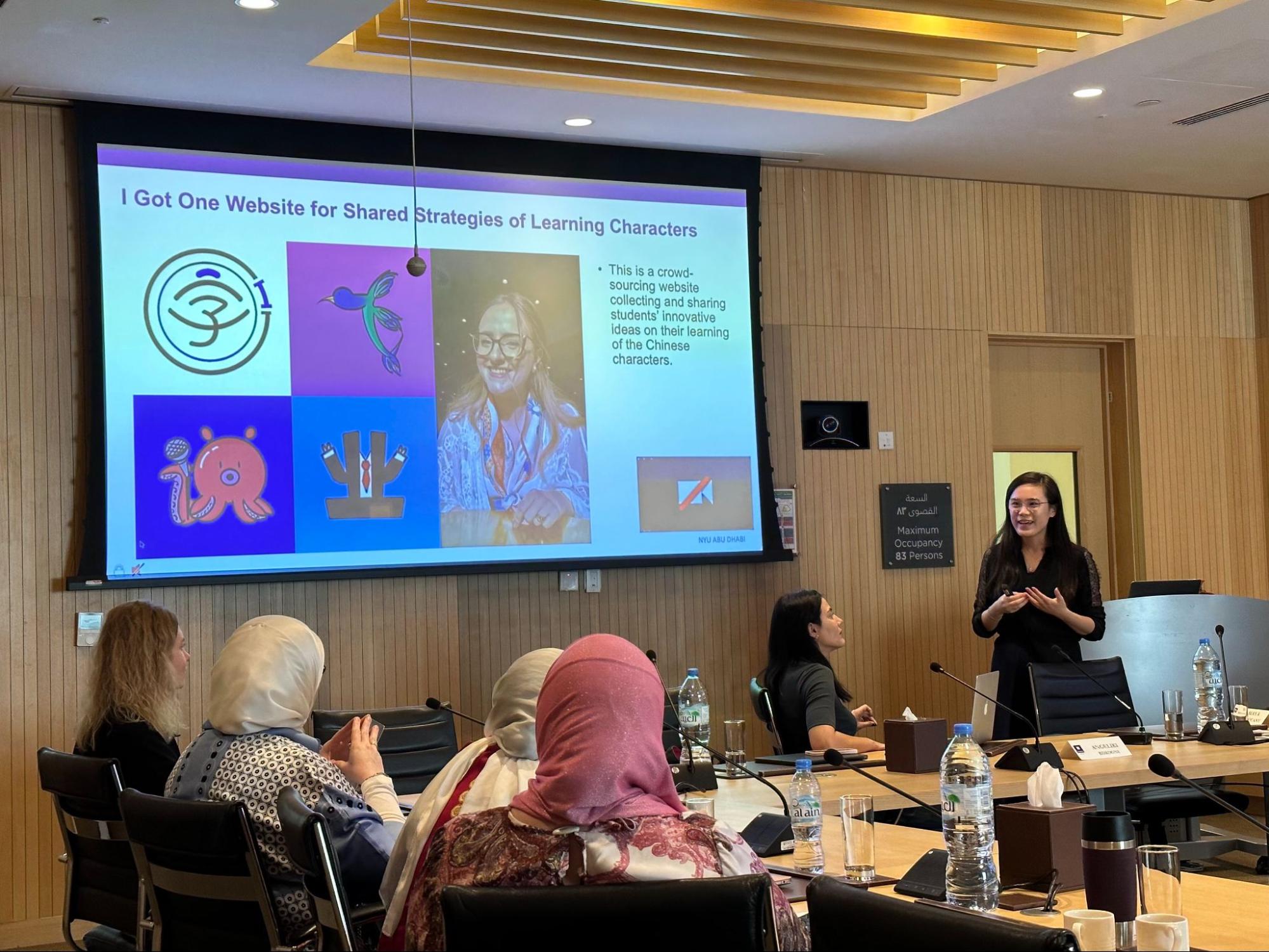 Chai Jing sharing a talk on her research project Among Us, which focuses on engaging different Mandarin-speaking communities on campus and beyond, including a crowd sourcing website she established to collect and share students' innovative strategies for learning Chinese characters.