A New Urban Model?
Oct 13 2017
On Tuesday, cultural historian Chris Wilson from University of New Mexico shed light on the transformation of Paris urbanism in history and proposed parallels in the succession from Shanghai's traditional lilong districts to the mega streets and high rises of contemporary Pudong.
With his research based on two of the most influential models for urban development in Paris—generated by Baron Haussmann in the 19th century and Le Corbusier in the 20th—Wilson predicted that  a third model will emerge in current times.
"The first model spread throughout much of the West, and its colonies were based on a tradition of dense urbanism. The second was based on a radical modernist reconceptualization of the city, even more broadly spreading throughout metropolises of the developed and developing world," he said.
Near the end of the 20th century, a new generation of architects and urbanists critiqued the shortcomings of both models, resulting in the emergence of a new model of town planning called ecological urbanism. These new districts reasserted traditional urban streets and block structures while also accommodating high rises. They also celebrated ecological processes, for instance, by channeling stormwater collection and treatment through axial parkways to the marshlands of public parks.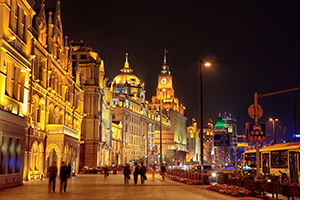 "We could learn lessons from traditional urbanism which brings ecological thinking into the design," Wilson said, who spent his first visit to Shanghai observing areas between lilong districts and the Bund.
"There's no perfect model, but we can use the experience for reference," Wilson said when asked about what lessons could be applied to Shanghai. He asserted that these models could be used in metropolitan cities all over the world.
This talked was introduced and moderated by Brad Weslake, associate professor of philosophy at NYU Shanghai.