Jackson Sayama '19 Wins Election for Hawai'i State House of Representatives
Nov 6 2020
It's official: Jackson Sayama '19 has won his race for Hawai'i State House of Representatives. At 23, the win makes him the second youngest person to ever be elected to the State House in Hawai'i (after U.S. Representative Tulsi Gabbard). He will be the youngest current representative in Hawaii's 51-member House of Representatives. 
Sayama and his team spent the weeks leading up to the election making sure that his hard work to win the primary would pay off. "The last few weeks have been about making sure people turn in their ballot and vote on November 3rd," he said. "The worst case scenario was that people voted in the primary, but then took it for granted and wouldn't vote in the general election." Luckily, that is not what ended up happening. Sayama won with a huge margin of victory: 75% of his district's voters cast their ballots for him.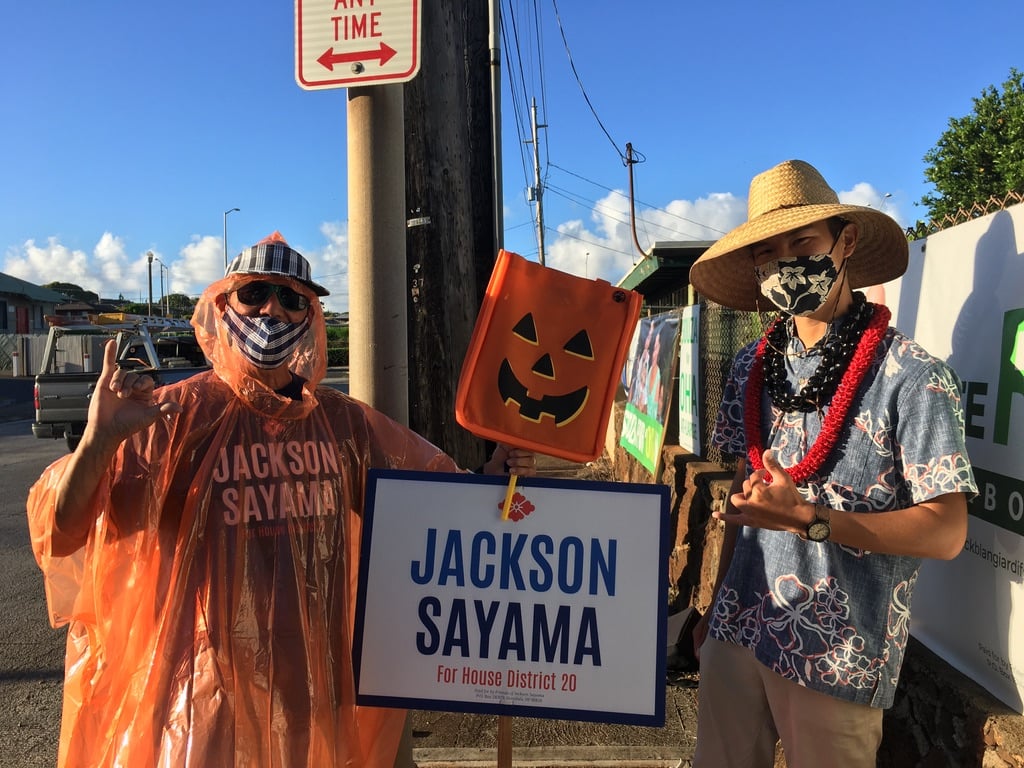 Sayama (right), with his uncle, doing last minute sign waving on Halloween
But election night did not run as planned. Following the U.S. national trend of record-breaking voter turnout, long lines at the Hawai'i polls delayed the results for hours. Sayama and his family expected to know the results by 7pm, but instead had to wait until 11:30pm for the official announcement to come. "Once we got the results, we went straight to bed. We were exhausted from watching the presidential elections too, so we were ready to call it a night."
Sayama has his work cut out for him in the coming months. He has to hire an office manager and staff member before the legislative session starts in January. He will continue his coursework towards his Masters in Public Administration at the University of Hawai'i. Later this week he will attend orientation for new Congress members, as well as his first Democratic Caucus meeting.
As for what he hopes to accomplish as a new State Representative? "I want to focus on three main issues: the economic and health recovery of Hawai'i from COVID-19, our state's huge issue with houselessness, and strengthening public education here," he said. "It's really exciting to think about what I can do to make a difference in the community that I was born and raised in."