Graduate Student Spotlight: Dai Weiduo, M.S. '20
Jul 15 2020
Hometown: Shanghai, China
Graduate Program: NYU Shanghai - NYU Stern joint Master of Science in Quantitative Finance program
Undergraduate Major: Finance, Renmin University
Graduation Destination: Institutional Sales Specialist, Orient Futures

In 2019, as he was getting ready to graduate from Renmin University in Beijing, Dai Weiduo,  M.S. '20 knew he wanted to pursue a career in finance in Shanghai, but only after getting an advanced degree in the field, and perhaps, some experience in the world's financial capital, New York City.
"I applied for many renowned finance graduate programs in the U.S. and had received offers from John Hopkins University and the University of Rochester," Dai says. "But when I learned about the joint NYU Shanghai-NYU Stern program, I realized this was exactly what I was looking for - an immersive learning experience in both New York and Shanghai, amazing Stern professors, close connection to the forefront of the industry, and a strong focus on a career in the Chinese market."
Dai graduated this May with a Master of Science degree in Quantitative Finance, winning an excellence award for academic achievement and engagement. Now an institutional sales specialist at Orient Futures in Shanghai, Dai says he's delighted to have fulfilled the goals he set a little more than a year ago.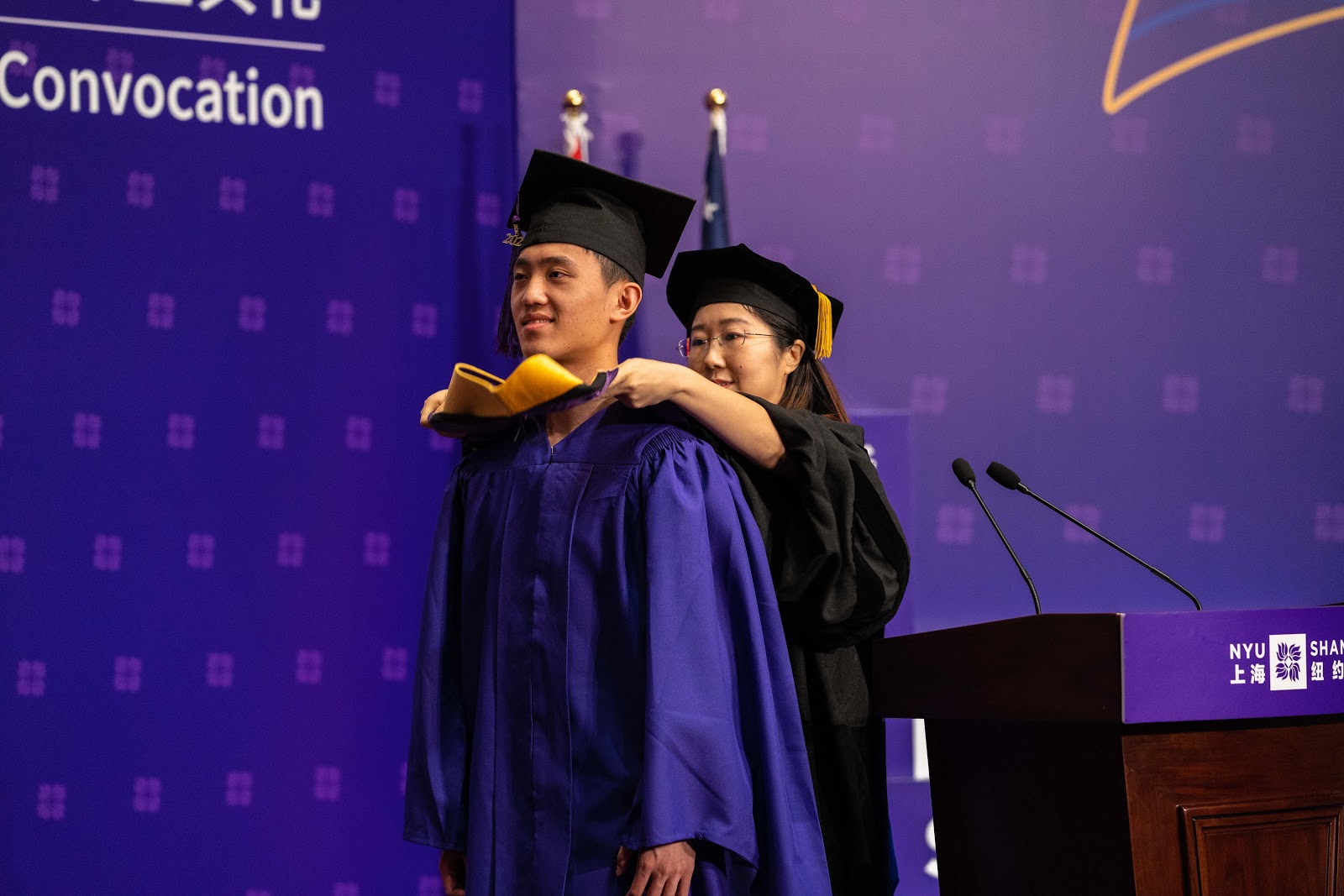 Dai was "hooded" on behalf of his classmates in the Master's Convocation.
Dai joined the inaugural Quantitative Finance Master's class in June 2019. The group kicked off their studies with a three-month summer session on Stern's New York City campus. "The courses I took and the projects I did at Stern were totally different from what I had experienced in my undergraduate school," Dai says. For Emerging Markets Finance, taught by Adjunct Professor of Emerging Finance Jean Van de Walle, Dai remembers creating a stock portfolio from the market of a developing country and finding ways to make it outperform other funds. Though Dai had some experience modeling stock markets and analyzing business cases, he had never been given so much freedom to make use of whatever he had learned to work on a project.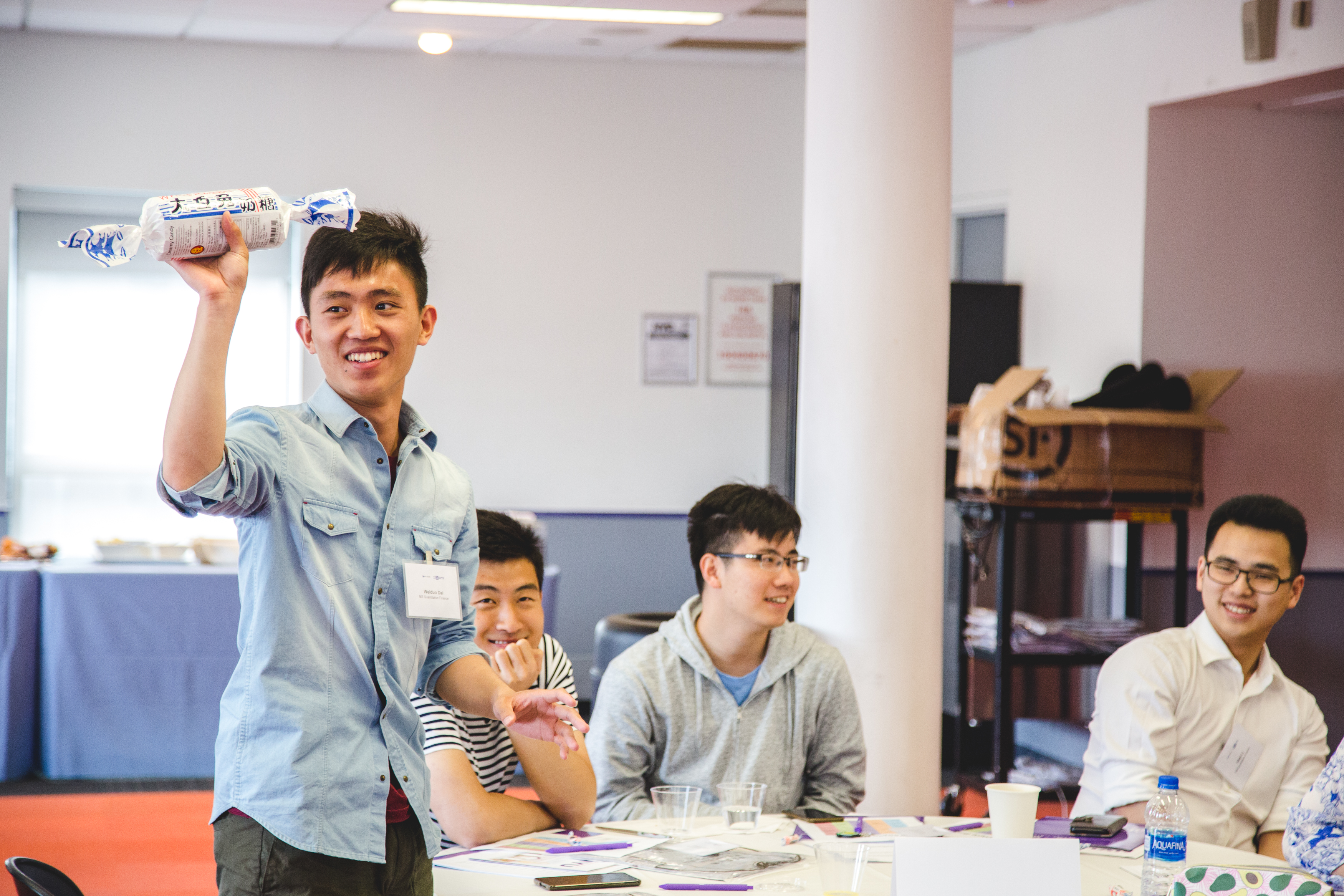 Dai handed out White Rabbits, a traditional Shanghai candy, to his classmates during the orientation in New York.
"Professors at Stern are very kind and willing to help," Dai says. "Even now, I still turn to them for help when encountering problems at work and they always offer me timely support." 
Courses became even more challenging when the students returned to Shanghai in the fall. Futures and Options, taught by Research Professor of Finance Menachem Brenner is the course Dai says he uses most in his new job. In addition to the cutting-edge theories and tools he learned to master, he remains inspired by Brenner's wisdom. "Professor Brenner is a doyen of the finance industry and is extremely passionate about his lifelong research field," Dai says. "He shared with us how he got novel ideas from his practice in the industry which were later proved to be big findings and were used to invent new indexes. These stories really encouraged me to work harder and think out of the box." Dai also draws regularly on the lessons he learned from Visiting Assistant Professor of Finance Zhao Bin in her course, Chinese Financial Markets.
With the goal of finding a job in Shanghai after graduation, Dai was able to gain career experience while studying for his degree. Interning at Citic Securities, Dai studied Hong Kong and U.S. stock markets firsthand, which prepared him well for his current job. "Many of my clients are from Hong Kong SAR and Singapore and these two markets are always their focus," Dai says. "Thanks to the internship, I'm now able to introduce the two markets to clients more logically and expertly." 
The Career Development Center (CDC) at NYU Shanghai also provided support, bringing in industry leaders to share insight into their fields and  career development tips. Dai ultimately found his current job at a recruitment event co-hosted by CDC and Lujiazui Talent Recruitment. "CDC was especially helpful during this hard time for graduates."
As for next steps, Dai believes the best way of taking care of the future is to take care of the present. "I want to gain more experience as a salesman, accumulate client resources, and make our company more visible and reputable in the global market. I can't wait to meet my clients face-to-face!"