Financial Means, Social Ends
Nov 2 2018
Academics from the seemingly disparate fields of social work and finance converged at NYU Shanghai for a roundtable exploring new ways to apply concepts and methods from the world of finance to poverty alleviation and other sustainable development priorities.
The October 30 conference, hosted by the Shanghai-New York Master of Social Work Program and New York University Silver School of Social Work, was designed to generate a cross-disciplinary dialogue to nurture inclusiveness, balanced growth, and sustained change.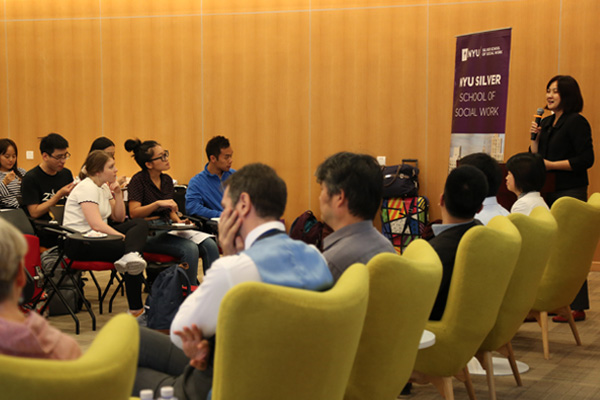 Following a brief introduction from Professor Xu Qingwen, who coordinates the MSW at Shanghai and New York Program, the presentation began with Professor Rodrigo Zeidan proposing a new way  of looking at poverty, which he noted was often the consequence of people "unable to make long term decisions."
For instance, he said, a poor student might give up an offer to attend a leading business school for fear of high tuition, without weighing the fact that his earning power after graduation might enable him to retire tuition debt. "Poor people can't invest in 'the future.' They can only think of short term interest," Zeidan said. "That's why the poor get usury with 500 percent interest rate, and why poverty leads to secondary miseries such as crimes, drug use and so on.The poor discount the future at a different rate."
He advocated for greater financial literacy training for social workers so that they can use financial approaches to empowering their clients. "Most social workers know nothing about finance."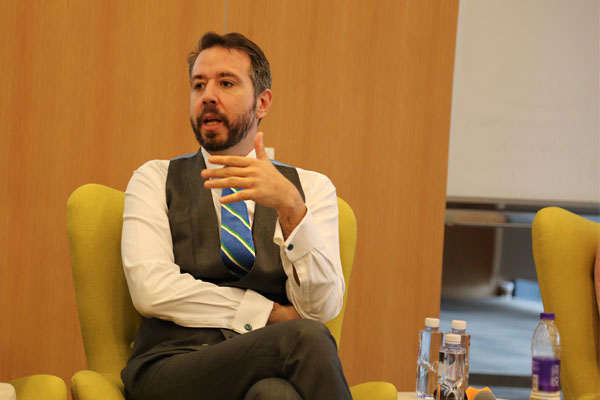 Echoing Prof. Zeidan, Huang Jin, assistant professor of Social Work at St. Louis University, dug deeper into the predicament of the poor, urging government organizations and NGOs to beef up institutional support for the vulnerable.
"Who should be blamed for the mindset of the poor? It is hard to get out of the trap, so for social workers, the continuous improvement of policy design and the effectiveness of its execution should be the focus," Huang said.
Huang spoke of the reform of the 401(k) plan, the retirement account for most working Americans, as an example. "At first, when the account was in a pop-in stage, enrolling only voluntary citizens in the project, only a small number of population chose it. But then the government reversed to a pop-out approach, automatically registering every citizen but allowing those who want to unenroll. Then the application rate of 401(k) plan reached almost 100 percent, thus benefiting the majority of the American population," she said.  
The two-hour roundtable was followed by a lively Q&A session with the audience, moderated by Professor Jin Minchao.
"Given the booming financial market and the increasing responsibility of individuals and families on retirement planning, financial literacy becomes a necessity for everyone including poor population. Therefore, social work needs to include financial literacy into research, teaching and practice," Prof. Jin concluded.