The amazing feats of this year's winter Olympians in Beijing have captured the imagination of millions. But what is it like to actually train and compete in these disciplines? NYU Shanghai has a few winter sports athletes of our own - and some  gave us a firsthand account of what it might be like on the inside.  
 
Annie Lu - Figure Skating 
Director of Admissions Annie Lu grew up in sunny southern California but spent her formative years at the ice rink. While most competitive figure skaters start as young as two years old, Lu discovered the sport in sixth grade, as an after-school activity. She fell in love with it and quickly progressed to training every day at 5 AM and performing on the competitive circuit.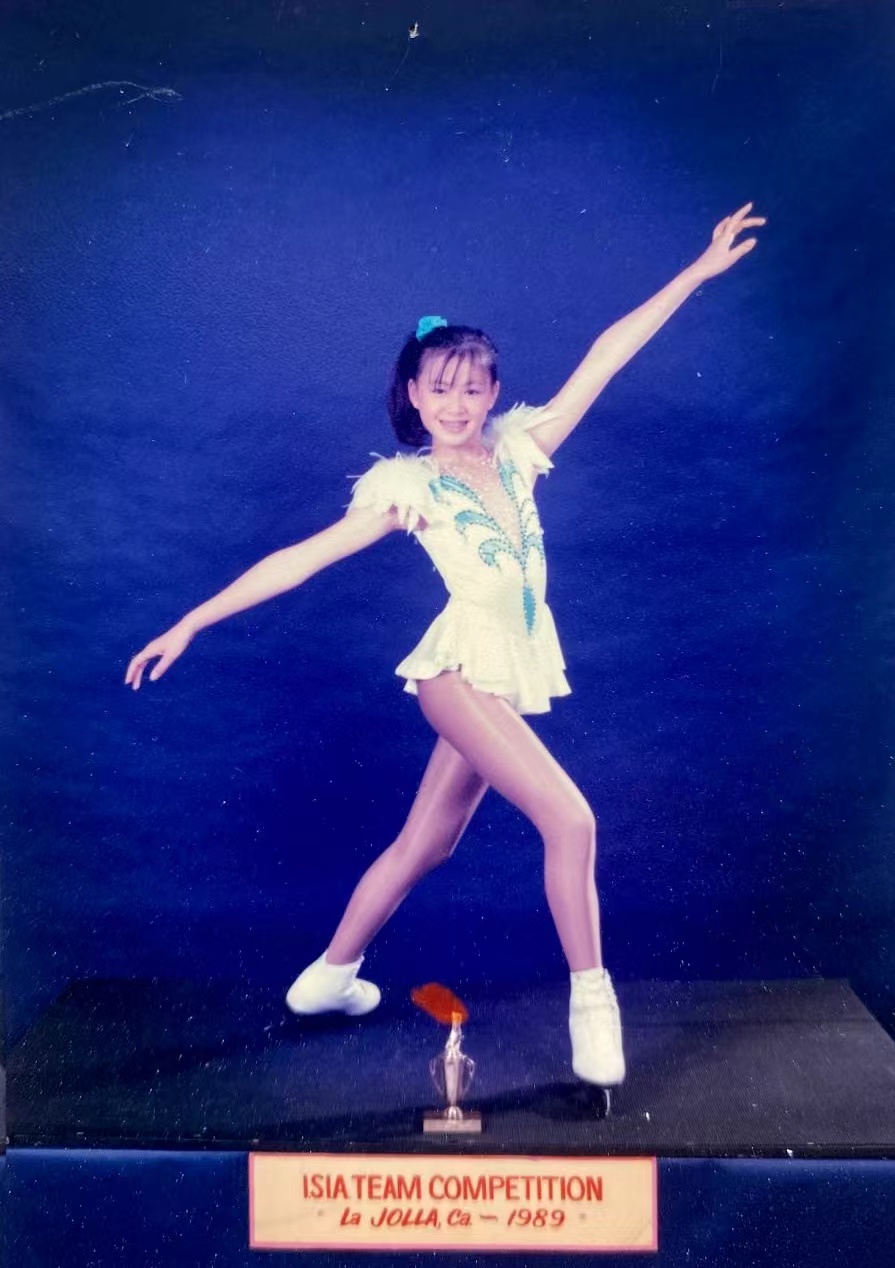 What aspect of figure skating made you really fall in love with the sport?
There's a certain freedom you feel on the ice when you're skating. When you're running, for example, a lot of effort goes into every step. But with skating, you push off and you just glide. There's an incredible feeling of effortlessness and freedom as the wind rushes past you. Figure skating is also thrilling – there's an element of constant danger that comes with high-speed spinning blades on rock-hard ice. When you nail a jump, it's the best feeling in the world. It can be easy to get caught up in only perfecting the jumps and tricks, but I also loved the musicality and the personal expression that is so integral to building a figure skating routine. 
What lessons from figure skating have been really important in your life outside the rink? 
When you're skating, you fall and get up over and over again, and you have to learn a lot of perseverance and a lot of discipline. You also have to learn how to stay extremely focused, especially in competitions. A two-minute competition routine probably has five or six big jumps in it. If you fall on that first jump, you're carrying that fall with you for the rest of the routine. Initially it's very hard to set that aside and approach the next element with a fresh perspective, but you learn how to be in the moment and let that baggage go. 
 
What advice do you have for people who want to try ice skating for the first time? 
Forget what you look like when you first get out on the ice, because everybody looks terrible when they first start! You're not going to experience the gracefulness that we associate with figure skating in the beginning, but that doesn't matter. Try to simply enjoy the sensation of skating, and eventually you will get stronger and more confident. The wobbly beginning stage passes quickly, and the joy that you get from ice skating is infinite after that. 
For people less familiar with figure skating, what are some tips for spotting a really good skater and routine? 
Of course, the difficulty of the jumps and how clean the skaters land them is important. But in order to be an impactful skater who can truly connect with the audience, you need a combination of technical and artistic ability. As a skater, you don't want your audience to feel the stress building up every time you're coming into a jump. Truly great figure skaters have the artistry to build their jumps seamlessly into their routines so that the audience doesn't feel like they're just skating around filling the time until their next trick.
 
Ding Shuzhe - Speed Skating 
Associate Vice Chancellor Ding Shuzhe trained for more than 10 years as a competitive speed skater in his hometown in northern China. Though he hasn't laced up a pair of skates in years, the lifelong friendships and academic interests he developed from many long hours at the speed skating oval sustain him to this day.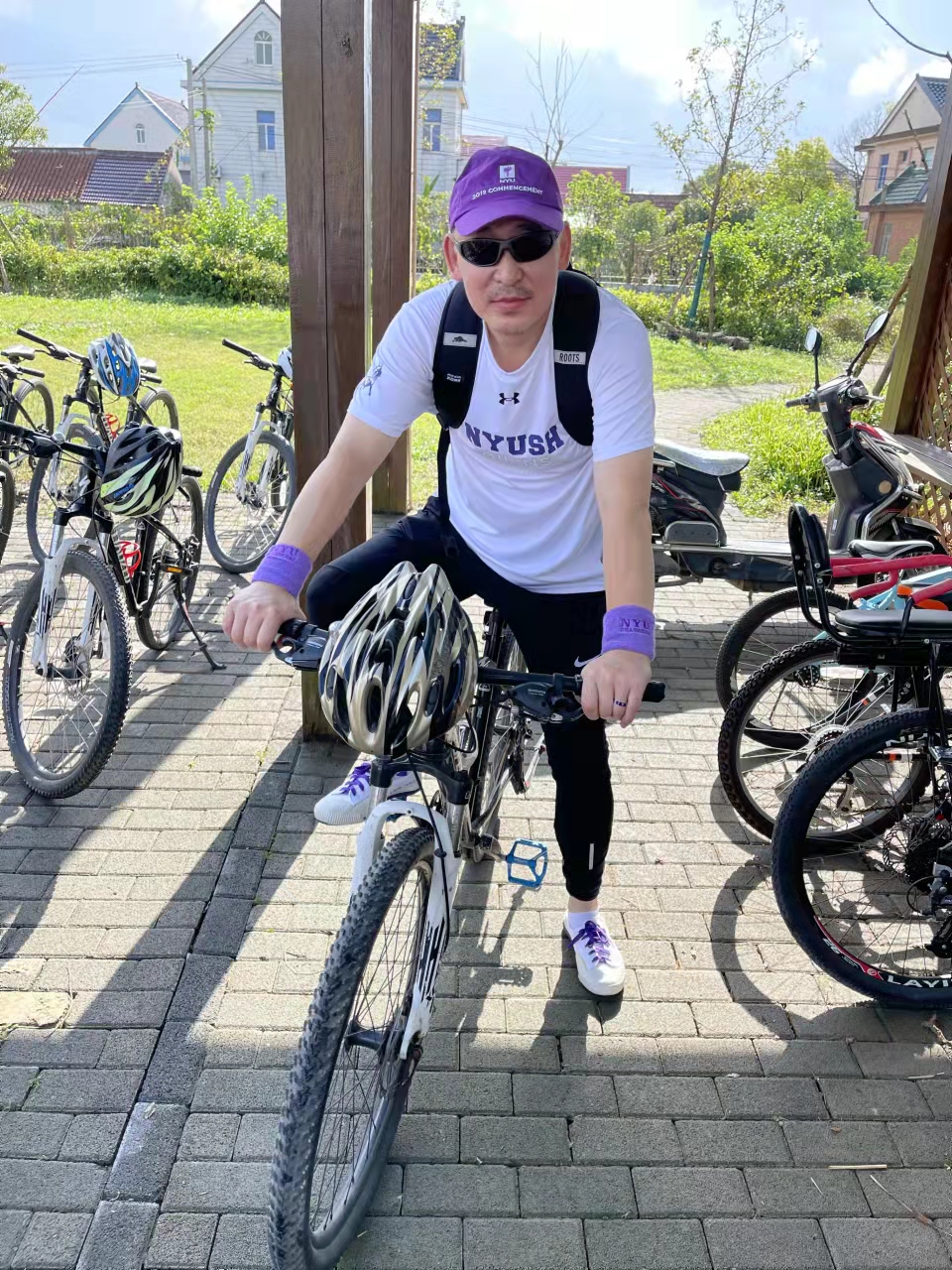 How did you get your start in speed skating? 
I was born in the northeast part of China - Heilongjiang province. It's very cold in the winter, so winter sports are very popular. All of my neighbors were friends and classmates and we played together a lot -- figure skating, speed skating, and ice hockey. In Heilongjiang, almost every school had a real outdoor ice rink and equipment that we could share. I began learning speed skating at seven years old, and at nine, I went to a special school for speed skating training. From then until university, I took part in a lot of speed skating competitions.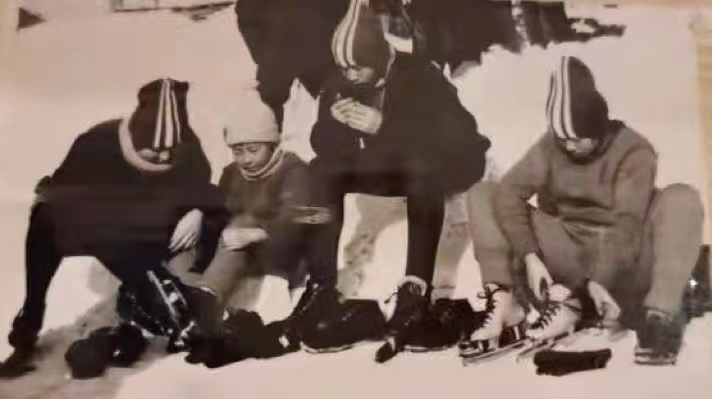 Ding Shuzhe (second from right) resting with teammates after a training session in 1975.  
What did the sport teach you? How has it impacted your life? 
Speed skating taught me the courage to fail. To face failure and look beyond myself and believe that tomorrow will be better than today. It also taught me friendship and community with my teammates. We spent twenty-four hours each day together - living together, talking together, training together, crying together. Even though there was competition among my teammates, we were still part of a big family. Watching a stronger teammate is always better for you. They encouraged me to be a better me, and I think this is one of the core meanings of sports and athletics competition. I am so thankful for my teammates. Even forty years later, we still have a Wechat group and keep in touch. 

Ding (third from left) is speed-skating with his teammates.
Will you be watching speed skating this year at the Olympics? 
I don't watch speed skating anymore. It brings back memories of the nerves and pressure of competing. But I still keep track of which countries are doing well. Norway, Poland, and Sweden are always strong in long-track competitions, and China and Korea have strong teams for the short track competitions this year. Even though I find it stressful to watch, I hope to get back on the ice again. With speed skating, it's almost meditative, you can just focus within yourself. 
How has your history with the sport informed your professional research? 
After graduating from university, I began to research sports and exercise. My masters degree was in human physiology and my Ph.D. was focused on exercise biochemistry. It is very special to research sports and exercise. There are two sides: the first is just athletics - promoting the foundational functions of the body and learning how to improve performance and become a champion. The other side is promoting overall health.  After my Ph.D., I went to Northfield, Minnesota to conduct research at St. Olaf College. That was actually the last time I skated on real [outdoor] ice. Since Minnesota, I haven't skated much, but I hear that there are several skating facilities in Shanghai, and I hope to get back on the ice before I turn sixty!  
 
James Lambert Jr '22 - Skiing
James Lambert Jr '22 has been skiing since the age of two. After training and racing competitively for seven years, the NYU Shanghai senior transitioned to working at a ski resort and coaching younger competitive skiers. The Pennsylvania native spent his winter break in Jilin, China hitting the slopes at Changbaishan and teaching his friends to ski.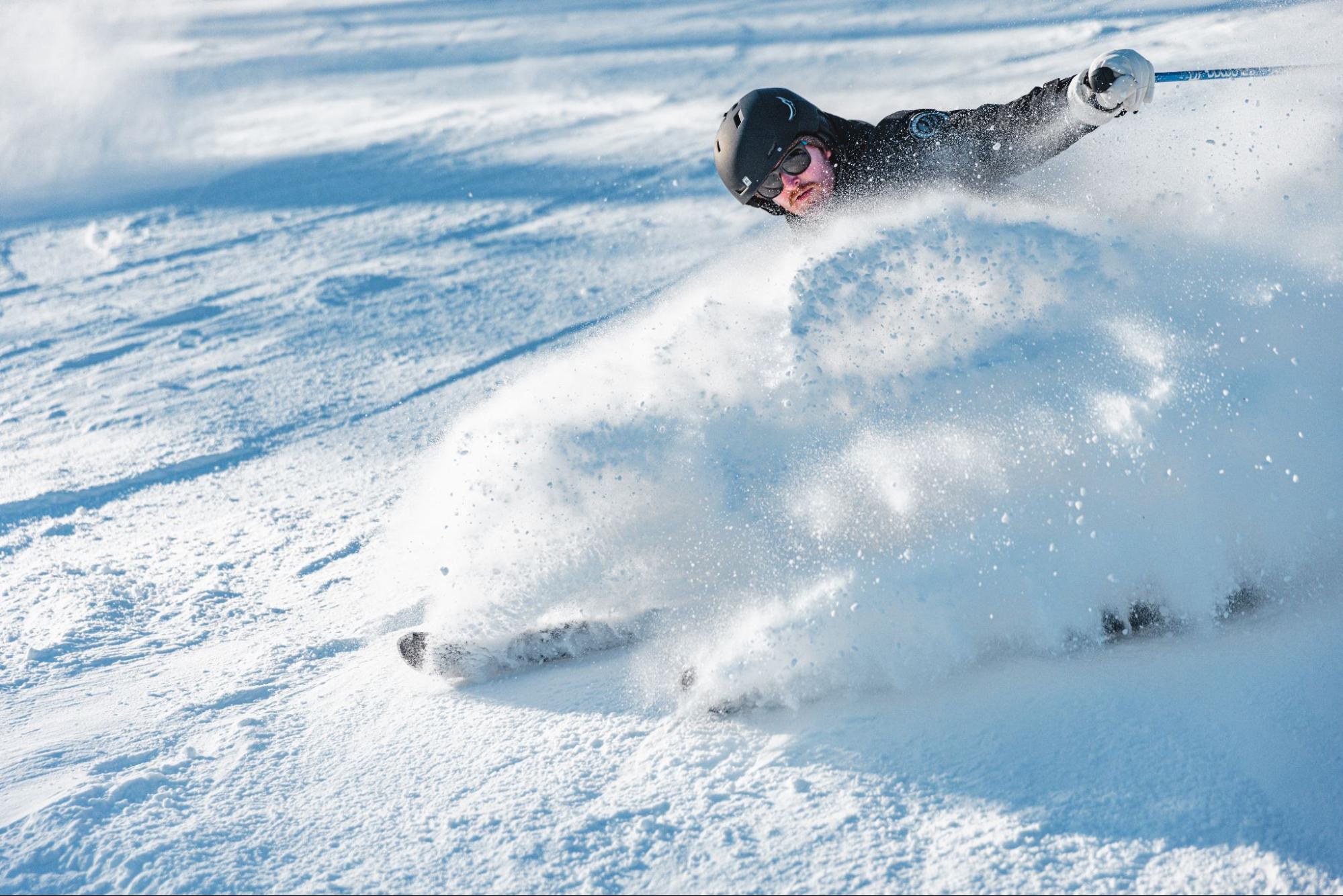 What got you into skiing? 
My parents have been skiers their whole lives, and they taught me when I was two years old–my dad would hold me up between his legs as we went down the hill together. As a kid, I was on a youth race team, and I was seven when I started competing. I raced until I was 14—I wore all the gear, the speed suits that they wear in the Olympics, everything. Over the seven years that I raced, there were about five or six races a season, so I've competed over 40 times.
 
And now you teach competitive racers?
Back in the US, I coach for the team I raced on. I love the opportunity to be outside! I started as a general ski instructor before I was coaching for the team, and I'd teach the littlest kids how to ski—it was basically daycare on skis. After that, I coached the development program on the team. I'd work with kids who were too young to compete but would teach them how to ski and get them ready to race. Last season, I was coaching actual racers and taking them on to regional competitions. Some of my kids did really well.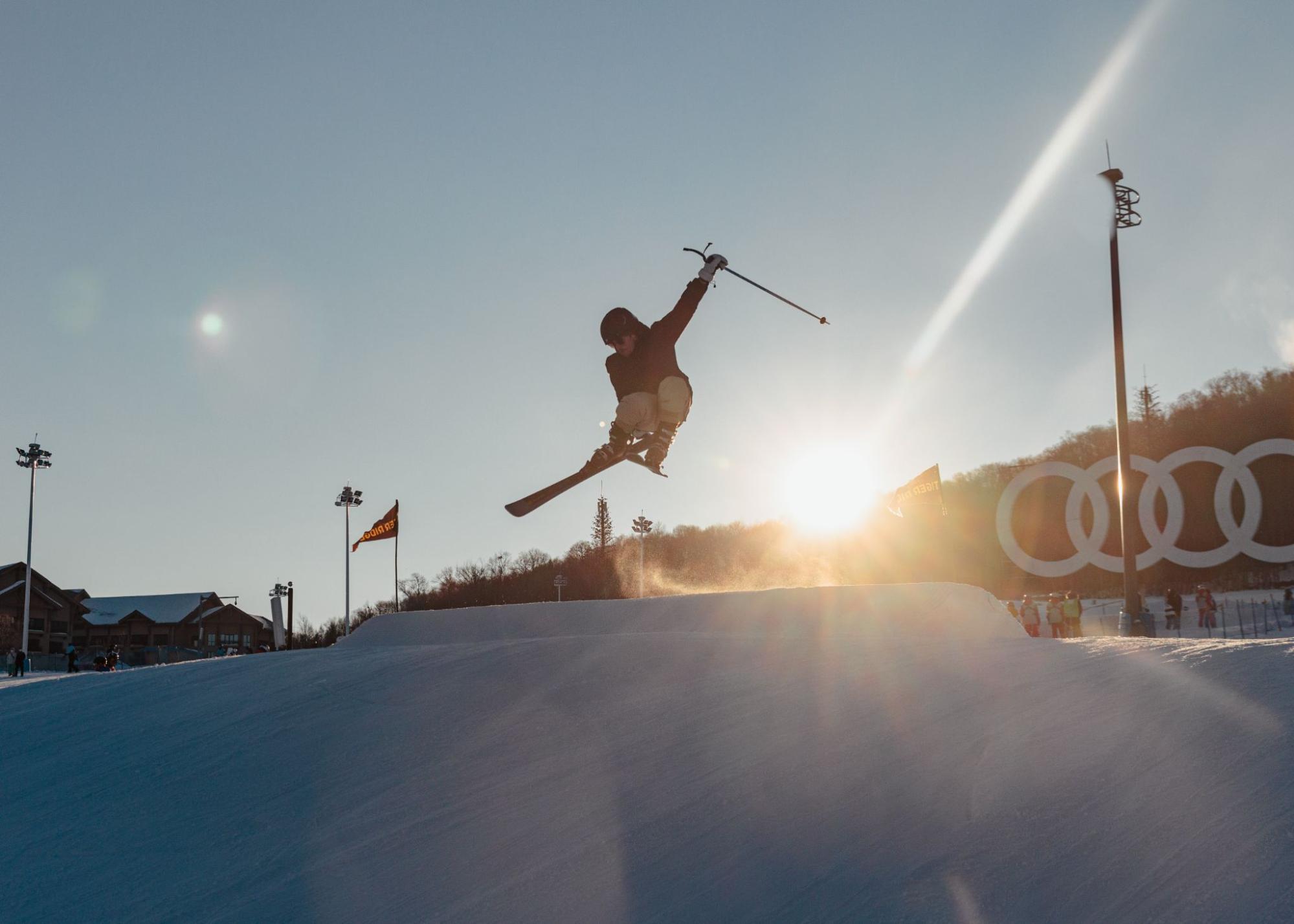 Skiing at Changbaishan, Jilin Province, China. Photo by Charles Bingaman '24
What excites you about watching skiing in the Olympics? 
I watch skiing every Olympics. I just love seeing how intensely competitive it is, because in ski racing–even at the level that I was racing and at the level that I coach–the difference between first and second place can be a hundredth of a second. At the Olympic level, it can really come down to the wire; sometimes there can be a difference of a second between first and dead last.
I'm excited to watch Mikaela Shiffrin again. She's the big star of the US team. Women's ski racing has always had a higher competitive level than the men's. It's always a blast to see who the new name is going to be, or who might be the underdog or the dark horse racer. 
Do you think the Olympics will bring more popularity to the sport in China? Have you skied in China? 
I think it will be really exciting to see how skiing plays out in the future after the winter Olympics in China. When it comes to ski racing, it's the US, Norway, Italy, and France every year—those are the four big countries—Switzerland sometimes too, but that's really it. There's really not that much competition elsewhere in the world, so it would be really cool to see Chinese athletes step up to the plate this year and see how they perform as well as see if it has a lasting effect.
I recently skied in Changbaishan, China. If anyone wants to ski in China, Changbaishan is definitely the place to be. I had the pleasure of teaching two of my friends who had never skied before. I know one of them is definitely going to be a skier for life, now. After I gave them a lesson, she immediately said, 'Oh I can't wait to go home and ski!' 
What advice do you have for someone interested in hitting the slopes for the first time?
Well, it's very expensive. So, that's definitely a big roadblock for a lot of people. I would definitely say it's worth getting even a one-hour lesson, because unless you have a good instructor (or friend who also knows how to teach) to show you the ropes before you go off and enjoy the rest of your day, it's very likely that you'll just be falling over and getting hurt, and you'll never want to ski again. That will really make all the difference from it being something you tried once to something you'll love doing for the rest of your life.
These winter sport athletes are not the only NYU Shanghai community members with experience training and competing at an elite level. The Tokyo Summer Olympics marked the first time an NYU Shanghai student competed in the Olympics when Jeremy Hazin '25 represented Canada in men's table tennis.