Eight NYU Shanghai's interactive media arts undergraduates and IMA Low-Res masters program students have completed a six-week workshop collaboration with students studying digital media arts at the Guangzhou Academy of Fine Arts (GAFA). The two schools worked together in 12 teams to create interactive and immersive virtual landscapes that explore their interpretations of the tensions between what is real and virtual, urban and rural, artificial and natural, and past and future.
From February 28 to April 8, participants attended a mix of in-person and online lectures, practical workshops, and peer-review sessions that helped hone their skills in media installation design, creative coding with realtime engines, particle systems and shaders, and sensing interfaces and physical computing. The workshop, titled "Singularity," was sponsored by Shing & Partners International Design Group, and participation was completely optional.
"Singularity suggests a forthcoming era of extended technological growth," said organizer and Associate Arts Professor of IMA Stavros Didakis. "It asks us to reconsider the boundaries and possibilities of computational and communication systems such as Artificial Intelligence, Machine Learning, the Internet of Things, Edge Computing, and Virtual Reality. Through this process, one can envision scenarios that span from utopias of societal harmony and prosperity, to dystopian futures of highly-controlled and programmed social structures and living  beings."
Didakis visited Guangzhou on three separate occasions to deliver lectures to students at GAFA which were recorded to Zoom and shared with the IMA and Low-Res students. Every week, the group would spend eight hours on technical workshops, two hours on contextual theory lectures, and three to four hours on tutorial sessions that included presentations with discussions and feedback. The collaboration was, Didakis says, a way for students to develop a 'critical approach to art-making that emerges through unconventional and innovative computational media and interactive design practices.' 
Even without a background in computer science, Rosanna Zhou Xiaoyan '23 said she had a memorable experience working remotely with her three-person team of two NYU Shanghai students and one from GAFA. "Due to the lockdown, we collaborated online through the entire production process," she said. "It has been a struggle to create separately and import our work into one project…[and] although I neither had qualified experience nor had confidence in writing codes…I went through a lot of fixing and debugging in the Unity (software) engine…[and] was able to fix the errors."
IMA Low-Res student Danni Wang worked as a teaching assistant during the workshop and guided students with conceptual and technical support. "I really enjoyed the content and improved my skills, especially the use of shaders and particles," she said. "I'm considering doing more practice on sensing interfaces for my thesis. I loved how the instruction adapted its format to accommodate the rapidly changing situation, and I'm looking forward to the post-lockdown installation exhibition."
With Shanghai's city-wide lockdown interrupting the last week of the workshop, and with partial shutdowns happening in Guangzhou, the final show has been postponed. "We had the last presentations on Zoom, and we are hoping to have the show when things open once again," Didakis said. Plans include an exhibition in the main gallery of the Guangzhou Academy of Fine Arts with proposals for exhibitions in two more locations in Shenzhen and Shanghai.
"We learned a lot from NYU Shanghai's open-mindedness and teaching philosophy, as well as about mastery of technology," said Professor Sailor Hong from GAFA's School of Visual Arts Design. "GAFA students benefited from this experience. Two schools learned from each other's strengths. I look forward to holding the exhibition once the pandemic is over."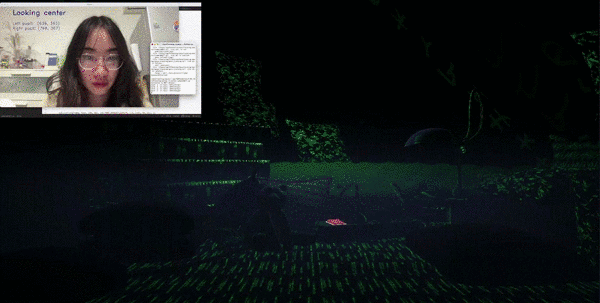 Title:  "Cocoon"
By: Dongming Zheng '23 (GAFA), Skye Gao '21 (NYU Shanghai), Rosanna Zhou '23 (NYU Shanghai) 
Description:
The "cocoon" is a greenhouse constructed by natural insect growth, but in the context of modern society, "cocoon" has become an adjective for an atomized information greenhouse. The seemingly comfortable cocoon is in fact artificially constructed, which binds people's multi-dimensional natural thoughts and natural sources of first-hand information. We built this warm bedroom environment to metaphorize the comfortable feeling that the information cocoon brings us. Every time the participant closes their eyes, the computer will recognize this behavior through a camera, and reveal the artificial reality of the cocoon.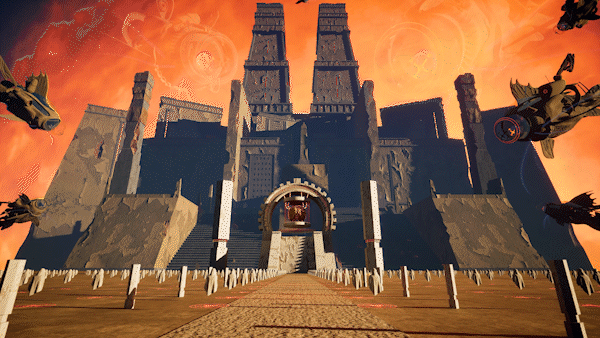 Title: "Illusory"
By: Syd Liu '24 (GAFA) William Hong '24 (GAFA), Mingkai Li '24 (GAFA), Robin Luo '24 (GAFA), Kejia Zhang '24 (GAFA), Jesse Yu '22 (IMA Low Res).
Description:
In this work, the boundaries of reality and virtuality are blurred and pushed. The bio-signals that are utilized, assist in generating virtual landscapes that emerge through a collective connectivity. As more humans engage with the work, virtual objects and structures assemble in greater detail. What is considered initially to be chaotic and unreasonable, begins to shape as a conscious reality that operates on plural dimensionalities.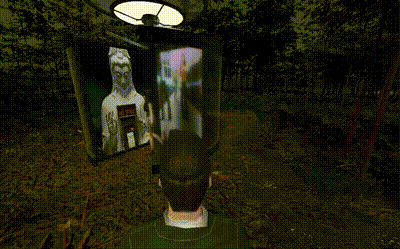 Title: "Cage"
By: Xiaoxuan Jiang (IMA Low-Res), Yi Chen '23 (GAFA), Xiaodan Feng '23 (GAFA), Qianyuan Zhang '23 (GAFA)
Description: 
In a world after singularity, freedom of choice is merely an illusion. The viewer enters through a revolving door in the middle of a pseudo-natural landscape, and rotates around the revolving door, passively consuming media until they decide to exit back into the natural environment. Once outside, it becomes clear that the natural landscape is actually encased by four glass walls outfitted with four speakers generating a natural soundscape. Is the viewer, trapped within this glass cage, being watched by someone else?
Title: "Pregnant"
By: Chen Meilin '23 (GAFA), Cheng Sheng '23 (GAFA), Hu Yuanjing '23 (GAFA), Tang Ziya '23 (GAFA), Dong Sijie '23 (GAFA).
Description: 
The viewer enters a world where human beings have mastered the technology to create nature and life, and a greenhouse landscape shows humans born from fruit-like plants. In the center is the Tree of Life, where small and large fruits dangle from branches, humans dormant inside them. The viewer's actions affect the environment–sitting prompts the enclosure to slowly move, and causes a flow of light to surge in the tree roots, while knocking on the walls of the greenhouse causes faint water waves to appear.

Title: "Until the Concrete Turns to Mud"
By: Kai Xu '23 (GAFA)
Description:
"Until the Concrete Turns To Mud" is a dual-screen video installation. Using the ruins of an urban demolition as the main environment, it attempts to discuss the deeper, more complex and changeable relationship between man and land by creating a fictional utopian form of the future city. For this project, the ruins of an old city were scanned using a LiDAR sensor on a drone. The content was then rendered using a real-time engine and edited in post-production.The audio consists of ambient sounds recorded from the site during the scanning process, and excerpts narrated from the third chapter of the Bible's Genesis, such as descriptions of God's punishment of man: "man must work in the land to get food". The final composition presents an audiovisual narrative that asks the viewer to consider the results of radical and uncontrolled urbanization and the relationships between land, people, and nature.