It seems common sense that offering a monetary incentive such as a cash bonus will boost an employee's performance or productivity.  But Julia Hur, an assistant professor who teaches Management and Organizations at NYU Shanghai says that that's not necessarily the case.
"When you get paid for your performance, you keep thinking about how much you are making," Hur says in a new video released by the Center for Business Education and Research. "You calculate the amount and compare yourself with others...so you end up thinking about money all the time. The incentive system creates an attentional fixation on money…[which] can lead to a number of consequences."
Employees choose to spend more time with coworkers who will impact their pay and less time making new connections outside the office or organization who can help grow the business, Hur says. They also spend less time with friends and family.
"Understanding management and organizations is really about understanding human behavior," says Hur, whose research explores decision-making and incentives on an individual and organizational level, and whose classes revolve around the concept that strong decision-making skills are imperative for good leadership.

"You want to understand what consequences your decision will have on your members, including their motivation, creativity and well-being," Hur says. "And you also want to acknowledge what potential decision biases or traps that you might be subjected to as a leader."
Hur works to ensure that her students gain thorough understandings of how leaders decide on the values their organizations are modeled after and the factors that encourage them to make sustainable and environmentally friendly decisions.
"Whenever I teach, I feel a great responsibility that I'm teaching the next generation of leaders," she says. "In any of my classes, I truly believe that my students will be in a position to face tough decisions, and they will be in a position to make important decisions as leaders of the future."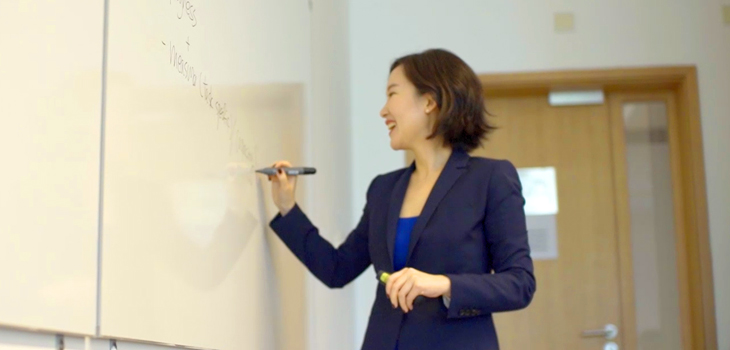 Julia Hur is an Assistant Professor of Management and Organizations, NYU Shanghai; Global Network Assistant Professor, NYU. Prior to joining NYU Shanghai, Hur has consulted for a variety of organizations in the global automotive, entertainment, and food industries.