Lunar New Year break was a bit different for the NYU Shanghai community as COVID-19 prevention efforts required most students and faculty to remain in Shanghai and forego travel plans and visits home this year. While the University celebrated with dinner and dumpling making on campus, many Shanghai students and their families also stepped forward to share this essential Chinese holiday with classmates who were unable to return home.   
Though not roommates, first year students Jinuk "Enzo" Kim '24  and  Xu Ziming '24  met at NYU Shanghai early in the fall semester. "I was close with all of Ziming's roommates," said Kim. "So whenever I had free time I would come over to hang out with them and that's how we became friends." 
Xu had already once invited Kim to celebrate the Mid Autumn Festival with his family in October - when Xu's Dad had memorably taught Kim the finer points of dumpling making. And as February's Spring Festival approached, Xu's mother expressed concern about his friends being lonely over the holidays since they were unable to travel back home, so Xu extended an invitation to his roommates and to Kim. "My mother thought that was a cool idea."
So on this year's Lunar New Year's eve, Xu and his parents found themselves chatting, eating, and passing dishes around the table with three additional guests while the annual CCTV New Year's Gala, an annual variety show of music, dance, comedy and drama and the world's most watched television program--played in the background on TV.
"My mother took care of all the dishes, including sausages, braised food, babao sticky rice and most importantly, dumplings," said Xu.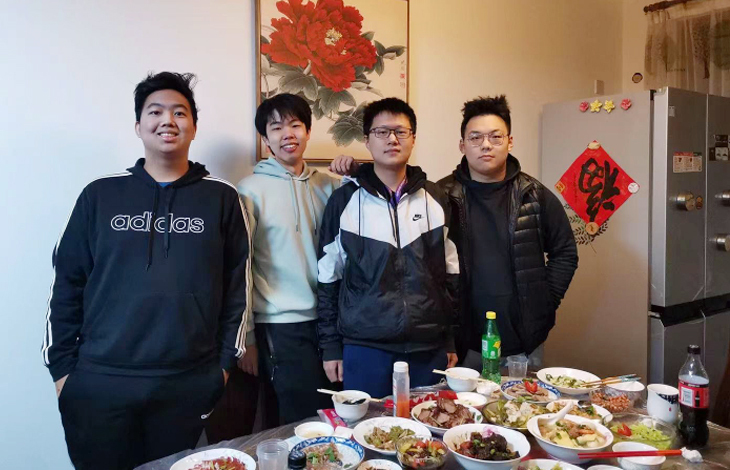 From left to right: Corey Chen '24 from Los Angeles, California, Jinuk Kim '24 from South Korea, Andy Zhang '24 from Shandong, China and Ziming Xu '24 at Xu's family's home in Shanghai.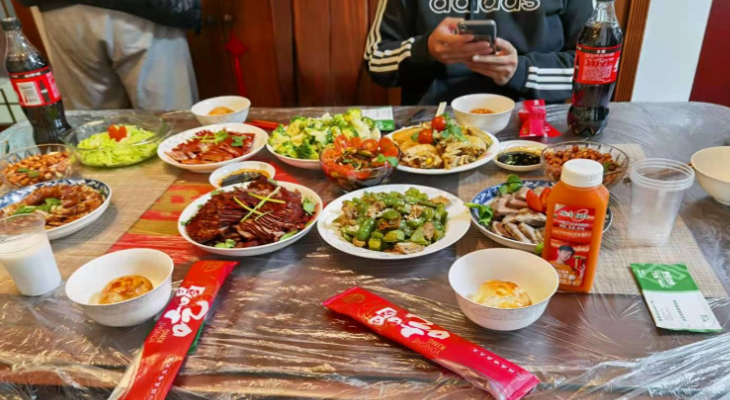 "It's tradition for our dinner to continue for several hours, all the way down to midnight," said Xu. "At midnight, my mum served us jiaozi with a special meat filling. She usually hides a coin into one of the dumplings to represent luck. But for health reasons this year, she hid peanuts inside instead of an actual coin. Whoever gets the peanut-filled dumpling is deemed to be lucky." "We thought we were all just so lucky," said Kim, after the boys discovered that many of the jiaozi were blessed with hidden peanuts.
During a digestive break from the endless feast, the quartet decided to embark on building a giant model car together while the Gala continued to play on TV.
"If you're Chinese, you mainly see the Gala as background music, since what we're doing together is the most important thing," Xu explained. "We just turn on the TV and it stays on until midnight, and we don't really think about it." But Kim, who had never watched the Gala before, was fascinated. "The stages were beautiful and so huge. I never imagined it to be this huge in China. Even though I didn't understand what they were saying on TV, everything was visually so cool."
"It all finished very late. Enzo ended up going back to his dorm around 1 or 2 am," Xu said.
But the celebrations aren't over yet. With the upcoming Lantern Festival in March, Xu's family has plans to invite his friends back over again, making it three holidays in a row that they will have celebrated together.  "Traditionally, people will go to a fair. I'm not sure whether we will be able to make it because on that day there will be millions of people at Yu Garden, but Enzo and my roommates are already invited," said Xu. "I feel lucky to be a Shanghai local, because we have the space to prepare for almost any celebration right now."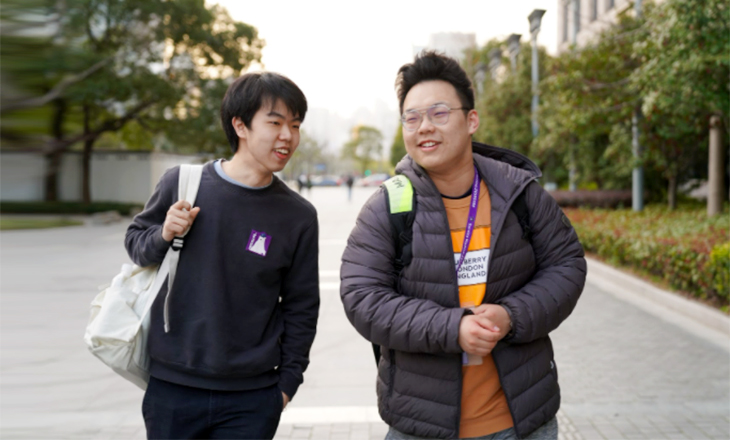 "Chinese holidays are exciting and I feel lucky to have a Shanghai friend," said Kim. "I obviously can't go back to Korea right now and enjoy time with my family, but thanks to Ziming, I've still been having a lot of fun during the holidays."