Lunar New Year Festivities Celebrate NYU Shanghai Family
Feb 11 2021
Students from both China and abroad celebrated the Lunar New Year together with their NYU Shanghai family with festive food and fun on campus on February 10 and 11.
The celebration began Wednesday with a free Lunar New Year's Eve feast in the university dining hall, featuring 23 tasty traditional Chinese dishes and snacks, such as Iron Pot Braised Goose and candied tangerines. Diners were entertained by a lineup of dance, music, and martial arts performances by fellow classmates - an NYU Shanghai edition of the televised CCTV New Year's Gala, a staple of family celebrations in contemporary China. 
Meanwhile, students picked up traditional writing brushes to learn (or practice) their calligraphy skills at a couplet-writing station sponsored by the NYU Shanghai Library. Several students said they planned to use the handmade decorations to enliven their residence halls with more holiday cheer. Major common areas at both the Century Avenue campus and the "Go Local" program Shinmay pop-up campus were adorned with NYU Shanghai-themed couplets featuring original calligraphy by Wendy Shi Yitao '23.
"Since I'm not able to travel, staying in Shanghai with classmates and getting to know Chinese culture through the school is quite nice, actually," said Vicky Oury '23, who is from France and is celebrating Chinese New Year for the first time. "I tried calligraphy for the first time, and traditional Chinese knot bracelet-making, which was really fun."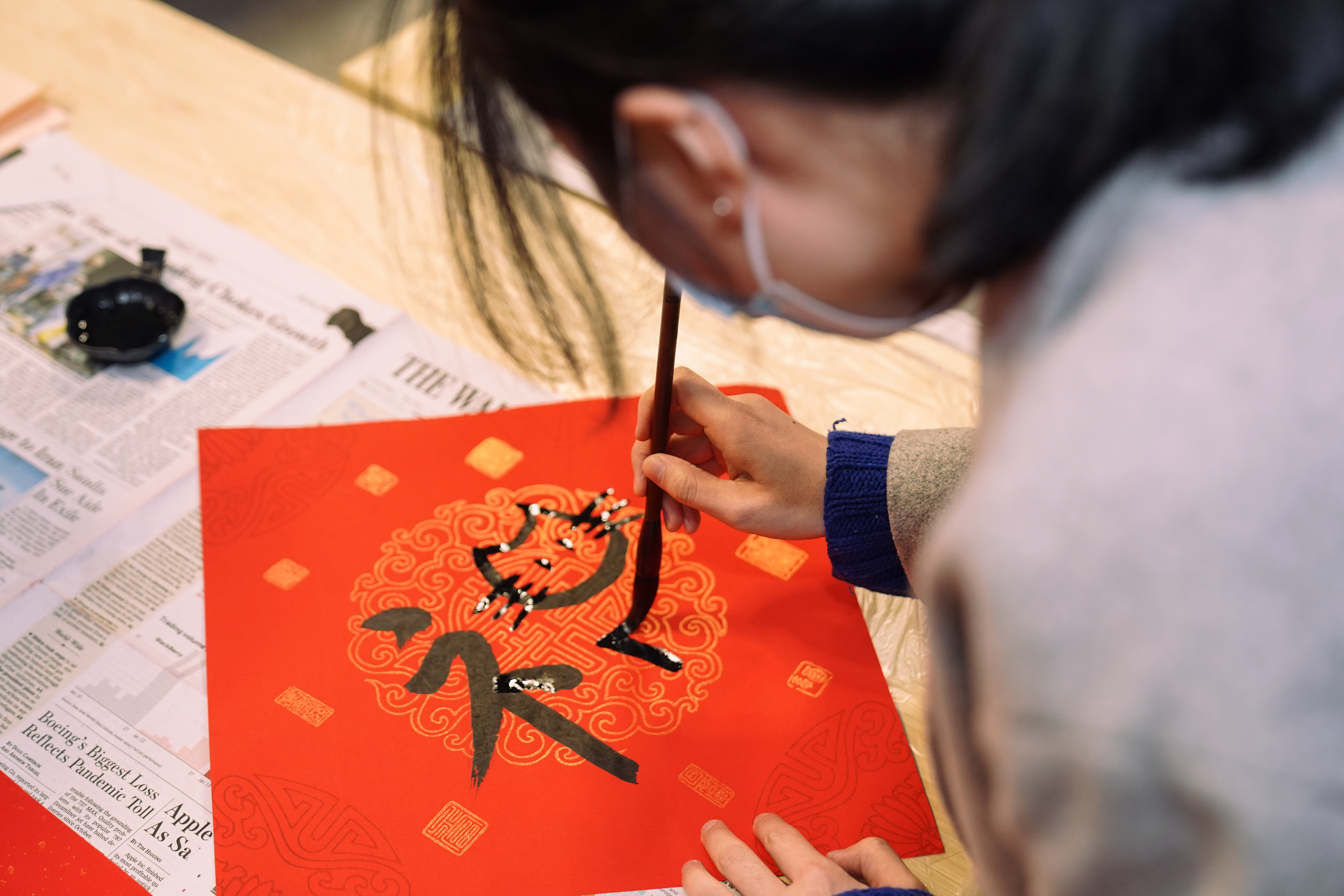 A student writes a creative take on the Chinese character "fu," meaning "good fortune," which adorns almost every door in China during the Lunar New Year holiday. 
The NYU Shanghai Office of Student Life also gave each New Year's Eve dinner guest an illustrated desktop calendar and a gift bag stuffed with snacks to keep their bellies full as they count down the minutes to the Year of the Ox on Thursday night.
Thursday morning also brought another round of delicious treats with a dumpling-making party hosted by Chancellor Tong Shijun, Vice Chancellor Jeff Lehman, and Provost Joanna Waley-Cohen.
"Communities built around shared food are common to most societies, and know no boundaries," said Waley-Cohen. "In China, and for me personally, making dumplings together on the eve of Spring Festival is a real highlight of the holiday festivities!"
Dining vendor Sproutworks provided each attendee with their own package of dumpling fillings and dough "wrappers" that students could assemble together with classmates. Sproutworks cook Cheng Chen led the expert dumpling-wrapping demonstration amid laughter, festive Chinese pop tunes, and lighthearted debates about which regional wrapping style is best.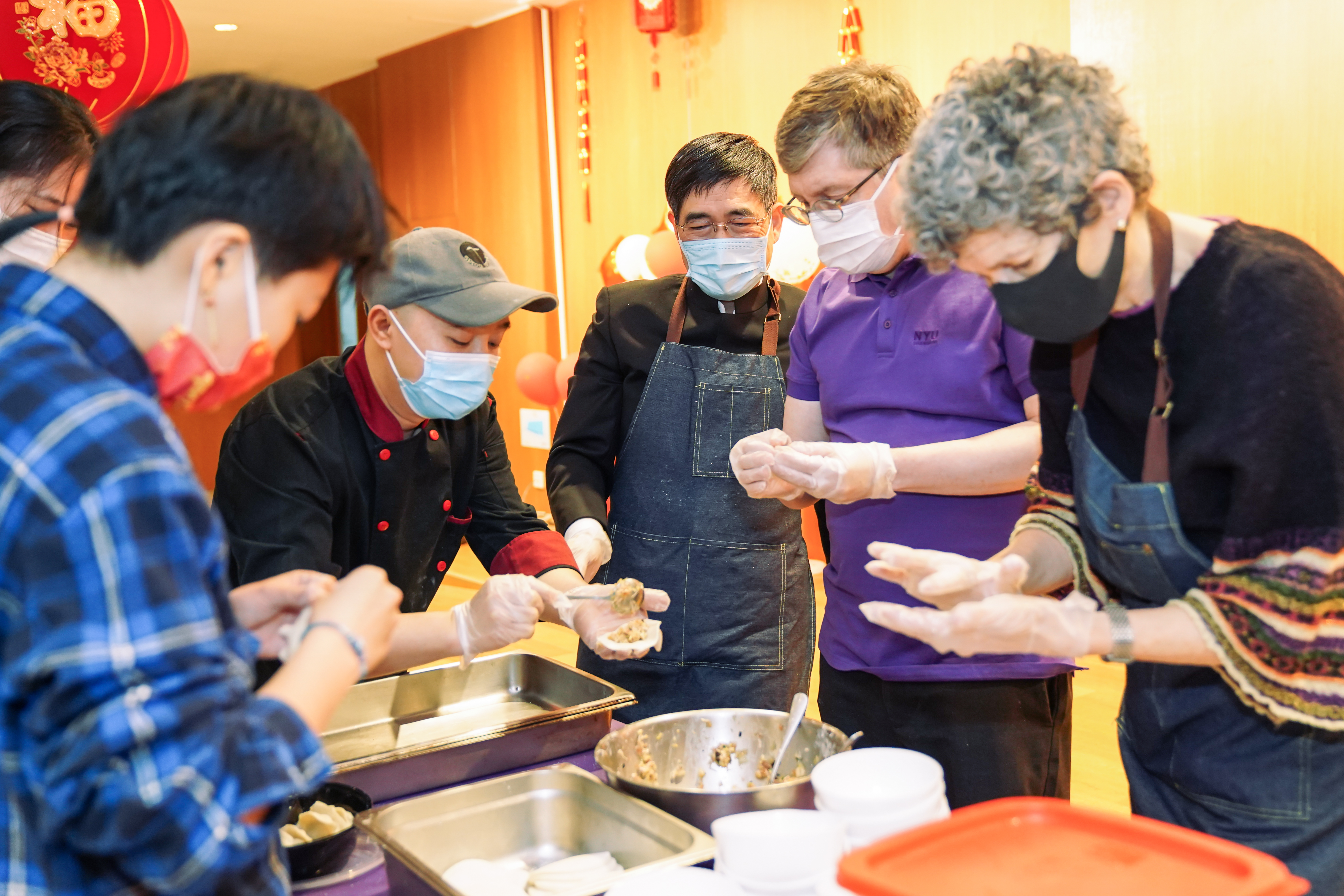 "As a skilled dumpling eater, I was especially looking forward to today's Dumpling Lunch!" said Lehman, who plans to virtually visit family on WeChat instead of traveling to his wife's hometown to celebrate the holiday this year. "The creative community that is NYU Shanghai has put together a wonderful collection of festivities so that we can celebrate the holiday together." 
"It's just really amazing that we can all be here with our NYU Shanghai family," said Tang Wenxin '23, who is from Shanghai. "I value and appreciate all the work that everyone has been doing, and I really feel like all the performers and everyone who is working here has contributed so much.... I really feel like the school has become so lively!"
As the campus festivities end and we all look forward to welcoming the Year of the Ox tonight, Chancellor Tong has a story and words of wisdom to share.
"Twenty years ago, when my wife and daughters and I were spending Chinese New Year in New York, I asked my twin girls if they missed home. My older daughter answered, 'Wherever mom and dad are is where home is,'" Tong recounts. "Today, as we celebrate Spring Festival here with classmates from places near and far, I hope you all will be able to say to your parents, 'Don't worry, Mom and Dad, NYU Shanghai is a loving home for me too!'" 
Happy Year of the Ox! Happy "Niu" Year, everyone!  
For more photos of the Lunar New Year festivities at NYU Shanghai, check out our Instagram and Weibo.