After two and a half months, the city of Wuhan, where the COVID-19 virus first emerged, ended its lockdown on April 8, 2020.  Two students from the NYU Shanghai community were in Wuhan when Chinese authorities, in a bid to prevent the further spread of the virus,  announced at the end of January that no one would be able to enter or leave the city. Wuhan natives Bai Yufeng '22, a Business and Finance major, and Quantitative Finance graduate student Sheng Zijie stayed with their families throughout the lockdown, experiencing the highs and lows of nearly three months in China's epicenter. Here are their stories.  
Bai Yufeng, 22' Business and Finance, from Wuhan
I went back to Wuhan on January 18 and many people were already wearing masks on the train. Although worried about the virus, we didn't feel much urgency until the city was locked down. Transportation between the three towns of Wuhan – Wuchang, Hanyang, and Hankou – and the roads within each town were also blocked. Fortunately, we had done some shopping before lockdown to prepare for the Spring Festival, so we didn't need to rush out for food.
My family took the virus very seriously. I still remember the first time after lockdown that my parents went out to buy some necessities. They were all heavily 'armed' with all of their heads and bodies covered, and it felt like they were going to battle.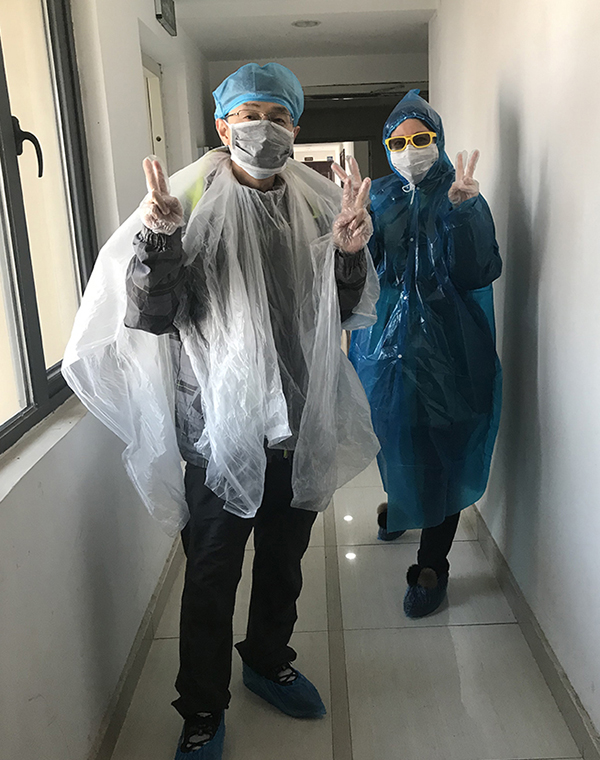 Bai's parents took a photo before going out for the first time after lockdown.
What touched me most at that time was some timely help from Katerina Valachova '22. She's also an NYU Shanghai student who I met one day after sharing a taxi from the Jinqiao dorm to the academic building. We only had a short conversation on our way to the campus and I learned that she was from the Czech Republic. We didn't have much interaction after that ride, so I was very surprised that she still remembered I was from Wuhan and contacted me as soon as she learned that Wuhan was locked down. 
After she learned that my family needed masks, she mailed a box of 100 masks from the Czech Republic to me. The box experienced a tortuous journey, but finally arrived in Wuhan with some help from Valachova's roommate in China. It was such a warm and timely gift.
However, as the epidemic grew into a global crisis, I felt that I must also do something to help her through the difficult time. Valachova's family learned that the National Health Commission of China published a list of traditional Chinese medicine being used in the treatment of coronavirus and they would like to know more detail. So, I did thorough research online and also reached out to Chinese medicine specialists to figure out the prescriptions and the cooking method. I translated all the information into English and sent it to Valachova. I was happy that we could help each other even though we were in different corners of the earth.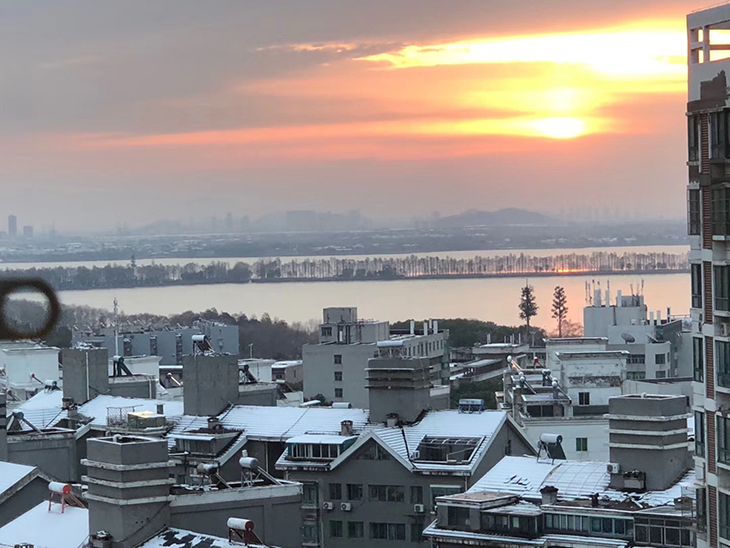 A sunset view from Bai's balcony. For most of the time during the quarantine, he could only overlook the empty streets from home.
As the semester resumed on February 17, my life gradually got back on track. I took courses online and was busy with homework every day. Zoom provided an excellent platform for me and my classmates to connect with each other. We always opened a meeting on Zoom and did homework together, pretending to be on campus. We also held birthday parties for each other through live chats. We never felt too far apart, despite the geographical distance.  
I was also busy with my NYU Shanghai Youth League activities, working to organize fantastic online events, including NYU Shanghai Star Chef, NYU Shanghai Sing-off, and NYU Sailing Bottle-At The Shore, for students during the quarantine. We wanted to connect our community and bring joy to everyone even if we are not physically together.  Student Life's Vivian Chen, who is also secretary of the Youth League, sent me a box of snacks just in case I couldn't get some from the supermarkets. I also received messages from Chancellor Yu. I felt the school was really like a family.
Sheng Zijie, Quantitative Finance graduate student, from Wuhan
I have been interning in a venture capital firm called Panda Capital since the fall semester. My boss allowed our team to work from home several days before the scheduled Chinese New Year holiday, so I got a chance to return to Wuhan before the lockdown.
I didn't feel anxiety or panic from people around me until the lockdown was officially announced. There was a little chaos in the first several days as we were worried about the many uncertainties lying ahead. People were buying up all the food in the supermarkets and it was hard to get a mask, either from online or offline stores. My aunt was trying to buy some masks from a pharmacy but was stopped by the staff because she didn't wear a mask. But if she didn't go into the pharmacy, she couldn't get a mask to wear, which was an endless loop.
My family's anxiety peaked when a friend of ours was confirmed to have the virus. It made me feel that the virus was very close to me. But that friend shared his situation every day in the WeChat group and eventually recovered. He told us that the virus was not as scary as we thought it was and we didn't need to overreact, which relieved our panic.
The initial chaos didn't last long and  everything got back on track quickly. Then I found the new problem waiting for me was to get along with my parents during the quarantine. My dad really enjoys outdoor exercise, and when he was locked inside, he became a bit fretful. It was easier to get into disputes with him at that time. To mitigate this anxiety, I introduced to my mom and dad some of the sports livestream platforms I had been doing investment evaluations for at  work. I didn't expect my internship experience to help me in this way!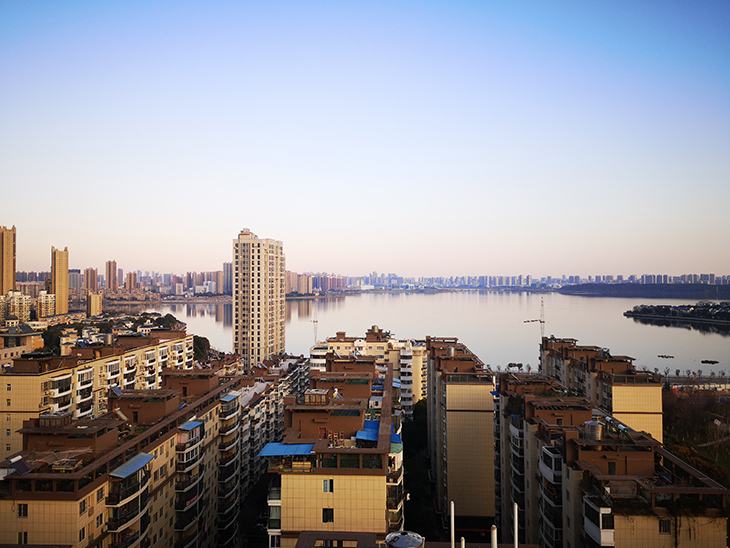 The view from Sheng's window during the quarantine.
My classmates were also offering me great help. Chen Yijin and Cai Yunyi mailed me a box of masks and an oximeter, and helped me "scramble" for food on apps. Because of the Chinese New Year vacation and the virus, many delivery workers were either locked out of Wuhan or being quarantined at home, so that on some popular shopping apps, it became nearly impossible to book a delivery. My classmates tried to help increase my chances of breaking through by signing on at the same time. Once, we were too successful - accidentally placing the same order of fruits and vegetables three times. I had to eat them all up.
As I was taking courses and doing an internship at the same time, my schedule was always tight after the semester re-started. I worked efficiently to manage the workload from both sides. To some extent, the quarantine helped me because it saved commuting time. I didn't spend much time browsing social media, either. I felt that hard data made more sense to me compared to a flood of social posts where I could not tell authentic from fake.
I scheduled my flight back to Shanghai as soon as I heard news of the reopening. Instead of feeling emotional, I was calm when sitting in my seat. The protective measures at the airport were so thorough that we needed to report our situation before leaving. The flight was very empty, which also made me feel secure.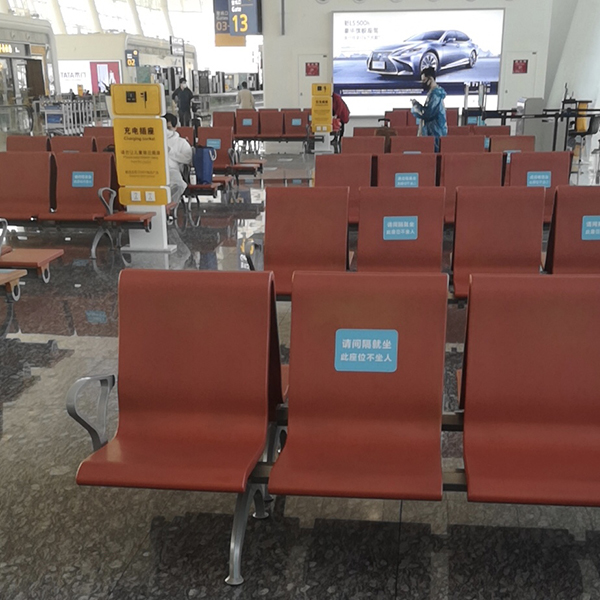 The lounge of Wuhan Tianhe International Airport was empty on the first day of reopening. People were all wearing masks and the signs on the seats reminded people to avoid sitting next to each other.
I finished my 14-day quarantine in Shanghai and resumed my internship this Wednesday. My colleagues even prepared a cake to celebrate my safe and healthy return from Wuhan. It feels warm to be cared for by others, and I believe as long as we protect ourselves properly, there won't be big problems.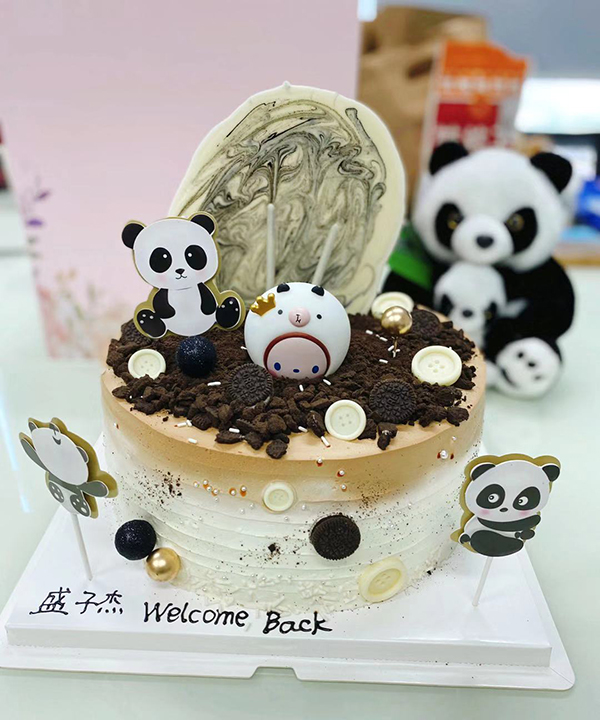 The cake Sheng received from his colleagues to celebrate his return.