In a recent virtual cook-off hosted by NYU Shanghai Youth League, members of the community whipped up homemade dishes inspired by some of their favorite regional Chinese cuisines. Here are some of their scrumptious results.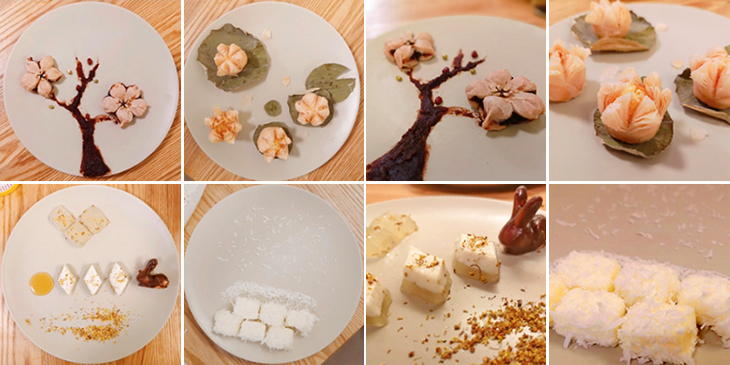 Tang Shumei '21

Dish: Assorted Dim Sum (Spring, Summer, Autumn and Winter)    
"I missed Chinese food while in New York. At the time, I was learning how to make dim-sum, and so I chose to present my impression of the four seasons. As most people are in self-quarantine, I hope these 'flowers' can cheer them up. Although we encountered a bitter winter, spring is not far away."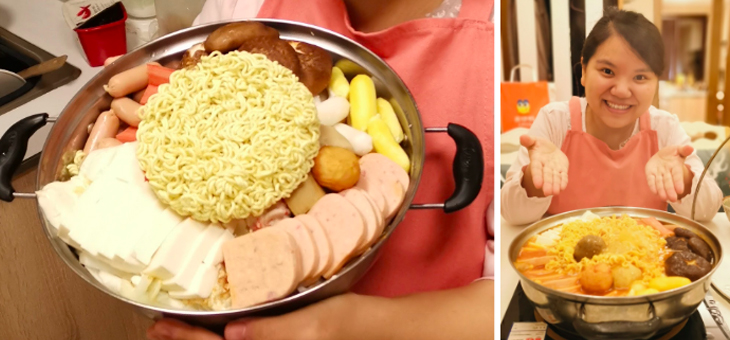 Milly Yin | Study Away Program Coordinator, Student Life 
Dish: Korean Style Hot Pot (Army Stew)    
"When I was a high school student, I liked watching Korean dramas and was a fan of Korean stars, and in 2014, when I was a graduate student, I went to a South Korean university as an exchange student. Although I did not stay in Korea for a long time, I always recall my experience whenever I have Korean food, and making Korean food always brings me back to that time. I made this dish when South Korea was experiencing their own outbreak of COVID-19, and I wanted to make this dish to encourage Koreans."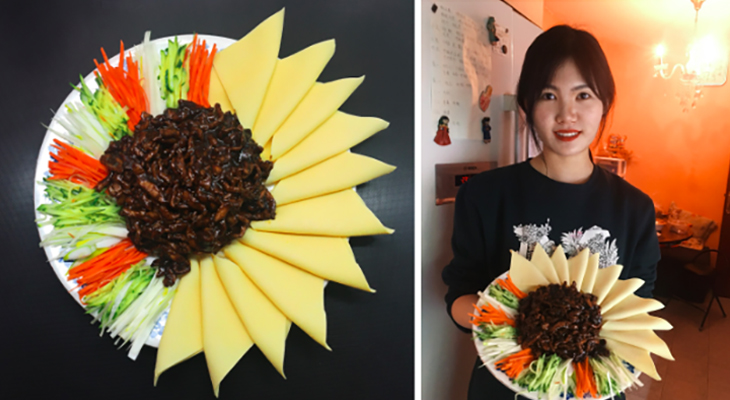 Qiao Lanxuan '23
Dish: Sauteed Shredded Pork in Sweet Bean Sauce
"When people talk about Beijing cuisine, they tend to overlook Sauteed Shredded Pork in Sweet Bean Sauce. Actually, I had been thinking for a while about making the dish. I saw other people also making a lot of local cuisines that are not very commonly known, and it made me realize that I know little about the culture of places that I live far from. Through food, people convey their love for their hometown, which corresponds to a quotation from the famous culinary documentary, 'A Bite of China' that 'Chinese people's attachment to food is closely related to their love for traditions, families, and childhood memories.'"

Zhou Yanxin '23

Dish: Hongtuan     
"The pleasant smell of hongtuan is my childhood memory. I used to spend Spring Festival at my mom's hometown—a small town in Fujian Province. As a kid, I would sneak into the kitchen and watch my grandmother making these beautiful hongtuan. Their round shape symbolizes reunion, and their bright red color will bring a smile to your face. Hongtuan is an important part of life in Fujian. Whenever young couples are married or new babies are born, people share them as a gift to send their blessings."

Zhang Hanlu '20            
Dish: jianbing guozi ( Tianjin Style Pancake)    

"Jianbing guozi (Chinese: 煎饼馃子)  is a popular breakfast pancake from Tianjin made of mung bean flour. Compared to traditional flour, it has a more delicate fragrance of beans, and it will not stick to your teeth. Tianjin people are very strict with the seasoning in the pancake. Anything other than fermented bean curd, sweet bean sauce, and green onion will be laughed at as 'cult'. As the soul of the pancake, youtiao -- fried dough sticks, or crispy 'dragons'-- often determines the reputation of a pancake shop."

Xiao Jingchen '23    
Dish: "Spicy Big Tray Chicken"    
"Xinjiang is my second hometown and the Xinjiang cuisine prepared by my grandma is a part of our family reunion. Grandpa and Grandma have lived in southern Xinjiang for their entire lifetime and still keep things from their pasts like the enamel plate in the picture, which is from the 80's. During the 2020 Spring Festival, my grandma taught me how to make the Spicy Big Tray Chicken at home in Beijing, and it once again redefined the concept of home for me. This is a tradition that persists year after year, and time seems to go back to the past, back to the season when they could breathe freely in their youth."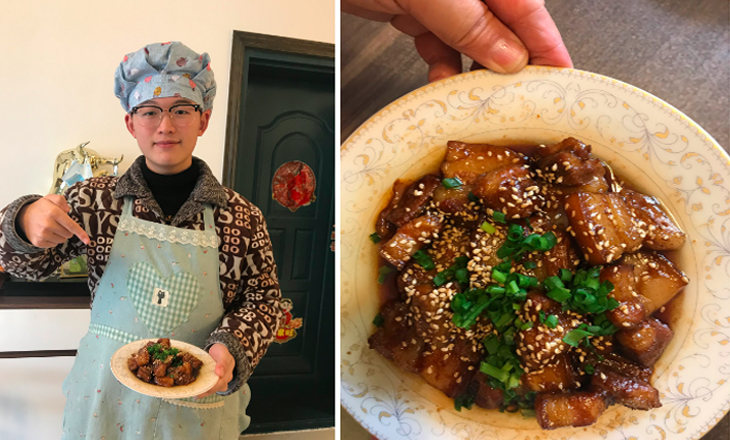 Huang Runming '23    
Dish: Braised pork, Mao's Family style
"I'm from Xiangtan of Hunan province, the hometown of Chairman Mao Zedong. This special braised pork dish is named after Mao to commemorate him. I improved it by adding a little syrup while keeping the rest of the steps, to add a sweet flavor to the cold epidemic season."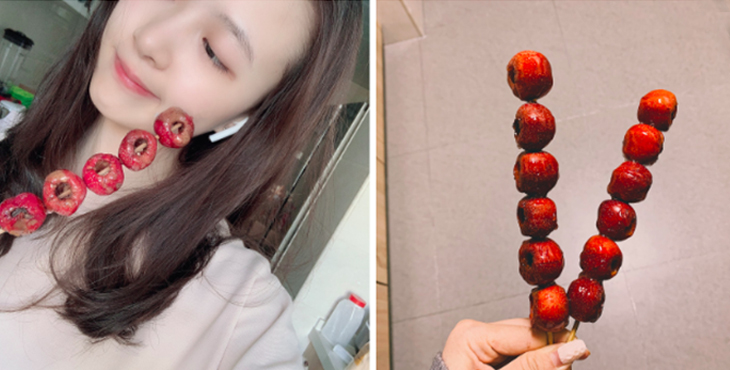 Zhang Yanqi '23        
Dish: Tanghulu (Crispy Sugar-Coated Haw)
"In my eyes, this string of red fruits covered with crystal clear syrup is the symbol of Beijing. It always appears together with the red walls of the Forbidden City, the gray tiles of the alley, and callings of street vendors."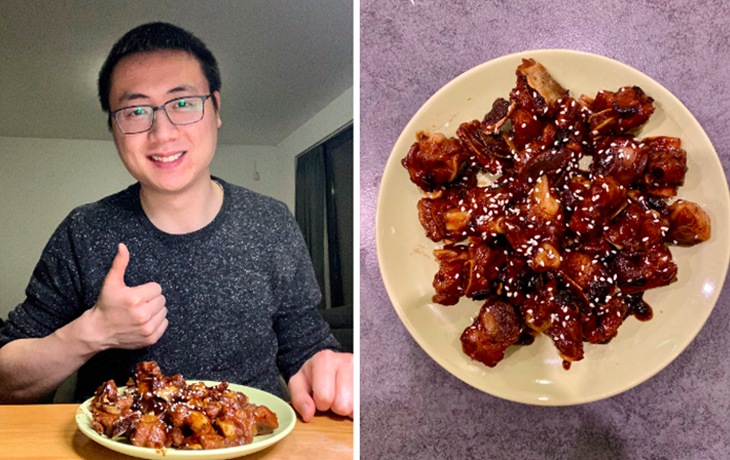 Cheng Gongyu | Inbound Mobility Advisor, Student Life 
Dish: Sweet and Sour Pork Ribs with Jam    
"Sweet and sour pork ribs is a famous dish in Jiangsu and Zhejiang, popular among all ages. It's a must-order in my hometown Changzhou. The special feature of this dish I made is that I replaced crystal sugar with jam when preparing the sweet and sour sauce, not only adding a sweetness of fruit, but also making it fresher and healthier. I remembered that when I go back to my hometown during Lunar New Year, I would cook this dish and share it with families and friends. Life is like this, sour and sweet, but always has a lingering flavor."