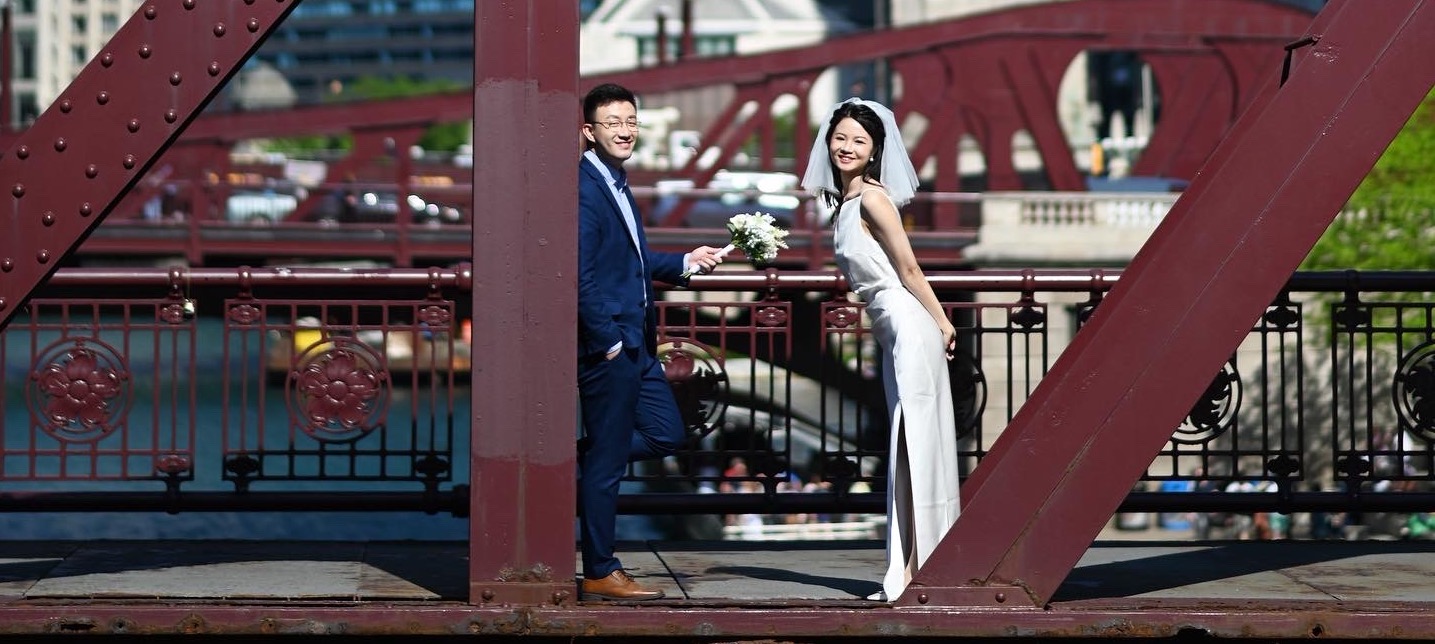 Back in Shanghai to prepare for their wedding, Sherry Zhuang Chen '17, from Shanghai, and Richard Zhao Zeyu '17, from Suzhou, share their NYU Shanghai love story and their career and life paths since graduation. 
At NYU Shanghai's inaugural orientation in 2013, former NYU President John Sexton gave some advice to the university's first class of incoming first-year students.  "I hope that the new students here can find their soul mates during the next four years," he said. "When you are looking for a life-long partner, nothing is more important than finding someone that you have a lot in common with." At the time, Sexton's words didn't leave much of an impression on Zhao. "It got a good chuckle out of me," he remembers. "I didn't think it was actually going to become true for me."
Ten years later, he and his classmate Sherry Zhuang '17 are following Sexton's advice, as they prepare to tie the knot in Shanghai. The two, both Business and Finance majors, became classmates and friends during their first year at NYU Shanghai, but it wasn't until their junior study abroad semester in Prague that the two became an item.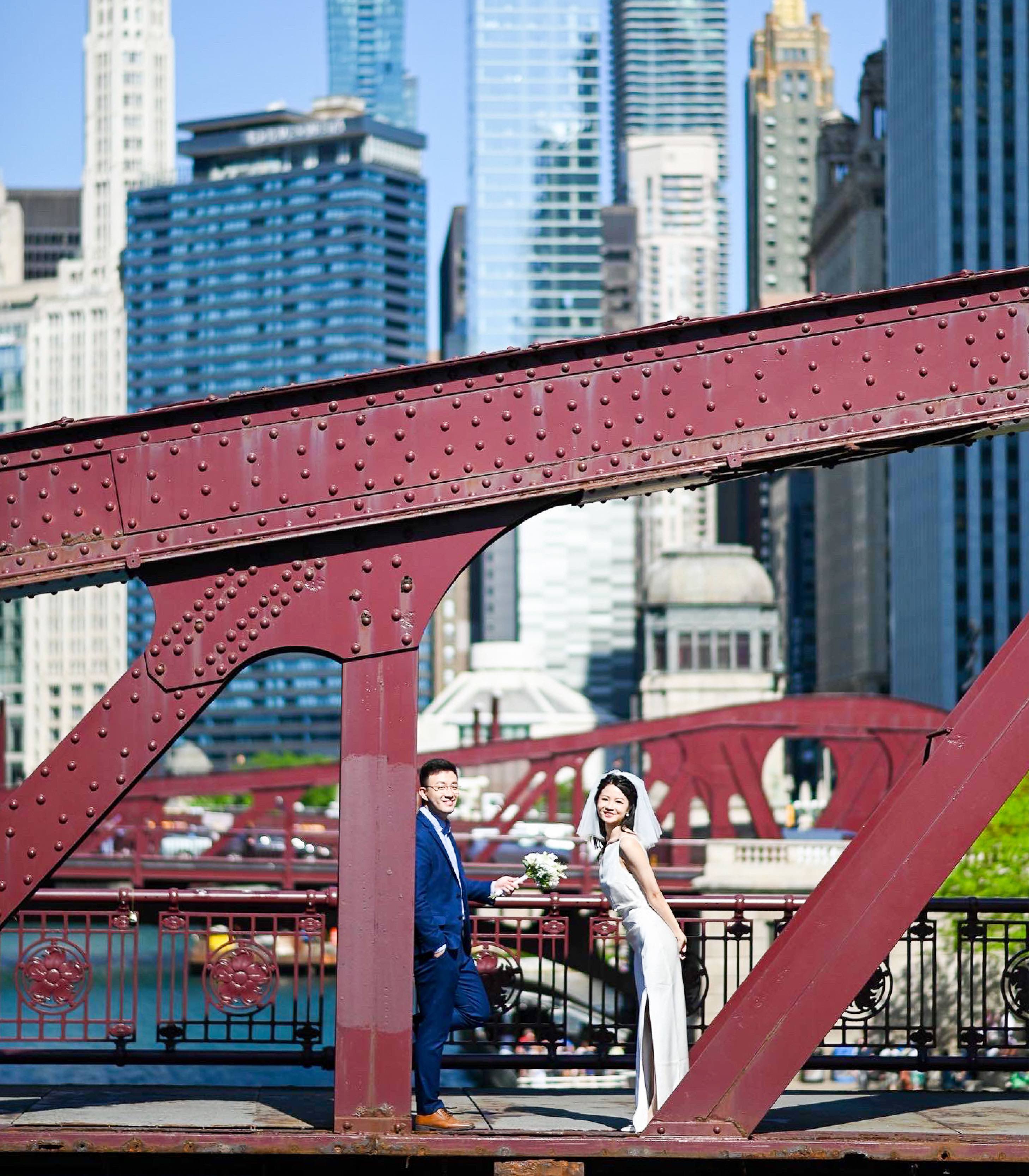 Sherry and Richard pose for their wedding photos in Chicago.
"We were spending a lot of time practicing piano together in Prague," Zhao remembers. "He used to play Chopin, but he also played a lot of popular music," recalls Zhuang. "Later it became my habit to listen to him play the piano." By the end of the semester, the two had fallen in love. 
Their relationship took another turn when the two went separate ways for another semester abroad — Zhuang heading to New York and Zhao studying in Washington, DC. Despite the hardship of being apart, the two managed to visit each other on the weekends. Four months passed quickly, and by May 2016, their long-distance relationship was over as both headed back to China for their final year at NYU Shanghai. At the Century Avenue campus, the two continued their relationship, taking the shuttle bus together, sharing breakfast in the morning, and studying by the windows in the library.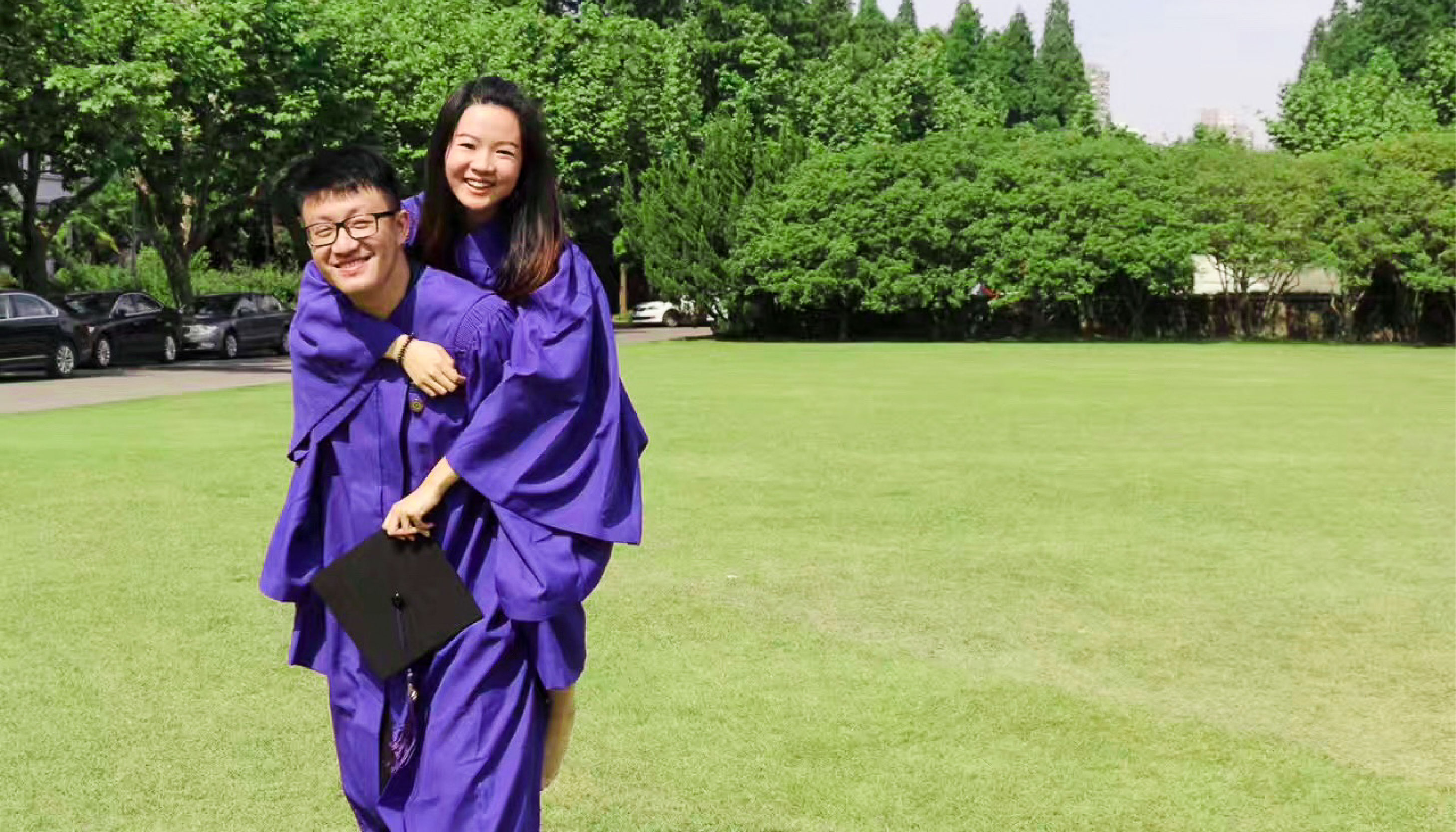 Sherry and Richard returned to NYU Shanghai's original location, on the ECNU campus, for graduation photos.
After graduation, both of them began working in Shanghai. In 2019, however their long-distance relationship took another turn when Zhao began his study for a Juris Doctor (JD) degree in 2019 at the University of Michigan Law School in Ann Arbor while Zhuang stayed in China to work as a consulting analyst at PricewaterhouseCoopers (PwC) Shanghai. The pandemic prolonged their separation from one year to two. Sherry, admitted into the Kellogg School of Management at Northwestern University in 2020, had to defer her enrollment until 2021.  
"We were both pursuing working and studying abroad, and we didn't want either of us to have to give up our dreams," says Zhuang. She joined AstraZeneca in 2020 and focused on new product launch strategy before moving to the US to begin a two-year MBA program at the Kellogg School of Management at Northwestern University in Fall 2021.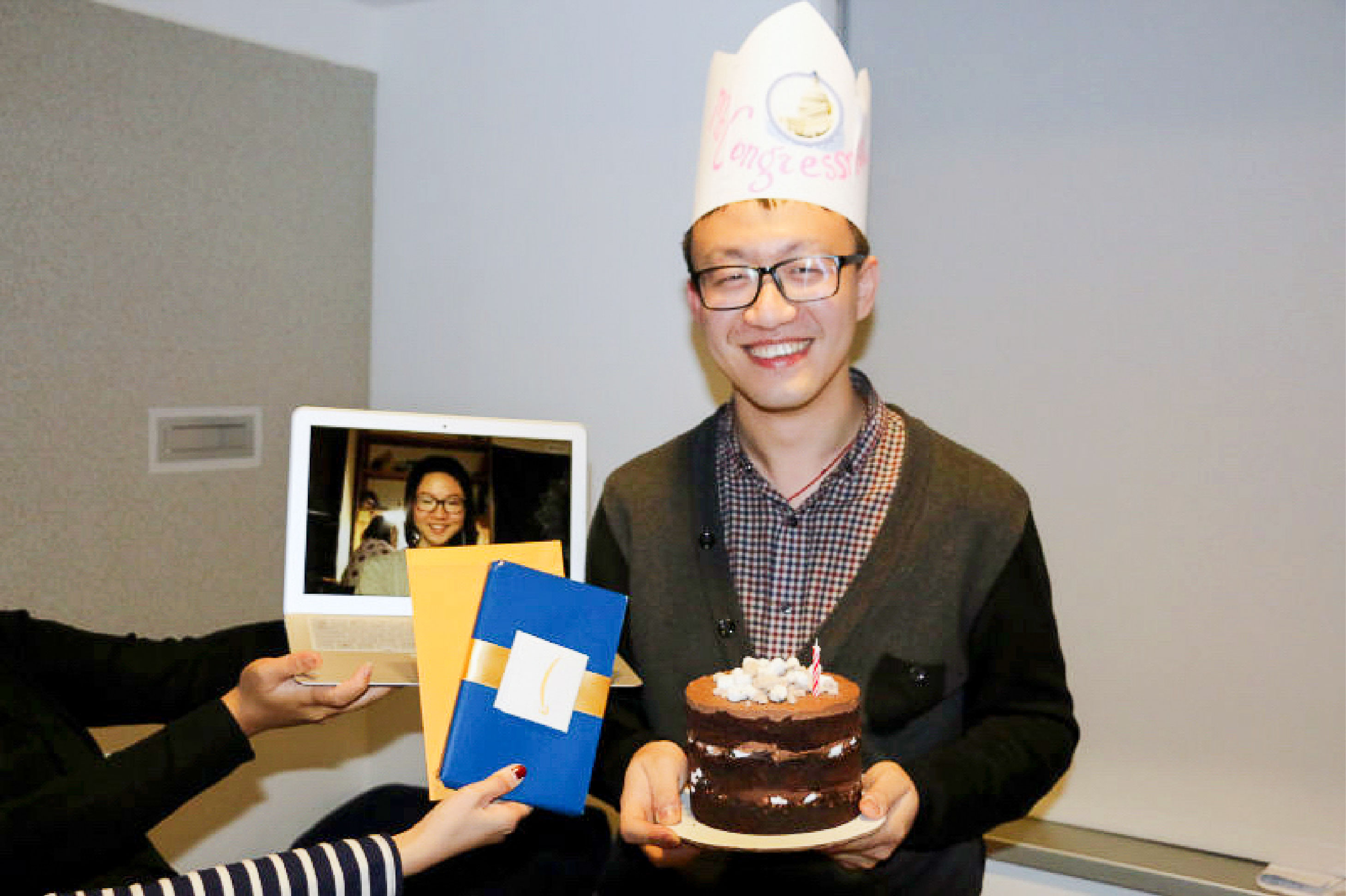 Even when they couldn't be in the same place, the couple still managed to celebrate happy occasions together online. 
In hindsight, both agree that being part of NYU Shanghai's inaugural class of students taught them valuable lessons that helped them through this challenging time. "It taught us how to embrace uncertainty," says Zhuang. "Both of us decided to go to a school that didn't really exist before – a very risky move." Their relationship required them to embrace that risk. "Similarly, for our life in the future, there's also a lot of uncertainties," she says. "In three to five years, we might [decide to] stay in the US or we might move back to China or another country in Asia." 
"NYU Shanghai taught me how to get along with people with different viewpoints," says Zhao. "In our married life I'm sure we may have different opinions about certain things. So I think part of the lesson is to learn to step back a bit and think about the issue from the other person's perspective."
The two say that their experience at NYU Shanghai gave them confidence to pursue their own path together, even when others might question their choices. "A key reason that our relationship survived these past eight years is that we both believe we could work out our own way to maintain it, regardless of [others'] criticism or lack precedent," says Zhao.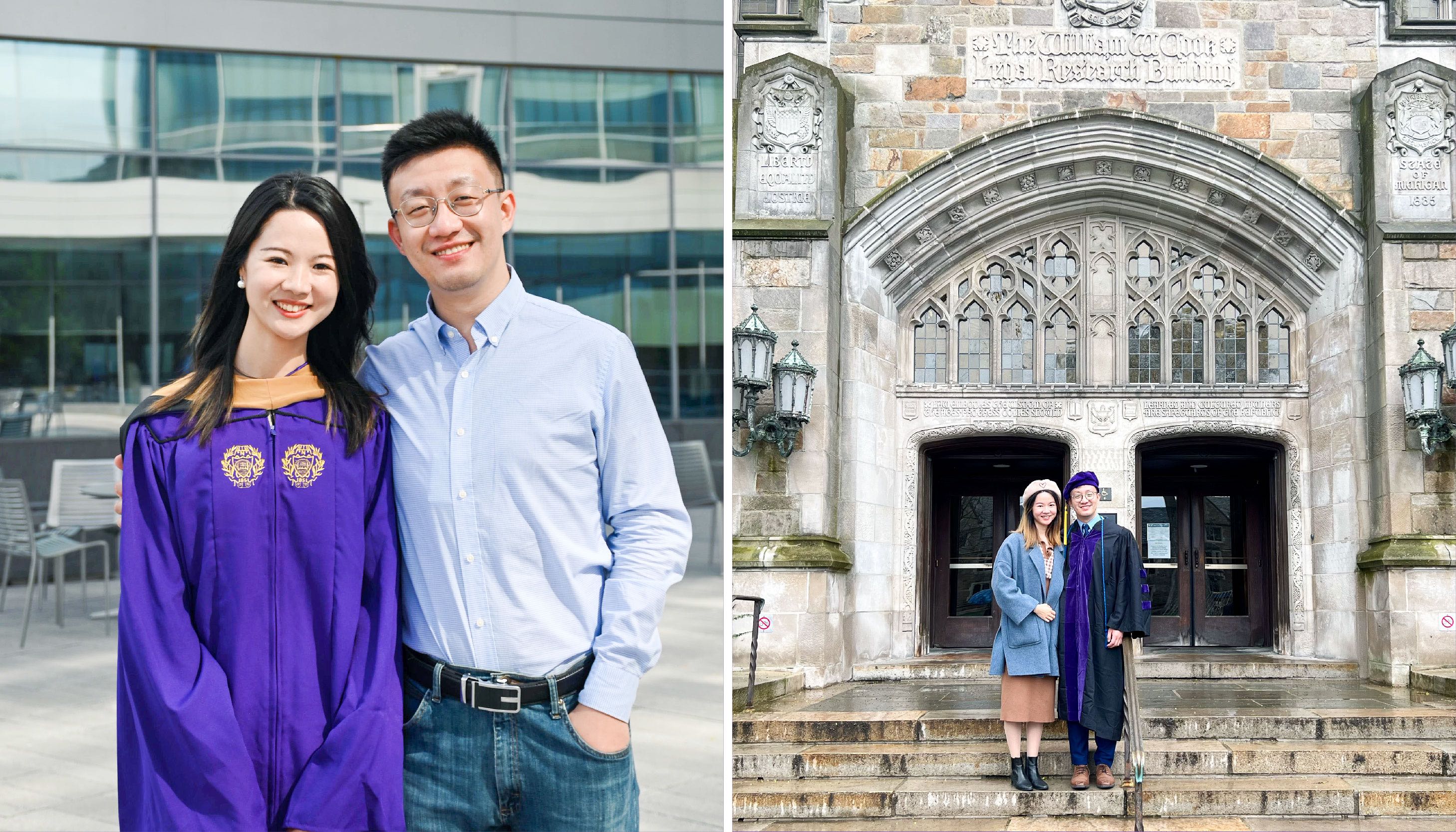 Left: The couple celebrating Sherry's graduation from Kellogg School of Management at Northwestern University.
Right: The couple celebrating Richard's graduation from the University of Michigan's Law School.
Zhao and Zhuang will wed in Shanghai in late August. Their wedding will be full of NYU Shanghai elements: Chancellor Emeritus Yu Lizhong will be their witness, the wedding party will include groomsmen and bridesmaids from among their NYU Shanghai friends, and many faculty and alumni in attendance at the ceremony. The wedding décor will highlight the places the couple has visited together – Prague, New York, and Washington DC – with maps, photos and souvenirs.
After their wedding, the two will return to the US to begin their married life together. Zhuang will join the Chicago office of McKinsey & Company in September, while Zhao will continue working as a litigation and white collar associate in the Chicago office of Latham & Watkins LLP. 
While living in a foreign country and being away from family is a challenge, the two embrace their life in Chicago. "We're excited about starting our life together," says Zhao. "At this point, we are pretty comfortable with navigating the uncertainty. There's so much out there that we haven't done. And I think it's a great opportunity for us to do those things."