Calling from their honeymoon in Sicily, Italy, Julie Flood Hauge '17 and Maximilian Reiff '17 take us back to the start of their adventure together–from meeting as students of NYU Shanghai's inaugural class, to their post-graduation career pathways, to tying the knot (after almost 10 years!) and making a home together in Miami, Florida.
Attending a school that 'didn't exist yet'
"I always wanted to go to NYU," says Hauge, who hails from a small Norwegian town, but grew up largely in Stockholm, Sweden. After touring the New York campus ahead of applying to colleges, she was determined to explore opportunities abroad. "That was a big thing for me, to break out of Scandinavia and go and see more, bigger things."
Discovering that NYU was opening a new campus in Shanghai, she applied without hesitation. Once the acceptance letter rolled in, it was, as she calls it, a 'no brainer.' "I had to see what it was going to be like," she says. "It was the school that didn't exist yet." 
Meanwhile, in Philadelphia, Pennsylvania, Max also checked the 'NYU Shanghai box' on his college application. A pivotal moment for him was during NYU Shanghai's Admitted Students Weekend, when he visited Shanghai and toured the Bund. "I had never seen a skyline like that in my life–on one side you saw the old, on the other side, you saw the future." After picking his jaw up off the ground he decided to commit. "At that moment I thought to myself, 'Wow! If I don't do this, I'll regret it."



First-year Flashback: (left) visiting the Bund, and (right) on a dinner date.
 
Meet-cute in a Chinese restaurant
Fast forward to summer 2013, the first week of orientation. NYU Shanghai's inaugural class of students sat at tables in a Din Tai Fung restaurant, where they were encouraged to mingle. Julie found herself seated next to someone she'd never met before–Max. When the food arrived, one thing became clear: he had zero chopsticks skills. 
"He could not figure it out," Hauge remembers "I don't know if I meant to flirt with him, but I broke some pieces of chopsticks, and I fashioned these baby chopsticks for him so that he could just squeeze them together. And I guess he thought that was kind of cute."
"That moment I realized I found someone that would help me survive," says Reiff. "We became really good friends and ended up pretty much inseparable."
Bartering, traveling, making memories
As business and finance majors, the two shared most of their classes and had many of the same friends—some of whom even later attended their wedding. Back when NYU Shanghai was on Century Avenue, they would make a point of exploring the "nooks and crannies" of Shanghai every week, including bartering at Shanghai's fake markets.
"We would go to the fake market and we'd set a limit–like who can find the nicest thing for 45 RMB," Reiff recalls. "We'd have a one-hour time limit to go off and haggle. It was a crash course in negotiation."
 



Left: Discovering strange finds at Shanghai's fake market, Max poses with a "huge and very weird suitcase" that Julie says they'd never buy. Right: Obligatory photo in front of the Shanghai Disneyland castle.



Left: As first-year students in Bali, Indonesia. Center: Visiting Seoul, Korea senior year. Right: In Macau, Hong Kong, senior year.
 
During school breaks, they'd knock travel destinations off their shared bucket list, using the Chinese they learned at NYU Shanghai as their "secret language." Many of their favorite memories have been from trips around Asia. "We took a trip to Vietnam and I remember sitting in a little canoe, and then fireworks started going off directly overhead," Reiff says. "It was one of those movie moments." 

Career paths and looking ahead


Reiff and Hauge at NYU Shanghai's inaugural commencement ceremony in 2017.
After graduation, Hauge went on to earn a Pre-Health Post-Baccalaureate Certificate in Pre-Medical Studies at University of Pennsylvania, returning to Norway just before COVID-19 hit. The pandemic enforced a long distance relationship for the couple. Unable to return to the US, Hauge worked as a physician's assistant at a hospital, where she took part in research studies as a data analyst. "That kind of woke up a passion [in me]," she says. She ended up getting a Master of Science in Financial Analysis at Temple University, which led her to her current work as an equity research associate at M Science, working with a lot of large data sets and data analytics to extract insights.
Meanwhile, life in Shanghai had inspired Reiff's career path as a venture capital investor. He recalls writing about trends he witnessed in the city during his college years, from metro station vending machines serving fresh-squeezed orange juice to booming companies like Xiaomi and Mobike. Now Reiff works with early stage startups across the US, Latin America, and Europe with IDC Ventures. He remembers wondering why these innovations hadn't made it to the US.  "I was obsessed with how much certain products [had] improved my quality of life in Shanghai," he says. "I felt other people needed to have them."

In June 2022, the two married in Stockholm, with a small group of their NYU Shanghai friends in attendance. "We developed such a bond in Shanghai that it was an unspoken thing that they were coming," Hauge says.
"When you tell people you went to school at NYU Shanghai, there's a very small group of people that actually understands what that experience was and can appreciate what it means," Reiff says. "There is just an unspoken love and respect that is there because we all experienced it together."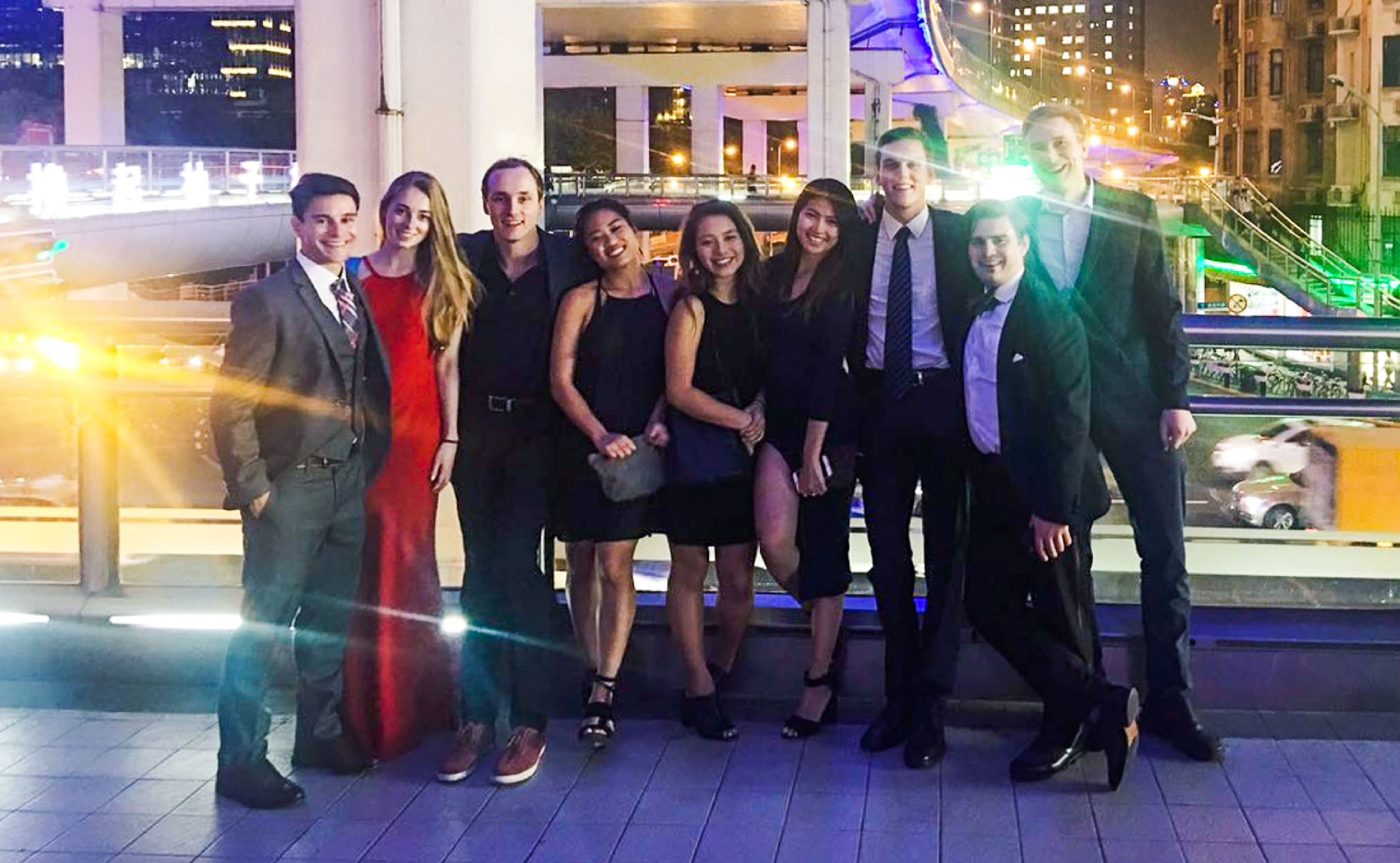 Out and about in the city with senior year friends and roommates after NYU Shanghai's Amethyst Ball.
Hauge and Reiff describe their NYU Shanghai experience as one of the best decisions they've made—a sort of 'crash course' on life that brought them together. "You have to be somewhat crazy, in the best possible way, to go to NYU Shanghai," says Reiff. "You have to be curious and willing to push the envelope. It's an unrivaled Shanghai experience that cannot be replicated."
And after all that they've been through—from navigating their college years in China, enduring separation during the pandemic, and working towards their careers—the pair are now finally looking forward to building a life together in their new home in Miami, Florida.


Left: December 2019: Skiing in the Norwegian mountains—a day before Max's proposal. Right: A glamorous night out in Miami.
"This is the first year of our relationship where there hasn't been a big change of sorts, whether it's been moving or going to school," Hauge says. "This is going to be our first year where we get to settle in and stay put. It's nice."