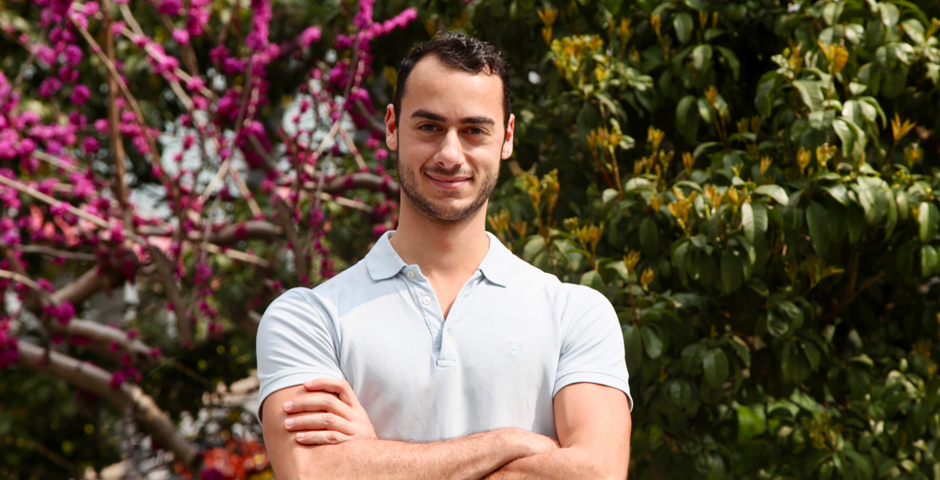 To speed up his fluency in Chinese during freshman year, Louis Demetroulakos '18, would stop speaking English every day at 4pm. He used textbook dialogues to converse with cab drivers in Shanghai, and later, while studying away in Tel Aviv would turn cafes into a Chinese-language-only zone to practice with a friend.
The Global China Studies major—who is minoring in History and Mandarin—dates his earliest tangible encounter with 'China' to when he was around five years old.
"Growing up  in Boston, five year old me used to dig up  pieces of porcelain in the backyard. During a history class at NYU Shanghai two years ago, I realized it was probably Chinese porcelain, brought to the US in the late 18th century, when the major players in China trade at that time came predominantly from surrounding towns where I grew up."
Demetroulakos' interest in China deepened during high school, where he took a Chinese history class—which ultimately led him to apply to his dream school, NYU Shanghai.
"I hadn't told my parents, so the acceptance letter came as a surprise to them. They were worried about me moving so far away, but I had prepared a 3000 word essay for them explaining why I really wanted to make this move and why I thought I should be here."
Demetroulakos, who served as president of NYU Shanghai's Undergraduate Business Association in 2016, is often asked why he chose to major in Global China Studies: "First, the faculty here are exceptional, and second, I like the flexibility of GCS; it's changed my perspective and given me a good toolkit to look critically at different situations. I love learning how past traditions in China can influence how people behave today in business situations. It has made me much more sensitive to the people that I'm working with."
The combination of in-depth local business knowledge and cross-cultural awareness has helped him stand out in applying for jobs.
Graduating a year ahead of schedule, Demetroulakos looks forward to shifting full swing into his role as a business development manager for Hellas Group of Companies, splitting his time between Shanghai and Athens. "I will be working to bridge two of the world's most ancient civilizations together with gastronomy and hospitality," he said.
His job entails interacting with speakers whose native languages are Greek, Chinese, and English, and he credits NYU Shanghai with helping him prepare for working with diverse teams.
"It's exciting because I didn't want a traditional college experience. I wanted something unique and entrepreneurial, and NYU Shanghai has equipped me with the cross-cultural tools to navigate the global workplace," Demetroulakos said.
"I say with all certainty, that NYU Shanghai is the best decision I've made in my life."