Hometown: Daejeon, South Korea
Graduate program: NYU Shanghai - NYU Stern joint Master of Science in Data Analytics and Business Computing 
Undergraduate major: Business Administration, Chung-ang University (Seoul, South Korea)
Graduation destination: Global Supply Management Analyst, Apple Inc.

When she signed up for NYU Shanghai - NYU Stern's joint Master of Science in Data Analytics and Business Computing in the spring of 2019, Jiyoung Kim was hopeful that afterward she would find her next job abroad, outside her native Korea. This summer, her dream is coming true, as she takes up a new job as a global supply management analyst for Apple.
Kim is actually not new to the field. Before pursuing a Master's, she had already worked for six years in supply chain management and project planning for Korea Hydro & Nuclear Power Co., Ltd and the South Korean government's Electronics and Telecommunications Research Institute. 
"My job required me to deal with a lot of data but I didn't have much experience back then," Jiyoung says. "The further I stepped into the field, the more I felt I needed to dive deeper into data analytics and familiarize myself with analytical tools like Python and SQL." 
NYU Shanghai and NYU Stern's joint program appealed to Kim since it offered both the courses she needed and the chance to live in both New York and Shanghai. "I'm flexible with the location of my work and I was kind of expecting to work abroad. A program in two metropolises could open more opportunities for me."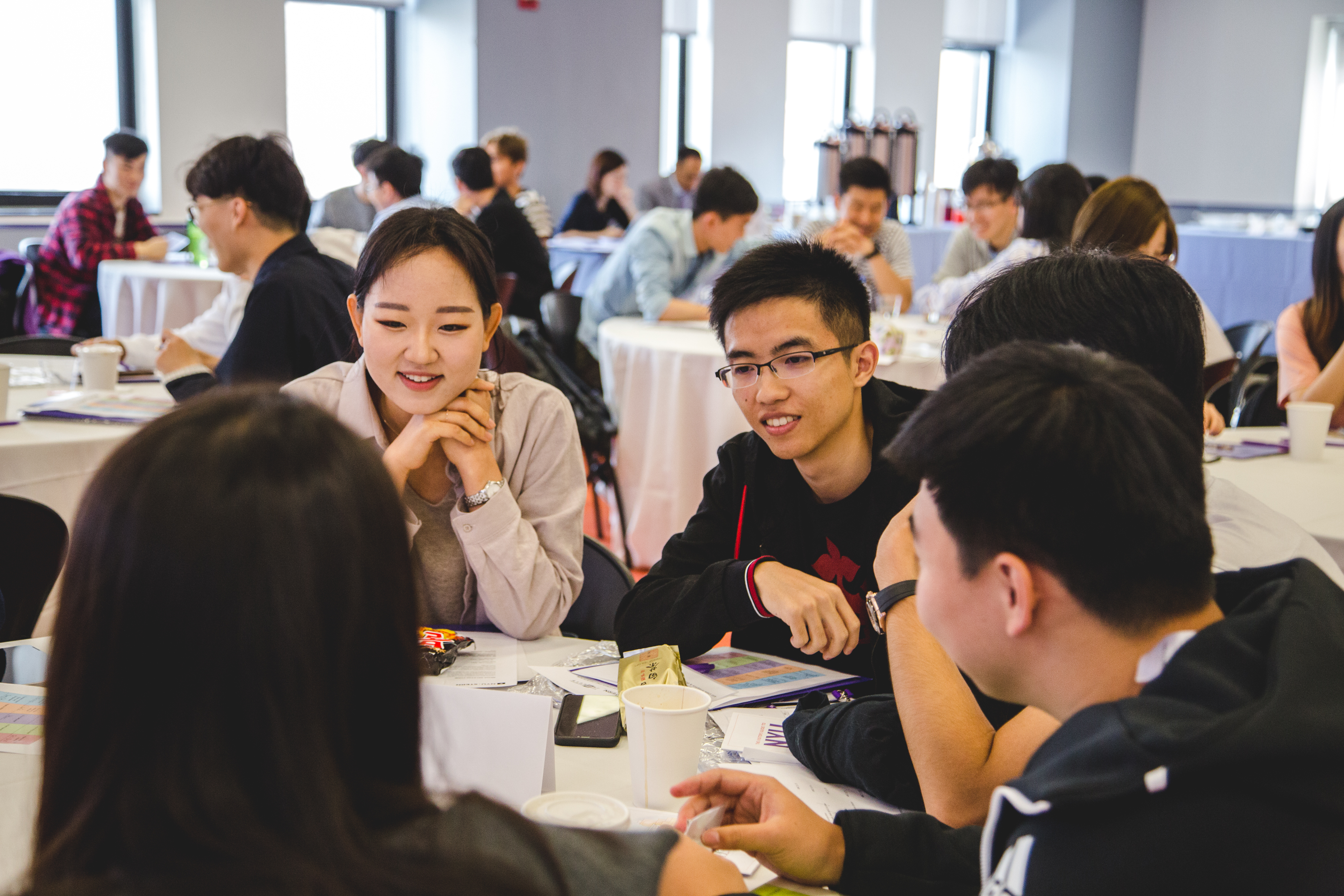 Kim (left) played an icebreaking game with her classmates when they first met in orientation in New York.
Kim says her NYU experience met her expectations. Thanks to the location, she and her classmates were able to visit leading enterprises in the industry such as American Express and Bytedance. She says she found the courses very practical and industry-focused as well. "In Professor Michael Pinedo's Operations Management, he led us through every stage of supply chain management and we did many cutting-edge case studies," Kim says. "And in Professor Bruno Abrahao's Network Analytics, we practiced Python, SQL, NLP, and many other useful analytical techniques by doing our own projects."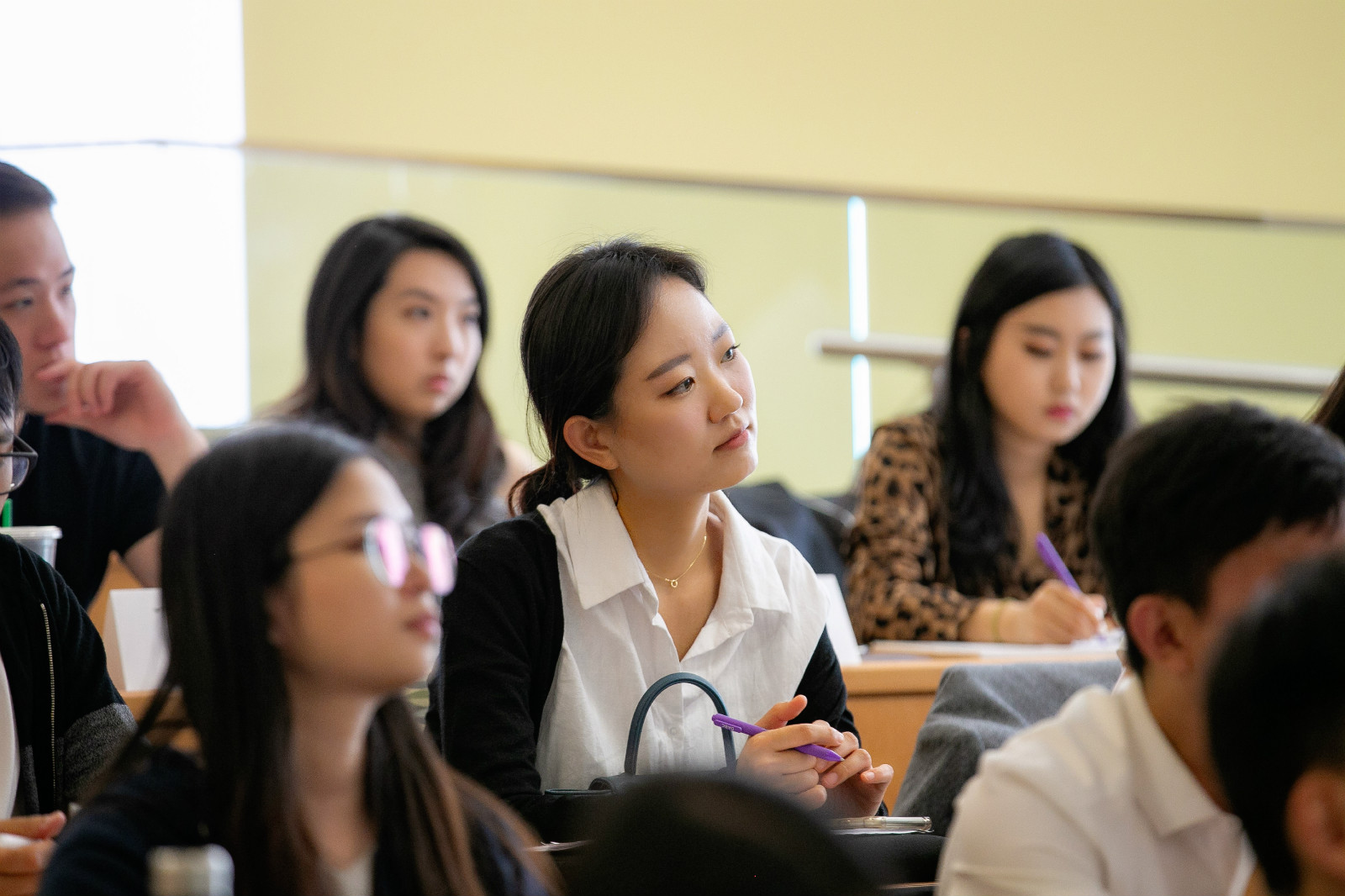 Kim in the class
Working with The Hongkong and Shanghai Banking Corporation (HSBC) was another exciting experience for Kim. For her final "capstone" project, she and four of her classmates collaborated with the data analytics team of HSBC China to apply the cluster analysis and RFM (Recency, Frequency, and Monetary value) models they learned in class to building prediction models and suggesting business action plans for real clients. "It was one of the most positive and productive experiences in terms of having the opportunity to tackle real world business problems in the banking industry, consult with professors to drive best methodology, and receive feedback from experts."
Beyond the classroom, NYU Shanghai faculty and staff actively connected students with job opportunities -- Kim first learned about her current job at Apple in an email sent out by the  Career Development Center (CDC). "CDC, as well as some professors, shared job opportunities from time to time. They were very helpful resources."
It took Kim four rounds of interviews to get the job, and Kim says she's grateful for the advice she received in CDC's mock interview sessions. "Through the training, I got a sense of how to summarize my past work experience and biggest achievements and address my advantages in an efficient way," she says. "I've gained the ability to pinpoint the characteristics or specific job experiences I have to stress when asked different questions."
With the international borders still closed due to COVID-19, Kim will start her new adventure in Apple's Seoul office and return to Shanghai once the global epidemic recedes. Despite the special situation, she's still very excited about her new job. "After a year of training in data analytics, I feel more confident to deal with data and can't wait to use what I've learned to solve real problems," she says. "I'm looking forward to resuming my life in Shanghai soon."