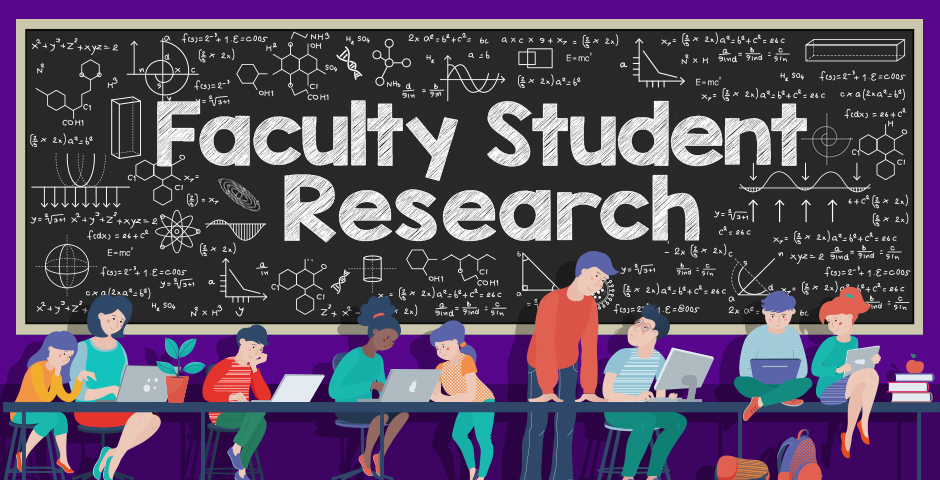 NYU Shanghai prides itself on the opportunities students have to work one-on-one with professors. Over the semester, we will be highlighting some successful professor-student partnerships.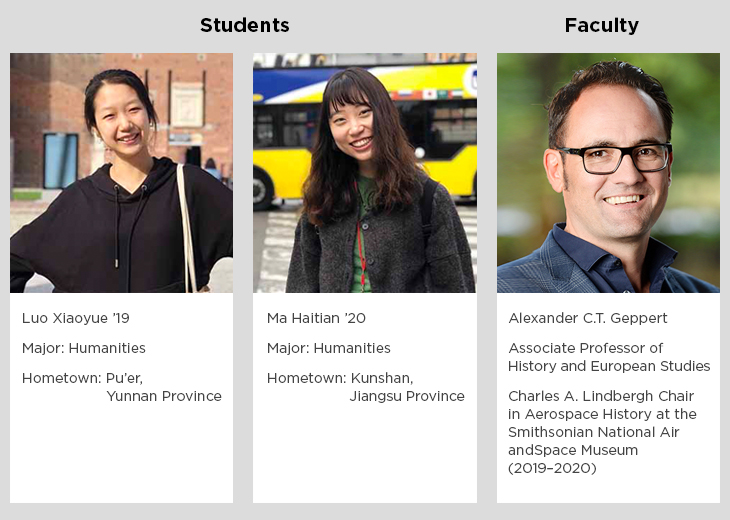 When Luo Xiaoyue '19, and Ma Haitian '20 took Associate Professor of History and European Studies Alexander Geppert's course, "The Global Space Age," their final research projects for the course so impressed Geppert that he encouraged them to keep going. The trio embarked on a collaborative research project that eventually spanned three continents, and took the trio to two international history conferences.
Geppert, who is on leave this year to serve as the Charles A. Lindbergh Chair in Aerospace History at the Smithsonian National Air and Space Museum, acted as a mentor to Luo and Ma. His involvement gave the two undergraduates a rare opportunity to conduct graduate-level research, network with world class academics at the 2019 Society for the History of Technology (SHOT) conference in Milan, Italy and the 134th annual meeting of the American Historical Association (AHA) in New York City. The AHA is the oldest and largest society of historians in the United States.
A Meeting of Minds
Humanities majors Ma and Luo say they enrolled in  Geppert's course, which examines the history of humanity's curiosity about outer space, both through scientific exploration and in fiction, because the topic fascinated them and it was a field neither had ever had a chance to study. For their final projects in the fall of 2018,  both chose to study leading figures and pioneers in spaceflight programs not well-known to the general public. Luo studied rocket scientist Qian Xuesen (1911–2009), a mathematician, cyberneticist, aerospace engineer, and physicist who is also known as the Chinese "father of spaceflight," while Ma focused on physicist and astronomer Vikram Sarabhai (1919–1971), who initiated space research in India and helped the country develop nuclear power.
After reading their final research papers, Geppert realized that publication in an academic journal was within reach. "The originality of their chosen topics, the depths of their research and scholarship, and the beauty of their writing were just outstanding," said Geppert.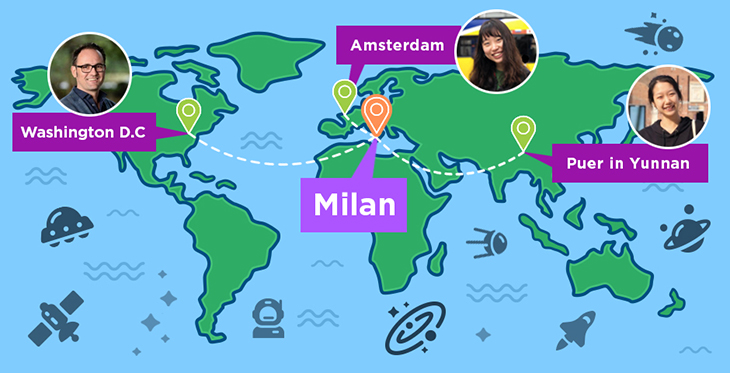 In late 2018, Geppert suggested forming an informal research group with Ma and Luo around the notion of "global space personae" and how certain space scientists became "techno-celebrities." Rather than writing mini-biographies of Qian and Sarabhai, the group decided to examine their career trajectories from unknown scientists to public techno-celebrities and stars of their respective nations' space programs within the historical context of the global space age.
Since their first meeting in December 2018, the three have been meeting bi-weekly or weekly in person and via Skype, remaining in constant contact, over three continents and several time zones. Luo is currently taking a gap year to prepare for graduate school in Pu'er, Yunnan Province, Ma just returned to Shanghai after studying away in New York, while Geppert is in Washington, D.C.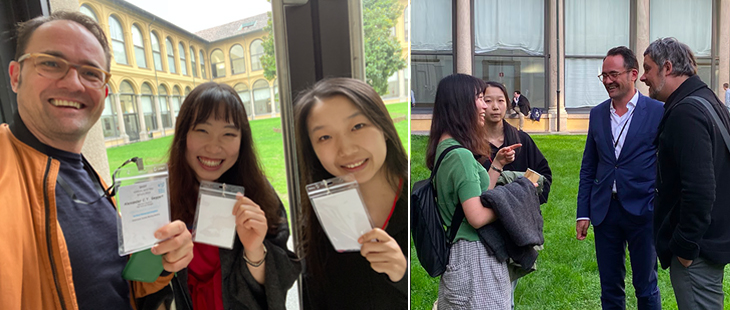 On left: Alexander Geppert, Ma Haitian '20, and Luo Xiaoyue '19 at the 2019 SHOT conference in Mila. On right: The team converses with Prof. Tilmann Siebeneichner from Humboldt-Universität zu Berlin at SHOT
Doing the Work
"It felt like a team, a collaboration. Though Professor Geppert is a senior member and has far more experience in academic matters, he put himself in an equal position with us," Ma said. "What he said to us most was: 'I am learning as much as you.'"
Each student was responsible for their research, while Geppert provided detailed comments and feedback on their drafts. They wrote separate papers, but submitted conference proposals as a panel together. "We also collaborated in writing proposals to conferences and exchanged reading that might be useful to each other's research," Luo said.
Geppert describes their collaboration as "lab-like." "Learning from our colleagues in science and forming a research group is very unusual in the humanities in general and history in particular, '' said Geppert. "All the members work together, share their findings, present as a group, and publish together." 
Geppert also encouraged Luo and Ma to make full use of public libraries and museum resources, and explore a wide array of written and visual, biographical and autobiographical sources, and presentations.
Luo visited the Qian Xuesen Library and Museum in Shanghai's Xuhui District. She read newspaper articles about Qian Xuesen, his personal letters and publications, as well as publications about Qian from Shanghai Library and NYU Shanghai Library. Through these primary sources, Luo was able to analyze Qian's image and the role it played in various historical contexts, such as examine Qian's image-making in relation to contexts such as the hostility against the United States in the 1950s, the communist construction during the 1950s -- 1960s, the strengthening of ideological regulation in the 1990s, and the emphasis on national achievements around the fiftieth National Day in 1999. 
In summer 2019, Ma received funding from the NYU Shanghai Dean's Undergraduate Research Fund (DURF) to travel from Amsterdam, where she had been studying away,  to London to conduct research in the archives of the British Library, the National Archive and the Royal Society. Ma spent ten days working around the clock to collect extensive information from sources which could only be accessed at the archives. "The moment when I faced all the valuable documents, I felt truly excited and grateful, because I was so close to inexhaustible fragments of history for the first time," said Ma.
The team's poster:  The Making of Founding Fathers: Vikram Sarabhai and Qian Xuesen and the Global Space Age.
Proper Guidance is the Key to Success
Ma recalls struggling during her first two days at the British Library. 
"I was going through hundreds of microfilm newspapers with little progress. After I emailed Professor Geppert, he advised me to look back on what I have -- the secondary sources I had consulted about Sarabhai -- and look into footnotes to see any materials I would like to see for myself," said Ma. "He also suggested looking in those manuscripts or documents that I was most interested in, and going into newspapers when there was spare time left so that I could make the most out of the relatively short ten days." 
From there everything opened up. "It was like following breadcrumbs -- I found new clues from the materials at hand, jumping from one source to another." Ma attributes the success of her first experience with archival research to Geppert's input and support from the NYU Shanghai Library and Academic Affairs.
"The gap between a term paper and an academic conference paper includes diligence in research, rigorous attitude, adequate knowledge about the field, and proper guidance from mentors. Humanities require a large amount of reading as well as the ability to conceptualize things and correlations," said Luo. "Proper guidance and a push in the right direction from a professor is crucial when developing an essay into a conference paper."
Venturing into Academia
After their paper reached the point where the trio felt confident about sharing it, they began looking at academic conferences. "We decided to apply for several academic conferences first, to get some outside feedback and input from other historians," Geppert said. "Since undergraduates do not normally present at such symposia, I expected this to be a long shot. But we decided to start at the top."
After ten months of work, the teams' efforts paid off when the Society for the History of Technology (SHOT) awarded Ma and Luo travel grants to attend their 2019 conference in Milan.  Ma, Luo, and Geppert debuted their papers at the SHOT panel, "Global Space Personae: Image-making and Spaceflight Propaganda" in October 2019. 
Joining three other panelists presenting space persoanae in the European and US contexts, Luo and Ma presented their respective research with confidence, and engaged actively with the audience in the Q&A discussions afterwards. "Doing this in a team gave me lots of courage," said Luo. "Presenting at a conference sounds intimidating at first, but I gained huge support and experience from other team members."
To make the study more comprehensive, in Milan, Geppert invited Prof. Tilmann Siebeneichner from Humboldt-Universität zu Berlin to join them, with a paper on East German space pioneer Sigmund Jähn. After that, he invited Subodhana Wijeyeratne, a Ph.D. candidate from Harvard University with an interest in the history of rocketry in Japan to present with them in New York, and expanded the research scope to China, India, and Japan.
Soon after, the team was thrilled to learn that their paper was accepted for the 134th Annual Conference of the American Historical Association (AHA). Luo and Ma were also selected to exhibit their research poster in the AHA undergraduate poster session after presenting at the panel, "Global Space Personae: Genealogies of Spaceflight in China, India, and Japan".
Ma Haitian presenting at the AHA in New York
After the panel, Ma (second from the left) and Luo (second from the right) answered questions about their poster in New York
On January 5, 2020, the team presented their most up-to-date papers at the AHA. Geppert says he couldn't be more satisfied with the teams' performances in Milan and New York. "My colleagues assumed that they were advanced Ph.D. students rather than undergraduates," Geppert said. "Listening to them and seeing them interact with the audience made me feel as proud as a teacher can possibly be."​
Geppert is confident about the next steps for the team. "A publication of these papers in a top-notch, peer-reviewed history journal is the next step. We are currently working on a proposal for a special issue with our collaborators from the US, Japan, and Germany," said Geppert. "This will again take some time but I have no doubts that we will succeed. The entire endeavor has been such a pleasure, both intellectually and personally, and it encapsulates what academia is all about: research, learning, and exchange."