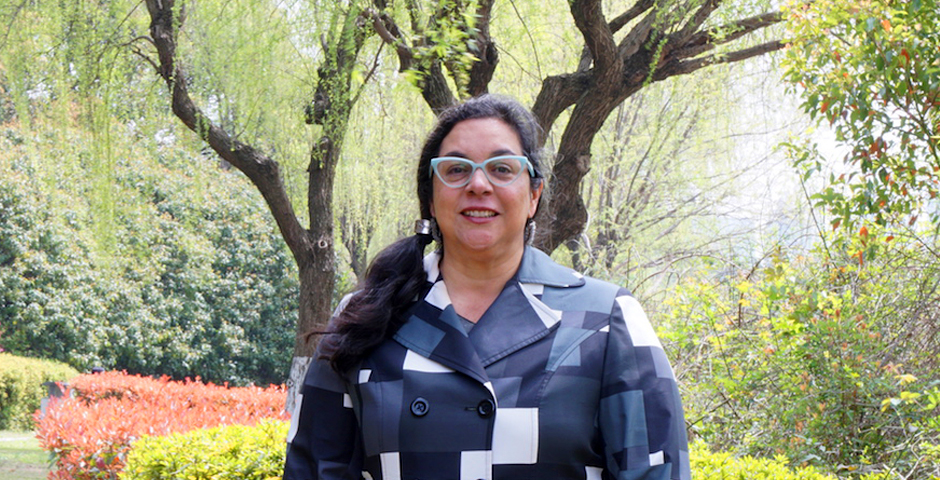 "I am addicted to digging through documents for some historical fact that nobody else knows. Historians love secrets, or more precisely they love revealing secrets." -- Maria E. Montoya
When Dean of Arts and Sciences Maria E. Montoya arrived in Shanghai three years ago, the sheer volume of water in this city made a deep impression. Montoya grew up in the deserts of the American Southwest, and she was taken aback by Shanghai's humid subtropical climate and delighted in the unique relationship that people here have with water.
On her way to work, she traverses the Zhangjiabang River, a Huangpu River tributary, that criss-crosses some well-known Shanghai landmarks such as Century Park. Some days, Montoya stops to watch residents interact with the river -- swimming, fishing, selling turtles, and playing by the riverside.
For decades, "Water and Community" has been one of Montoya's research interests, and she approaches the seemingly benign subject of water with a sense of awe.
"Water is essential to us," says Montoya. "We take it for granted, but it's actually endangered. Water can be an incredible force or scarce to the point that we need to preserve each gallon. We're so dependent on it that it's difficult for us to separate ourselves enough and take a step back to understand just how important it is. "
We joined Professor Montoya on the banks of the Zhangjiabang River to talk about her research, and her experiences as Dean of Arts and Sciences at NYU Shanghai.
What are your fondest memories and proudest achievements from your last three years as the Dean of Arts and Sciences?
One of my proudest achievements is the development of the arts program. As a supporter of the  arts, I have a real sense of achievement in thinking about how we started with only four arts faculty, but now we have more than a dozen faculty working in a wider variety of fields: photography, printmaking, Chinese minority dance, theatre, and group piano, just to name a few. Next year, we will also have a chamber orchestra, a jazz ensemble, a chorale, and a show choir.
Though it's not a major, the arts allow students to express themselves in a different way that is deeply personal to them. Developing the program and helping them build collaborations with Interactive Media Arts, which is also filled with exceptionally talented folks, has been really exciting.
I also cherish the collaborations that I've established at NYU Shanghai. Through meaningful projects such as the Zaanheh Project, Green Shanghai, and the New York Wild Film Festival, I see students and my colleagues contributing to our efforts to promote environmental awareness and ecological protection.
The Arts and Sciences and the individuals in these areas encompass a diverse spectrum. Is there something that binds them together?
One goal we all share is teaching a diverse group of undergraduates, and providing them the best and most well-rounded education we can. When we hire faculty, we're not only hiring dedicated scholars, but we are also hiring people who are already great teachers, or who are interested in becoming skilled teachers. You have to be a good teacher and want to teach our students in order to be a successful faculty member at NYU Shanghai. The thing that ties everybody together is this love of teaching our very talented students. This love of imparting our knowledge to undergraduates and working with them to find their own voice and passion is the common thread that ties us together, regardless of discipline.
One aspect of undergraduate education that I would like to develop further is getting students more involved with faculty and their research, whether it is in the Natural Sciences or the DURF grants. For instance, we're trying to get more undergraduates involved in the Zaanheh Project, an interdisciplinary effort to understand Shanghai's natural history and urban ecology. This project is just one example of an opportunity for students to do research and work directly with faculty. They can work with  IMA faculty like Anna Greenspan to help develop digital projects. They can work with Assistant Professor of Urban Design, ChengHe Guan to work on Big Data in the Shanghai regions. If they can read classical Chinese, they can look through archival documents to research information about ancient Shanghai. If they read only English, they can look through the British sources.
"Water and Community" have been at the core of your research interests over the years. What interests you about these subjects?
I have a lifelong interest in this topic. I grew up in very arid places like Colorado and New Mexico, and come from a family of ranchers and farmers. Since water is a scarce resource where I come from, people need to be very careful about how you use it and not waste it.
For the last 15 years or so, I've been working with my family business on a technology that aids farmers in water conservation. This knowledge of the day-to-day problems of using and conserving water then led me to the academic side and thinking about water use. How do people use water? How do they think about water? And. what does water mean to them as it sustains their community?
I have spent most of my career researching topics that concern the history of the American West, and in particular environmental, labor, and Latina/o history. Coming to Shanghai completely changed my perspective. I now literally look at the West from the other side of the Pacific Ocean and think a lot more about the connections between the western United States and the Pacific World.
So, I have had to shift my perspective and move away from just thinking that the impact of climate change will be drought and water shortages. In Shanghai, the impact will be too much water and so we will need to think about the ways that we will move water, clean it, get it to the right place, whether there is too much or too little.


You've visited several bodies of water in China, which ones have left the deepest impression on you and why?
Going to the Three Gorges Dam and floating down the Yangtze River was incredible. Although I had read about it, it was shocking to actually see the slow-moving river, the transformed landscape, and the dam itself. I've studied dams in the American West, but I've never seen a dam holding back so much water.
It boggles the mind to imagine the social and political capital it takes to create something of that magnitude. The environmental impact goes beyond the dam itself. For example, there's not as much silt flowing down the river to the delta where it meets the Pacific Ocean, so the dam is changing the whole nature of what this region, and Shanghai in particular, looks like.
My students in History of Water often think about "nature "when we talk about rivers. But, as we learn in the class, rivers themselves aren't that natural anymore. It's been eye-opening and a real history lesson for me in coming to a place like China and seeing a river like the Huangpu, which  is no longer natural, but been completely remade from a small creek to a major waterway.

Were you destined to study history, or was there another direction you considered in your college years?
I think I was destined to study history, but I took crooked path to get here.  When I graduated from Yale, I headed off to work for a New York real estate developer and to start business school at Columbia. I lasted one month before I dropped out and headed home to tell my very disappointed parents I wanted to be a historian instead. Although that was a very tough year while I sorted it all out, I knew that I was passionate about history and wanted to be someone who told important stories to others. Toughest but best decision I ever made about my career.
I love learning about old things, and I am addicted to digging through documents for some historical fact that nobody else knows. Historians love secrets, or more precisely they love revealing secrets.
What projects are you working on now, and what are your plans for upcoming research?
In order to balance administrative work and research, I get up at five am everyday and try to write for an hour or so. Writing is my first priority in the morning before I answer emails, talk to people, and do whatever needs to be done here at NYU Shanghai. It's difficult, but I just try to make a little  progress everyday. This is a skill I really try to impart to my students, especially my Capstone advisees!
I am working on a book about coal miners, capitalists, and industrial violence in Colorado during the 1920s. It should be finished by the end of this summer, and hopefully it will come out in the next year. My next book project is about the ecological, cultural, and economic changes of the Rio Grande, a river in the southwestern part of the United States, which is part of the border with Mexico.
This interview has been edited for clarity and length.
--
 To get involved in the Zaanheh project, please email nyu736@nyu.edu.
 See more faculty spotlights on Professor Pierre Tarrès, Professor Teng Lu, and Professor Zhao Lu