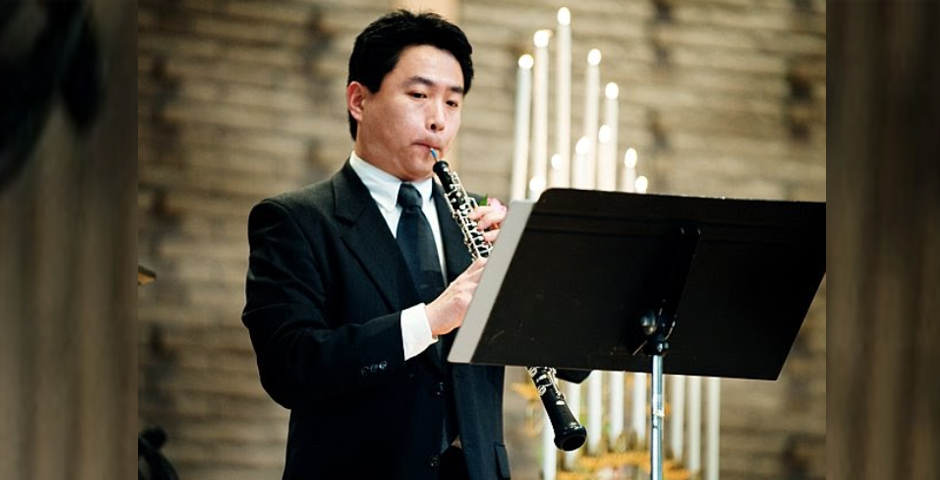 In January 2019, after working for some 20 years as a professional musician in China, Japan, Brazil, and the United States, Cheng Yue retired as Principal Oboist for the Shanghai Philharmonic Orchestra and joined NYU Shanghai as Clinical Assistant Professor of the Arts and to start the NYU Shanghai Chamber Orchestra, following his music educator grandparents, father, mother and sister into the family 'business.' Recently, Cheng reflected on his musical family, his former career, and his hopes for his new one.   

You come from a long line of musicians and music teachers - how did they shape your own development as a musician?
My grandparents were among the first professors to teach at the Shanghai Conservatory of Music, where they trained many outstanding singers, and translated and published important musical literature. My father was a conductor in the Chinese army's Song and Dance Ensemble and a conductor and artistic director at Shanghai Ballet. My mother studied at the St. Petersburg State Conservatory and taught in the piano department of the Shanghai Conservatory of Music, where she mentored many international competition winners. So my sister and I grew up backstage, surrounded by props and instruments, and listening to music and discussions about music every day. Our elders' daily conversations were mostly related to music.  I often heard them talking about things such as how to illustrate music theories to their class and how to sing better high notes. Today, I occasionally go to my parents and sister [who teaches at Fordham University]  for advice on how to use precise and vivid language to explain and train my students, and to help them to understand music. 

How did you select the oboe as your instrument?  
My father chose the oboe for me - he knew that there would always be a demand for good oboists worldwide. 

You displayed your talent early, becoming, at the age of 17, the first Chinese oboe winner at Concertino Praga, an international competition. That turned out to be only the beginning of your international career.  Can you tell us more about where your oboe has taken you?
After graduating from the University of Texas at Austin and earning a master's at the Hartt School of Music at the University of Hartford, I moved to Brazil to take my first professional post in the São Paulo State Symphony Orchestra  - I was the only Chinese member of the ensemble.  Three years later, I moved to the Tokyo Metropolitan Symphony Orchestra.  Then, in 2005, I decided it was time to go home to Shanghai and join the Shanghai Philharmonic Orchestra as First Oboe. 

You've studied and performed in both China and the West. What are some of the differences you've observed?  And how does it inform your teaching today at NYU Shanghai?
Music education in China is often performance-oriented with a focus on basic performing skills. Western countries often pay more attention to cultivating overall musicianship by teaching music through aesthetics, history and the humanities. I think these two aspects are indispensable. A student of music needs to accumulate comprehensive theoretical knowledge, and at the same time to practice and perform continuously to enhance their understanding of theory. Classical music has been passed down to this day because it represents the creme de la creme of human wisdom. I hope that students can benefit from understanding, practicing, and appreciating art.

You are the founder of NYU Shanghai's chamber music orchestra.  NYU Shanghai doesn't offer a music major - all of your musicians are hobbyists. How do you get the best out of them?
Although the students in my class are not music majors, they all have passion for music. This is vital because their passion for music can resonate with mine, thus we fuel each other's creativity and zeal and bring immense joy to the class.  Last May, the Chamber Orchestra competed for the first time in the National College Students' Performing Arts Competition playing the first movement of Mozart's Symphony No. 36 in C major and Bizet's Intermezzo and Farandole. We won second prize in the non-art professional category!  Compared with student orchestras from other colleges, we do not have all the instruments or vocal parts needed, and there is a fair amount of turnover due to students' personal academic plans. We rehearse just once a week. Despite all these difficulties, we still managed to perform on the stage and even win a prize. It's indeed something to be proud of and I consider it the first gift in my teaching career!

Cheng (seated, second from the right) and his father (the conductor) gave a lecture on "Dialogue with Chinese Musical Families" and performed at West Point.

Professor Cheng (middle) conducting the NYU Shanghai student Orchestra at the End-of-Semester Show Concert.
What are your plans and hopes for music education at NYU Shanghai? 
I hope to draw more and more students from different backgrounds closer to the world of music, to cultivate their ability to appreciate arts and innovate, and improve their personality and holistic wellness through exploring aesthetics and performing arts. This is also why I became a teacher.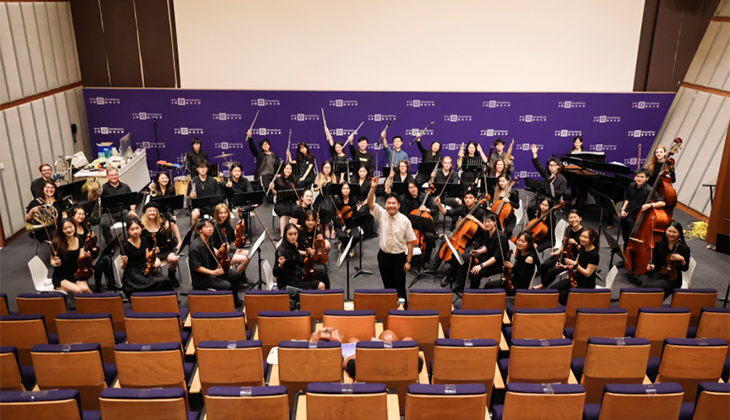 Cheng Yue (the conductor) with his orchestra at 2021 Spring End-of-Semester Show