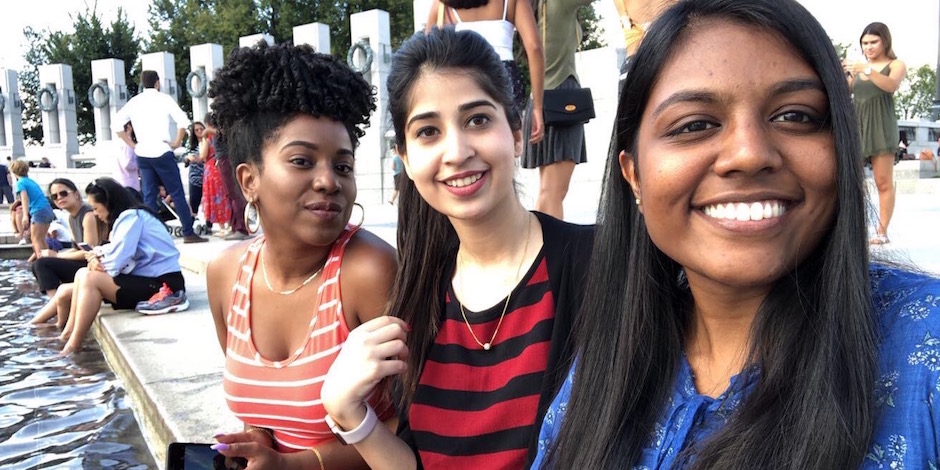 Hometown: Kumasi, Ghana    
Major: Social Science; focus in Political Science
Different countries to call home
For most of her life, Audrey Samuel has lived in Ghana, but has also called Sri Lanka—her birthplace—home. Now, after four years at NYU Shanghai, when she's asked where home is, she can add Shanghai, Washington DC, and Berlin to her list.
As a student from an international high school in Kumasi, Ghana, Samuel was encouraged to apply to colleges in the US and UK. But her curiosity about Asia compelled her to search further. 
"When I came across NYU Shanghai, I thought: Wow, I've never actually spent much time in Asia aside from going home to Sri Lanka for summer vacation or Christmas break," Samuel says. "I wanted to experience life on a continent that no one really expected me to go to, but I also wanted to be in an American university, so I took the chance."
Samuel is hoping to continue her adventures in either Asia or Africa as a fellow in the Princeton in Asia or Princeton in Africa programs. She's interviewing for placements in Vietnam, Laos, Tanzania or Rwanda next fall, and is awaiting further news from her family's home in Kumasi, Ghana, where she has been since the COVID-19 pandemic shut down first the Century Avenue campus and then the NYU Accra Study Away Center where she had planned to spend her final semester. 
Samuel remembers arriving at the NYU Shanghai residence halls with her parents and younger sister. "I just felt at home right from the first day," she says. "I immediately made friends. I was on the 13th floor and the girls in the room next to mine became some of my closest friends, even till today."
With friends Fizza Urooj '20 and Tuba Shah '20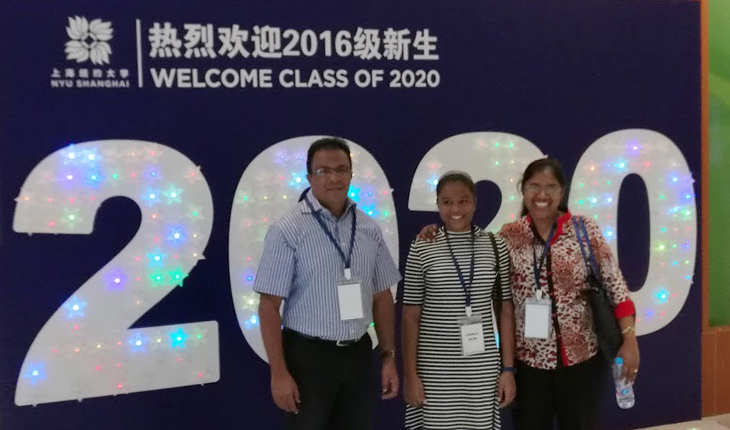 Audrey's parents and younger sister pose before a welcome banner during the Class of 2020 Orientation for Parents. "My parents were very supportive of my decisions and did not decide with a stern hand where I had to go or what I had to study. They believed in letting me experience these things for myself and that's something I'm truly grateful for," Samuel says. 

It was also her first time having a roommate. Samuel describes herself and her Shanghainese roommate Grace Hu Yifei '20 as home-bodies who were both initially reserved, but got along so well that they continued living together sophomore year. "From our different sleep schedules to who would replace the trash—we coordinated and had a mutual understanding that we are both going to school and that it was hard for both of us," says Samuel. 
Samuel, who is Tamil and speaks the language at home, wasn't sure what to expect when it came to fulfilling her Chinese language requirement. "Every single day I was learning new characters and associating meaning to them...it taught me to not have preconceived notions about what language learning was like," she says.  
The course, Language Identity and World English, which she took as part of the Perspectives on the Humanities curriculum, also gave her a new perspective on the language she knows best. "Growing up, I was always taught that British English was the only English, but taking this course, we read works written in Chinese-English and Sri Lankan-English dialects," says Samuel. "We actually studied a Sri Lankan author, and I was amazed to know that the author could make English their own. You don't have to think one way."


Gaining New Perspectives
Since joining NYU Shanghai, the social science major has grown confident in pursuing a career in education policy—something she has been passionate about since high school, when she volunteered in poor communities in northern Ghana and taught children to read in the small library her mother built in their hometown. "It was during this time in high school that I realized that kids could be nine, ten years old, but they couldn't even read," Samuel says.
In her first year, Samuel spent many Fridays visiting different areas of Shanghai with the local education non-profit, Stepping Stones, where she would teach English to children of migrant workers in grades four and six. A year later, Samuel spent a week in rural Hunan Province, volunteering with the Deans Service Corps (DSC) program.
"The experience [with DSC] was...more about talking to [the students], getting to know their life stories, how their parents had left them in boarding school to go work in Shanghai or other cities," Samuel says. "It was about how they felt being away from their parents, and what they wanted for their futures, and realizing that they need so much more than books or a library."  
In her junior year, Samuel studied away at NYU in Washington DC under the Global Leadership Program and spent evenings after classes interning with DC Collaborative, an NGO that provides education resources for kids in need and workshops for teachers.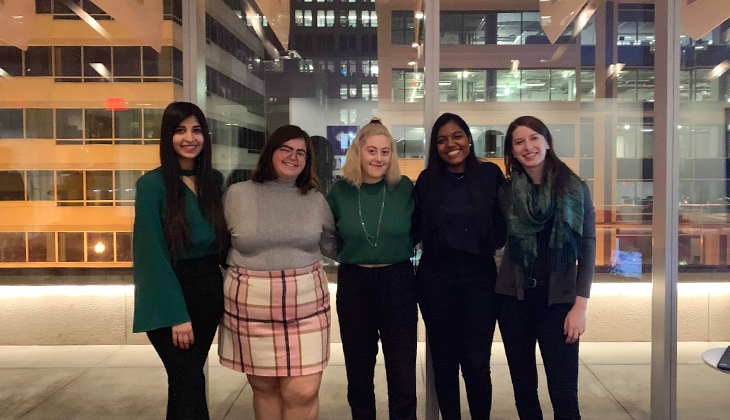 Samuel and classmates during their Leadership class final presentation under the Global Leadership Program in D.C.
"They organized programs that helped kids learn outside the classroom, with field trips to all the museums in DC," Samuel says. "The best part of my day was after the kids went on a field trip, they would fill out a survey. They were six, seven, eight years old, and they would be so excited and would write about the artwork they saw using crayons."
In the spring, Samuel went to Berlin, where she took courses on European history, politics, and environmental and social movements. Her professors would often lead students on excursions to meet historians and heads of various environmental movement organizations. "Taking the classroom outside—I really appreciated that. It felt like I was in the real world," she says. 
An Unusual Commencement and Preparing for the Future
Although she was reserved at first, Samuel has pushed herself to take on leadership roles on campus—she volunteered as an Orientation Ambassador and helped incoming freshmen adapt to university life, worked for Student Life organizing student elections, and was the president of the Culture and Exchange club.  
This spring, she's serving on NYU Shanghai's 2020 Commencement Committee, and has been working hard to keep graduation-themed celebrations going. "I'm a first-generation college student—my father is a civil engineer and my mother was a banker, but she stopped working after we moved to Ghana—so not being able to go for graduation is really sad," she says. 
Though Samuel now has many places to call home, Ghana is where her passion started and where she hopes to make an impact. She plans eventually to go to graduate school and find ways to improve education in Ghana. "From when I was a child, my parents always taught me the importance of giving back to society. It was important for me growing up, to be grateful for what I had but also to help others in any way I could," Samuel says.
"I like where my mom is helping right now—where we built the library," she adds. "The public school that we used to help out at and the orphanage—these are places that we frequently go back to whenever we can. I've built a connection with these places and want to find a way to give back."
Undergraduate Admissions Summary
"I've built a connection with these places and want to find a way to give back," says Audrey Samuel '20.