Zhao Nan'18, Technical Artist at TiMi Studio Group, Tencent Holdings Ltd.
Hometown: Shanghai
Major: IMA, Minor: Computer Science
After graduating, NYU Shanghai alumni Zhao Nan '18 successfully aligned her career development needs with her personal interests in the challenging field of technical art. She currently works for TiMi Studio Group, a renowned game studio under Tencent, a popular and internationally influential developer of mobile games. As the driving force behind hit games such as "Honor of Kings," "Cross Fire: Legends," and "Puzzles & Survival," it has won numerous prestigious awards coveted by industry professionals. From boldly choosing to study Interactive Media Arts (IMA) at NYU Shanghai to becoming a leading player in a top-tier studio, Zhao Nan found her future direction under the guidance of NYU Shanghai professors and mentors.
Why did you choose NYU Shanghai for your undergraduate education?
I chose NYU Shanghai because I wanted to study Interactive Media Arts (IMA). I have studied painting since childhood and I wanted to combine what I love - art – and what I am good at - technology – at university. This major is the perfect connection. In addition, my minor in Computer Science helped me to use programming code to realize my creative ideas.
Your Capstone project "Constellation" was exhibited at 2018 Shenzhen Design Week and International Symposium on Computational Media Art at City University of Hong Kong. How did you create it?
"Constellation" is a piece of work I am proud of. It is a program-generated art piece which provides an interactive experience. By speaking into the microphone, the program can translate the captured audio frequencies into diverse formations of galaxies on the screen.
My inspiration comes from the universe. It is beautiful and complex. It cannot be fully depicted with a paintbrush, nor can its logic be easily conveyed through language. In comparison, code and data have the ability to dynamically simulate and generate ever-changing visual language, forming a complex and beautiful digital interstellar realm.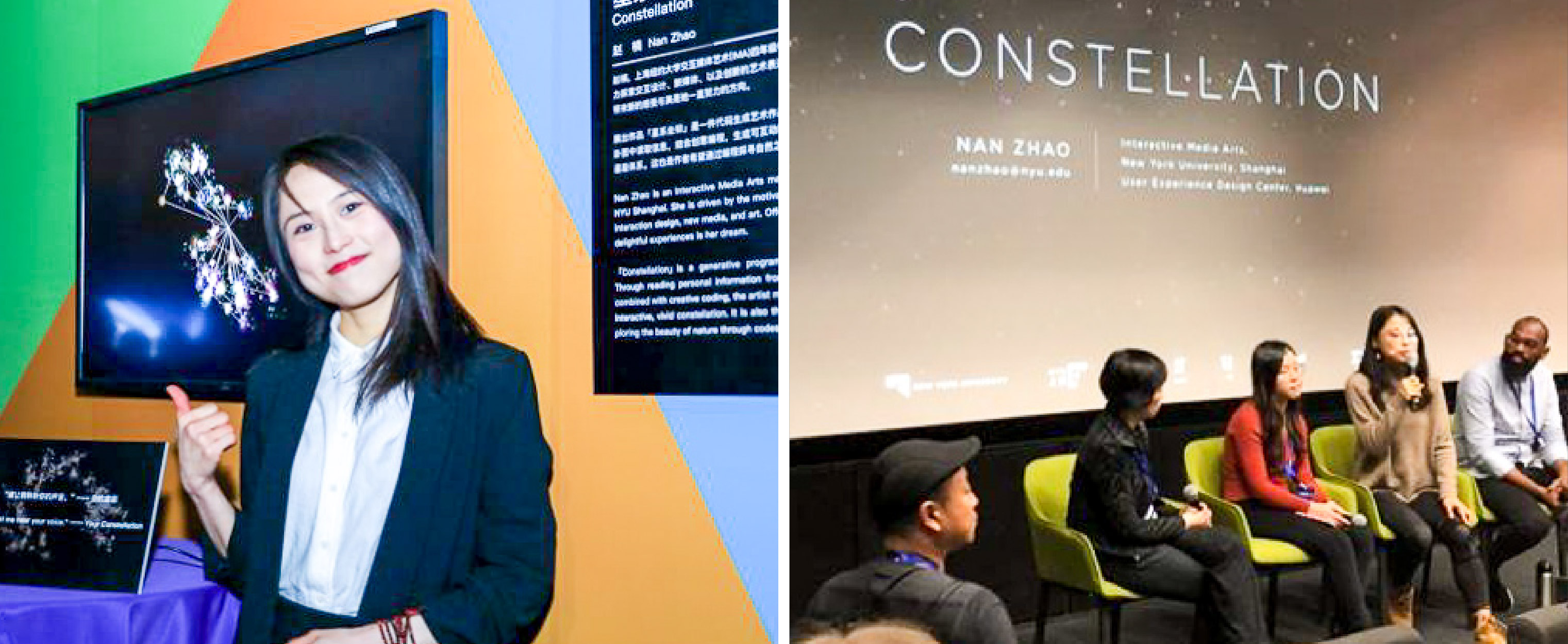 Left: Zhao Nan showcasing her artwork "Constellation" at Shanghai "INFINITE · NEW BORN" exhibition in 2018. Right: Zhao Nan speaking at the International Symposium on Computational Media Art at City University of Hong Kong in 2019.
To provide a more comprehensive and creative presentation of "Constellation," I spent several months searching for the best technical solutions to achieve optimal effects, under the guidance of Assistant Arts Professor of IMA Jung Hyun Moon, who taught me the "Nature of Code" course.
I further explored the logical relationship between the twelve constellations in Western astrology and the Chinese Bagua used in Daoist cosmology, and conducted several rounds of research, continuously summarizing experiences, addressing shortcomings, and overcoming technical barriers to enhance the user experience. The final version presented an interactive and lifelike constellation system filled with aesthetic imagination which achieved my goal of "exploring the mysteries of the vast universe and allowing each individual to find their unique coordinates for self-definition."
Who kept you motivated on your career development path at NYU Shanghai? 
It's Julliet Pan, Class of 2004 alumni from the Tisch School of the Arts at NYU and the founder of Shanghai Laima Film and Television Media Co., Ltd. We met each in the NYU Executive Mentor Program which is organized by the NYU Shanghai Center for Career Development and the NYU University Development and Alumni Relations.

Zhao Nan speaking at "Career Panel Talk: Arts and Design," an online event she joined along with her alumni mentor Julliet Pan NYU '04 in 2020.
Julliet is an empowering female role model for me. Not only did Julliet independently establish her own film and television production career in New York and Los Angeles, but she also planned and directed numerous screen works that were well-received by audiences in both the East and the West. During the intensive communication we had for nearly half a year, I gradually dispelled my inner confusion about choosing the Interactive Media Arts major.
What did you learn from your mentor?
From Julliet's experiences, I gained a deep understanding of many career principles and lessons. For example, self-confidence. Julliet told me in the workplace, you must never be timid and you need to express your opinions confidently and logically. Now I am in a team of over 20 people, there are only two or three women. It is my self-confidence that empowers me to bravely express my true opinions in front of leaders and senior colleagues.
Another lesson is perseverance. Julliet embarked on entrepreneurship in the film and television industry, tirelessly building a team that includes professionals in marketing strategy, production execution, cinematography, and editing. This spirit of exploration and never giving up deeply impressed me. She showed me that perseverance leads to results.
Most importantly, there's connection. Julliet often invited me to participate in various events she organized, encouraging me to actively build professional networks. Following this mindset, after leaving my first job, I extensively contacted my NYU Shanghai classmates and professors, benefiting greatly from communicating with them.
Many people responded positively to me. The key lies in whether you are willing to bravely express who you are, what your challenges are, and what kind of help you hope to receive. I am grateful that even when I was still in an "ivory tower," there were people who made me understand these principles.
How did you decide to work as a Technical Artist?
I am grateful to IMA for providing me with the freedom to grow and the opportunities to explore and discover. With the spirit of "self-exploration," after graduation, I joined Huawei to work on interactive design of various intelligent devices assisted by AI. Later, I went to pursue postgraduate studies at the University of the Arts London to supplement my knowledge of computer graphics and strengthen my programming abilities.
All those efforts ultimately led me to find my direction, standing at the intersection of technology and art. Technical art is a bridge between designers and programmers. I can leverage my advantage in fine arts while further exploring the possibilities of machine learning and human-computer interaction. I aim to make greater breakthroughs in professional and technical aspects in the future, to see how far I can go.
What would your advice be for NYU Shanghai students?
My advice for them would be to have a kind heart and approach life with positivity, with the allowance for yourself to breathe.
I believe this advice is quite different, and may sound like in the air. But it is important. I used to have a quite intensive period. I'm someone who enjoys making plans, and I was a perfectionist, not allowing myself to make a mistake or even take a break. Once a problem arises, I tended to blame myself. It was not a sustainable way for one to grow.
Then I had a chance to watch Harvard University Professor Tal Ben-Shahar's open course "Positive Psychology, The Science of Happiness," I found that when you start appreciate your friends, family, and the world, when you allow yourself to make mistakes and have a rest, you would feel power from the inner side of the heart. You would have a clear mind for who you are and what kind of life you would dedicate yourself to. Positive psychology has taught me that "happiness is the only measure of life and the ultimate goal of all objectives."

During her gap year, Zhao Nan made good use of her time enriching her life with new skills and hobbies.
During my gap year, I  have experienced a lot and met many friends. I learned scuba diving and achieved a Yoga Alliance's 200-hour training certificate. While soothing my mind and body, I obtained the power to support me till today. I hope every NYU Shanghai student could do what they love with no hesitation. I hope every NYU Shanghai student could have a passion for not only the studies but also the life.