Hometown: Edison, New Jersey, USA 
Major: Data Science and Finance

 
Growing up in suburban New Jersey, Alexander Bogdanowicz '20 never really identified with a single culture. Bogdanowicz, whose parents immigrated to the United States from Poland, spoke Polish at home. "Going to school I felt like an American, being at home I felt like a Pole," says Bogdanowicz. "So I kind of felt like a global citizen starting out already. I was always willing to sort of explore and go abroad, but I never had the opportunity."
That opportunity finally came when he got an acceptance letter from NYU Shanghai. 
"I thought it was incredible -- I would get to spend three years in China," Bogdanowicz says. "NYU is a university where the sun doesn't set. You have somebody doing something at all times of the day, and that was really exciting to me."
The following four years at the university did not let him down. "I can't imagine how different I would be had I not gone to NYU Shanghai," says Bogdanowicz. "I built up such a confidence in myself attending NYU Shanghai and spending so much time abroad that I've been able to do things that I never would have done otherwise, like traveling and learning about different countries in southeast Asia, interning in Israel, or deciding to base myself in Poland and later Italy for remote learning at the beginning of the COVID-19 crisis. There's no way I would have been in a headspace to do those things without having attended NYU Shanghai."
As a freshman, Bogdanowicz thought he'd major in finance. Microeconomics and Foundations of Finance taught by Assistant Professor of Practice of Economics Offer Shapir opened his eyes to the field. "I got into that class, studied super hard, got my midterm grade back...and I'd completely bombed it," says Bogdanowicz. "It was a wakeup call to me that this 'economics mindset' was something I had to build. I couldn't even blame the instructor because Professor Shapir was absolutely amazing. I could only blame myself. But I was double motivated by my professor and my poor grade. So I studied day and night for that final and I got an A on it."
However, the more he explored the field, the more he realized that a solid set of quantitative skills was essential, and would broaden his prospects in related fields. Bogdanowicz began to consider pursuing a data science major.
Bogdanowicz says his roommate, Shi Yuliang '20, an honors mathematics major, played an important role in helping him obtain the mathematical grounding he needed for data science. "He was always there to help me out," says Bogdanowicz. "He has this incredible capacity to explain things, even though his second language is English. He really understands these ideas."
Since finding his major, Bogdanowicz has poured his efforts into applying data science concepts into a number of real-world applications. "The one aspect of data science that I appreciate the most is that it allows me to wear many different hats," he says. 
For Software Engineering taught by Xu Lihua, Associate Professor of Practice in Computer Science, Bogdanowicz and his team designed a full-stack healthcare application for patient-clinician interactions with features that allow patients undergoing similar treatments to connect and share their experiences. For Information Visualization taught by Assistant Professor of Practice in Computer Science, Gu Xianbin, Bogdanowicz used programming languages, such as Python and HTML/CSS, to analyze and visualize trends in the movie industry. He later applied what he learned in this class to build his own website, which serves as an interactive portfolio and resume.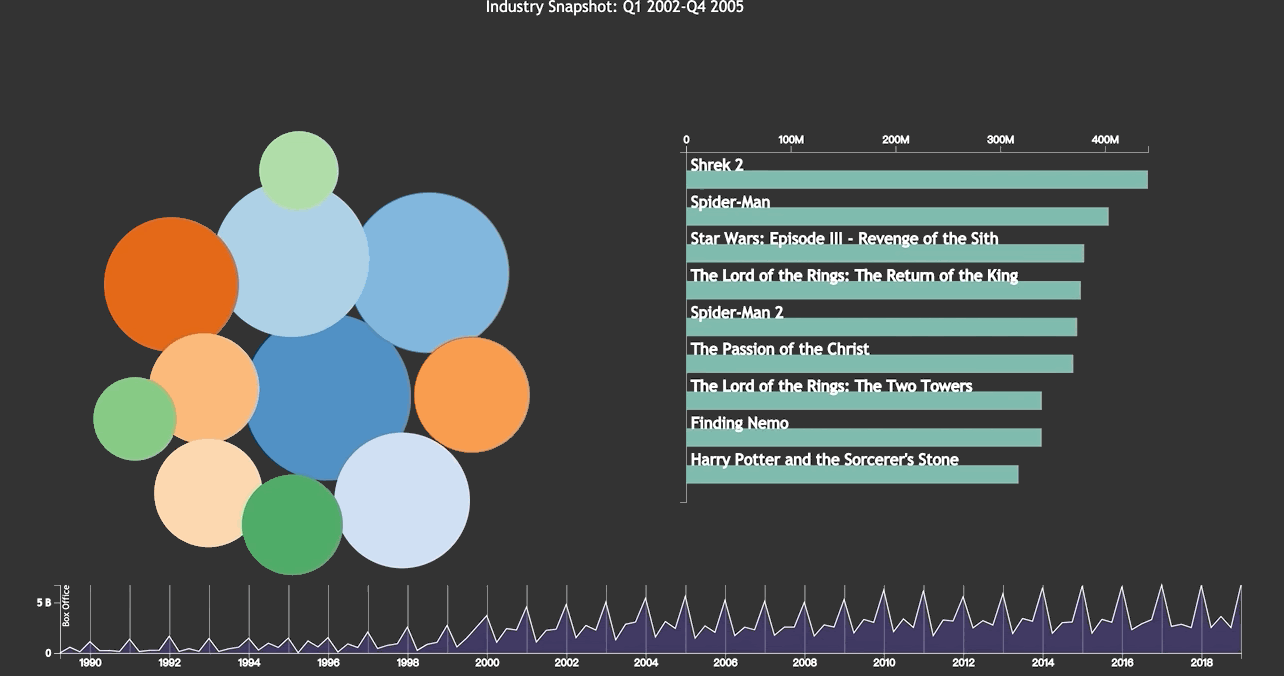 Bogdanowicz's data visualization shows top grossing films for various studios during a set period of time.
This spring, he's working as a research assistant to Guan Chenghe, Assistant Professor of Urban Science and Policy, attempting to identify the areas in the United States that have been worst impacted or are most vulnerable to COVID-19 based on attitudes towards the coronavirus extracted from Twitter posts. "Alex has impressive spatial data analytics, data processing, and programming skills," says Guan. "He understands how to apply them in real world situations to solve urban issues."
Academics aside, Bogdanwicz has also put his energies towards founding the NYU Shanghai chapter of TAMID, a U.S.-based organization that offers experiential learning to college students through business in Israel. The club held weekly workshops with industry leaders, professors, and upper class students on topics such as competitive analysis, the efficient market hypothesis, or data analytics with python.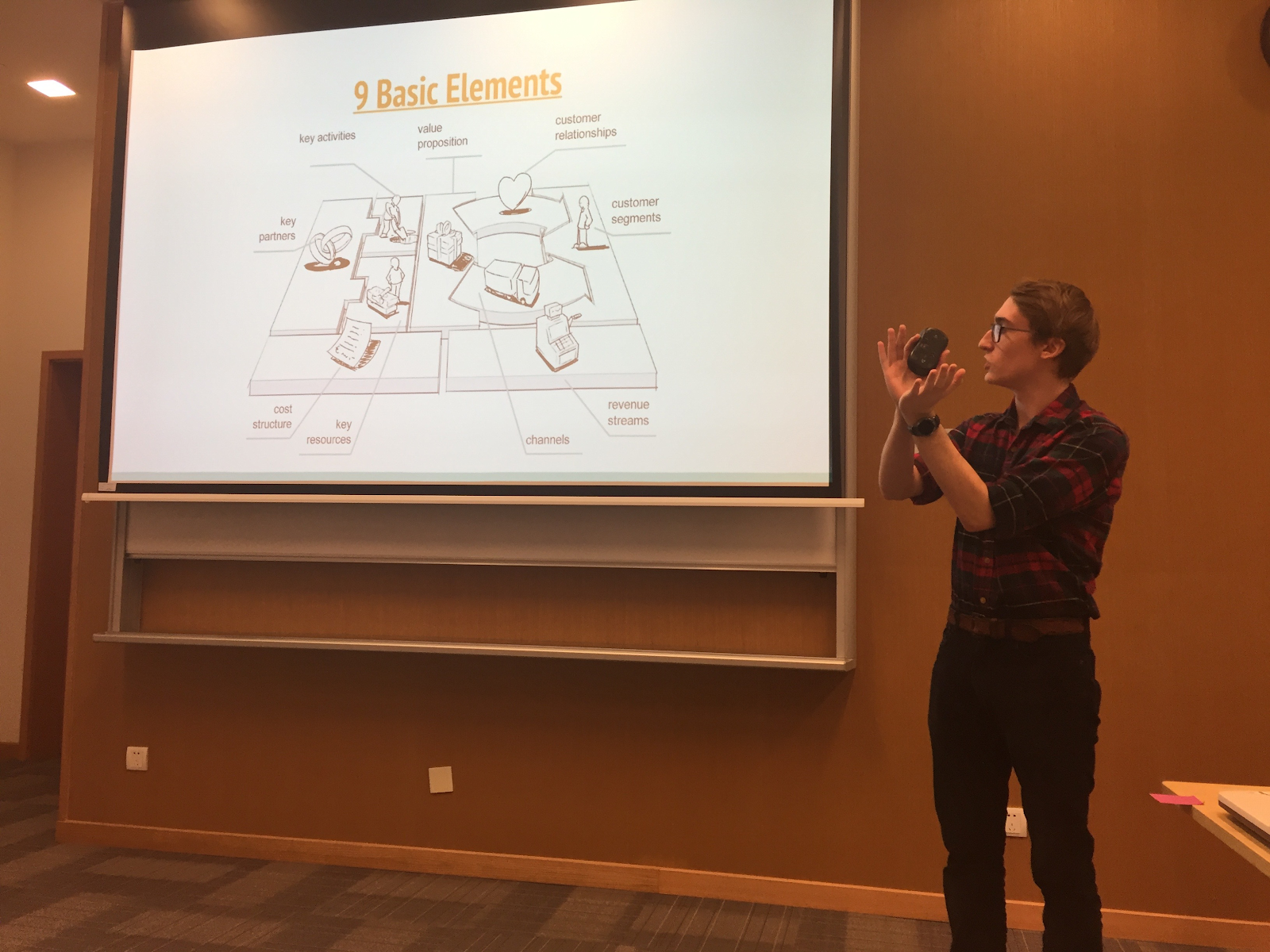 Bogdanowicz explained Business Model Canvas in a workshop to provide members with a template for developing new or documenting existing business models. 
The club participated in TAMID's national stock competition, where each chapter  competed to persuade the organization to invest in different stocks. Shapir says he was impressed by Bogdanowicz's leadership at the competition. "His group was well organized…[H]e knew how to present and speak to his audience, and he controlled the situation well." 
TAMID was voted by NYU Shanghai students as the "best chapter" during the 2017-2018 academic year. Bogdanowicz says he is glad to see that the club is still thriving.
Through TAMID, Bogdanowicz found several fellowships and internships in Tel Aviv, Israel, which provided him with his first experiences working in Big Data and Artificial Intelligence, as well as financial modeling and analysis. All these experiences, he says, enabled him to secure  internships at Morgan Stanley and Price Waterhouse Cooper in New York during his senior year and summer.
As he prepares to graduate, Bogdanowicz says he is ready for new adventures. This summer, Bogdanowicz will continue to analyze some 200 million tweets relating to the COVID-19 pandemic as an Adjunct Research Associate for Professor Guan. He's also looking for opportunities in data science and possibly applying to graduate programs. Bogdanowicz says he would love to run his own company or organization one day but doesn't want to limit himself to one career path or lifestyle just yet. 
"If I had to choose one word to summarize my four years at NYU Shanghai, I would choose the word 'open,'" says Bogdanowicz. "Because every single thing I've done here has been a sort of opening. There are convictions that I had coming in that I no longer have, and I'll never be as confident as I was when I first came here about any of my ideologies or convictions. Everything has been an opening, a shattering of expectations."
Undergraduate Admissions Summary
"I would choose the word 'open' to summarize my four years at NYU Shanghai."