Young Entrepreneurs Inspire Action in TEDxNYUShanghai Inequality Salon
Dec 4 2020
How can young people translate a passion for social justice into action? And how can they turn action into lasting solutions that truly empower the people they want to help? In TEDxNYUShanghai's salon on urban-rural inequality in China on November 30, three young entrepreneurs shared their real-life stories of transforming a desire to make a difference into impactful enterprises. 
Charlene Ren of MyH2O Water Information Network, Will Wang Xingyu of Beyond the City, and Quan Shuai of MatchEdu each began their organizations with little more than an interest in improving rural quality of life, and each found a surprising path forward by empathizing with and learning from the lives of rural residents. 
"Students are always talking about 'making a social impact' without really knowing how to realize that, and these young entrepreneurs can answer the 'how to' question vividly," said Wendy Shi Yitao '23, Director of Speakers' Affairs at TEDxNYUShanghai. "We want to let more students know that it is possible to go from 0 to 1 on your own to make a social impact."
Ren, a 2019 Forbes 30 Under 30 honoree, began MyH2O in 2015 as a platform where student volunteers could monitor rural water quality and give voice to rural communities' drinking water access problems. But Ren and MyH2O's volunteers began to realize that monitoring alone was not helping the villagers change their situation.
"We realized that one thing we failed to do before is to really connect with the communities," Ren explained. "So the first step is to empathize. Feel what they feel, know what the challenges are…[so we can] design for them in their place."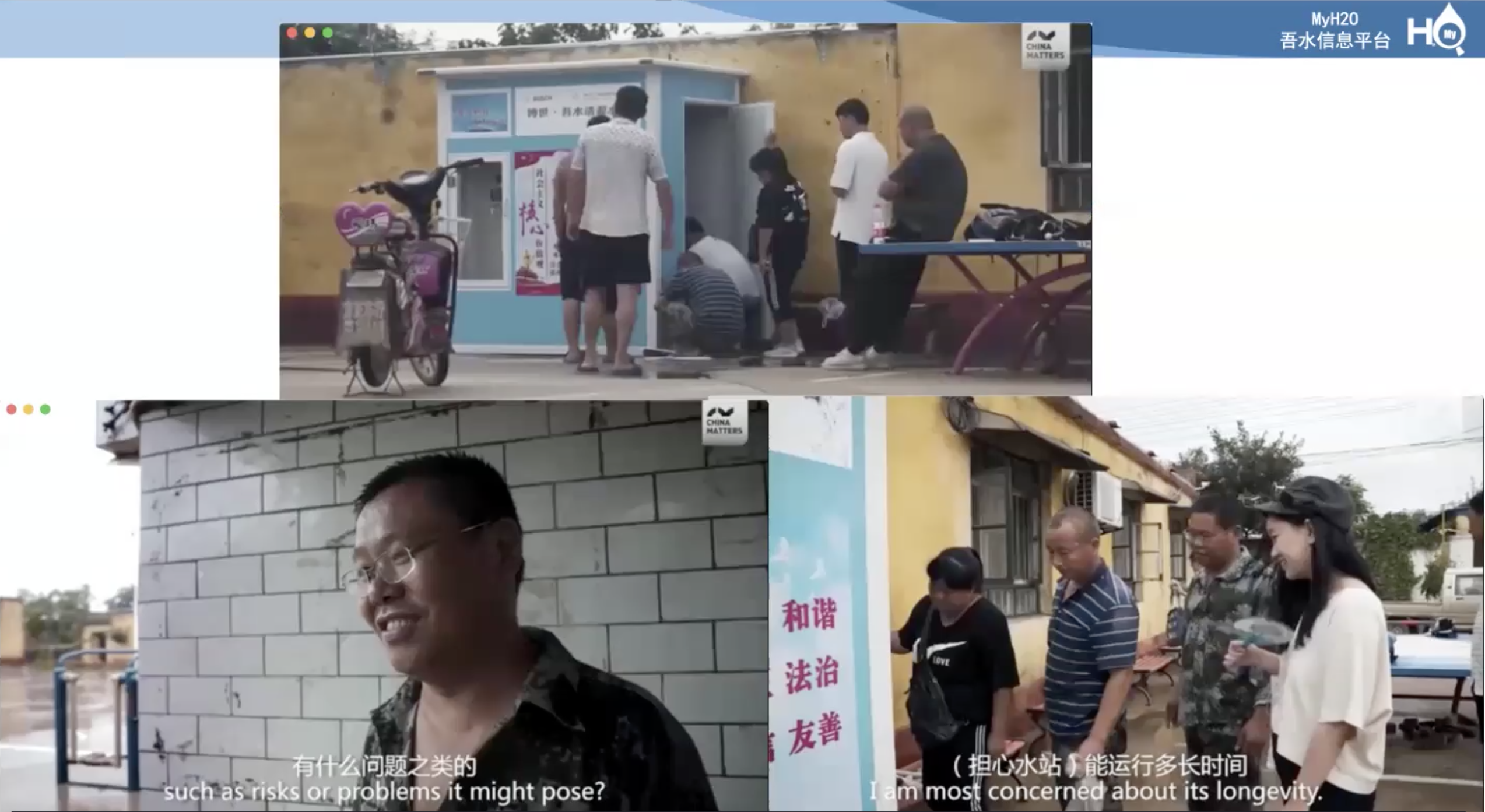 MyH2O volunteers talk with rural residents in Hebei Province about how to make sure their future drinking water needs are met. Ren stressed that making an impact involves constant re-evaluation, redesign, and respect for locals' knowledge and opinions.
With this new approach, MyH2O has connected over 130 rural communities across China with sustainable clean drinking water systems that fit each community's individual needs. 
"[People in rural areas] know water. They're actually much more connected to it than we are. … We can't be educating them about how to preserve their environment. They know how to do that. We just need to channel that energy and that knowledge in the right way to help them do that better," Ren said. 
Shanghai native Will Wang Xingyu, also a Forbes China 30 Under 30 honoree in 2018, founded his experiential learning organization Beyond the City with a similar emphasis on respect for rural residents' knowledge. After spending several years abroad – including earning an MA in International Relations from NYU – Wang realized that he knew very little about life in his home country, where roughly 40 percent of people live in rural areas. So he went to the countryside, intending to lift local residents out of poverty by connecting them to e-commerce networks, but he was surprised that many rural people didn't seem enthused by his help.
"I suddenly realized that there was no problem with the aim of poverty relief, but the way I dealt with it was wrong. Was I a little bit self-righteous? Could it be that we are holding [onto] our privilege, yet still trying to address the inequality?"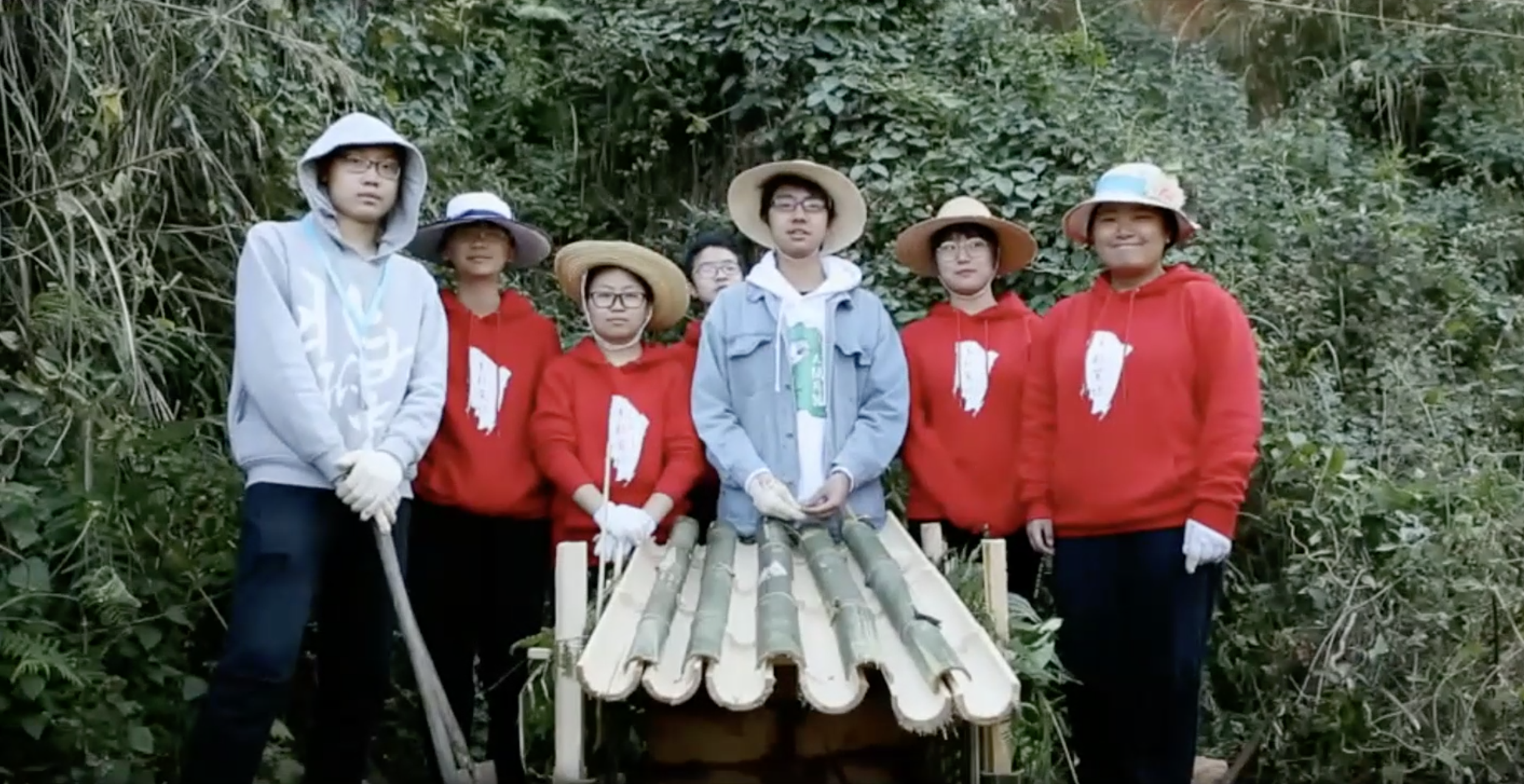 Students on a Beyond the City field study trip in Yunnan Province built a roof section out of sustainable bamboo using traditional skills they learned from local residents. "These rural individuals inspired me to think about who I am if I removed the labels from myself," Wang said.
Wang pivoted to addressing this attitude change, coordinating "field study" trips where urban students learn subjects like ecology, architecture, and traditional crafts in practical lessons taught by rural locals. Students stay in rural households and forgo typical service activities like volunteer teaching and house building, encouraging them to think of rural residents as people with knowledge and abilities equal to their own. Beyond the City in turn coordinates vocational study trips to cities for rural children, giving them a first-hand view of both the opportunities and challenges of migrating to cities for work.
"We can spend more time to explore the divisions in China or around the world and do some public service at the same time, but [we] can't occupy a commanding position, and we have to have an equal heart," Wang said.
After spending a decade in marketing in Silicon Valley, Quan Shuai founded MatchEdu with a similar focus on respect for rural residents' knowledge and skills. MatchEdu's goal was to help China's millions of "left-behind children," who remain in rural villages with elderly grandparents or other relatives while their parents work in China's urban centers. But as Quan and her team collected information about these children's lives, they began to wonder about the people taking the photos and writing the social media posts that told these children's stories – the teachers in their rural schools. 
"Looking at these photos, we started to have more questions: Who are these local teachers behind every photo? What do their lives look like? Do they have enough support to do their big job?" Quan said.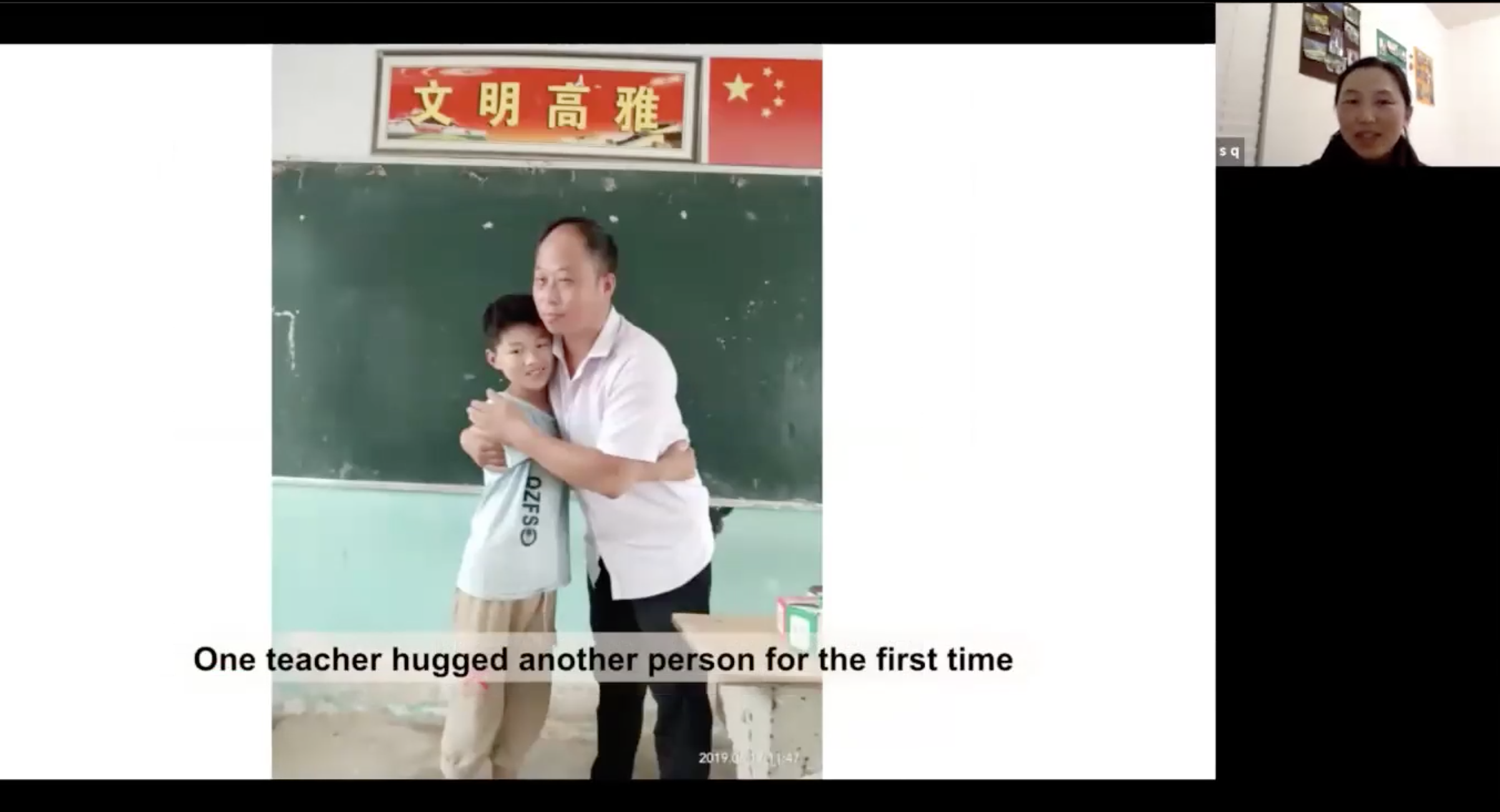 Quan Shuai shares the story of one rural elementary school teacher who hugged another person for the first time after going through an emotional support training session offered by MatchEdu.
So MatchEdu began working closely with rural teachers – who Quan describes as "the forgotten caretakers of our future" – to learn their needs. They began providing training sessions for teachers, with special focus on how to emotionally support their students. They gave teachers platforms to connect with each other and to enrich their own intellectual lives through activities like reading clubs. And they provided these underpaid and overworked teachers – many of whom still have to do agricultural work after a long day in the classroom – with simple items like warm socks and chocolates.
"Instead of treating teachers like a minority group, we would like to treat them more like a user [of our services]…So we ask what do they need, instead of what do we want to give," said Quan.
"Before the salon, the idea of implementing a successful humanitarian program throughout an entire country while only being a university student seemed impossible to me," said Andrew Mayfield '24 of Dallas, Texas, who attended the online salon from quarantine in Shanghai.
"However, Charlene [Ren] was able to demonstrate the step-by-step process she used in creating an organization and how a student in our position is able to do the same," Mayfield said. "The biggest takeaway for me was that college students are capable of creating large scale organizations and programs that have a great impact in communities around the world."
All NYU Shanghai community members can sign in to NYU Zoom to view the full recording of the November 30 salon. Each speaker's talk will also be uploaded to the official TEDx platform in the coming months.