'A Wild and Hilarious Mess': Thespians Take the (Zoom) Stage by Storm
May 15 2020
NYU Shanghai Thespians Society made history last weekend with the successful staging of their first-ever virtual performance and their first full-length original play, reaching nearly 200 live viewers across two shows on May 8-9.
"The Zoom Play That Goes Wrong" revealed the hilarity in frustrations that are all too familiar to audiences who have spent most (if not all) of the semester trying to connect meaningfully with classmates, friends, and colleagues in spite of a vast array of technical difficulties and awkward online moments. Highly choreographed bad internet connections, semi-serious injuries, poorly timed parental intrusions, and bathroom emergencies transformed the play from standard murder mystery to romping comic take on Zoom life in the time of coronavirus. 
"As much of a limit as Zoom is, it's also really an asset because there's so many things we can improvise and experiment with," says Thespians Society President Ryan Hoover '22 of Easton, Maryland, USA, who wrote and directed the play in addition to playing the part of the "murdered" patriarch, Lord Berners Gladstone. "Rehearsal prep was like, 'Come prepared for Ryan to throw everything and the kitchen sink at you because it's just going to be wild for two-and-a-half hours.'"
Hoover – who wrote the original 20,000-word script in just two weeks – says he was inspired by the slew of minor snafus he encountered while attending Zoom meeting upon Zoom meeting for his NYU Shanghai and NYU New York classes. He wanted to write a "chaos comedy" based on "The Play That Goes Wrong" by Henry Lewis, Henry Shields, and Jonathan Sayer, adapting the show's many set- and prop-based gags to a virtual stage where the sets are green screens and downloads, and the only props are what actors have on hand in home quarantine.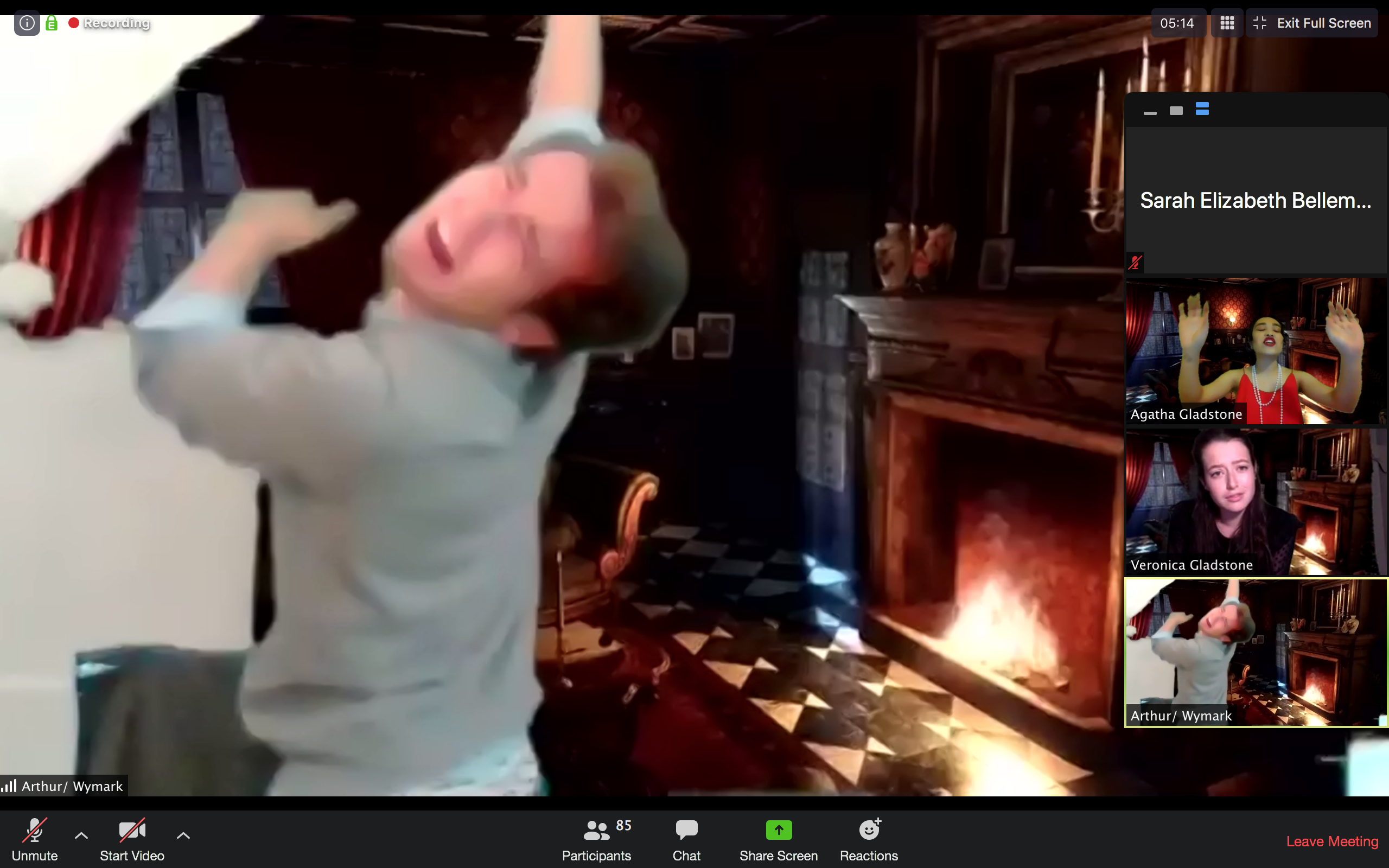 Cast member Sean Hirsch of the American Musical Dramatic Academy struggles to repair his disintegrating homemade green screen during a scene with Aimee Burlamacchi '23 and Karla Liwanes '23 in one of the show's "intentional chaos" bits. 
The result, says Hoover, was a production that mirrors the high-energy hijinks of an improv show, with many of the play's most humorous moments derived from the 12-person cast's real-life habits and screw-ups during rehearsals. Assistant Director and Stage Manager Olivia Olek '22 of Minnesota, USA says the show's embrace of Zoom mishaps "opened a new dimension of acting for the cast."
"They could be as ridiculous and dysfunctional as possible. I think that really allowed the cast to embrace the process more, and as we kept adding in intentional chaos, the show came alive!" says Olek. 
Karla Liwanes '23 of San Antonio, Texas, USA – who played adulterous, whipped-coffee-swilling socialite Agatha Gladstone – says the concept of performing a play filled with carefully choreographed mistakes and seat-of-the-pants effects on Zoom seemed daunting initially.
"Everyone had a lot of questions going into the process: How does this actually work? How much normal stage theatre are we doing versus what needs to be translated into a virtual setting?" Liwanes recounts. "But the show ended up being a creative collaboration among the cast and crew, I think more than a physical show usually is. That makes it pretty special, because we all had a hand in making the show what it was – a wild and hilarious mess."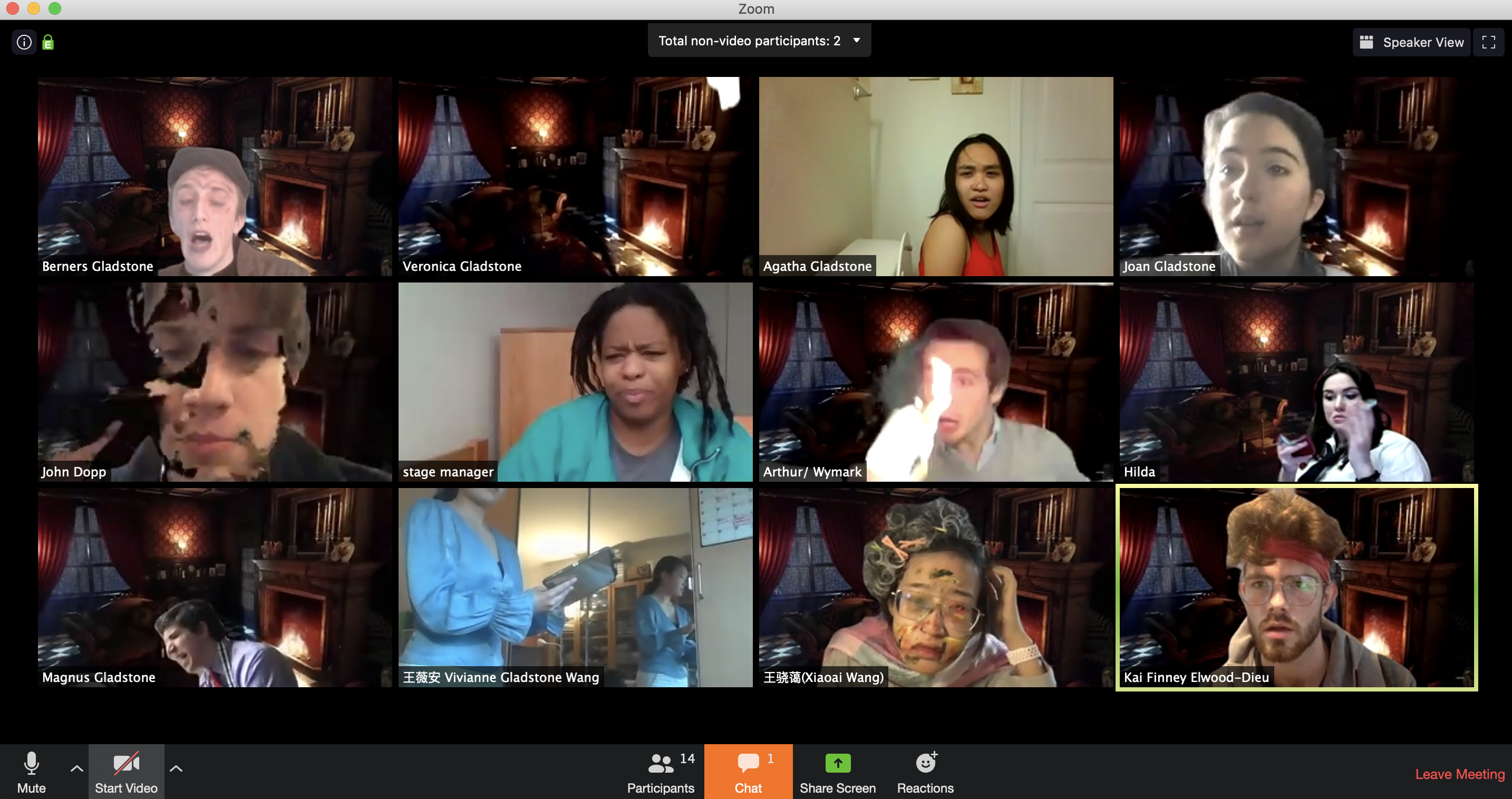 A creative moment captured via Zoom screenshot: A real-life fire in cast-member Sean Hirsch's room during rehearsal catches cast members' attention. This real-life mishap inspired a new "ending" for the play.
Because the virtual medium of the play essentially erased all geographic barriers, Hoover says he and fellow Thespians Society leaders decided to open auditions to all who were interested in their crazy experiment, reaching out to friends at other NYU global network campuses as well as friends from home. The resulting cast represented all three NYU portal campuses and was spread across six time zones from Shanghai to Ukraine to Italy and all over the United States, making scheduling rehearsals one of the production's biggest initial challenges.
"We had to work around everyone's classes and time zone – it was crazy!" says Olek. "We overcame it because everyone was very understanding of our circumstances and very willing to be up late or wake up early to pull this show off. We definitely relied on teamwork more than ever!"
Although both cast and crew members said they struggled with the lack of live feedback from the audience in the form of laughter and applause (attendees were asked to keep their microphones and cameras off during the performance), Hoover says the small amount of feedback that was available was very gratifying. 
"Seeing the comments section during the show, people saying things like, 'Watching from Trinidad!' 'Watching from Moscow!' was just crazy! It was incredible being able to reach so many people across such broad geographic distances with this play," he says. "It really felt like we were making global community during pandemic times, which was extremely rewarding."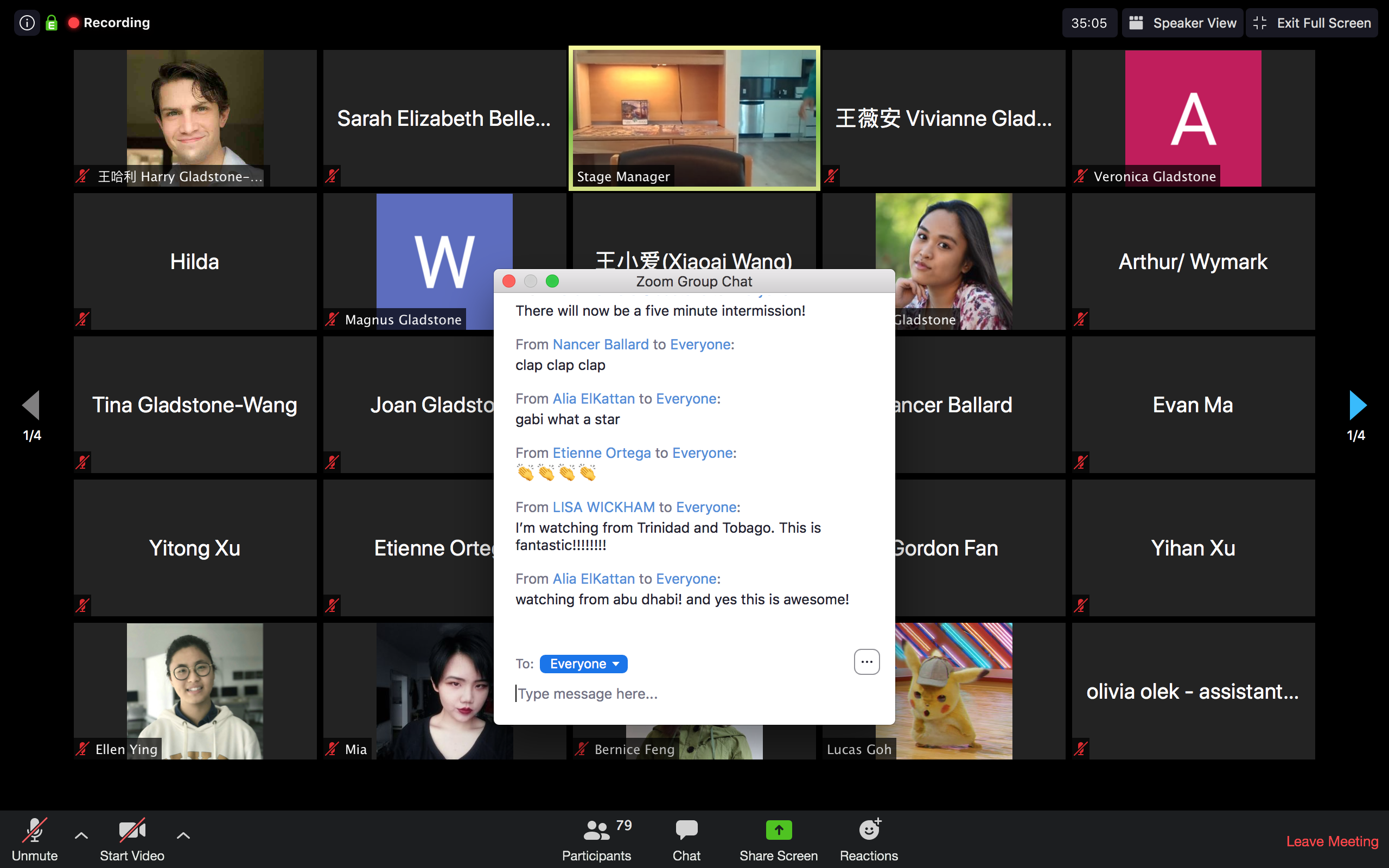 Audience members share messages for the cast and crew in Zoom's group chat feature during the May 9 performance's intermission.
Liwanes likely speaks for cast and audience members alike when she says that the Zoom play has made it possible for her to happily and healthily get through months of quarantine. 
"It forced me to get out of my own head and interact with other people who were helping me create something unique and entertaining, people who were counting on me to be there virtually and mentally, people who made me laugh and gave me different perspectives on how COVID-19 was affecting the rest of the world," she says. "It also gave me hope – that beautiful things like art and human connections could be made around the world, even in the midst of a global pandemic."
View a recording of the live May 8 performance of "The Zoom Play That Goes Wrong" here.
Cast and Crew:
Gabi Branche '21 (NYU Abu Dhabi) as Stage Manager
Aimee Burlamacchi '23 as Veronica Gladstone
Sean Hirsch (American Musical Dramatic Academy) as Wymark Gladstone/ Arthur Pennybatch
Ryan Hoover '22 as Lord Berners Gladstone
Will Foster '23 as Magnus Gladstone
Karla Liwanes '23 as Agatha Gladstone, Director's Apprentice
Karina Verna (American Musical Dramatic Academy) as Joan Gladstone
John Dopp '21 as Harry Gladstone-Wang
Tina Zhao '23 (NYU New York) as Vivianne Gladstone-Wang
Kai Elwood-Dieu '22 as Tina Gladstone-Wang
Lydia Yan '23 as Xiao'ai Wang
Lisa Kindyeyeva '21 (NYU New York) as Hilda
Ryan Hoover '22 - Director                                             
Olivia Olek '22 - Asst Director, Stage Mgr
Steph Scaglia '22 - Technical Director                           
Jarrod Horan '23 - Asst Technical Director
Helen Dorjderem '22 - Logistics & Marketing Mgr