Unplugged for Sustainability
Sep 22 2017
Over the course of the week, students from the Jinqiao Residence Hall hit their light switches in observance of NYUnplugged -- a student-led initiative aiming at raising awareness of modern environmental issues such as climate change, developing sustainable technology and the overuse of electricity.
Students competed against each other, floor by dorm floor, to determine the winner --  the floor with the highest measured percentage of reduced electricity usage. Last year, the winning floor saved in total 18.625 Kilowatt hours/person, according to the data collected by the Jinqiao Residence Hall.

"I have definitely been more cautious about turning off the lights in my room, the kitchen and the common room when nobody is using these spaces," says Jeffrey Kung '18, director of Student Life and Residence of Student Government. "Collectively we can make a huge change in decreasing the use of electricity, but it requires a conscious effort to press that light switch."
Launched by GreenShanghai, this year's NYUnplugged Week featured a series of events including academic symposiums, workshops and games. Their efforts will culminate into a weekend of Shanghai Roots & Shoots workshops from Sept 23-24, and serve to educate younger generations about environmental issues and humanitarian values with a special focus on group interaction.
"Planning NYUnplugged was an amazing experience; seeing everyone making an effort to work toward a common goal in energy conservation has never made me more proud of being a part of the NYU Shanghai community," said Janice Luo '20, the main organizer of the entire NYUnplugged Week.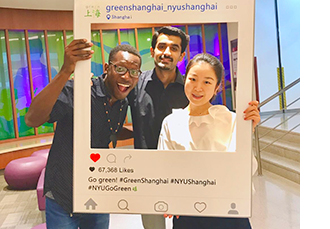 On Friday, Israeli entrepreneur Rami Blachman offered NYU Shanghai environmental enthusiasts his experience with renewable energy technologies in China, the US and Israel. In particular, he discussed the difficulties of bringing Israeli water and renewable energy companies to China. 
GreenShanghai is also organizing an all-day Saturday symposium at Fudan University on sustainable development and governance in the BRICS countries, natural disasters and the new development bank.
Greta Solomon '20, who was involved in several NYUnplugged events, said student-led initiatives like NYUnplugged have the potential for making an impact both in the moment and for the future. "As students, it's the perfect time to use our NYU resources and start making choices that will benefit us and our communities beyond our life in college," she said.
by Aleksandra Lekowska '18