Teaching Symposium Celebrates Grassroots Classroom Innovation
Nov 20 2020
On November 13, 14 NYU Shanghai faculty members from disciplines spanning arts, humanities, and sciences shared their teaching experiments, breakthroughs, and tips with colleagues in classroom methods symposium Celebrate Teaching.
"Teaching is our number one mission as a university, but we don't get many opportunities to reflect on it," said Clinical Assistant Professor of Arts and Center for Teaching and Learning Associate Maya Kramer, who organized the event. "Celebrate Teaching is a way to learn about teaching ideas and strategies from other faculty, to reflect on our approach to teaching and inspire one another."
Celebrate Teaching has been held every semester since Spring 2019, and Kramer says the Center for Teaching and Learning (CTL) hopes to make it a campus tradition. In concurrent 25-minute talks, faculty share their experiences crafting effective assignments, designing engaging course content, and finding favorite tools and resources. The goal is for participants to take away concrete ideas they can integrate into their courses.
"I really enjoy the spirit of the event, which is to share best practices and innovations in teaching with faculty across disciplines," said Melanie Hackney,Director of World Languages and Clinical Assistant Professor of French. "Celebrate Teaching encourages us to think more holistically about our courses and it allows us to see the creativity and energy of our colleagues, which is very inspiring!" 
In her Celebrate Teaching presentation, Hackney illustrated how her course "Expressive Cultures: La Belle Epoque" uses images of the built environment of Paris to build a "collective mind palace."  Inspired by the famous "taste of madeleines" moment from Marcel Proust's In Search of Lost Time- itself a product of the cultural era Hackney's course explores – this approach not only immerses students in the context of the course material, but also encourages them to think deeply about how objects anchor our memories and experiences in time and place. 
Chancellor Tong Shijun, who attended several Celebrate Teaching presentations, said that seeing so many faculty speak passionately about their teaching methods gave him new perspective on what makes NYU Shanghai such a special institution. "Teaching is not only the other side of learning by students, but it is also based on the learning that professors engage in themselves, including learning in forms like Celebrate Teaching," Tong said.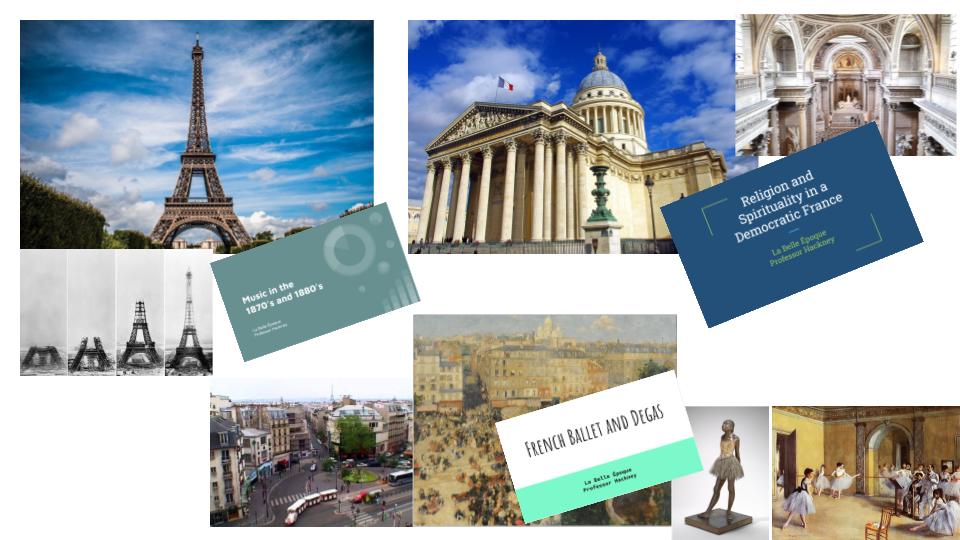 Hackney illustrates how she uses historical and contemporary images of Paris to help students map the Belle Epoque in real space and in their minds. 
This semester's Celebrate Teaching event was hosted on Zoom to accommodate faculty who remain in other parts of the globe due to continuing travel barriers. Several of the presentations also focused on sharing solutions for the challenges of online and mixed-mode course design. Assistant Professor of Practice in Computer Science Ratan Dey's presentation focused on his use of Gradescope, an online grading and assessment analytics tool that Dey says has provided him with meaningful insights into students' learning outcomes.
Dey said he has taken part in four past Celebrate Teaching events and has found them "super useful." Celebrate Teaching was where he first learned about online teaching tools VoiceThread and Screencastify, which have since become integral to his courses. 
"There are so many tools, ideas, strategies, and methodologies to improve our teaching and interactions with students, so it helps to learn what's working and what's not from each other," Dey said. 
Kramer said she is excited to test out ideas from this semester's Celebrate Teaching presenters, including the photo essay assignment introduced by Clinical Assistant Professor of Global China Studies and Anthropology Leksa Lee. 
Lee asks students in her course "Ethnographic Methods" to illustrate what they have learned in field trips around Shanghai through a series of photos and images, pairing each photo with a caption that connects the images to course themes and to broader implications of the course material. "It's a very simple idea, but there are so many ways to implement it - as a research method, as a form of documentation, or as a way to study theory in the real world," Lee said.
Kramer is also already working with fellow presenter Qian Chunhao, who serves as Community Engaged Learning Coordinator in the Academic Affairs office, to design a narrative drawing project illustrating local community members' oral histories. 
"There's a lot of risk involved in changing some of our habits as teachers, and experimenting with alternatives is sometimes nerve-wracking, so a big part of the process is getting the courage to take those leaps," Kramer says. Hopefully, Celebrate Teaching can equip faculty with the know-how and support to find the courage to make their teaching truly innovative.