Student Health Center Offers Programming to Reduce Stress During Midterms
Oct 30 2020
Midterms season is here again - and the NYU Shanghai Student Health Center has geared up its efforts to help students through this stressful period. 
With a full menu of mindfulness and meditation groups, art workshops, and 'Lunch and Learn' sessions on topics such as sleep and insomnia and digital eye strain prevention, the Student Health Center is working to equip students with stress management tools that can serve them well beyond their time on Century Avenue. 
"Every semester, we tend to see a pattern of stress levels going up around midterms and finals. That's why we think about what programs we are offering and try our best to time them with that pattern," says Carly Siuta, Senior Specialist for Health Promotion. "I also know our students are dealing with the additional stress of figuring out their plans for next semester due to COVID-19. It's a lot to deal with."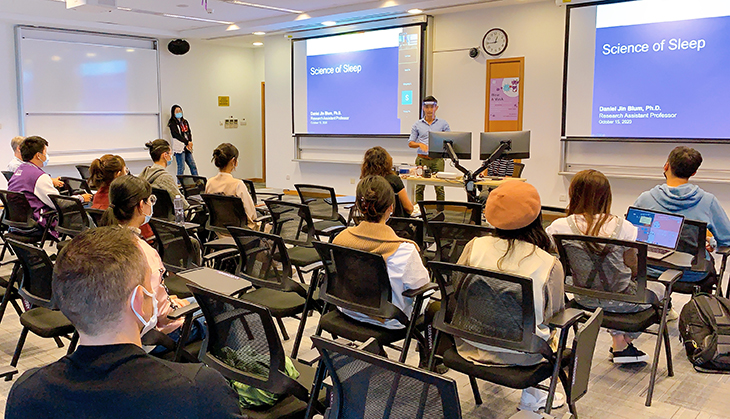 Dr. Daniel Jin Blum presenting at last week's "Importance of Sleep" Lunch and Learn.
In the Midweek Mindfulness Meditation, hosted every Wednesday, students learn a new mindfulness technique each week. This semester, Liu Yi Yi '23 has also volunteered to play calming background music on her steel handpan drum, an instrument commonly used for meditation and known for its rich, relaxing tone. Wang Yunyi, NYU '24, a regular participant, says it's one of his favorite events. "It's a great reminder for me to take a break and take care of myself. The meditations are simple and helpful, so we don't need previous experience to join. The highlight of the event is the background handpan music played by Yi Yi. The music is quiet, powerful, and calming, perfect to accompany meditations." 
As midterms is one of the busiest times per year, the Student Health Center recognizes that students might not have time to attend the scheduled events. So they've created a  Virtual Calm Corner, an online resource that students can access 24/7. Here, they can find a digital library of stress management resources, including guided meditations, breathing exercises, playlists for studying or relaxing, and different art activities.
For those able to attend in person, Expressive Art is a popular workshop where students can come and draw, doodle, and relieve their stress through artwork. "Art is a great way for students to de-stress after midterms," says Siuta. "For anyone - even if you don't like to draw or you feel like you're terrible at art, the practice of it can bring several benefits to you. It helps to break out of old thinking patterns, generate creative ideas, and can be excellent stress relief."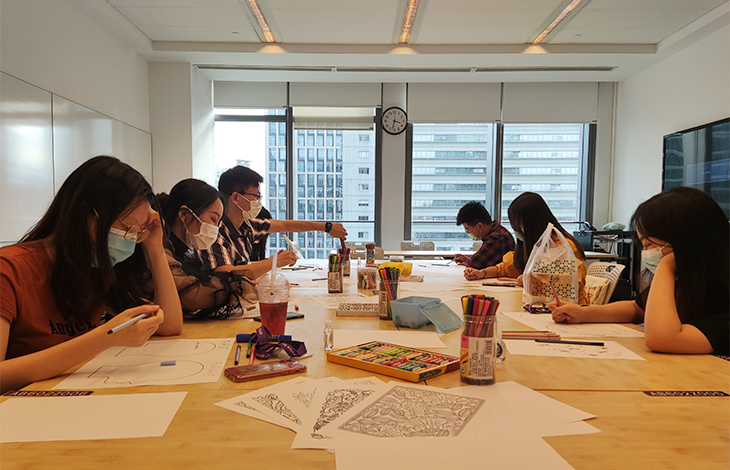 Students at an Expressive Art workshop doing an exercise to reflect about past experiences and future goals through writing and drawing. 
In November, the Student Health Center will be hosting many more events in both the NYU Shanghai campus and Shinmay buildings, including a mixed-mode workshop on Social Confidence, Lunch and Learn workshops about nutrition and improving productivity, and continued mindfulness and meditation sessions (no experience necessary to participate!) "It is inevitable that stress will be part of every student's experience, so we try to offer many different workshops that can fit different students' needs," says Siuta "We hope that students can walk away from our programs with tools they can use in their daily life." 
More program information can be found on the NYU Shanghai Student Health Center Website. For students, please RSVP through NYU Engage to secure your spot due to limited group size. 
Weekly Schedule:
Tuesday, 3:00-4:00pm: Small Group Workshop in the Academic Building (rotating topics)
Wednesday, 3:15-4:00pm: Mid-Week Mindfulness in the Academic Building
Thursday, 12:40-1:30pm: Lunch and Learn - Mixed Mode or Virtual (rotating topics)
Thursday, 3:00-4:00pm: Small Group Workshop at Shinmay (rotating topics)
Friday, 3:00-3:30pm: Drop-in Mindfulness at Shinmay
The Student Health Center offers counseling services to support students with stress, anxiety, or other concerns. Students can schedule counseling appointments by email (shanghai.health@nyu.edu,) phone or in-person. Students who need immediate support can also use the 24/7 Wellness Exchange by calling 021-2059-9999 or chatting via the Wellness Exchange app anytime.