Spaces to Know: Inside NYU Shanghai's New Library
Mar 31 2023
Although NYU Shanghai's newly opened two-floor library contains 31,000 books and many more available electronically, there's so much more to discover in one of the busiest—and also quietest—spots on campus. Here are some library highlights you definitely want to check out!
Group Study Rooms
The library features 32 uniquely designed group study rooms, many of which feature Maxhub whiteboard screens for collaborative work. If you and your study partner want sunny cafe vibes with a great view over the courtyard, book the Accra room (but be quick because it's also the most popular). Another favorite group study room is the project studio, where students can prepare presentations and pitches. The room features a red sofa, high-top desk and chairs, a lounge chair, and a little red stool shaped like a pig. "Students can sit on the ground, stand and study, or walk around freely," said Vickie Chen, the library's communications and events coordinator. "It's very flexible. It doesn't look like an average group study room." Each room features a QR code at the door for easy booking.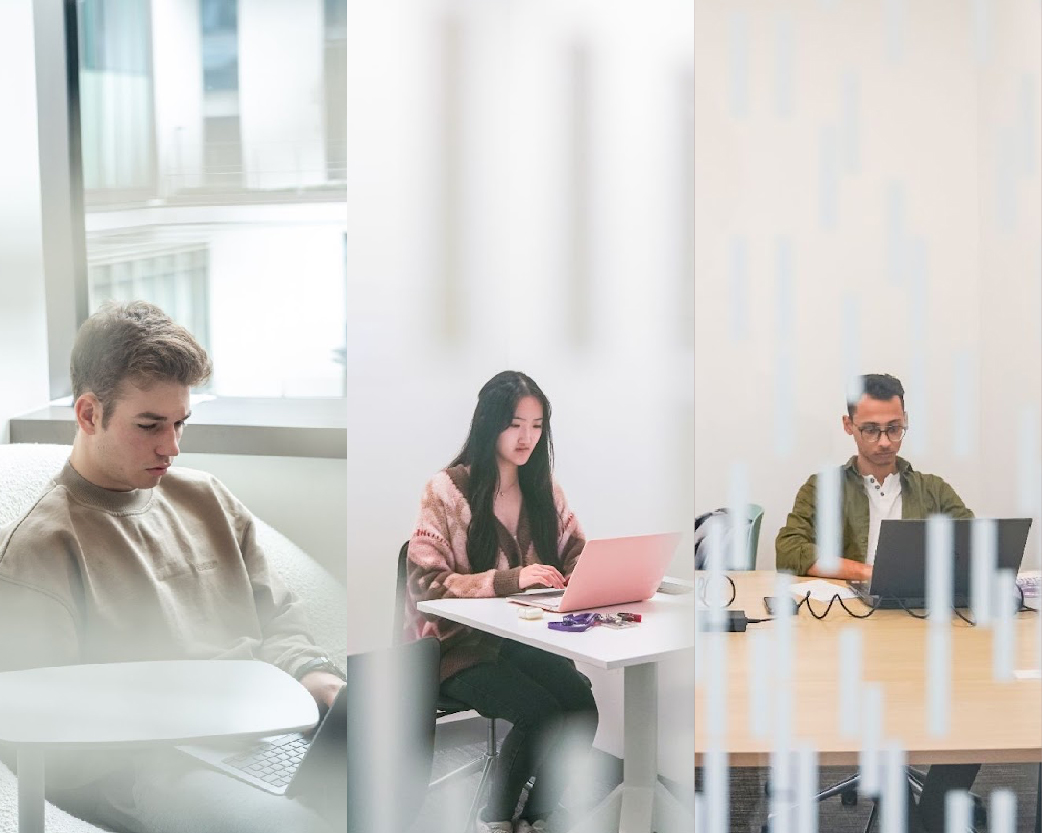 XR Space
The new lab is an expanded and improved version of the VR Room on the Century Avenue campus, which was only a quarter of the size. The new lab features a grid system for more flexible use. The room can be rearranged to account for different devices, and all the cables and cords are connected to the walls and ceilings to avoid tripping. Library staff member and NYU Shanghai IMA Low Res alum Jesse Yu '22, who worked on the design of the lab, said he wanted there to be a big wide VR space that could work for students to test their own XR games or for faculty to demonstrate XR programs. "This is one of the most under-utilized spaces on campus," said William Yeh '25, who uses the lab on a daily basis. "It's my favorite part of the library, because you get to play video games!"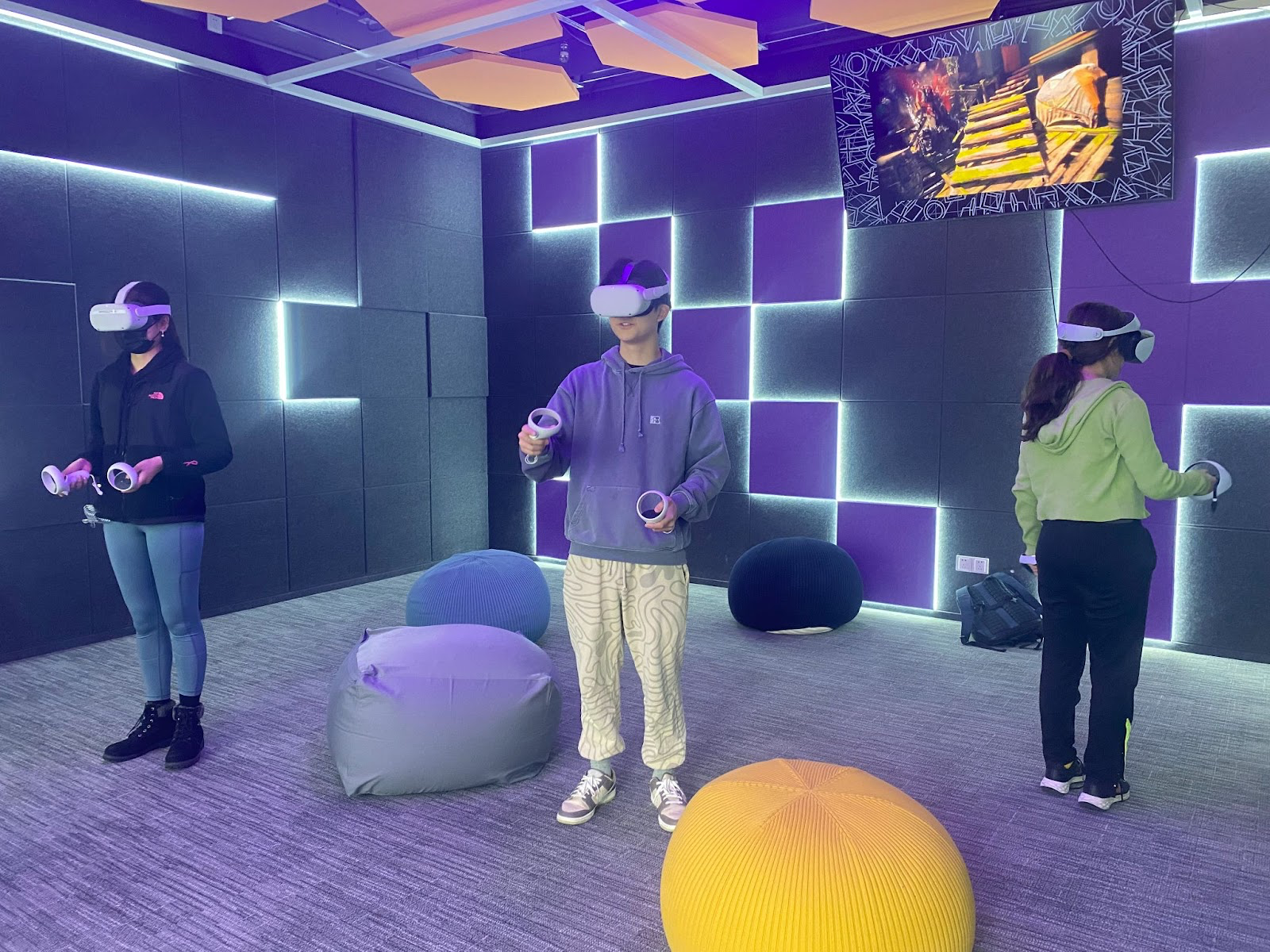 Students Gauhar Sarwal '24, William Yeh '25, and Leena Faisal '26 in the XR Space.
Phone Booths
When you need to make a call or send a voice message, check out the two phone booths on the sixth floor. They're just big enough for one person and are designed to muffle the sound of normal speaking voices. Just walk right in…but don't expect to walk out as Superman.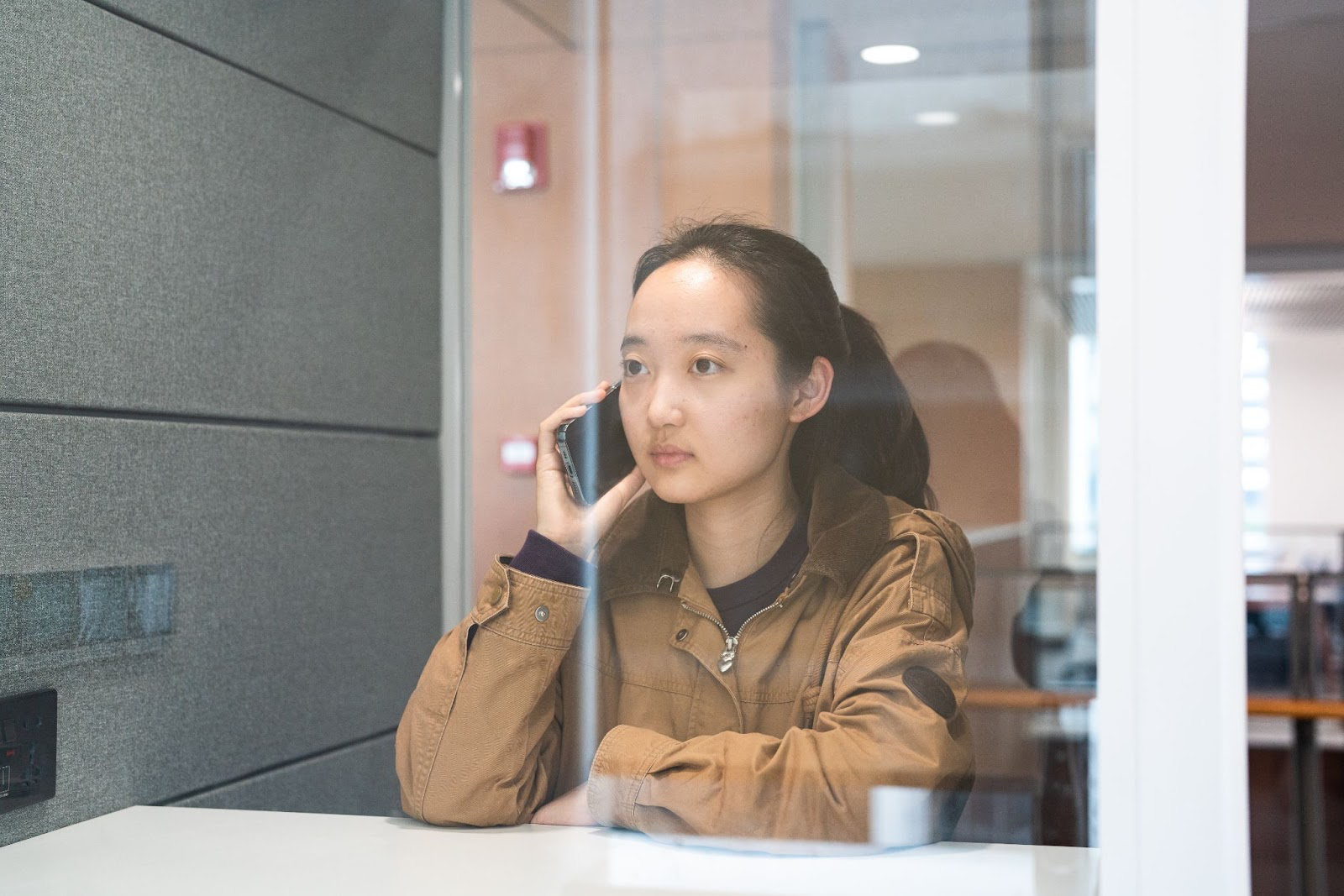 Course Reserves and Media Room
Did you know the library keeps a copy of all the print textbooks being used for classes each semester? Students can use them in the room or borrow for four hours at a time. "This room is for students who don't want to lug textbooks around," said Chen. "It's very convenient." The room also includes over 1,000 video and audio volumes.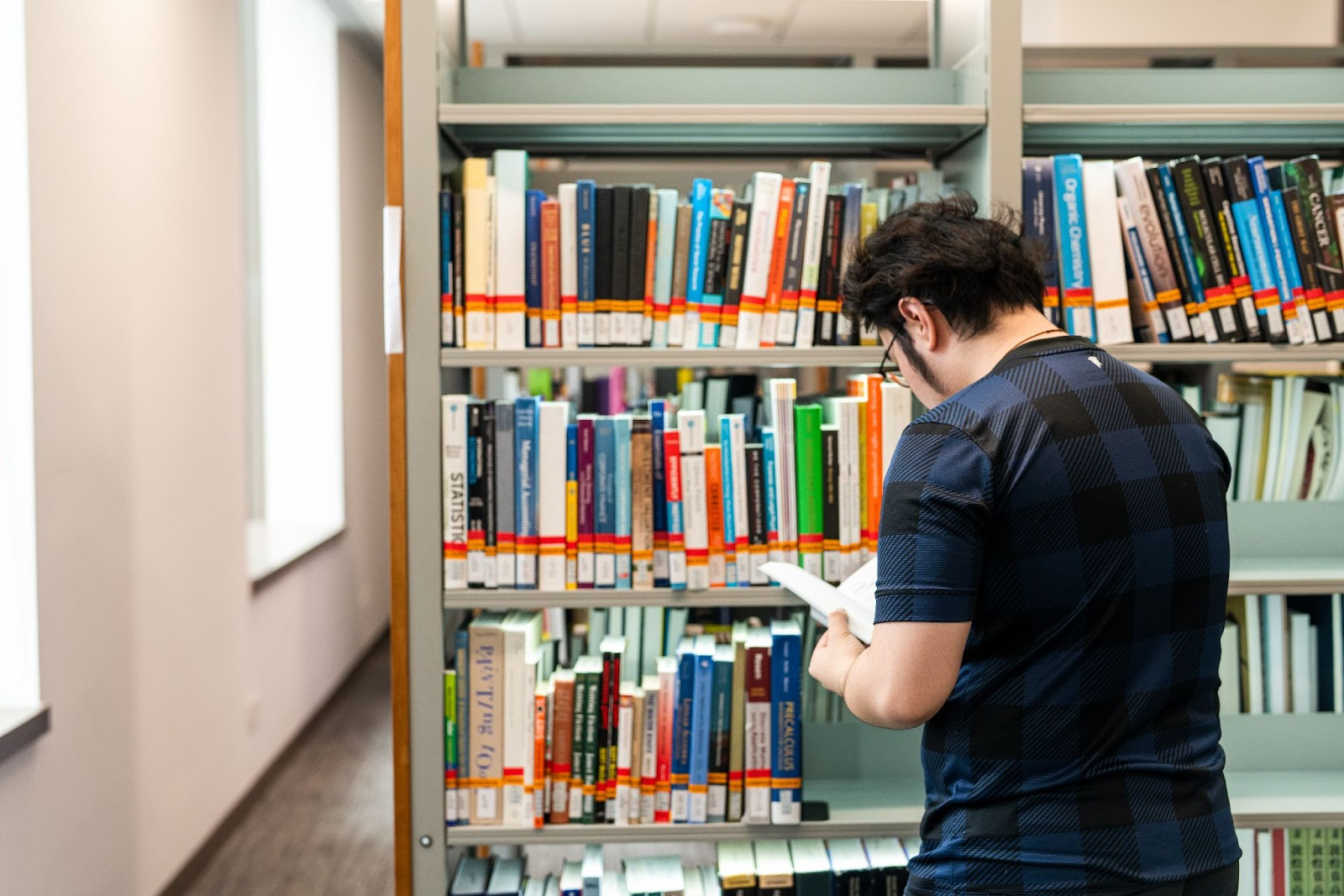 Quiet Study Area 
The sixth floor of the library is the quiet study area, with sunlit desks by the windows and shelves and shelves of books. Chen says her favorite spot in the library is the northwest corner of the 6th floor study area. "The view, especially in the afternoon, is very beautiful, and most desks are close to the window and get good natural light," she said. And for those who want zero distractions and deep focus learning, there are several study areas that are surrounded on all sides by bookshelves. Several designated study rooms, including the researcher room and scholar space, will open in time for the fall semester.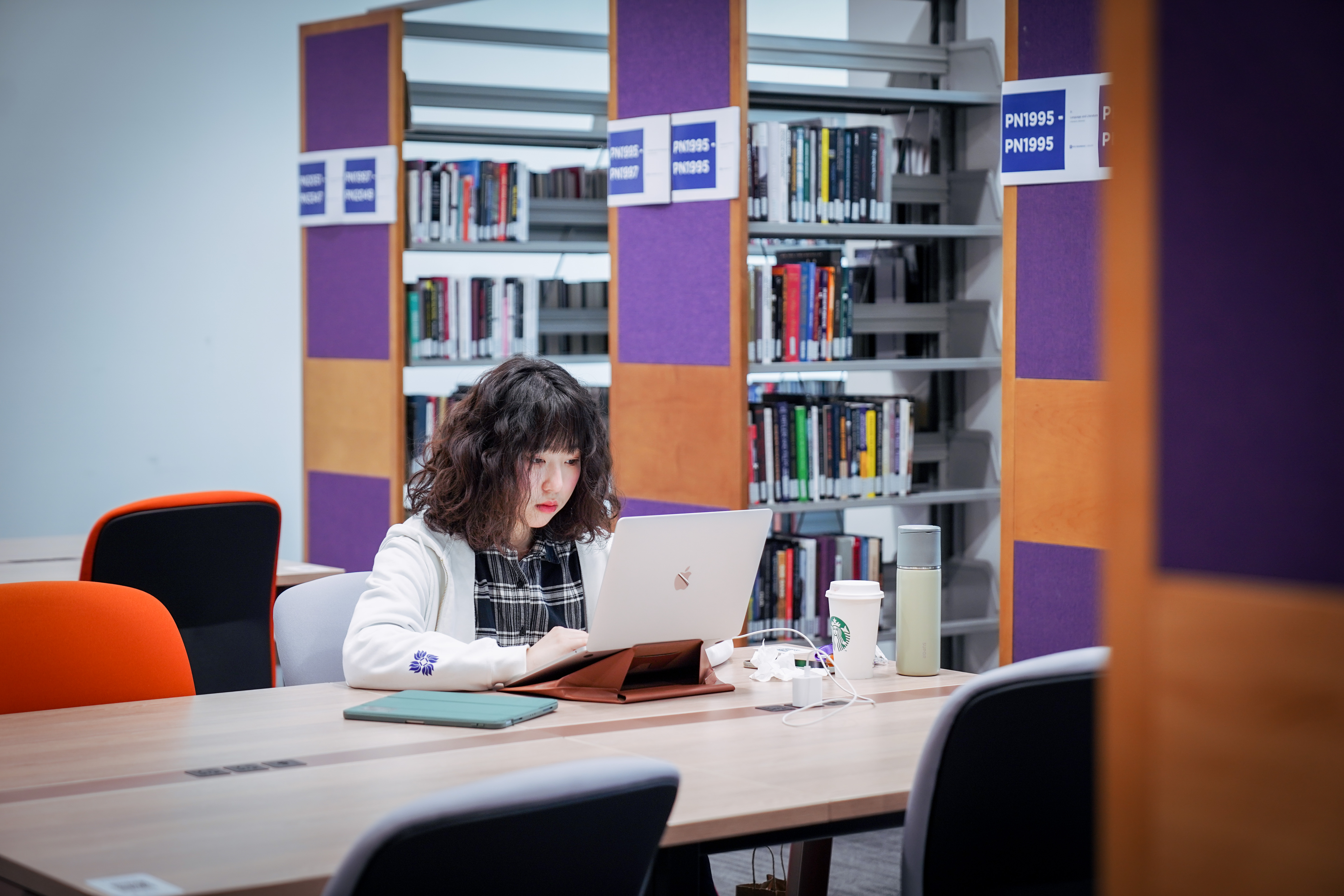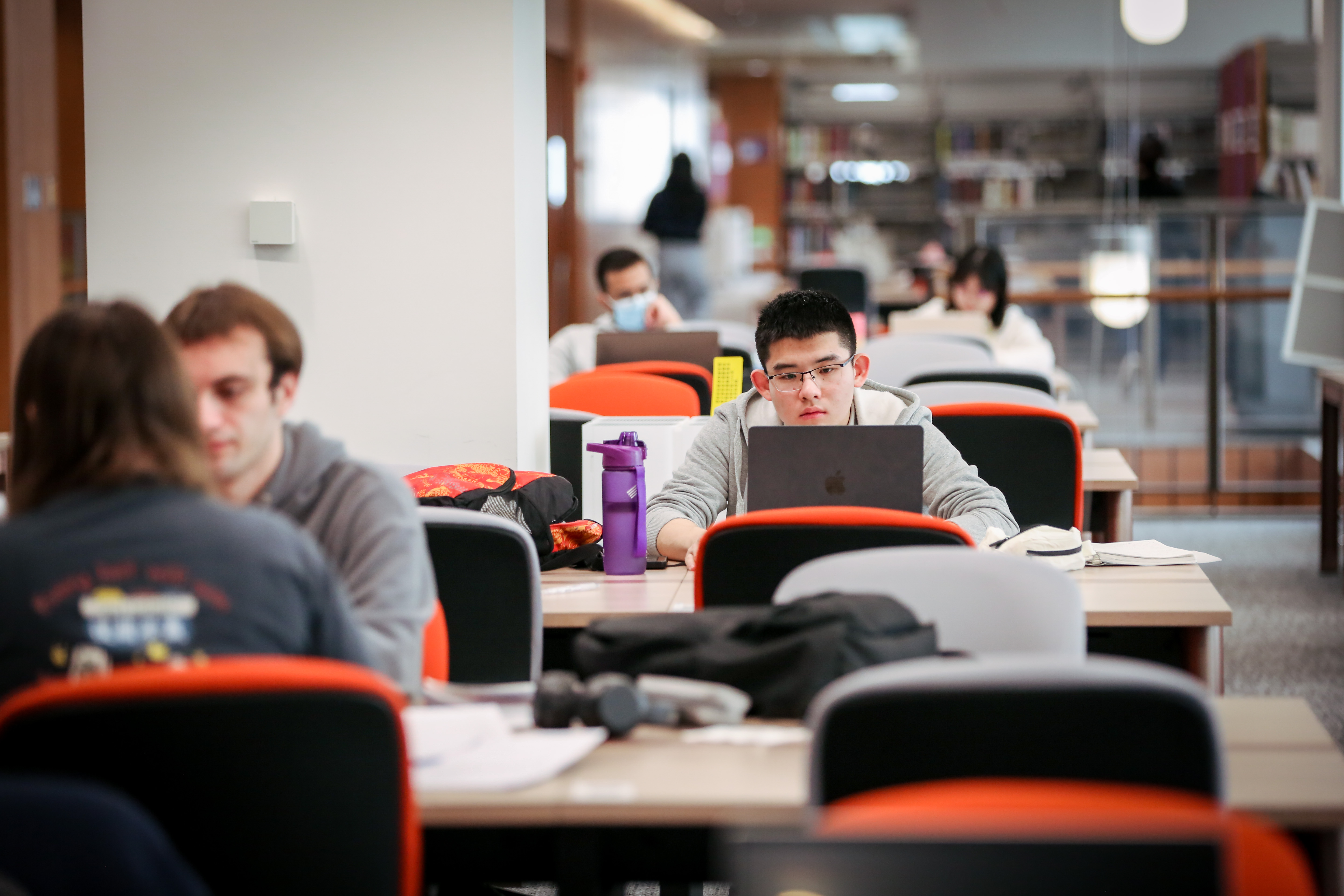 Bloomberg/WInd stations
Business and finance students will definitely want to check out these six workstations, with dual-screen desks equipped with Bloomberg and WInd terminals, financial industry standards. The financial terminals provide analysis and quotes for equities (stocks) and indices, company and economic data for the countries of the world (Bloomberg) and China (WInd), real-time and historical industry and market news, and advanced analytical and data functions. The space is one of business librarian Henry Huang's favorite spots in the library. "Students can learn the real business world, enhance experiential learning and obtain hands-on skills for their future careers," he said.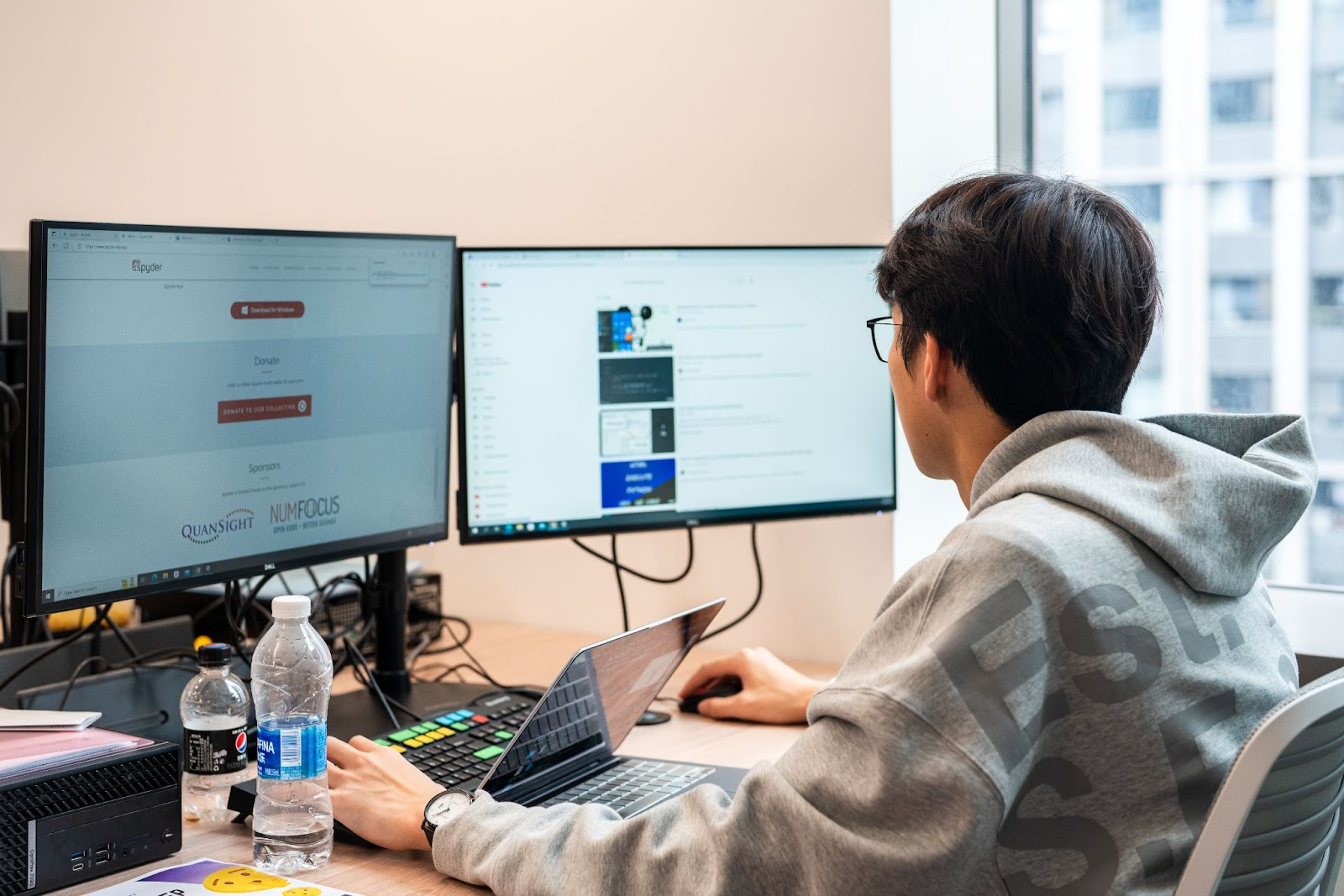 Service Desk
You may be tempted to just surf Google or Baidu to jumpstart your research, but checking in with your librarian is another option. Students can drop by the service desk or schedule one on one consultations for more in-depth research support and guidance. "There's so much information out there on the internet," said Chen, "but you need someone to take you to get information in the fastest way. The librarian knows the gateway." The service desk is also where you can check out power strips for use while in the library.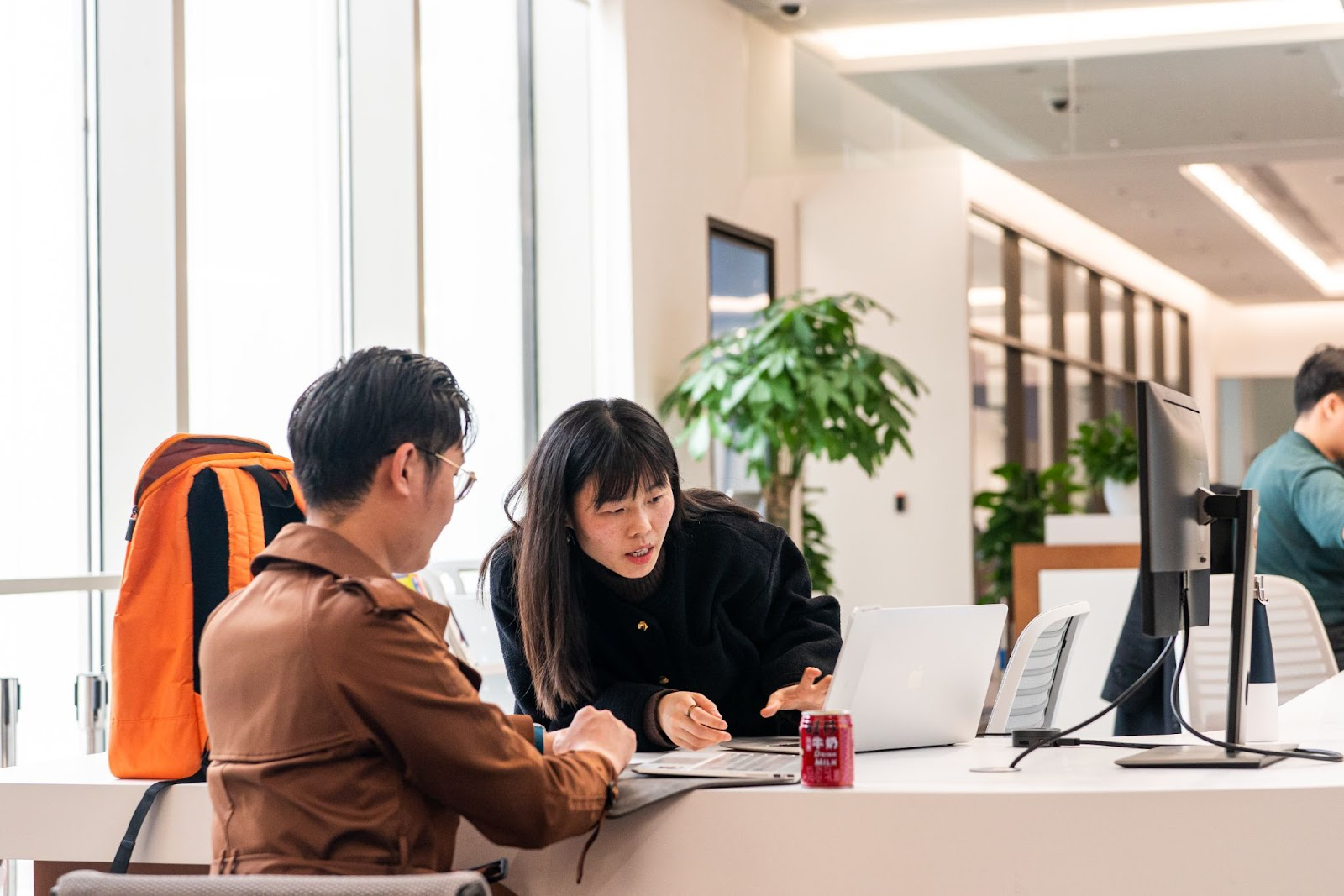 Convenient Features
Scattered throughout the library are convenient features to make your library experience more seamless. Two self-service checkout machines are available for use on the 5th and 6th floors. Another new feature is a Save my Spot reservation system, where students can scan a QR code to reserve their study spot for 30 minutes if they need to run an errand or go to lunch. Power strips are available for check out from the service desk. A Bring Your Own Device area allows students to connect their laptops to available display screens. And finally, NYU Shanghai community members can even sign up for a Pudong Public Library card at the library.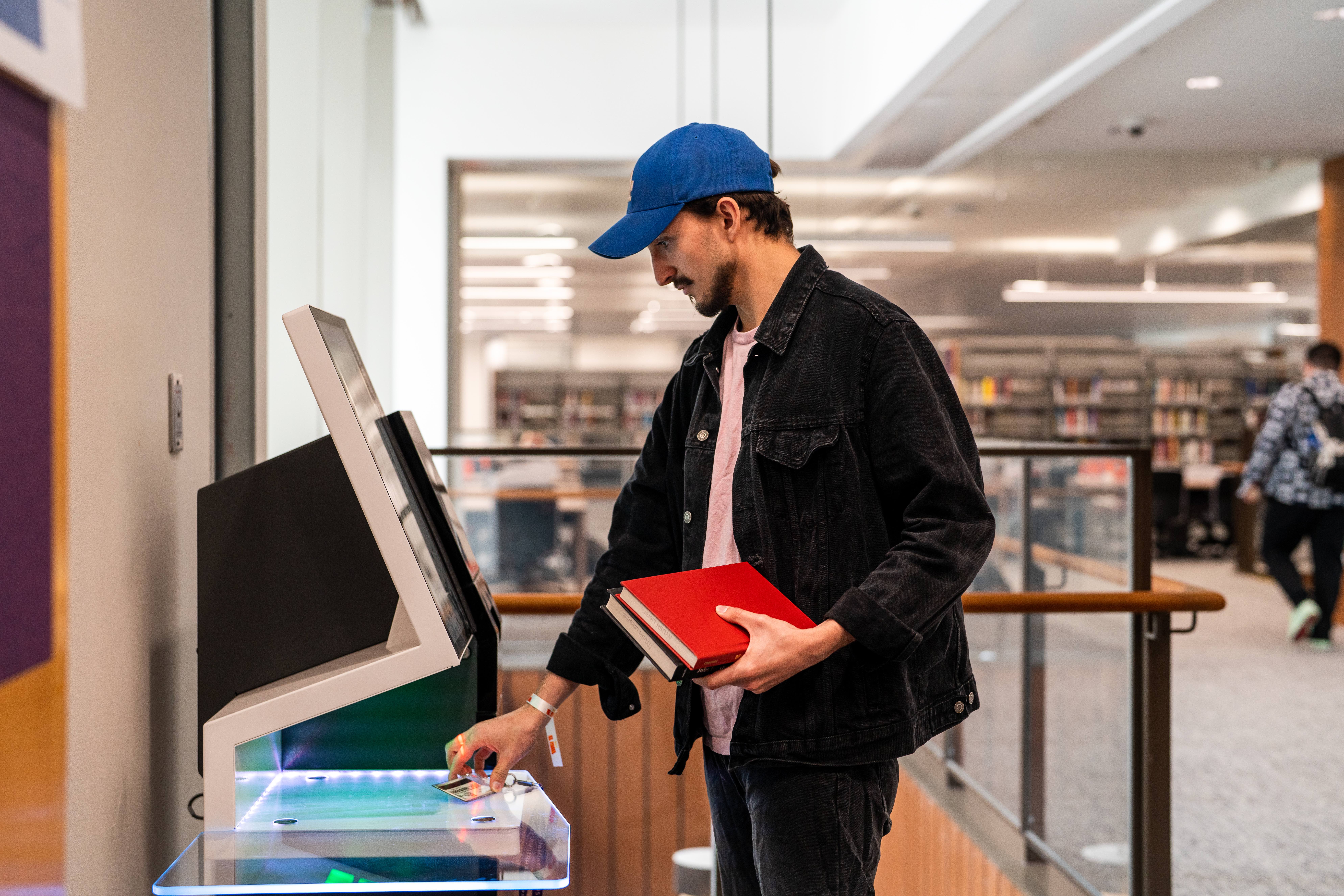 Upcoming Library Spaces
Some of the most exciting features of the new library are still in the preparation phase, but they will be worth the wait. Chen said she expects special classrooms and labs including a One Button Studio, where students can easily film and edit short videos for their classes and an Interdisciplinary Digital Research Lab, where faculty can introduce new modes of research such as digital humanities and computational social research to even undergraduate students  "These spaces we designed are not just for the class needs now but also for the future," she said. "We imagined what kinds of active learning methods will be used in classrooms in the future, and we hope that they can be used for the next three, five, ten years."