Social Care for Children
Mar 30 2018
On March 28, two NYU Shanghai professors of social work, Xu Qingwen and Jin Minchao, shared their expertise on devising quality social service programs for children at the 12th Pudong Social Worker Conference held on campus in light of the Pudong Social Worker Festival.
This year's conference, co-hosted with the Pudong Social Worker Association, invited over 300 local social workers, volunteers, scholars and students to focus on the relationship dynamics of children within their families and communities.
Professor Xu Qingwen, coordinator of NYU Silver's Global MSW program at Shanghai and New York, shed light on how child protection practices in the US can be applied to the Chinese context, using relationships among government, communities and families as an example.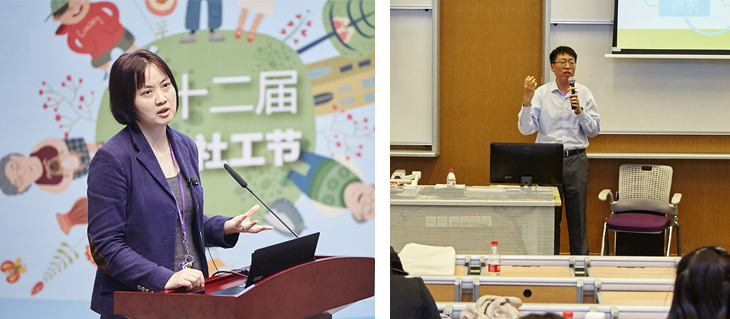 "Nearly all states in the US have laws placing the responsibility of child protection to the state government," said Xu, who asserted that the US government had assumed responsibility over child protection services from non-governmental sectors since the early 20th century.  
Professor Xu also emphasized the growing need for social workers to operate in a cross-cultural environment, a demand that has been driving the development of NYU Silver's MSW program between Shanghai and New York.
"The purpose of our program is to allow students to reflect on cultural, social, and economic similarities and differences between China and the US," said Professor Xu.  
Leading an afternoon workshop, Assistant Professor of Social Work Jin Minchao explained the different phases of assessing a social welfare program's effectiveness, determined by its demand, design, execution and effectiveness, respectively.
He cited his study on the One Egg Program by The Shanghai United Foundation as an example. To improve the daily nourishment of children in China's poorest rural areas, the program provides one egg for each child, every day.
"The performance of each phase can greatly affect the final result of the whole program. Social workers and scholars should improve the efficiency of each phase in order to acquire an accurate evaluation result," said Professor Jin.