Senior Named NYU Shanghai's First Clarendon Scholar
Apr 3 2020
Ma Haitian '20 has won a Clarendon Scholarship from the University of Oxford, which will fully fund her graduate studies in Comparative Literature and Critical Translation this fall.
The first student from NYU Shanghai to win a Clarendon, Ma was one of 130 graduate students selected from across Oxford University's various disciplines to receive the full-tuition scholarship. The scholarship was created in 2001 "to assist academically outstanding graduate students through their studies at the University of Oxford." Students from some 70 countries are among the recipients.
Ma, a Humanities major, has excelled academically in literary and translation studies at NYU Shanghai. Fluent in English and Spanish, she was a 2020 Rhodes Finalist for China. At Oxford, she plans to focus on the translatability of the sublime in Western aesthetics. 
Ma has been very active in developing her interests in the humanities and literature. She spent eight weeks in the summer after her sophomore year studying philosophy, literature and farming through Arete Project in rural North Carolina. With funding from NYU Shanghai's Dean's Undergraduate Research Fund, she traveled to London, diving into extensive files and sources in the British Library, the National Archives & Royal Society. She spent one semester in Amsterdam University College under the NYU International Exchange Program. While studying away in New York City last fall, she presented on the image-making of the Indian space scientist Vikram Sarabhai at the annual meeting of Society for the History of Technology (SHOT) in Milan, and later at the annual meeting of American Historical Association (AHA) as well.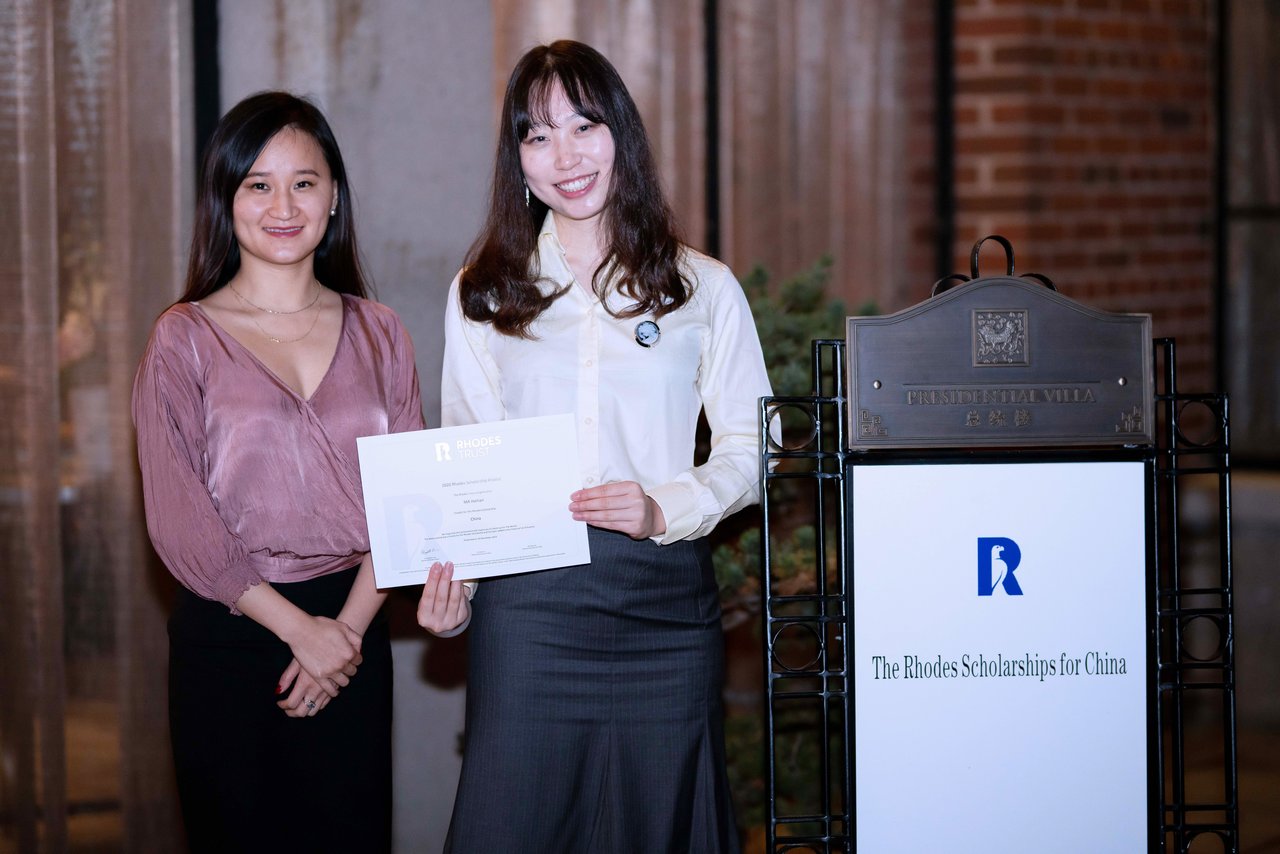 Ma Haitian '20 was a 2020 Rhodes Finalist for China 
Even so, winning the Clarendon Scholarship came as a surprise to Ma.
"I didn't expect that," she said. "I just felt super grateful for people who walked me through that path."
One of the people Ma first shared the exciting news with was Director of Global Awards Anna Kendrick, who has stayed in close contact with Ma since she took her Global Modernisms seminar as a freshman.
"I have seen Haitian blossom into a playful, sophisticated and committed literary scholar," Kendrick said. "I was thrilled to hear the news."
"What makes Haitian stand out is the entire package," said Associate Professor of History and European Studies Alexander Geppert, who coached and worked with Ma and Luo Xiaoyue '19 on their collaborative papers at the SHOT panel. "She is enormously dedicated, learns quickly, is critical in a polite, friendly manner, and cares deeply for others. A lot is possible if one works hard, engages in a wide variety of activities, constantly seeks advice along the way, and perseveres."
Ma said she credits her recent success to the faculty, the resources, and the sense of community at NYU Shanghai.
"I will carry that spirit, the support and the kindness with me as I continue my journey," Ma said.