"ROOM 100" Reopens: A Gallery, a Classroom, and More
Feb 22 2019
After a two year hiatus, the NYU Shanghai Art Gallery, reopened February 21 with the project ROOM 100, and hosted the first in a series of four "Study Sessions" planned for this semester. After each session, the physical artifacts and art objects discussed will be kept on view in the gallery.
The first session, introduced the photographic and video documents of a performance artwork entitled To Add One Meter to an Anonymous Mountain (1995) and featured artist Yingmei Duan, a member of the Beijing East Village, a group of artists who lived together in migrant housing on the margins of Beijing in 1993.
The residents of the Beijing East Village were part of the first generation of Chinese avant garde performance artists whose influence on Chinese contemporary art is felt to this day. To Add One Meter to an Anonymous Mountain (1995) is a performance art piece inspired by the Chinese saying on humility, "Beyond the mountain, there are more mountains." As part of the performance, naked participants stacked themselves on top of each other to raise the height of the mound.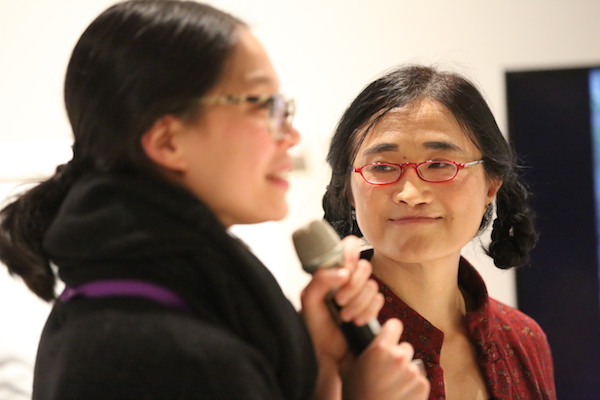 Artist Yingmei Duan and Gallery Director Michelle Hyun at the "Room 100" Opening Event
Duan, who participated in the performance in 1995, shared some advice with students during the Study Session. "Grow at your own pace, in the direction you want to go," said Duan, "There's no need to sprint. Move forward step by step, like a steadfast ox pulls a cart. Go as slow as you like, the joy is in the process."
Future Study Sessions this semester will feature works by video and installation artist Guan Xiao, painter Cui Jie, and Pulitzer Prize winning photojournalist Liu Heung Shing.
In addition to the Study Sessions, newly-appointed Gallery Director and Curator Michelle Hyun has also designed "Foundations and Topics," a series of lectures, talks, and screenings to help students learn to engage with art. Hyun said this spring's events are meant to be a soft launch of the university's art museum, which has been dark since 2017. A grand opening for the gallery is planned for the fall.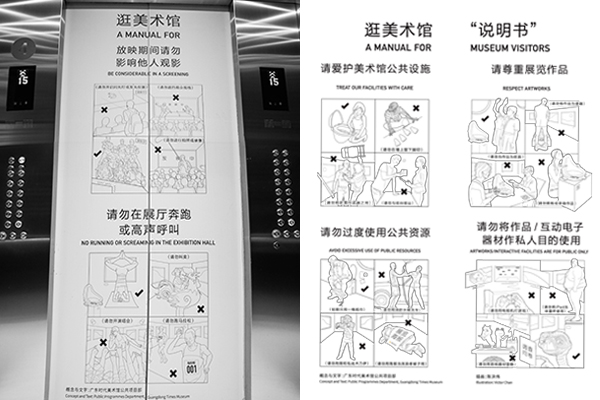 Concept and Text: Public Programmes Department, Guangdong Times Museum; Illustration: Victor Chan
In naming the project, ROOM 100, Hyun said she hopes that the gallery will be perceived not just as an exhibition space, but also as a classroom, a meeting space, and more. As a prelude to the gallery's soft opening, Hyun installed a series of cartoons about museum etiquette in the elevators of the Academic Building. Hyun said that the illustrations, by the Guangdong Times Museum and artist Victor Chan, are intended to satirize the norms of how exhibition goers are expected to behave when they walk into gallery spaces.
Hyun, who joined NYU Shanghai in August 2018, is a curator, art researcher, and art educator who has organized exhibitions, events, and publications for galleries, museums, and public art organizations across the U.S., Europe, and Asia.
"Whether it's this semester's soft opening or the public relaunch in September," Hyun said. "We hope the gallery will communicate an attitude and approach of questioning, experimentation, and generosity."