Over 300 Students Around the World Attend First-Ever Virtual I Am Limitless Conference
Apr 17 2020
NYU Shanghai's Career Development Center (CDC) hosted its second annual social impact and innovation conference, I Am Limitless,  April 11 - 17. Though the COVID-19 pandemic forced this year's conference online, it nevertheless reached more than 300 students worldwide who signed on for inspiration and advice about how to make a difference in society through almost any career path, regardless of major.
This year's I Am Limitless events began with four keynote talks on April 11, each of them focusing on a different type of social impact, from poverty alleviation to public education, and from environmental justice to fostering global dialogue.
Zhang Fan of the short-video streaming app Kuaishou and Su Yue of educational content producer Hunziyue both spoke about the transformative potential of connectivity through social media. Zhang presented three case studies of how Kuaishou's creation of online communities helped users in rural China gain access to skills and resources that empowered local communities, while Su instructed attendees in how to avoid complacency and be proactive about reaching new audiences through the story of her own organization's struggle to embrace video platforms.
Fan and Su's presentations both highlighted another key theme of the conference: how to create meaningful connections when our relationships have been restricted to the virtual sphere.
"Nowadays it feels like social media is the common place of our lives, and the social media content that we have created and shared is going to impact the lives of billions of users within this online community," said moderator and CDC Career Engagement Program Manager Gu Yuwei. "So it's increasingly important that we should design and utilize content and technologies that are socially responsible."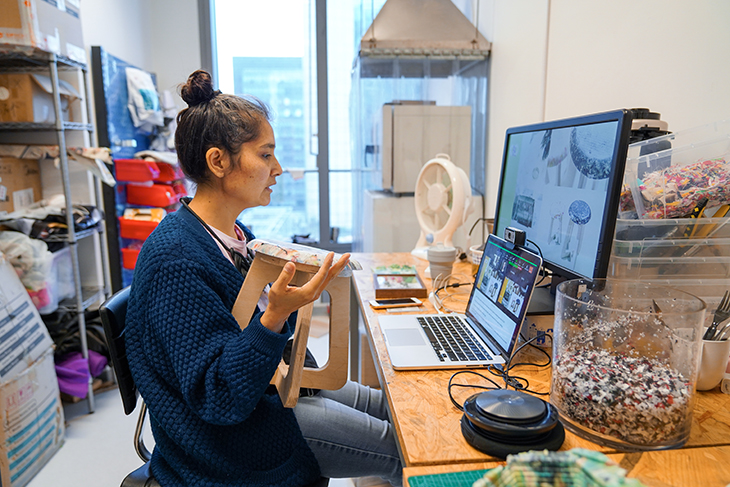 NYU Shanghai Clinical Instructor of Arts Marcela Godoy shows I Am Limitless attendees the stools she and her students made from recycled plastic waste in the campus's Re-Makerspace, from which she delivered her keynote talk.
The coronavirus pandemic and the new challenges facing NYU Shanghai students played a key role in designing I Am Limitless events this year, said Associate Director of the Career Development Center Guo Hao. Guo said the uncertainty and alienation that the coronavirus pandemic has injected into students' lives led organizers to  design content that would help students creatively manage volatility.
"Like the word 'Limitless' itself, we hope that when students plan out their future, they don't limit themselves," said Guo. "This year, the I Am Limitless conference is promoting the concept that everyone has the ability and potential to adapt to fast changes and overcome challenges … in addition to raising students' awareness about nontraditional career paths."
Marcela Godoy, Clinical Instructor of Arts at NYU Shanghai, provided a clear example of such non-traditional career paths with the story of her journey from architect to coder to interactive arts developer, and finally to "re-maker." Godoy showed students how NYU Shanghai's Re-Makerspace has become a laboratory for building sustainable communities through the collaborative creation of artful objects using recycled materials.
NYU Shanghai alumna Angelina Ye '18 closed out the keynote event, succinctly defining the overarching theme of the conference in her talk emphasizing collaboration across cultures and fields. Ye, who has worked closely with over 100 officials from countries throughout the Pacific world in her position at Asia-Pacific Economic Conference (APEC) dialogue organizer APMEN, advised students to build their ideal career "galaxy" by being both humble and confident enough to recruit the assistance of others. 
"In today's world, because everything is so closely connected, it is getting more and more difficult to be a standalone hero. Rather, it is more beneficial and helpful for you to form an alliance of Avengers with shared values," Ye explained.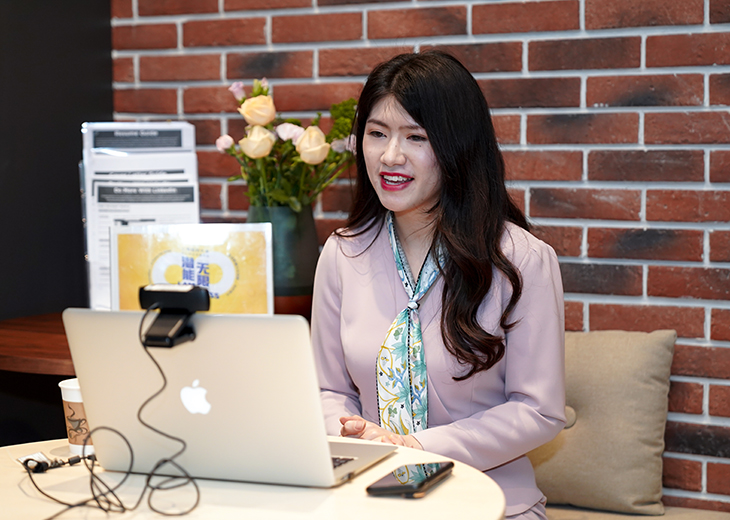 Angelina Ye '18 delivers her I Am Limitless keynote talk on Zoom from the NYU Shanghai Career Development Center on April 11. 
Several nonprofit information sessions and student, staff, and faculty panel discussions rounded out the week's events. Many of the panels focused on exploring volunteer opportunities and awards programs, showing students that competitive internships are not the only gateways to professional growth and job opportunities.
Although adapting the I Am Limitless conference's content to fit a digital format seemed like a daunting task initially, Gu said, the all-digital format did ultimately provide some major benefits. According to Gu, spreading events out over the course of a week (instead of packing everything into a single Saturday as was the case in 2019) actually allowed more students to participate in more events. The digital format also allowed students access to spaces they would not normally see during an in-person event, with Su Yue giving students a close-up look at Hunziyue's creative space and Godoy providing students with a virtual tour of the campus's Re-Makerspace.
Holding all events online  also allowed the CDC to invite students from other universities around the world to attend. Each event was also recorded by the CDC and will later be made accessible to the public, ensuring that future students from a broad range of institutions will be able to benefit from the insights and experiences that speakers and panelists shared.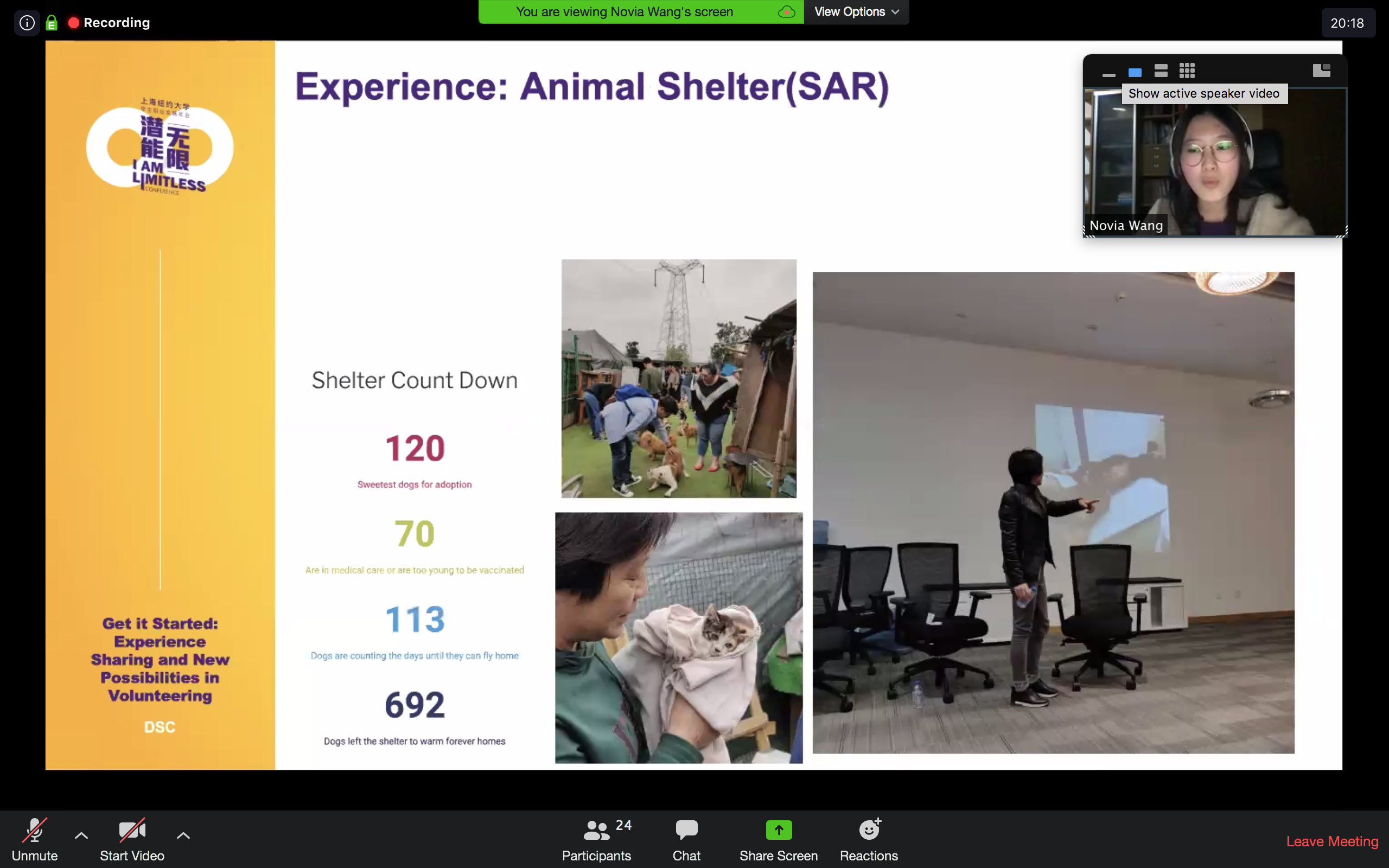 In an April 15 student panel, Novia Wang '23 shares how her experience working with Shanghai Animal Rescue through the Dean's Service Corps helped her gain professional skills.