One Step at a Time: Exhibition Explores Slow Storytelling
May 12 2023
What new wonders might you notice if you slowed down and traveled the world by foot? A new exhibition at the Institute of Contemporary Arts (ICA) at NYU Shanghai, in collaboration with the Out of Eden Walk global storytelling project, explores how walking changes our perception of the world.  
Walking China: Stories yet to be told marks the first multimedia art and storytelling exhibition for the Out of Eden Walk project, said Paul Salopek, the Pulitzer-Prize winning journalist and National Geographic Explorer who has been walking China for the past two years and who co-curated the exhibition.
"This is not an individual journey, it's a collective journey. It's all of our journey," he said. "So every single person who has walked along [with me] has enriched the storytelling and the narrative." The exhibition, he said, is an opportunity to "showcase their work in their own light."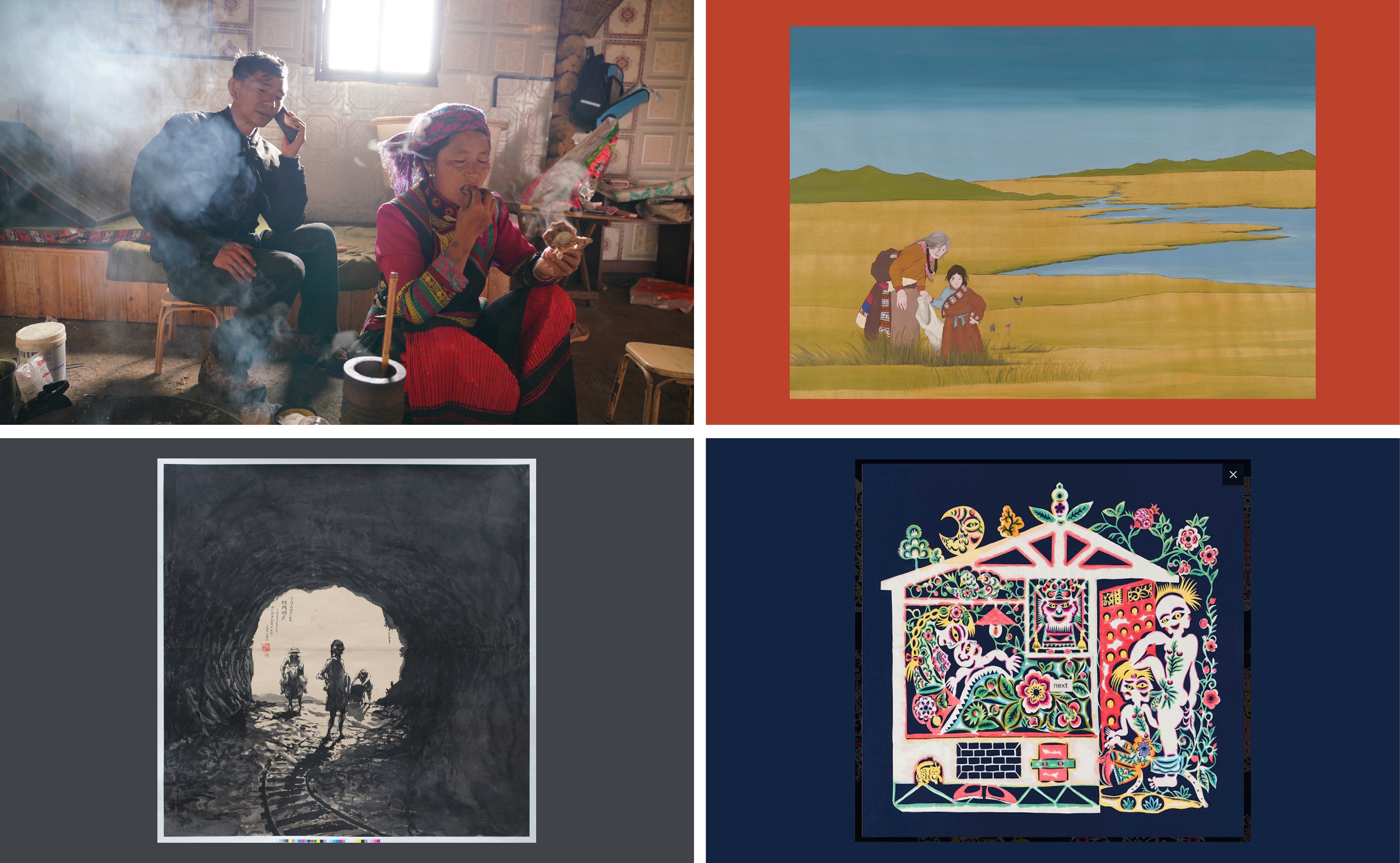 Images from the exhibition. Top: (left) Zhang Hongyi, Yi Couple Having Breakfast in the Morning, (right) Cao Minghao & Chen Jianjun, The World and Beings of Kurti Kachukha no. 28 
Bottom: (left) Li Kunwu, Time Tunnel (A Legend from the Clouds series), (right) Xiyadie, Gate
The multimedia exhibition will feature fifteen artists' works arranged over two floors in the spacious new ICA gallery, which is three times the size of the previous space at NYU Shanghai's former campus on Century Avenue. "You really can play with how people experience the works," said June Ke, another co-curator of the exhibition. "You can really direct people [through the exhibition] in certain ways." 
The artists include some of Salopek's walking partners through China, folk artists he encountered along the way, and artists whose works meditates on walking. The art pieces feature a diverse array of photography, film and short video, painting, paper cuts, and calligraphy works. The sheer diversity of artists and artistic forms selected for the exhibition is by design. "They all tell a story about China through their situated perspectives," Ke said. "China is not a monolith, it's not able to be captured by a single story." 
The artists include Cao Minghao & Chen Jianjun, who create socially-engaged, multimedia projects that focus on indigenous efforts in grassland restoration on the Tibetan plateau and Chen Xiaoyi who creates prints and installations in the Hengduan mountain chain of Sichuan, which Salopek traversed during his walk.  Li Kunwu paints landscapes of time, using ink on sepia-colored rice paper to convey the history and legends surrounding the Yunnan-Vietnam railway. Li Wan writes poetry that moves between and across modes of perception and modes of being, restlessly investigating the vestiges of history and pressures of modernity. Li Genfan sings Bai folk songs and plays traditional Bai tunes on the trichord, sharing aural expressions of labor and emotion in audio recordings. Yang Hongzhang, a Naxi shaman whose script is influenced by the stars, tells his people's stories through pictographic Dongba calligraphy. Zhang Qinghua imparts wisdom about the natural world through curating specimen boxes and sharing plein-air illustrations created during the Out of Eden Walk.
The Walking China exhibition will also serve as a model for future exhibitions built around the Out of Eden Walk in the countries along the route to the walk's finish line in Tierra del Fuego, South America. In October 2021, Salopek embarked on the "Middle Kingdom" chapter of this journey through China, beginning at the southern border in Yunnan province, walking over 6,000 kilometers along the transversal Hu line, and will end at China's northern frontier with Russia.
Salopek says that on his walk, he's learned that we can all benefit from slowing down. "You don't have to walk across the world or across China or across a single province to tap into the benefits of being more mindful and slowing down your life, at least periodically, to see what 's happening around you," he said. "This project is about trying to create a small island of calm, of meaning, in a sea of vast, often chaotic, information. It's about more than walking."
Walking China: Stories yet to be told will open on May 20 in ICA's gallery space at the New Bund Campus. The opening reception will feature a poetry reading by Li Wan, musical performance by Li Genfan and Zhang Taiying, and curator-led tour by June Ke and Paul Salopek. The exhibition, opening reception, and other related events, including a film screening and artists' gathering, are free and open to the public. 
The Out of Eden Walk is a global storytelling project, through which writer, National Geographic Explorer, and Documentary Center, Shanghai Media Group (SMG) foreign expert Paul Salopek is retracing our human ancestors' ancient migration on foot across the globe. His 38000-kilometer (24000-mile), multiyear odyssey began in Ethiopia—our evolutionary "Eden"—in January 2013 and will end at the tip of South America.