NYU Shanghai's Class of 2027 Moves In
Aug 20 2023


This week, NYU Shanghai's New Bund campus and Jingyao Residence Hall welcomed incoming students from the Class of 2027 on Sunday's Move-In Day. They came from all around the world, bringing their unique personal stories,and adding a jolt of new energy to the New Bund Campus.

Left: Residential Advisors were on hand with a snack and a smile for incoming students.
Right: Vice Chancellor Lehman (front left), Chancellor Tong (front right), and RAs welcomed students and their families to Jingyao Residence Hall.
Nearly 40 Residential Assistants (RA) were on site in the dorms to help the incoming students move in. While first year students waited in line to check in, RAs served them free ice cream, cold drinks, and snacks. 
 

Left & middle: RAs worked hard to help incoming students feel at home.
Right: RA Sam Davtyan '25 passed out snacks to families of incoming students.  
RA Sam Davtyan '25 said he enjoyed getting the dorms ready for the incoming students and preparing for Move-In Day. "We were trained before move-in. In addition to giving out snacks, we also decorated the dorms, prepared various resources, provided Q&A, and organized games to help them adapt to the new environment," he said. 


Chancellor Tong and Chancellor Lehman were on hand, getting to know the new students and their parents and taking group photos with them.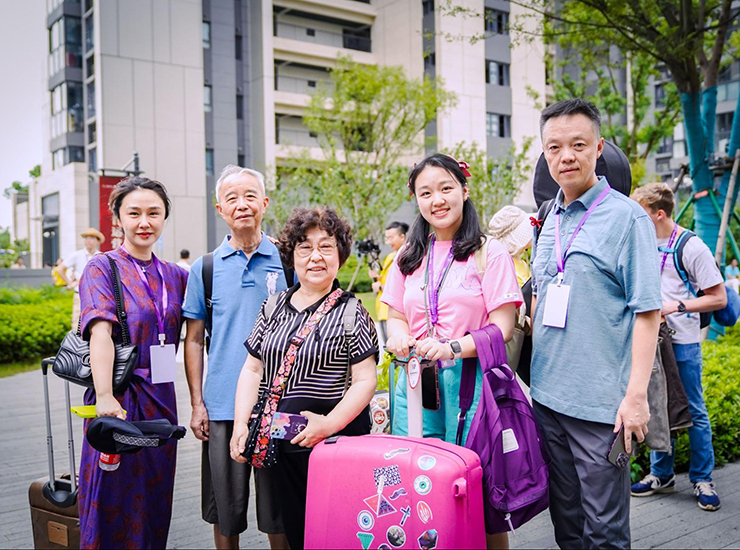 Miao Zhuo'er '27 arrived from Chengdu, Sichuan with her parents and grandparents.
Miao Zhuo'er '27, from Chengdu, Sichuan, said she made sure to bring along her zhongruan, a traditional Chinese instrument similar to the alto lute. A music fan, she is looking forward to joining NYU Shanghai's a capella group and Qilin folk music group. She said she also loves sports and is hoping to try out for the badminton team.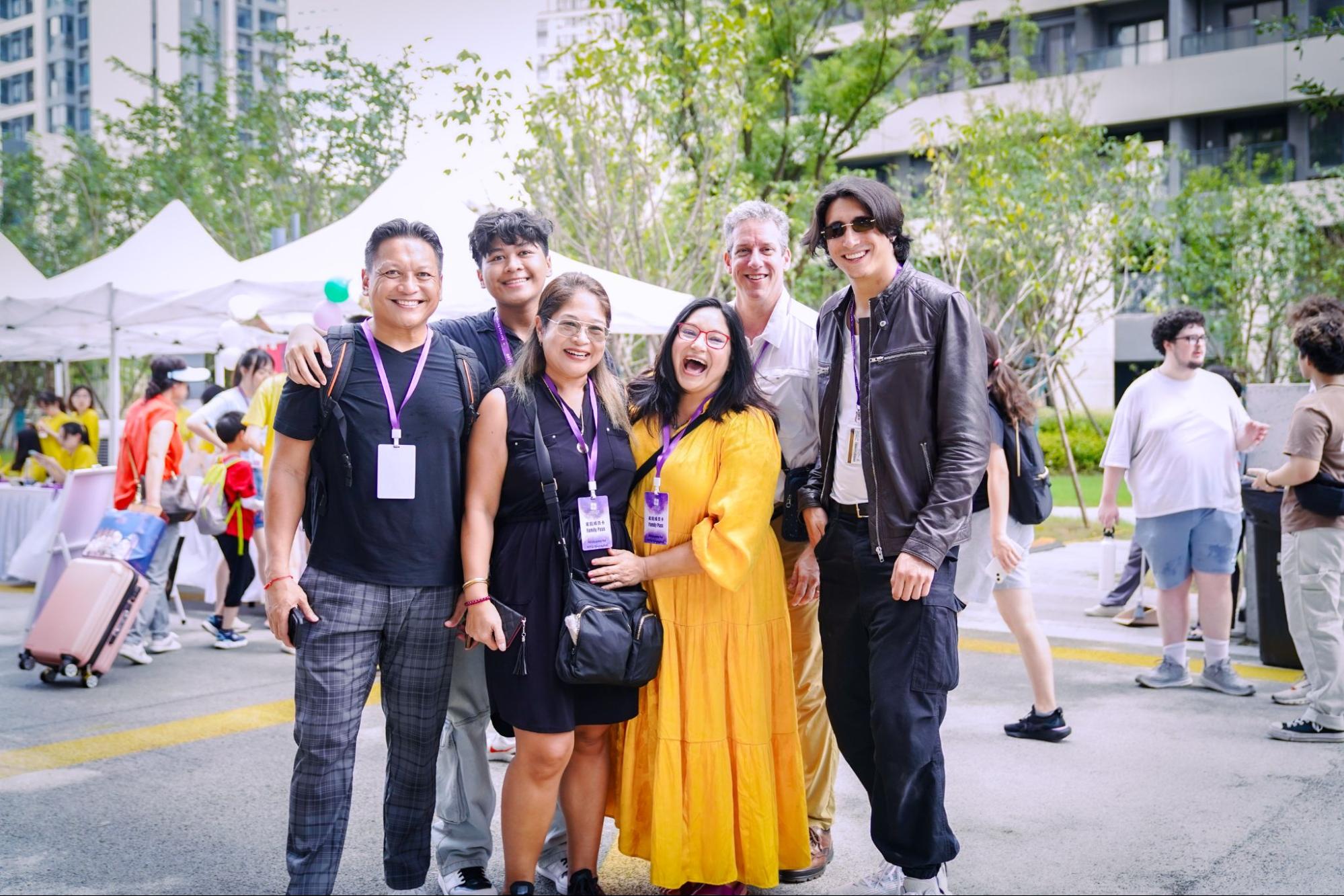 Schoolmates Jonathan Engalla '27 (second from left) and Ignacio Cowles '27 (far right) reunited on campus with their families.
Ignacio Cowles '27, from Texas, and Jonathan Engalla '27, from California, both graduated from THINK Global School, an innovative traveling high school, where they traveled around the world with teachers and studied while experiencing different cultures. They said attending NYU Shanghai is yet another opportunity to explore different cultures.
Cowles said that the chance to learn more about China was a key part of his decision to attend NYU Shanghai. "I know a lot of people go to university in the US, but I'm the first person I know to go to university in China," he said. "I did a bunch of projects in my senior year that were all China-related, and one of them is a video on Chinese history," he said, adding that he already speaks a bit of Chinese and hopes to study Global China Studies. 
Engalla said Cowles was the one who convinced him to apply to NYU Shanghai. He is excited to be closer to the Philippines, which he calls his second home, and is looking forward to all NYU Shanghai has to offer. "I'm interested in Interactive Media studies and Business and I think I'm going to try out for the basketball team."

Wu Wenyue '27, arrived at NYU Shanghai from her home in Dalian, Liaoning Province.
Wu Wenyue '27 from Dalian, Liaoning said she was accepted to other renowned universities but chose NYU Shanghai to be able to explore her interdisciplinary interests. "At most universities in China, I might not have been able to major in sciences since I was an art student in high school," Wu said. "NYU Shanghai enables me to break the boundary between subjects and explore my interest in math freely. I also enrolled in an IMA course to expand my vision."
Wu said she got in touch with upper level students over the summer and received helpful tips on adjusting to life on campus. She is looking forward to meeting classmates and sharing her love of movies with new friends.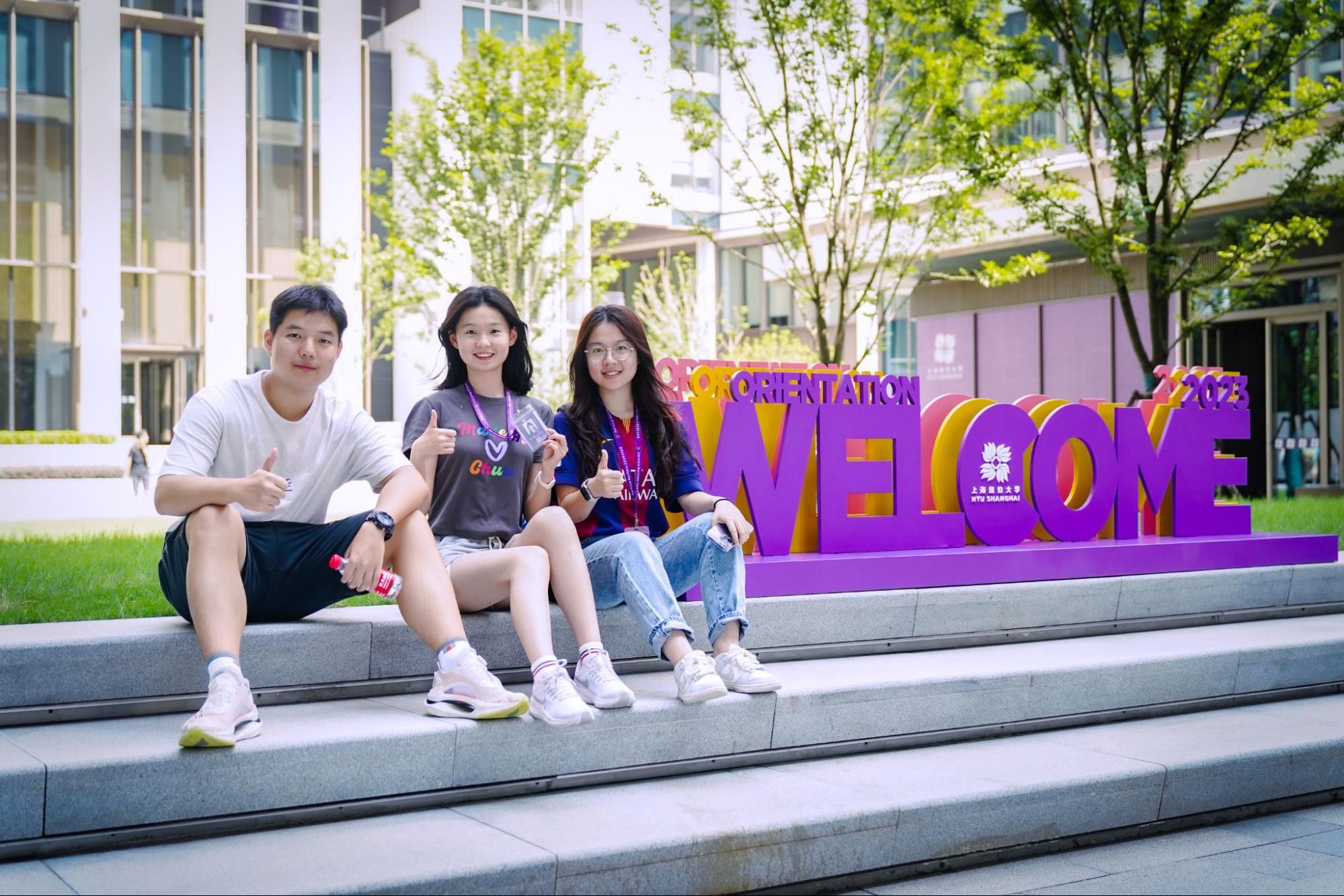 New members of the Class of 2027: (from left to right) Huo Ruiqi, Zhang Ruohan and Wang Sichen
 
Three classmates from Beijing 101 Middle School are continuing their friendship together as members of NYU Shanghai's Class of 2027. They shared a similar journey to NYU Shanghai - at first it was just one of several options, but as they learned more about it, it became their dream school.
While being open to deciding on a major, they each are passionate about foundational science. Wang Sichen '27 and Huo Ruiqi '27 said they plan to try math courses, while Zhang Ruohan '27 said she prefers biology. They said they are  excited to join NYU Shanghai's many clubs and activities. "I'm a big fan of Taylor Swift, I play guitar and love to take photos," Zhang added. Wang and Huo said they love sports and are eager to try out for NYU Shanghai's sports teams.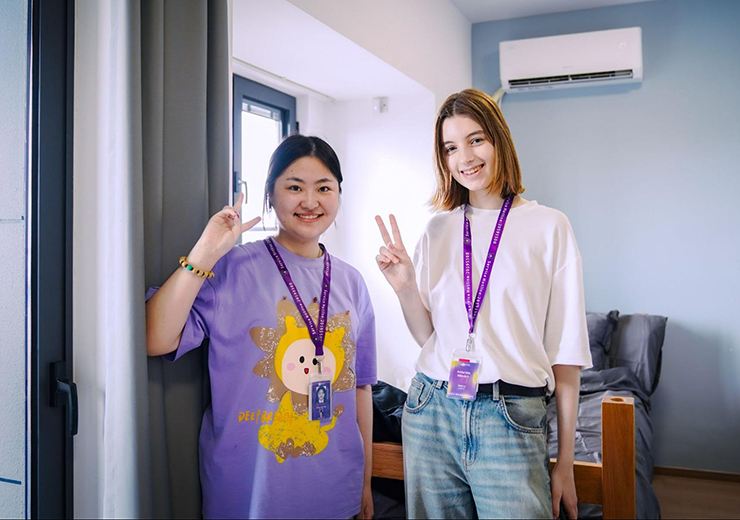 Roommates Antanina Helevich '27 and Gu Zhixuan '27
Antanina Hilevich '27, from Belarus, said she was attracted to NYU Shanghai by its diverse community of students, staff and faculty. Having started her modeling career in high school, she has traveled in and around China and just finished a desert photo shoot in Northwestern China. She said she is looking forward to taking classes in social science and business at NYU Shanghai.
Hilevich, like all international students at NYU Shanghai, will share a dorm room with a Chinese student. Her roommate, Gu Zhixuan '27 is from Shanghai, and the two have been getting to know each other even before meeting in person at the New Bund Campus. Gu said she hopes to explore an interdisciplinary major - Interactive Media and Business (IMB). 


Vice Chancellor Jeffrey Lehman welcomed Wang Yujia '27 and his little sister to campus.
Wang Yujia '27, from Shanghai, arrived on campus with his parents and little sister. "I enjoy making videos and sharing my knowledge on Bilibili." He says. "I also enjoy playing Minecraft, which allows me to create my own buildings. Maybe I can try recreating NYU Shanghai's architecture in the game one day."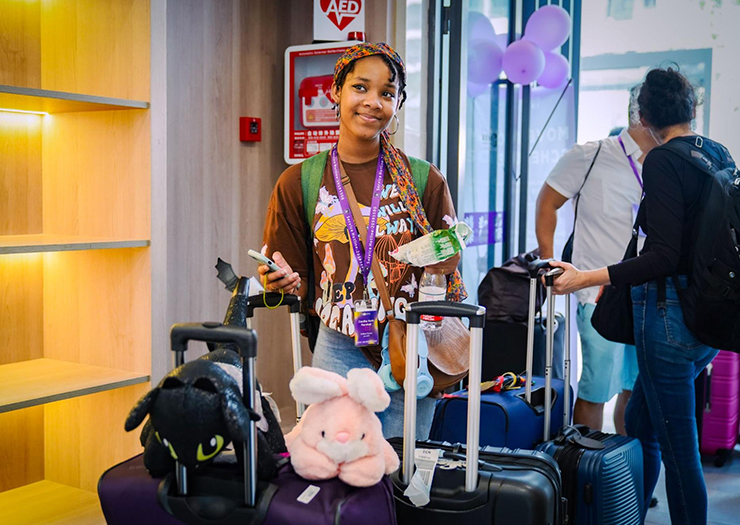 Zaydha Kelis Marshal '27 arrived on campus with luggage and a few cuddly friends.
American student Zaydha Kelis Marshall '27, from Atlanta, Georgia, said she was looking forward to exploring Chinese culture. "I really like traveling and I figured China's one place that I haven't been to, [so] why not study there," she said. "Everything seems so lively – I like the community."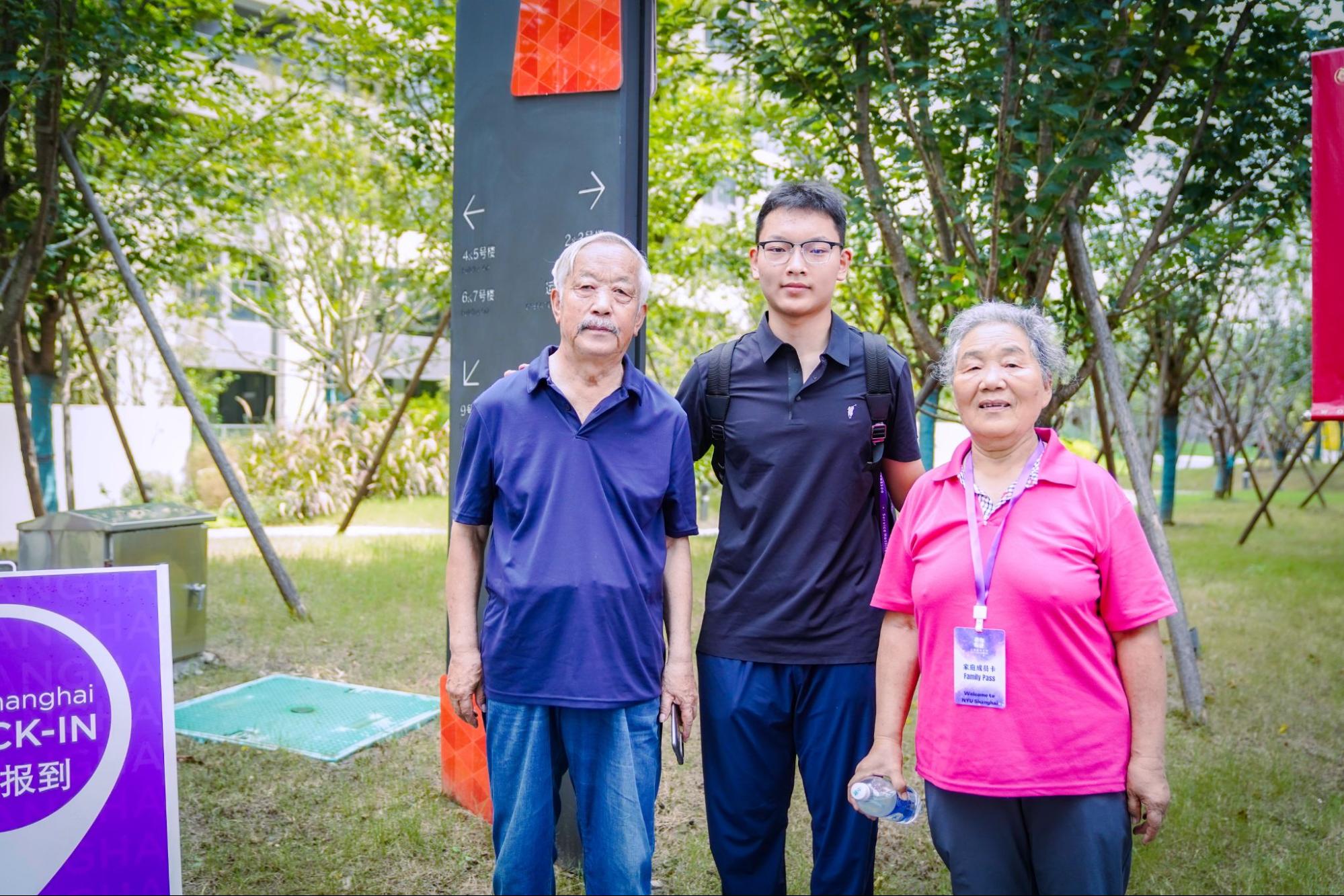 Yang Dixuan '27 and his grandparents checking in at Move-In Day.
Yang Dixuan '27 arrived on campus from Inner Mongolia with his grandparents and uncle. "I'm looking forward to studying liberal arts in an international environment at NYU Shanghai," he said. "I think it will  be eye-opening for me to spend four years with classmatesfrom around the world." 
Yang said he is leaning towards interdisciplinary fields, including computer science, internet technology, and the arts. He enjoys playing violin and said he wants to try out for NYU Shanghai's badminton and basketball teams.

Left: Liu Yutong '27 at Move-In Day.
Right: Liu's roommate Yu Sixian '27 and her father.
 
Liu Yutong '27 from Yunnan said she didn't have much time in high school to delve into her own interests.  "Choosing NYU Shanghai is choosing to delve deep into myself, giving myself some room for mistakes, allowing me to follow my passions." Liu says.
Yu Sixian '27, one of her roommates from Chongqing, said she's excited to attend classes at such a unique university. "Here we have a diverse and inclusive atmosphere, and the opportunities to study abroad and connect with students around the world," she said. Yu said she started learning electric guitar over the summer and would like to continue to make music on campus.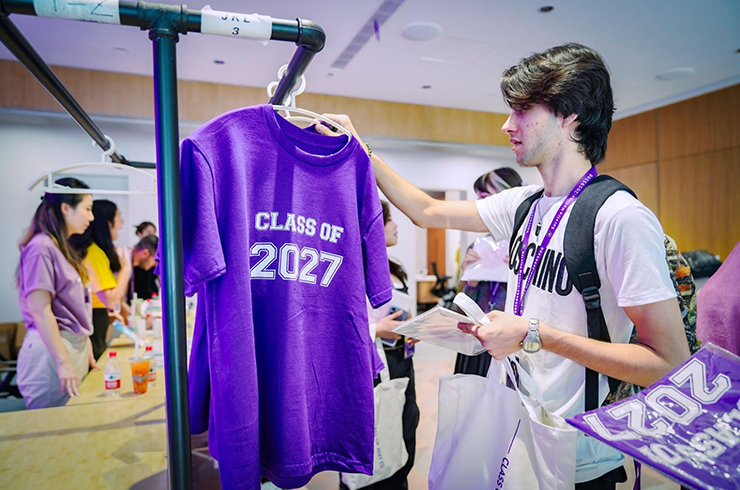 Incoming students picking up their class t-shirts.
After dropping their bags at the dorm, new students and their parents took the school shuttle bus to the New Bund Campus, where the students received welcome package.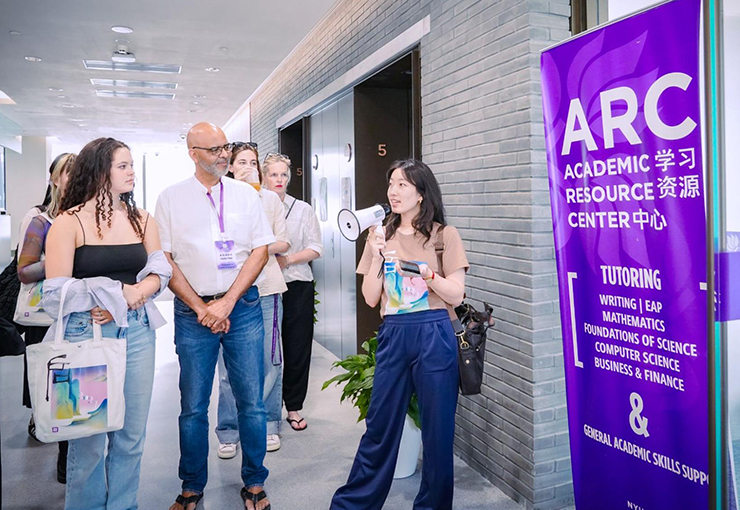 Orientation Ambassadors led students and their families on campus tours to show them around various departments.



Local and international parents attended panel sessions to familiarize themselves with academic planning, career development, as well as students' physical and mental well-being. These presentations provided parents with a comprehensive understanding of the school's educational values and resources, and also allowed them a chance to get answers to questions they might have. 
As Move-In Day came to a close, the students bade farewell to their families and settled into their new lives as members of NYU Shanghai's Class of 2027.