NYU Shanghai Vaccinates Over 2,100 Community Members
Apr 12 2021
NYU Shanghai, with the help of medical staff from Shanghai East Hospital and Pudong Maternity & Child Health Hospital, vaccinated 1,836 students, faculty, staff, and contractors in an on-campus COVID-19 vaccination drive on April 8 and 9. An additional 300 community members were vaccinated earlier in the year, bringing the total number of NYU community members who have received at least one shot to 2,100.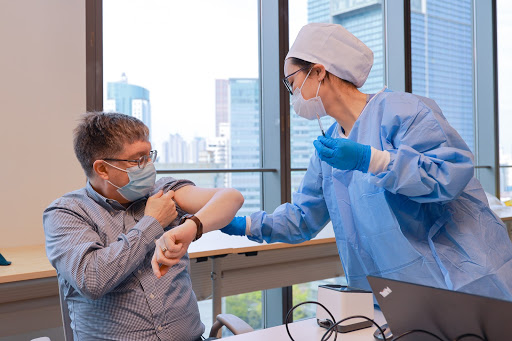 "Vaccination is a key part of the worldwide strategy for bringing the pandemic under control," said Vice Chancellor Jeffrey Lehman, who was the first international member of the university to receive the vaccine on Thursday morning. "It is an important step for our community to be able to receive the vaccine on the fifteenth floor of our Academic Building. I look forward to receiving the second shot in three weeks and to being able to travel with immunity thereafter."
The university community was among other local higher-education institutions prioritized earlier this year by Shanghai health authorities and the Municipal Education Commission to receive COVID-19 vaccines. Officials decided that holding an on-site vaccination drive would be the most efficient way to reach as many community members as possible. 
On Thursday morning, a team of 15 medical staff from the two hospitals and 120 Emergency Center came to the Academic Building to deliver the vaccines, supported by some 20 volunteers recruited from across four university departments. "In accordance with the requirements of the Pudong Health Commission, we set up the waiting area, pre-inspection area, vaccination area (which includesd five injection stations), and self-monitoring area in the 15th floor to ensure a smooth and safe vaccination," said Yin Qiuyan, Director of the Public Safety Department. 
The vaccines used at NYU Shanghai were one of the "inactivated virus" versions authorized for  emergency use from China's National Medical Products Administration. Patients will be required to undergo two injections, three weeks apart.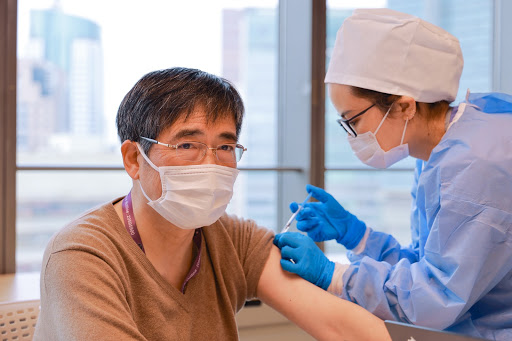 "My grandson has received so many kinds of vaccinations since he was born one year ago. I'm curious what he would say -- should he be able to speak, if I tell him that I got a shot this morning as well and I didn't cry, since it did not hurt at all," Chancellor Tong Shijun said.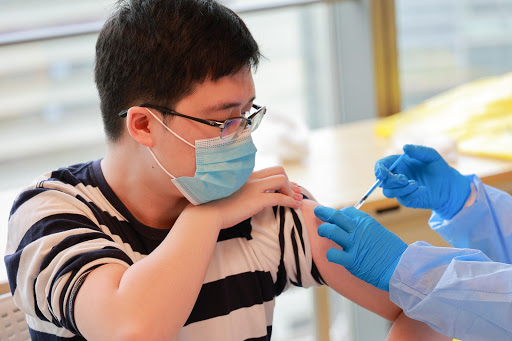 Zheng Jiajun '22 said he was pleased by the convenience of getting his shot on campus. Otherwise, he would have had to go to a  local clinic, which would have been difficult to do during the school day.  
"It went very well and I didn't feel uncomfortable at all," said Lukas Brasiskis, a PhD student who's visiting from NYU this semester on a dissertation writing fellowship provided by NYU Shanghai. "I registered right away when I saw the email announcement of the vaccination drive. I hope it will make travelling easier."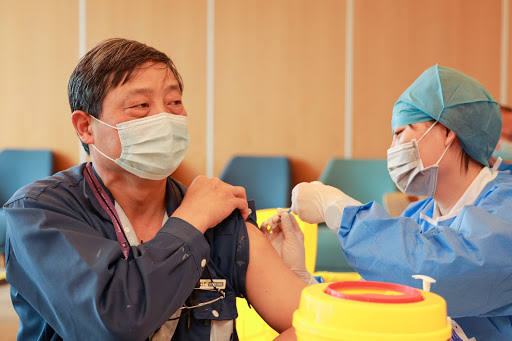 "I live in Nanhui area, which is far away from the city. It's so easy to be able to get the shot on campus. Now that I'm vaccinated, I can be more relaxed about traveling," said Dong Hewei, who works at the Property Management Department.