NYU Shanghai Launches the Center for Artificial Intelligence and Culture
Oct 29 2021
NYU Shanghai last week launched a new Center for Artificial Intelligence (AI) and Culture, a research initiative to explore AI's relationship with social systems and how cultural factors that are often overlooked – art, literature, and philosophy - can shape the future of AI. 
Some 100 faculty and students gathered at Century Avenue and online to celebrate the new Center at a luncheon and panel discussion featuring science fiction writer Chen Qiufan. 
"Part of the Center's program is to support the development of the needed histories, critiques, and understandings of 'artificial intelligence' in its many guises seen through the lens of China on behalf of a richer planetary models of what its future could be," said Benjamin Bratton, the Center's Director and a Visiting Professor of IMA, who joined the event remotely. The Center's researchers, most of whom are also IMA faculty, hope to undertake research in topics such as  the Philosophy of AI, Speculative Science/Science Fiction, Automation and Expanded Robotics, Artificial Sensing and Environments, Algorithmic Art and Media, AI Geopolitics, the History of AI in Asia, and in China in particular -- where the technology has found applications across industries.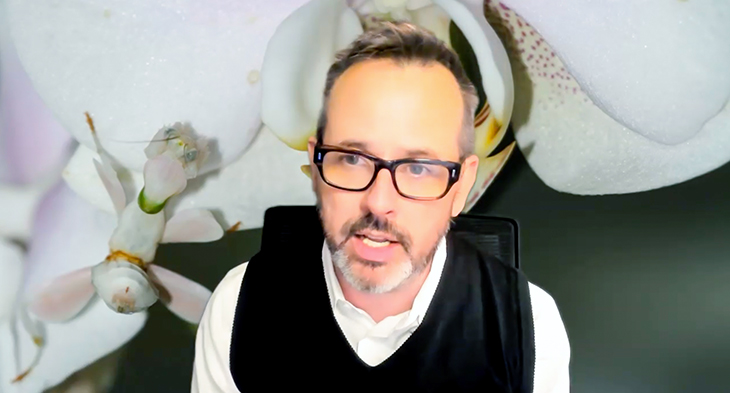 Benjamin Bratton, the Center's Director and a Visiting Professor of IMA, joining the event remotely
Assistant Professor of Contemporary Global Media Anna Greenspan and Assistant Arts Professor of IMA Bogna Konior will serve with Bratton as the co-directors of the Center. The trio are collaborating on a book with worldwide experts from various disciplines, Machine Decision is Not Final: China and the History and Future of AI. 
"NYU Shanghai's singular position, which enables a global conversation that is centered on China, makes it the perfect place to launch the Center," Greenspan said. "Right now, the work of the Center is focused in IMA, but we hope to build links across other departments as well as with researchers across the NYU's Global Network."
At the October 22 launch event, Chinese science-fiction writer Chen Qiufan shared insights about emerging technologies featured in his new book, AI 2041: 10 Visions for Our Future, which he co-authored with technology expert and former Google China president Kai-Fu Lee. An unconventional blend of fiction and nonfiction, the book also seeks to understand how humans from different cultural backgrounds can coexist in the future shaped by AI, Chen said.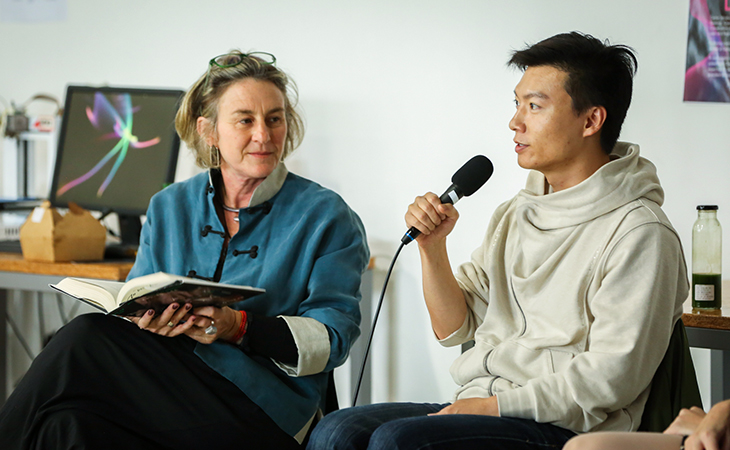 Chinese science-fiction writer Chen Qiufan speaking at the event with Assistant Professor of Contemporary Global Media Anna Greenspan on the left
"To me, in our future, we need to go beyond the boundaries, beyond this kind of geopolitics and ideological boundaries. In the book, I actually tried to create this kind of consensus that we have to work together to confront some planetary challenges. That's why I choose such diverse characters that are set in totally different countries and societies…" Chen said.
The Center plans to hold two community events each semester and will kick off the next one on November 5 with a screening of a new film, Qian Xuesen and the Yangtze River Computer (2021) by artist Shi Qing, who will be in attendance to discuss the film. 
"The crowd that attended the launch event for the Center for AI and Culture is testimony to the burning sense of relevance of the areas it covers," said NYU Shanghai Provost Joanna Waley-Cohen. "I heard that quite a few people immediately went to buy AI 2041 after the event, too! What is more, we are excited to realize that our research centers are beginning to resolve into overlapping clusters of interest, multiplying their interdisciplinary impact."