NYU Shanghai IMB Faculty Holds Design Workshop to Promote Inclusion
Dec 8 2022
Building a city with diversity, inclusion, and equity in mind can bring many design-related questions to the fore. These range from mobility related issues, to using audio-visual technology to create accessible alert systems and finding ways to help the elderly overcome the "digital divide."  
On November 26, NYU Shanghai Assistant Arts Professor of IMB Yuan Yanyue, who is affiliated with NYU Shanghai Program on Creativity + Innovation, co-organized a workshop on "Innovating for Inclusion: The Third Mission of Higher Education" with German think tank Konrad Adenauer Stiftung's Shanghai Representative Office. Thirty NYU Shanghai students and guests from the fields of education, design and business attended the event.
Professor Yuan said she wanted the event to reflect how higher education can fulfill its third mission of promoting social innovation through expertises' perspectives and on-site design challenges. She added that she has been paying much attention to inclusion-related topics in her teaching and research. 
This is the second year Yuan has collaborated with Konrad Adenauer Stiftung's Shanghai Representative Office, and both sides have plans for future collaborations to host events to communicate research findings and engage the public in discussions on social issues.
"When I am teaching 'Design Thinking' and 'Experience Studio' courses, I take students outside the classroom to look for problems in the real world and encourage them to solve those problems through innovative designs," Professor Yuan said. 
In the co-design workshop, three facilitators, including a K-12 interdisciplinary curriculum designer, a graphic designer, and an education innovation practitioner introduced on-site design challenges and invited the audience members to participate in co-creation challenges.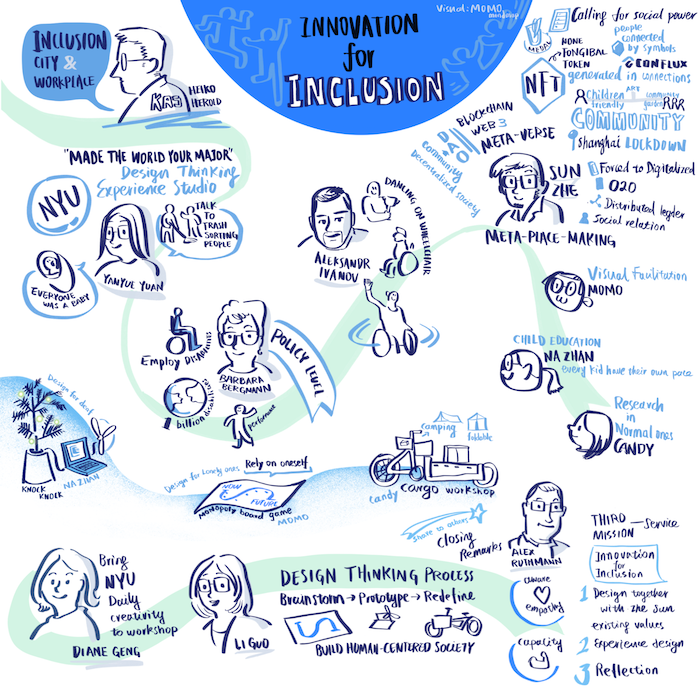 Workshop co-facilitator and graphic designer Xie Yuanmo created a visual record of the inclusion workshop 
Participating NYU Shanghai students put theories into practice during the workshop. Angela Guo '25 collaborated with another workshop participant who is hearing-impaired to build a Christmas tree that would light up to visually alert people with hearing loss that someone was at the door. "It was exciting to go through the design thinking process, starting with an idea and ending up with a functional idea/prototype that had the potential to improve people's lives," Guo said.
Chen Yinfan '25 created rapid prototypes for cargo bicycles that could meet the needs of a diverse group of users. She redesigned the cargo bicycle basket prototype using recycled materials and readily available resources.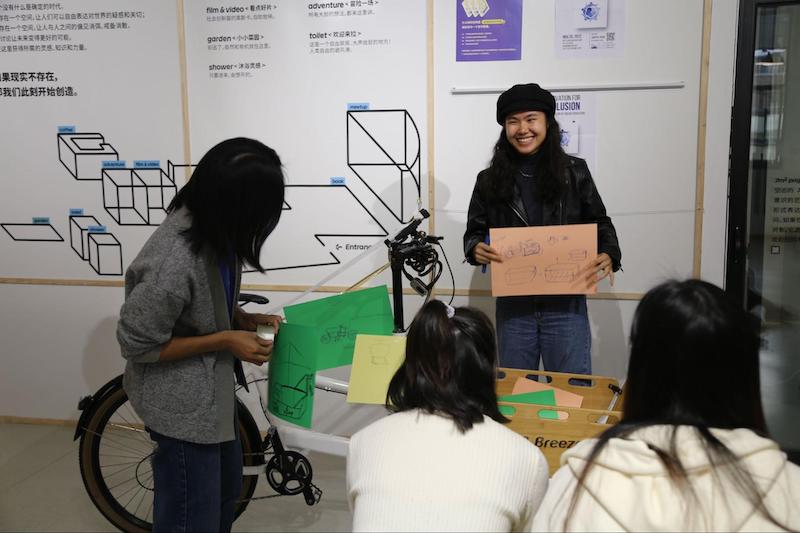 Chen Yinfan '25 (on right) displays the cargo bicycle basket prototype
Participant Kaylee Xu '25 said the workshop deepened her understanding of the practical concerns of  inclusive design. "I had great conversations with different guests from a variety of industries and job positions, which inspired me as I think about my career path," she said.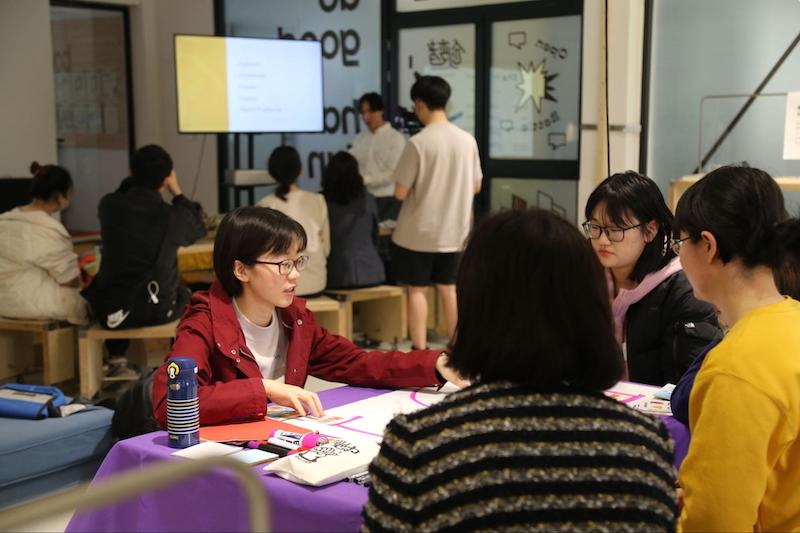 Participants discuss ideas for future elderly care scenarios
Associate Director of Academic Affairs Diane Geng participated in a round table discussion following the workshop and spoke on the need for the university to collaborate with community partners to achieve greater social impact. "I hope that innovative practices in higher education can not only be aimed at a special group but, more importantly, to promote mutual learning and sincere cooperation," she said.
Watch the workshop highlights video here.