NYU Shanghai First-Year Doctoral Camp: Getting a Head Start for the PhD Journey
Aug 3 2023
During the First-Year Doctoral Summer Camp last week, NYU Shanghai welcomed over 20 new doctoral degree students from across NYU campuses and schools. The event included a full day of activities, such as workshops on NYU resources and life in New York City, sharing sessions by senior PhD students and alumni, as well as interactive team-building exercises.
Students attend the Summer Camp at NYU Shanghai's New Bund Campus
Under the NYU doctoral curriculum, all PhD students, no matter which campus they are admitted to, spend their first year in New York for fundamental courses. "Transitioning into a new chapter in life, especially for those moving to a new country, can be both anxious and terrifying," said Eric Mao, Dean of Graduate and Advanced Education at NYU Shanghai. To help ease this transition, the camp was thoughtfully designed to offer new students a formative experience as they embark on their doctoral studies and move to New York City.
During the event, Lynne Kiorpes, Dean of NYU Graduate School of Arts and Science and Co-Chair of the NYU university-wide Doctoral Affairs Committee, extended her greetings to the new PhD students through a virtual Zoom session. She encouraged them to take full advantage of the camp by making new acquaintances, learning about available resources, and gaining the confidence needed to embark on their exciting new journey.
This year, NYU welcomes new PhD students into some 100 doctoral degree programs, 9 of whom are affiliated with the Shanghai campus. The PhD programs at NYU Shanghai now offer 11 programs, with over 50 current students and around 10 graduates. Dean Mao expressed his enthusiasm for NYU Shanghai's role as a microcosm of the Washington Square campus and home for all NYU communities.
 "Graduate on time and build connections."
To enrich the camp experience, more than 10 current students from both New York and Shanghai campuses volunteered to share their experiences and provide valuable suggestions to first-year students. During a panel discussion, the concept of PhD success was explored, and almost all panelists emphasized the importance of graduating on time while maintaining physical and mental well-being. They advised the new students to seek guidance and support from advisors, seniors, or student support teams whenever necessary.
Li Zhi, a third-year PhD student in Sociology, encouraged the newcomers to form social bonds and interdisciplinary connections. "NYU provides rich opportunities for students to engage with each other as well as field experts. Do not limit yourself to your own field and circle. Try to meet people from various disciplines and different universities, and expand connections to explore interdisciplinary research opportunities," he said.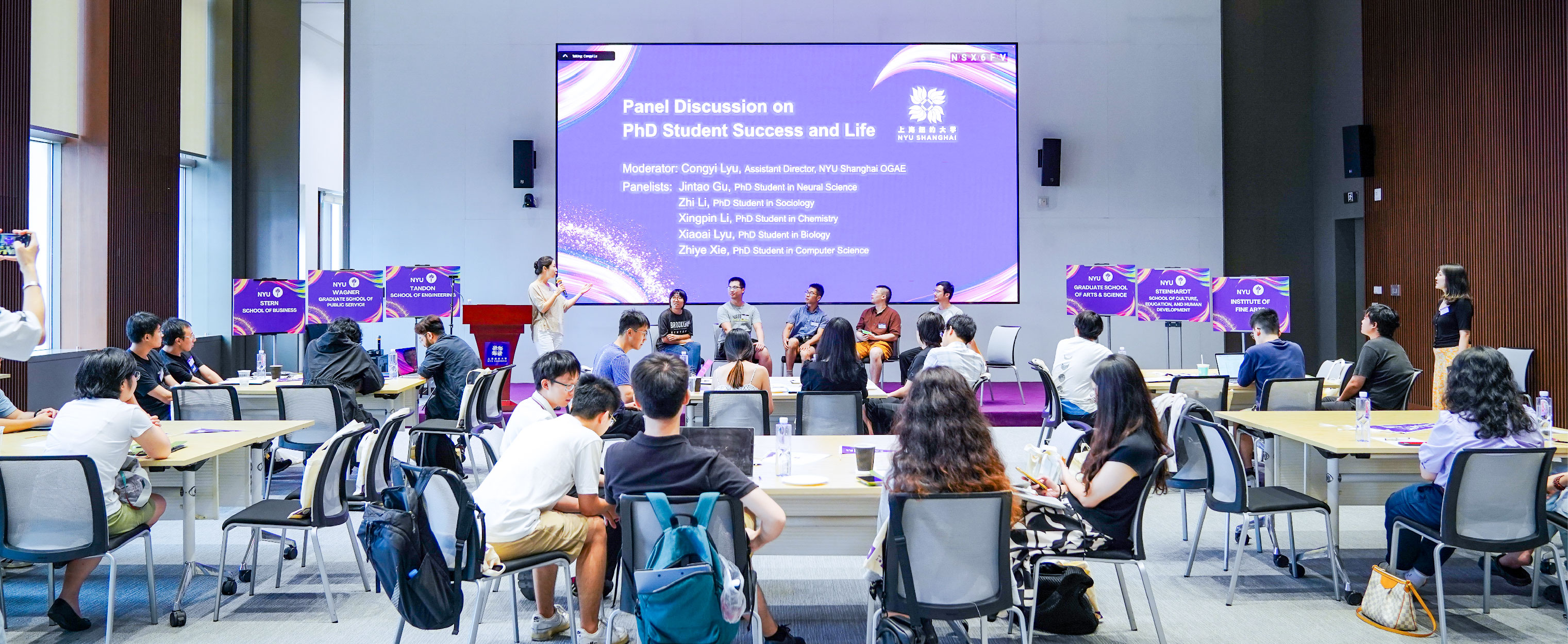 Current students share their experiences at the panel session
Inspirational keynotes were delivered by two PhD alumni, Huang Linan and Sun Chenshuo, who both graduated in 2022 and received the 2023 NYU Outstanding Dissertation Awards. Huang emphasized the significance of setting final goals and breaking them down into smaller sub-goals throughout the four-to-five-year study journey to achieve long-term success. Sun reflected on his academic life during his PhD years, from qualifying exams to presenting at academic conferences. He urged new students to immerse themselves fully in the transition, especially those new to the city or country.
"I am ready."
"Find my path.""Apply technology to counter educational challenges.""Raise useful research questions and solve them.""Contribute to the field." These were some of the aspirations shared by participants at the end of the event. After a day filled with insightful sessions, they gained a basic understanding of what to expect in their new lives as doctoral students.

Participants share their aspirations
Raj Roy, a first-year student majoring in Chemistry, expressed gratitude for the event, particularly as it was his first time leaving his hometown in India, traveling abroad, and taking a flight. "This preparation day really helped ease my nervousness and gave me the confidence of knowing that I will survive life in New York," he said.