NYU Shanghai Engages India with Leading Programs
Jul 13 2018
On July 5, a delegation of NYU Shanghai leadership and faculty convened with some 90 students, academics, decision makers, media and other stakeholders at a reception in New Delhi to showcase its graduate and undergraduate degree programs.
The event aimed to raise awareness about NYU Shanghai's novel education opportunities which guide students, especially from India and the rest of Asia, towards academic excellence and professional success.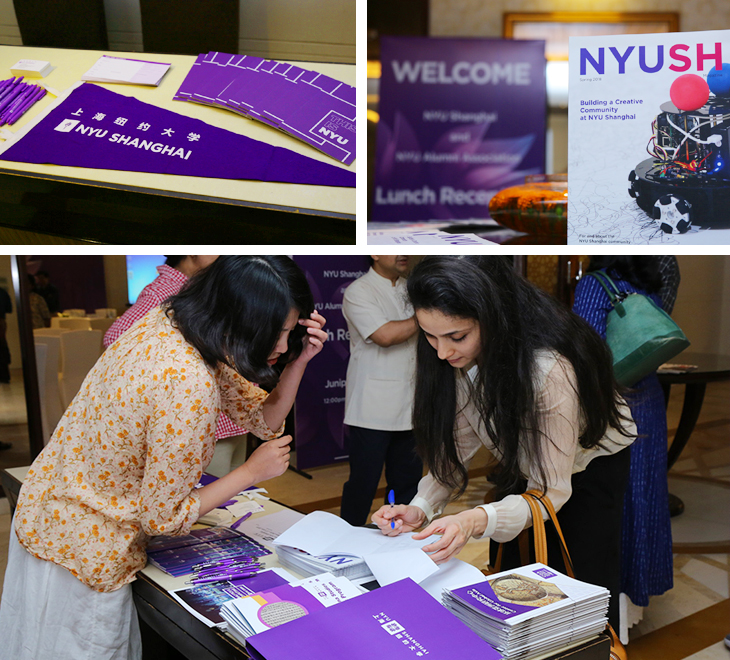 "We are pioneering innovative curricula and stimulating a culture of creativity, at the forefront of a new breed of global institutions of higher education. Our undergraduate student body pursues studies in 19 different majors in the arts and sciences, business and finance, engineering and computer science," said Thomas Bruce, senior counselor at NYU Shanghai.
Speaking at the occasion, Professor Tansen Sen, director of Center for Global Asia at NYU Shanghai (CGA), said: "It is an intellectual cross-cultural idea that embodies NYU and China's commitment to engage with the rest of the world, including India. NYU Shanghai offers Indian students a unique opportunity to receive an education at one of the world's finest universities while becoming immersed in the culture of modern China in a world-class city like Shanghai."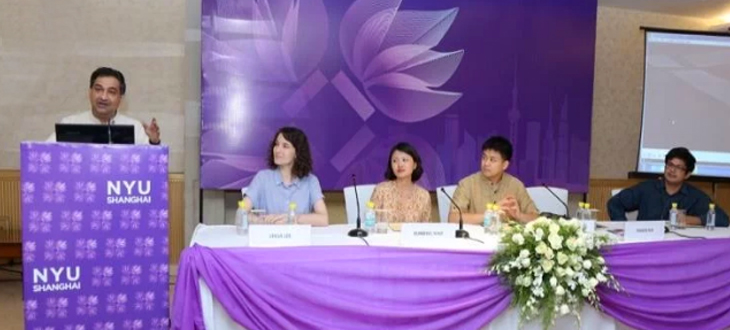 Also on hand to introduce NYU Shanghai's various postgraduate offerings, Eric Mao, assistant dean of Graduate and Advanced Education, talked about the university's vision for graduate education and highlighted two new master's programs which launched over the Spring. Mao said: "A dynamic community of graduate students at the master's and PhD levels thrives at NYU Shanghai. Our new joint programs with the NYU Stern School of Business continue our tradition of offering graduate programs that attract a globally diverse student body, are well-tailored to meet societal needs, and deliver rigorous and unique cross-continental experiences."
NYU Shanghai is poised to nearly double its student population over the next couple of years, reaching more than 2,000 undergraduate and graduate students. Half of NYU Shanghai students come from China and the rest from some 70 countries, including the United States and India, taught by a distinguished international faculty body of 200.  
"NYU Shanghai offers Indian students a unique opportunity to receive an education at one of the world's finest universities while becoming immersed in modern Chinese culture in a world-class city like Shanghai. They can also become proficient in the Chinese language, and become adept at working in profoundly multicultural environments," Bruce said.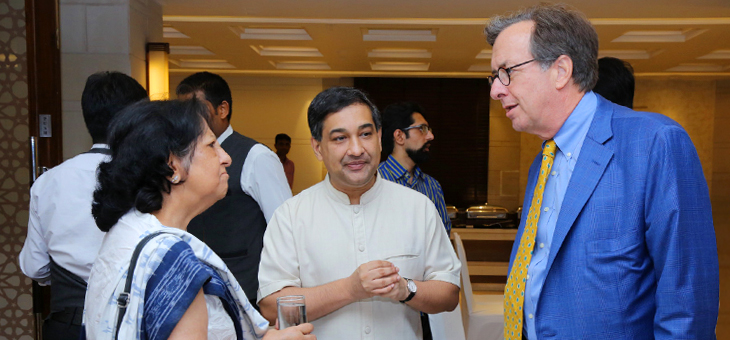 Undergraduate students at NYU Shanghai spend their first two years on core liberal arts courses and select an academic specialization for deeper study and research in their third and fourth years. English is the language of instruction. They also spend up to two semesters studying in New York, Abu Dhabi or at one of NYU's eleven study away centers in global cities around the world.
"This is an integral part of the University's mission to create a cross-cultural learning environment that will help students become global citizens. Once they complete their academic requirements, our students graduate with an NYU degree and an NYU Shanghai diploma," he added.
Last year, four outstanding Indian students graduated from NYU Shanghai's inaugural undergraduate Class of 2017, having distinguished themselves as leaders in either academics or enterprises. Lathika Chandra Mouli, an Electrical Engineering major, joined Energo Labs, a Shanghai-based blockchain startup, as a project specialist after graduation. She hopes to gain work experience in China before entering graduate school.
"At NYU Shanghai, the experience of integrating with people from different communities and understanding cultural differences while working on projects together has prepared me well for my current job," said Mouli.