NYU Shanghai Elects New Student Government for 2020-2021
Apr 30 2020
NYU Shanghai students have elected Taylah Bland '21 and Tang Wenxin '23 Student Government President and Vice President for the 2020-2021 school year.
After a preliminary round of online voting to narrow the field, Bland and Tang edged out the ticket of Stephanie Anderson '23 and Elena Yuying Huang '23 by just two votes on April 21.  Gu Jiayi '23 won election for the only other contested position, Director of External Affairs.
Bland, a native of Sydney, Australia, previously served as the Student Government's Director of Global Affairs in 2018-2019 and as the NYU Shanghai Senator to New York in Fall 2019. Though Tang, who hails from Shanghai, has not held a previous position in Student Government, she has been heavily involved in a variety of student organizations ranging from the Philosophy Club to Thespians Society to the Spectrum Research Journal editorial team.
The duo ran on a platform of increasing opportunities for students to talk directly to Student Government and delivering more health and wellness programming to students transitioning back to on-campus life post-COVID-19. Specific initiatives also include developing textbook "rental" options for students and offering more organized group study events during exam periods.
Bland and Tang said that the COVID-19 pandemic, which has scattered NYU Shanghai students across the globe, raised some significant barriers to campaigning. Although Bland said that under normal circumstances most campaigning already takes place online to ensure transparency and fairness to those studying away, moving nearly all conversations and interactions with classmates to the virtual realm made it difficult to understand the full range of student needs.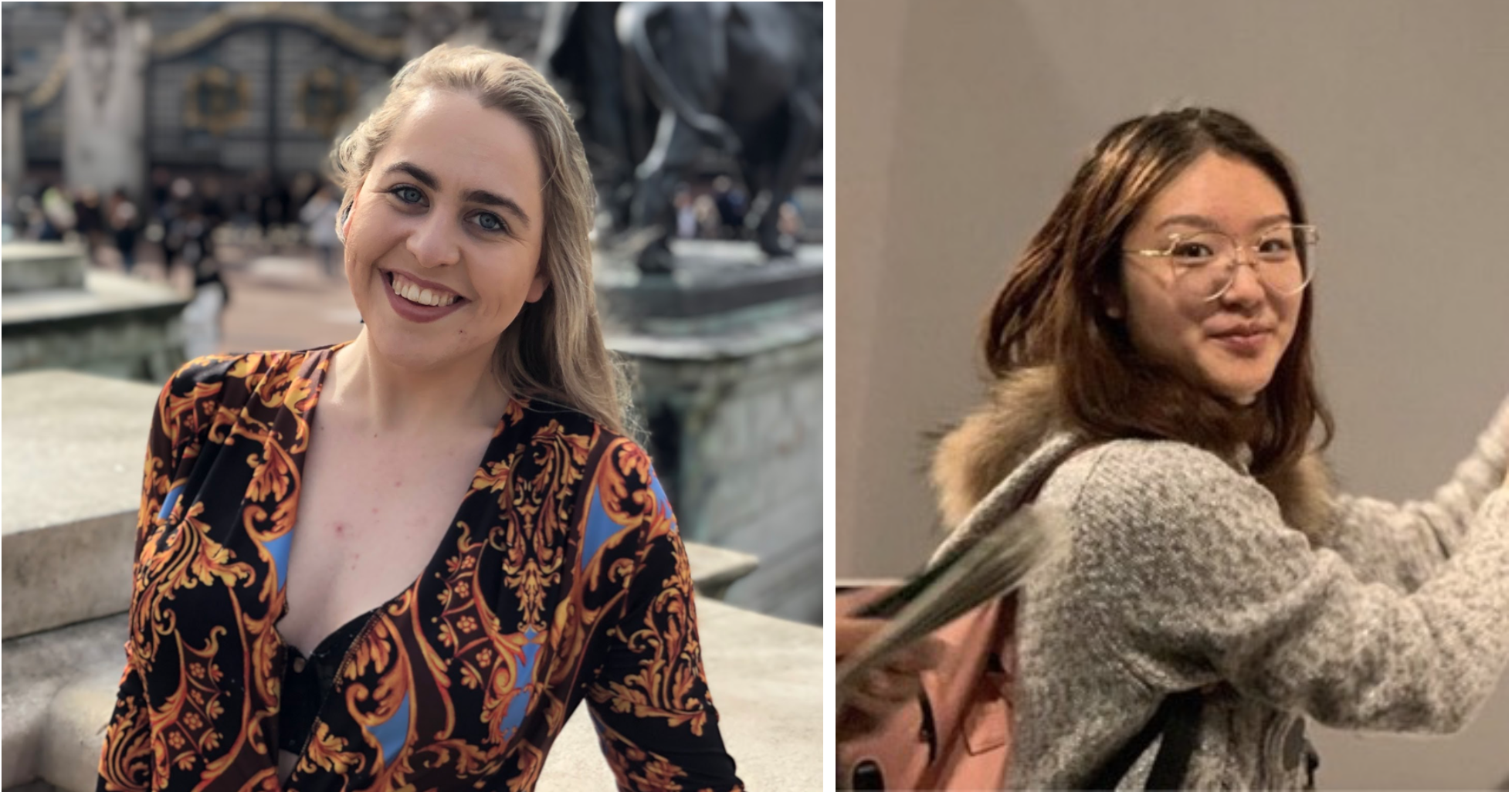 Bland (left) studying at NYU London in early Spring 2020, and Tang (right) at a Thespian Society event at NYU Shanghai in Fall 2019.
"Identifying a platform was somewhat difficult given the uncertainty of the situation we are in. What we both considered a priority may not, in fact, be the main priority that students wish us to address," Bland said. "In this way, a lot of our campaign had a mix of specific goals and broader aims to be directed by the student body." 
Gu Jiayi '23, who is from Shanghai, won  election as Director of External Affairs on a platform of expanding cooperation with local businesses to fund more student events, as well as expanding the  Student Government's collaborations with international schools through online academic and social exchange. Gu has served as Assistant Director of External Affairs throughout the 2019-2020 school year, working with local galleries and event spaces such as TeamLab to get free access to exhibitions and educational events for NYU Shanghai students.
Additional new members of the 2020-2021 Student Government are: Samuel Boghossian '23 as Director of Global Affairs, Guan Xiaoyi '23 as Director of Student Life and Residence, and Claudia Ameijeiras '21 as Fall Senator to New York.
Elections for the positions of Director of Student Organizations, Director of Events, and Director of Health and Student Wellness will be held alongside class representative elections at the beginning of the Fall 2020 semester.