NYU Shanghai Celebrates 105 Graduates at Second Master's Convocation
May 30 2021
NYU Shanghai held its second-ever and first in-person Master's Convocation on May 30 to celebrate the graduation of 105 advanced degree candidates from three programs:   NYU Shanghai-NYU Steinhardt joint master's program in Teaching English to Speakers of Other Languages (TESOL), and the NYU Shanghai-NYU Stern joint master's programs in Data Analytics & Business Computing (MSDABC) and in Quantitative Finance (MSQF).
Ninety-two students marched into the school auditorium to collect their degrees in person, while 13 students and more parents and friends tuned in via livestream from around the globe. Graduates from the Class of 2020 who were unable to join a live ceremony last year due to the COVID-19 pandemic were also invited back to share in the ceremony.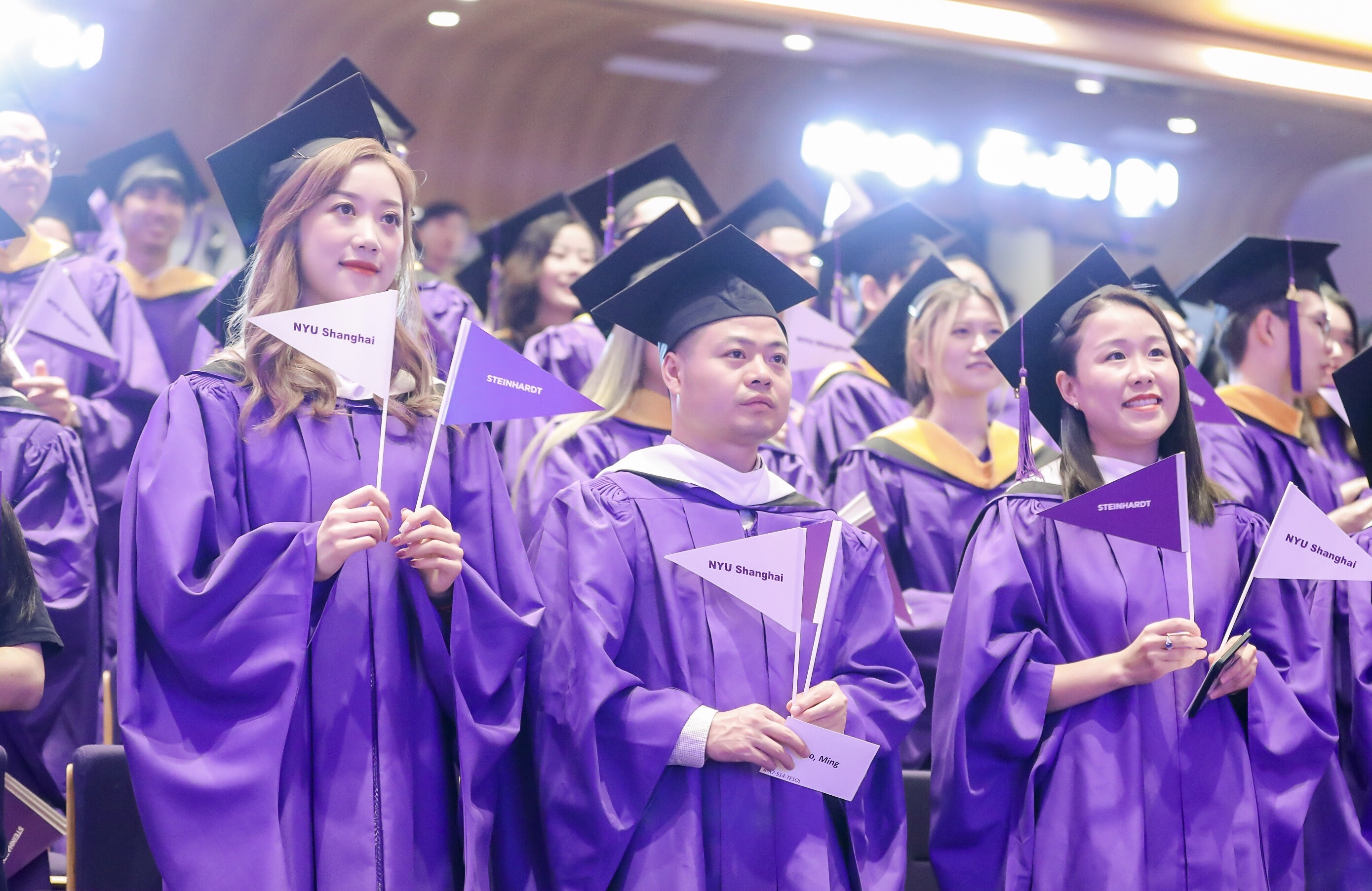 The Master's Convocation takes place in a full auditorium for the first time.
University leaders congratulated the students on their accomplishments. "The ability to combine the best of NYU Shanghai and NYU New York is what makes these programs absolutely unique and what makes you absolutely unique in your accomplishment and in your preparation to move forward into the next phase of your lives," Provost Joanna Waley-Cohen said in a recorded message. She encouraged students to use their new knowledge and skills to promote the greater good. 
"This is a historic moment in your life, which is also a landmark moment for NYU Shanghai. You have made an extraordinary decision to get ready for this moment, with endless effort but remarkable accomplishment in return," said Chancellor Tong Shijun, who was celebrating his first Graduate Convocation as Chancellor.   
Vice Chancellor Jeffrey Lehman commended the students for completing their studies despite the challenges of the pandemic. "This was not the master's program you imagined when you first considered going to graduate school. Nobody could have blamed you if you had decided to postpone your graduate education until the world had returned to normal. But you chose to persevere," he said. "Whether your discipline is data analytics and business computing, the teaching of English to speakers of other languages, or quantitative finance, you have completed an intellectually challenging program that demanded intelligence and discipline, one that equips you for a career of professional distinction."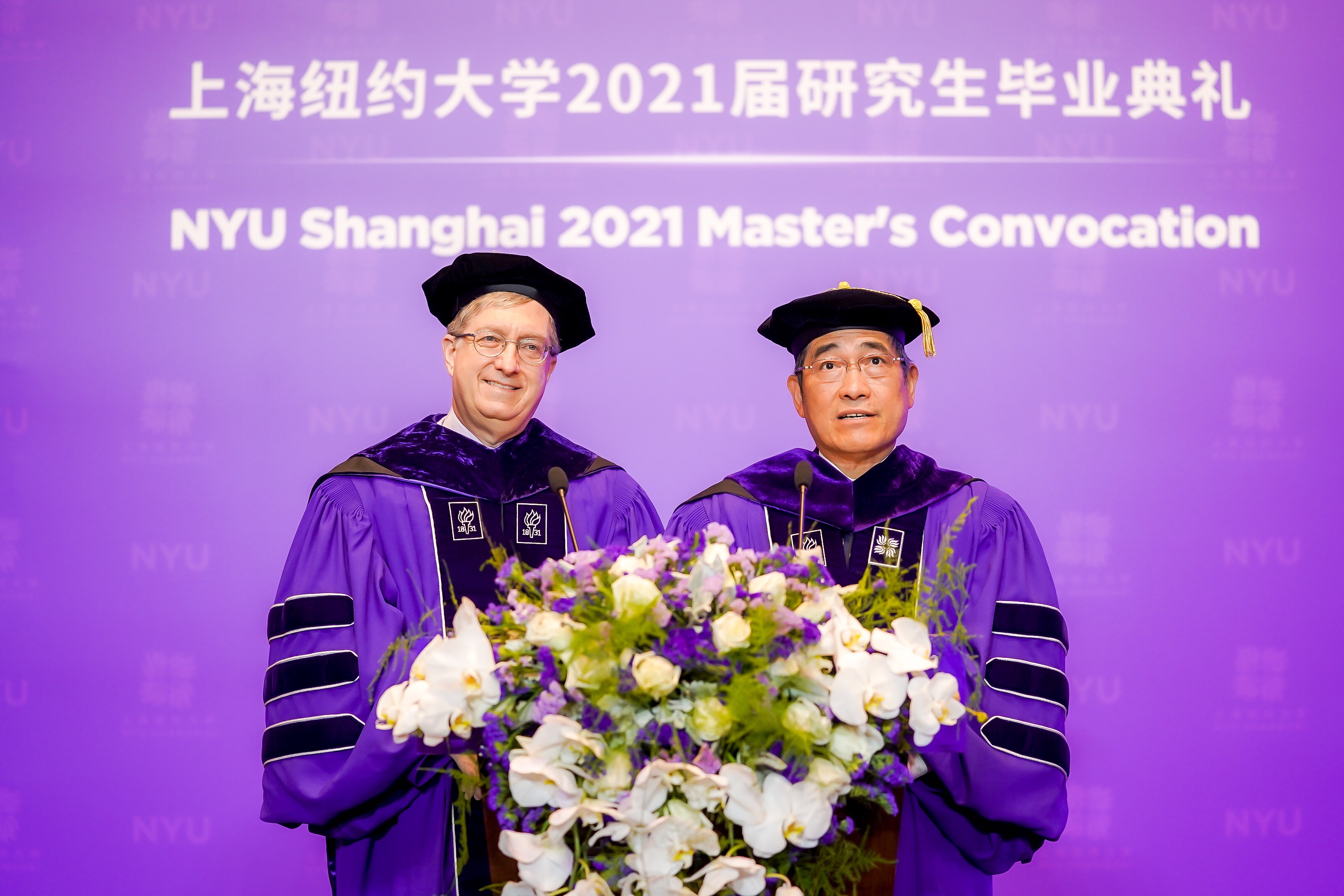 Vice Chancellor Lehman (left) and Chancellor Tong (right) welcome graduates and the Class of 2020 to the ceremony. 
Joining via video, NYU Steinhardt Dean Jack H. Knott and NYU Stern Dean Raghu Sundaram congratulated the graduates for reaching a great milestone despite the challenges and welcomed them to join the global NYU network of more than 500,000 alumni worldwide. 
Student speaker Zhang Yijia MA '21 looked back on a busy yet fulfilling two-years of part-time study in the TESOL program and thanked her professors for the great support they provided when she and her classmates couldn't make it to New York for the summer session due to the pandemic. "[The professors] surprised us by delivering their online lessons creatively, reacting quickly during this challenging situation. They integrated abundant multimedia applications and gave us a new perspective on teaching in the 21st century."
Quoting Indian poet Rabindranath Tagore, "I leave no trace of wings in the air, but I am glad I have had my flight," Zhang said that "the two-year study experience in NYU Shanghai [was] one of the most beautiful flights in our lives. As time goes by, the details might be faded and forgotten, just like the wings of a bird in the sky will disappear, but the experience of flying is indelible."
 

Zhang Yijia MA '21 speaks at the ceremony on behalf of the TESOL program.
Liu Kun '20 MS '21, who represented the MSDABC and MSQF programs, stressed the collective sense of honor he and his classmates gained from the highs and lows they experienced in the intensive one-year study under the pandemic. "This shared experience and the strong bond we have built together along the way forged our collective identity of NYU Shanghai-Stern Class of 2021."
Liu reflected on how the university had responded efficiently to the pandemic and worked hard to arrange the classes for them, making the two NYU Shanghai-Stern programs "one of the few programs in their field of study that was able to offer in-person courses". 
"We still got to work together and practice our presentation skills as if we were in the same room," Liu recalls. "We still got to tour the Big Apple online and call ourselves cyber New Yorkers. This is the true NYU spirit of perseverance and persistence."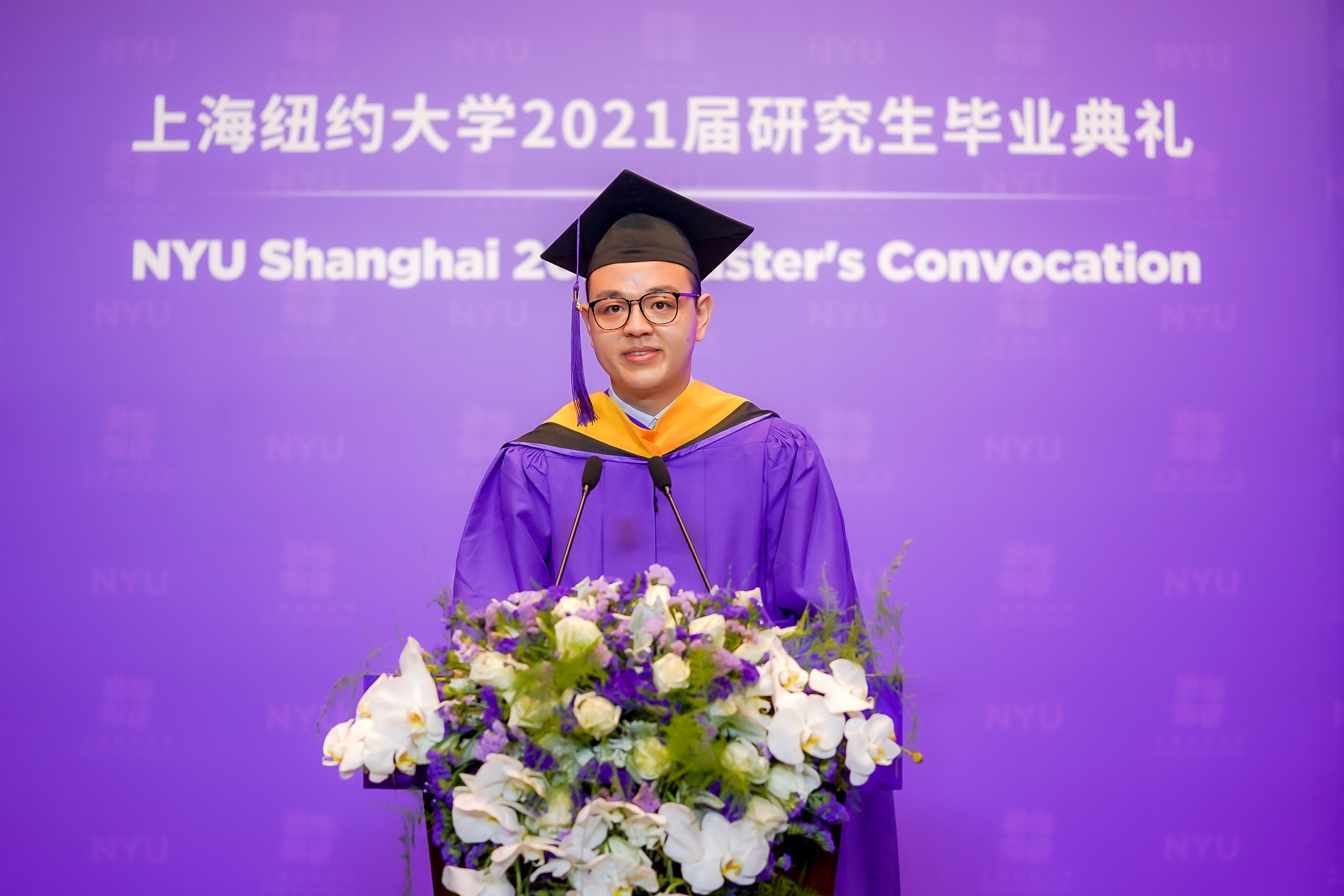 Liu Kun MS '21 represents the MSDABC and the MSQF programs to deliver a speech.
Upon graduation, MSDABC and MSQF graduates will begin careers in finance, consulting, technology, and many other industries. They will be reporting to work in companies such as DBS Securities, EY, ByteDance, and Unilever. TESOL students will continue to advance in their teaching careers in China and around the world.
Professor and Program Director Kentei Takaya presented the 19 candidates for the MA in TESOL degree, while Professor Grace Haaf presented the 45 candidates for the MSDABC degree, and Professor Lü Yiqing presented the 41 candidates for the MSQF degree.
 


Graduates from the three programs were presented with master's degrees.
Li Ping MA '21, Ling Mei MA '21 from TESOL, Shi Hongyue MS '21 from MSDABC, and Tan Disheng MS '21 from MSQF were honored with excellence awards for their outstanding performance throughout the programs.
A separate graduation ceremony was held at NYU Shanghai on May 21 to recognize the achievements of NYU's "Go-Local" 2021 advanced degree graduates. The 88 graduates came from seven NYU schools: NYU Center for Data Science, NYU School of Professional Studies, NYU Steinhardt School of Culture, Education, and Human Development, NYU Silver School of Social Work, NYU Tandon School of Engineering, NYU Tisch School of the Arts, and NYU Wagner Graduate School of Public Service. 
 



The "Go-Local" Master's Convocation was held at the colloquium of NYU Shanghai on May 21.
NYU Shanghai Vice Chancellor Jeffrey Lehman and Provost Joanna Waley-Cohen attended the convocation to extend congratulations to this special cohort on behalf of the university. Deans and Directors of the seven NYU schools also recorded celebratory messages which were played during the ceremony.